How to Crowdfund a Small Business: Darren Carter Shares his Funding Journey
Darren Carter launched Carter's BBQ right before the pandemic hit. Here's how he used crowdfunding to grow his small catering business.
Like many small businesses, Carter's BBQ began with a simple passion. "It's all about low and slow BBQ with a Cleveland twist," says Darren Carter, founder. "We love good food and serving our community."
Launched in 2019, Carter's BBQ started when friends and family asked Carter to lead cookouts with his one-of-a-kind recipes. His passion for sharing good food throughout the community grew, and Carter soon started catering small events.
"We had 60 sales during our first event and I told my wife that we would never do it again. I never sweated that much in my life," Carter says with a laugh. "But then we thought that it was something we could do. There were a couple of snafus, but it turned out alright. My wife, Theresa, and I decided to just do this."
Together, Darren and Theresa decided to take a leap and build Carter's BBQ. Carter focused on perfecting the ribs, pulled pork, and other meats, while Theresa created the sides and managed operations. The small cookery gained a loyal following, and word quickly spread about the dry-rubbed, slow-smoked meats.
But, as the story goes for so many small businesses, COVID-19 hit and everything came to a standstill. "2020 was going to be our year—the year we really grew," says Carter. "We had a steady flow and it was going to be great. But, yeah, the pandemic happened."
Although Carter had to pause his simmering business, he didn't stop perfecting the menu and preparing to come out of the pandemic stronger. Here's how he did it.
Although the pandemic nearly shuttered Carter's small BBQ cookery, he was determined to not only keep it running, but to grow. His business was missing one key ingredient: funding. To reach a new level of success, Carter needed money to purchase a professional smoker and trailer. 
"I went to the bank I'd been using for years and applied for a loan," he says. "They rejected us."
Carter went from bank to bank, assuming a traditional lender would see promise in his startup and fund its growth. He was wrong. Although Carter had a high credit score and a nearly perfect 20-year record, a blip from his past was holding him back. He quickly realized that he wasn't going to get a small business loan from a traditional lender.
"I was mad," he says. "We had all the things they required, but they all said no."
After a series of rejections, Carter started chatting with one of his closest friends about the situation.
"She asked me if I had considered crowdfunding, and I told her I didn't want to do it. I didn't want to use somebody else's money to invest in my business."
But Carter's friend was persistent—she knew that he was creating food that people would love to eat, and love to support.
"She explained how it worked and I started to get it," Carter says. "We decided to give it a try."
Carter was cautiously optimistic. He had been rejected so many times that he didn't want to get his hopes up. Despite his reservations, he met with Honeycomb Credit to learn more about its crowdfunding program.
"I told them that I wanted to know if we were a good option—I really didn't want to fill out more paperwork and go through it all again just to hear 'no,'" he says with a laugh. "They said we were perfect candidates and we decided to go ahead with it. And it was an amazing, amazing journey."
The Carters launched their crowdfunding campaign with Honeycomb Credit in 2021. Their goal was to raise between $20,000 and $40,000. Their campaign was an all-or-nothing campaign, which meant that they had to raise a minimum of $20,000, or the Carters got nothing.
"If we didn't meet our goal, we didn't get anything. And, they gave us a very, very, very short time to do it. It was hard."
Darren and Theresa got to work. They started creating YouTube videos, and posting content on Facebook, Twitter, and Instagram.
"The self-promotion was exhausting," he says with a laugh. "We had to promote ourselves, trying to convince people to invest money in the business. You have to get the message out to as many people as possible. It was exhausting work."
The first step was to reach 10% of their funding goal. Once they hit that required milestone, it was a heavy push to reach the max, which was $40,000.
Carter's biggest concern was that he was becoming "that guy"—the person who bombards their friends and family with requests. He knew there was a fine balance between sharing his story without seeming needy or even annoying.
"We were doing it all the time—showing our different cookings, talking on BBQ networks and BBQ communities. We did lots of social media. We had to be telling our story all the time."
By the end of the campaign, the Carters raised nearly $30,000 from 67 investors. Just like a traditional loan, the Carters must pay the investors back in monthly installments over a 60-month period at a 10.25% interest rate.
"It's so humbling to see people investing in you—in your dream," Carter says. "You believe in you, but seeing people believe in you is just … humbling. I can't tell you how many times I cried doing this because the generosity of people was amazing."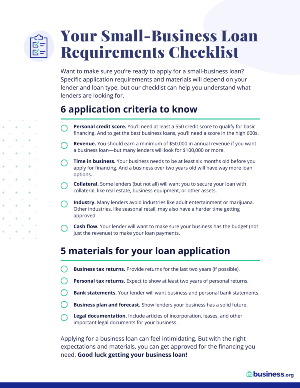 Applying for a small-business loan soon?
Our free checklist can help you understand what lenders are looking for.
Although Carter's BBQ is still a young company, Darren has already learned invaluable lessons along the way.
Carter has always been an entrepreneur at heart, and Carter's BBQ wasn't his first leap into small-business ownership. He had previously launched a graphic design side gig and had experience writing a popular parenting blog. He understood basic design elements, blog development, and WordPress fundamentals. These skills were enough for him to get his website up and running without seeking outside help.
"Find your strengths—things you already know how to do—and use them," he says. "Really think about what you can do to get things going."
Carter didn't have a mentor when he first started, but it's something he wishes he would have done sooner. His advice is to seek help from the SBA and other small-business resources in your community. Carter also found a lot of guidance watching YouTube—he spent hours on YouTube University learning the ins and outs of small-business ownership.
Carter is an optimist at heart. He views every mistake as an opportunity to grow. "Are you going to make mistakes? Yes. Whether it's pricing, delivery, presentation—you will make mistakes," Carter says adamantly. "But as you do that, you practice and perfect what you're doing. Ask yourself, 'Where's the learning opportunity and how can we do better?' And then just keep on going."
Carter is excited to see Carter's BBQ take off, and he's determined and ready to make it happen. "If you have an idea, don't just tinker a little bit with it, just do it. Make it happen," he says. "I am always asking myself, 'Can you do it? Or, will you do it?'"
Want to learn more about crowdfunding your startup? Here's a list of our Best Crowdfunding Sites for Startups.