8 Things to Consider Before Implementing a Cloud Based POS System
Cloud based point of sale (POS) systems are increasingly popular with small businesses, particularly in the retail and hospitality industries. Unlike traditional systems, a Cloud based POS system can be accessed directly from the Internet, using mobile devices, like iPads and smartphones.
With access to these systems now available for as little as $49 a month, the cost attractions are obvious, and anything that can reduce overheads and increase productivity has to be good for profit. But you need to first determine if switching to the Cloud for your POS system is the right move for your business.
Manage Your Business on the Move
Access to all your sales data 24 hours a day, seven days a week, from a remote server is one of the key advantages of a Cloud based system. You can monitor your business on a mobile device through real-time sales reporting, giving you control over inventory and customer information while you're on the move between your business outlets, or even on vacation.
A traditional hardwired POS system will incur an upfront (non-refundable) software license fee, an annual maintenance fee for upgrades, and possibly other charges for technical support and training.
By comparison, a Cloud based system will have minimal or no upfront fees, and low monthly fees typically from around $50-$200. These may be either fixed or based on credit card processing charges (a pay-per-swipe plan).
There are numerous options and providers, and finding an option that best suits your business model will most likely be an affordable solution. In addition, most system providers do not charge a cancellation fee or lock you into annual contracts. So if you decide to upscale, downscale, or switch providers, it can be done at any time, without sacrificing a significant upfront investment.
Monthly fees include instant upgrades to the technology, which are done remotely without any downtime or management costs to your business. This is a significant productivity advantage over traditional systems. The remote server also eliminates concerns about running out of space, or having to upgrade hardware as you increase customer and inventory data on your system.
Utilize Advanced Integration
The technology used for Cloud based systems allows you to integrate a number of business and marketing functions into your POS system. For example, payments can be processed from anywhere within a business premises (not just at the front counter), and receipts can be sent directly to a customer's cell phone.
Some systems allow for check-splitting at restaurant tables and complimentary meals. Most systems also now integrate with external accounting and digital loyalty programs, which are not possible on many traditional POS platforms. Some even include a Facebook rewards system, which means your customers can advertise your business through the POS system.
The risk of data loss through corruption and virus attacks is reduced with Cloud based solutions because everything is stored online. In addition, the cost of having to reinstall system drivers on traditional hardwired POS systems, and the loss of revenue in the downtime, can also be avoided.
Credit card fraud is another risk for retailers. In the future, major credit card companies are expected to guarantee purchases made with stolen cards, but only to vendors who have upgraded to a Cloud based system because of the instant upgrades provided as part of the software-as-a-service (SaaS) model.
All of these advantages add up to an attractive business proposition. Lower costs, higher productivity, and risk mitigation are all significant contributors to profit. However, it is important to consider potential disadvantages before you make the decision to operate on a Cloud based platform.
Best POS Systems for Small Businesses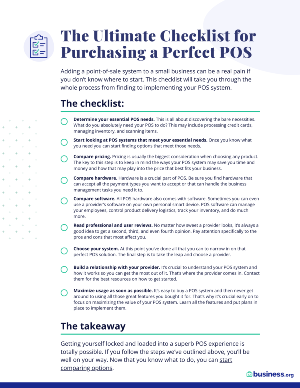 Follow these steps to purchase the perfect POS system
Read our free ultimate checklist for finding the right POS for your business. Don't get saddled with the wrong system. Enter your email and the checklist will arrive promptly.
Consider Risks of Importing Data
If you have an existing POS system, it is important to establish exactly what is required to transfer your data to a remote server. While most quality providers will assist you to import your inventory and customer information as part of their setup service, you need to find out how this will be done, what the risks are, and whether there are any additional costs involved.
Cloud based POS systems are only as good as your Internet connection. Be sure to consider the costs and lost revenue if your Internet service goes down and you can't access your data or, worse still, you can't make sales. While the technology is improving almost daily, you need to be assured your POS system is going to keep working when your Internet connection doesn't. Luckily, there are now several providers who have offline services that allow you to keep making transactions and sync your data when you are back online. But these services may not always be cost effective for your budget.
Another important consideration is the investment you have already made in your POS system and the cost to cancel an existing contract. You need to calculate the expense of switching and determine if the timing is right for your business or whether it would be more cost effective to delay the switch until the end of your current contract.
Cloud technology has advanced rapidly in recent years and offers small businesses a reliable, affordable, and flexible solution to their POS operations. Before making a final decision, make sure you weigh up all the factors when searching for the right service provider for your business.