6 Most Important Business Loan Requirements
Afraid of getting rejected on your business loan application? Meet these requirements and you'll be well on your way to approval.
|
September 14, 2018
---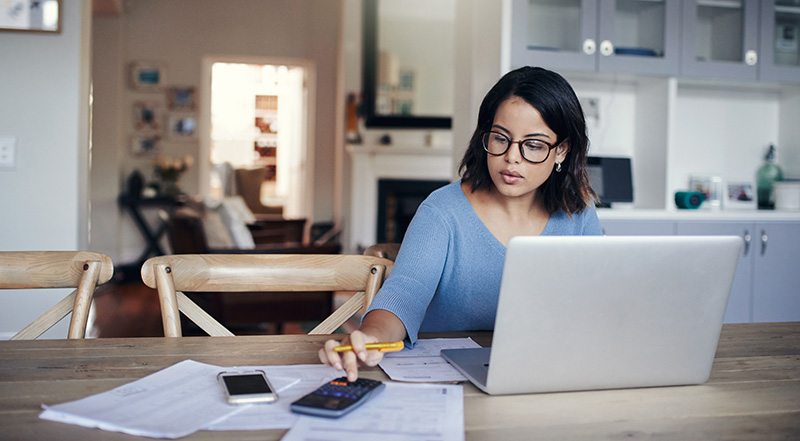 If it's time to expand your business, you'll need access to working capital to pay for new employees, office space, materials, equipment, marketing, and more. And while most new businesses start with $10,000 or less,1 not every aspiring business owner has the savings to get up and running. This is where business loans come in.
But like most good things, business loans don't come easily. Unlike a personal loan, they involve more risk for the lender, resulting in stricter eligibility requirements. While many business owners want to obtain a business loan, they may be unsure if they meet the requirements. It doesn't help that the internet is flooded with an overwhelming amount of information on business loan requirements.
To cut through the noise and help you secure financing for your business, we've combed through all the loan application requirements for business loans so you don't have to.
Once you've finished writing a business plan with financial projections and ensured fiscal responsibility, it's time to get funded. (Remember, success is in the details.)
When considering a borrower, lenders primarily look at six different aspects of the borrower's profile—and they may set a minimum requirement for each. 
Business loan requirements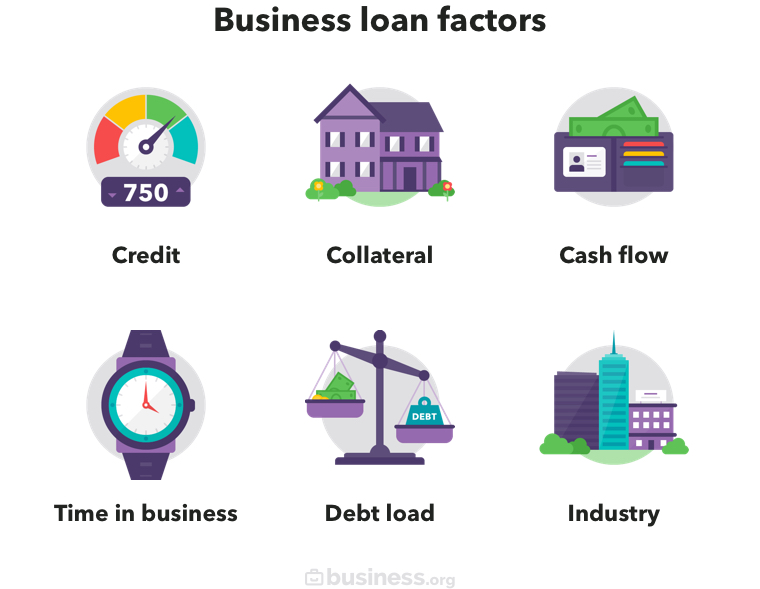 Credit
One of the biggest punches to the gut business owners face with a business loan is getting a sky-high interest rate. However, the better your credit score, the more likely you'll get a low rate on a loan. Keep in mind that lenders look at both personal and business credit scores and history. And because most small-business owners don't have business credit, personal credit is that much more important. In most cases, you'll need a credit score of at least 600 to acquire a business loan.
Credit score tier information
| | |
| --- | --- |
| Credit score tier | FICO credit score |
| Excellent credit | 750+ |
| Good credit | 700–749 |
| Fair credit | 650–699 |
| Poor credit | 600–649 |
| Bad credit | Below 600 |
Under the Fair Credit Reporting Act, you are entitled to a free annual credit report from each of the three major credit bureaus: Equifax, Experian, and TransUnion. You can get all three together or space out your credit report requests over time.
Outside of the major credit bureaus, there are a lot of "free" credit reports and scores floating around. But unfortunately, lenders typically don't use these scores when making credit decisions. We recommend getting a personal FICO credit score, which you'll have to pay for. The FICO scoring system is used by 90% or more of lenders, so this is the credit score that actually matters.
If you have a weak credit score and credit history, don't sweat it too much. There are several types of bad credit loans for borrowers with less-than-stellar credit scores.
Types of bad credit loans
| | | |
| --- | --- | --- |
| Loan type | Main borrower requirement | Get a loan |
| Merchant cash advances | 4 to 6 months of financial history | Apply Here |
| Invoice factoring | Invoices from paying customers | Apply Here |
| Equipment financing | 12 months of business history | Apply Here |
| Peer-to-peer lending | Assessment by a peer lender, not a bank or the lending marketplace | Apply Here |
Lendio requires borrowers to have a credit score of only 550 when applying for loans. It's important to note that a 550 credit score is considered subprime, so most lenders will likely deny funding. But with Lendio, you can still get matched with lenient lenders.
If you have a solid credit score, we recommend the following loan options:
Types of good credit loans
| | | |
| --- | --- | --- |
| Loan type | Main borrower requirement | Get a loan |
| SBA loans | 2 years of business tax returns | Apply Here |
| Lines of credit | $50,000 in annual revenue | Apply Here |
| Term loans | Bank or P&L statements as proof of revenue | Apply Here |
These loans are considered the holy grail of business loans thanks to their longer terms, great rates, and lower monthly payments. Particularly, keep an eye out for an SBA lender; loans backed by the U.S. Small Business Administration are easier to qualify for, and they often have low interest rates.
Cash flow and income
Cash flow can make or break your business. A steady and healthy stream of cash shows lenders that you're capable of sustaining the loan payments. It's essentially a representation of your business's health. In addition to income, lenders will most likely look at expenses to determine how profitable your business is. If you're new to business or lack sufficient cash flow, we urge you to explore our five favorite business loans for startups.
If your company routinely deals with invoices, you've most likely experienced the headache of delayed payments. These unpaid invoices can have a serious impact on a company's turnover or cash flow. Fortunately, there's a valuable financing option for business owners: invoice factoring. Commonly referred to as accounts receivable financing, invoice factoring is a financial transaction where a business sells their unpaid invoices to a third-party lender. So instead of waiting for your customers to pay their invoices, you'll be provided with extra cash flow to help you achieve your business goals, meet payroll, and pay operating bills on time each month.
Age of business
About 20% of businesses fail within their first year.2 So it's no wonder why most banks and online lenders require a minimum business age from borrowers. In most cases, the minimum business age requirement can range from six months to two years. Keep in mind, however, that lenders look at how long the business bank accounts have been open, not how long the entity has been registered with the government.
Without two years of business history, you probably won't get approval from traditional lenders and banks. But have no fear—there are a variety of alternative online lenders that have more relaxed approval processes than traditional lenders, which makes them viable options for brand-new businesses or businesses with bad credit.
Current amount of debt
Next up, lenders look at debt-to-income ratio to measure the percentage of your monthly debt payments against your monthly gross income. Most lenders require a debt-to-income ratio of 50% or lower. As you may have guessed, small-business lenders are wary about lending to borrowers who already have other loans. To avoid the slippery slope of debt, create fail-proof payment plans and avoid high interest rates.
In addition to a debt-to-income ratio, lenders will want to see a balance sheet. This is a basic document that summarizes your business's financial health, which includes assets, liabilities, and equity. Optimally, your total assets should equal the sum of all your liabilities and equity accounts. A balance sheet helps business owners determine if they can spend to grow or if they should reserve cash and save for a rainy day. While it may seem overwhelming, maintaining a balance sheet is a crucial task for every business. Plus, lenders will give your business bonus points if you come prepared with one.
To make your personal profile stronger, keep a low balance on credit cards and lines of credit (usually around 10% per account). A high credit card balance not only hurts your credit score but also impacts your personal financial health. So avoid spending mindlessly and racking up your credit card balance.
When companies lack a financial track record, lenders often require a personal guarantee from business owners. Even if you have an LLC or a C corporation, the lender can pursue you personally if you can't repay the loan.
It's important to note that not all debt is equal. Commercial real estate, lines of credit, business acquisition loans, and merchant cash advances all hold different weights with the lender. But if your debt is backed by assets, you'll get approved more easily, no matter what kind of debt you have.
Collateral
For a loan approval, lenders may require collateral, such as invoices, equipment, real estate, and businesses. Believe it or not, business car loans can also require collateral. Collateral refers to tangible assets already owned by the business owner. Some lenders may require borrowers to pledge both business and personal assets to secure a business loan. We understand that this isn't an ideal situation for startups. But we have good news: some business loans don't require collateral. Certain business loans offer flexible term options and are easy to qualify for.
If you have to get into debt, be smart about it. When you can, use debt to buy income-generating assets. Creating multiple streams of income isn't just a means of survival, but it's also a strategy for building wealth. When you buy an office complex or an existing business with a steady cash flow, your loan could and should pay for itself within a reasonable time frame. And smart management can increase the asset's income even more.
Business loans that require collateral
Industry
The type of industry your business falls under can be a deciding factor for many lenders. And in some cases, they may lean away from certain industries that are considered risky. In fact, businesses deemed to be socially undesirable or that have an unsteady cash flow tend to be rejected most.3
If you own a seasonal business, such as a golf course, landscaping company, or ice cream truck, you most likely understand the importance of ample cash flow to sustain your company during the off season. Given the ups and downs of these types of businesses, getting approved for a business loan may prove difficult. Fortunately, there are solid lenders available that are geared more toward seasonal businesses. To accommodate the various needs of small businesses, Kabbage offers industry-specific loans.
The takeaway
Navigating the ever-confusing maze of business loans can be daunting. And when it comes to qualifying for a business loan, there's no one-size-fits-all answer. Most lenders take a number of factors into consideration, so if you're lacking in one area, you may be able to secure a loan through the strength of other areas. With proper preparation and smart financial decisions, you can increase your chances of quick business loan approval.
Have you had experience applying for a business loan? Sound off in the comments below!
Sources
U.S. Small Business Association, "

Small Business Facts

"

United Capital Source, "Top 4 Industries that Are Most Likely to be Denied Small Business Loans"