How to Get and Use Personal Loans for Your Small Business
For many small-business owners, business loans can be surprisingly hard to get. Both you and your small business need to meet a number of specific requirements to qualify. Don't worry, though―if you can't get a business loan right now, you can use a personal loan instead.
That said, getting a personal loan for your business isn't always the most straightforward process. There are rules you need to follow and best practices you should know.
In this guide, we'll walk you through the process of funding your business with personal loans, and we'll help you decide if a personal business loan is right for you.
How to get and use a personal business loan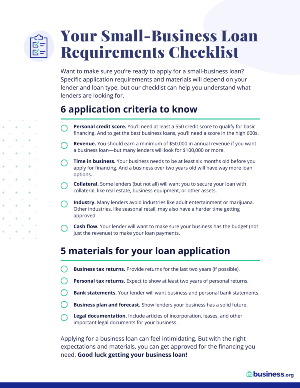 Applying for a small-business loan soon?
Our free checklist can help you understand what lenders are looking for.
1. Make sure a personal loan is best for your business
As we've said, a personal loan can work as a substitute for a business loan. That doesn't mean that it's always the best idea.
See, there's a reason that business owners prefer business loans. Business loans usually come with longer loan terms, lower interest rates and fees, and larger loan amounts than personal loans. That makes business loans ideal for many commercial needs, such as purchasing equipment, hiring employees, and other working capital necessities.
On the other hand, personal loans are designed for, well, personal uses. Think home improvement projects, debt consolidation, and other personal needs. Given these needs and typical borrower qualifications, personal loans tend to come in smaller amounts and have shorter loan terms. In many cases, they also have a higher APR (annual percentage rate).
Personal loans pros and cons
Lower income/revenue requirements
Ability to use for both business and personal expenses
No minimum time in business
Lower loan amounts
Moderate credit requirements
Potentially high APR
We bring all this up to say that personal loans aren't a perfect substitute for business loans. They've got some limitations and drawbacks that you should consider. So if you have the choice between a personal loan and a business loan, we recommend a business loan.
That being said, personal loans also have some advantages. For example, a personal lender won't care how long your business has been around. Likewise, a personal lender won't worry much about your business's revenue as long as you have a healthy, stable income. That can make personal loans easier to get, especially for young businesses.
Plus, you can use a personal loan for both business needs and personal needs (a big no-no with business loans). You might find that getting one personal loan for multiple types of needs is more convenient than taking out a personal loan and a business loan.
Compare personal loans and business loans
| | | |
| --- | --- | --- |
| Feature | Personal loans | Business loans |
| Permitted uses | Personal and business expenses | Business expenses |
| Max. loan amount | Often $50,000 or less | Often $250,000 or more |
| Personal credit check | Yes | Yes |
| Business credit check | No | Sometimes |
| Financial check | Personal income | Business revenue |
So while we recommend business loans over personal loans, we know there are many situations where a personal business loan makes more sense. We just urge you to borrow carefully (as you would with any business loan).
If you've examined the downsides of using a personal loan for your business and you still want to get one, then you're ready to move on to the next step.
(But if you're still not sure, we'd like to remind you that there are plenty of small-business funding options that aren't loans.)
2. Look at your borrower qualifications
Once you're sure you want a personal loan, it's time to figure out what you can qualify for. To do that, you'll need some numbers.
All lenders―personal and business―use certain borrower requirements to judge applicants. You can expect a personal lender to consider several factors:
Credit score
Credit history
Income
Collateral
The exact minimum requirements will vary by lender. For example, some personal lenders require just a 540 personal credit score, while others have a minimum credit requirement of at least 620.
Not all lenders will care about the same factors. Some lenders might focus more on your recent credit history than your actual personal credit score. Likewise, some lenders offer only unsecured loans, so they won't care if you don't have collateral. Others offer secured loans and will definitely take your collateral into account.
Keep in mind that the type of lender you apply with will affect those borrower requirements. Your average traditional lender (like your bank or your local credit union) will have stricter loan requirements than a typical online lender (also called an alternative lender).
What do business lenders care about?
Most business lenders will look at the factors above―but they also consider how long you've been in business, your annual revenue, and potentially your business credit score.
For now, though, just focus on making a list of your borrower qualifications. Make a note of your credit score (and consider checking out your credit report), jot down your income, and figure out if there's any collateral you're willing to offer.
With this list in hand, you can start looking for a lender.
3. Find a personal lender
You should look for a few things in a personal lender.
First, you need to find a personal lender who's okay with you using a loan on your business. Many personal lenders don't let you use your personal loan on your business. You don't want to run afoul of your lender's terms of use, so make sure they're cool with funding your business.
If you need a good starting point, check out our rankings of the best personal loans for business. All the personal lenders on that list should be fine with you using your personal loan on your business (though it never hurts to double-check when you apply).
Compare the best small-business personal loans
| | | | | |
| --- | --- | --- | --- | --- |
| Brand | Loan min./max. | APR min./max. | Min. credit requirement | Get a loan |
| | $2,000/$45,000 | 5.97%/29.99% | 580 | Apply Now |
| | $2,000/$35,000 | 9.95%/35.99% | 580 | Apply Now |
| | $1,000/$50,000 | 3.22%/35.99% | 580 | Apply Now |
| | $5,000/$100,000 | 3.49%/19.99% | "Good" | – |
Data effective 4/28/22. At publishing time, amounts, rates, and requirements are current but are subject to change. Offers may not be available in all areas.
Once you've found a lender that offers personal business loans, you need to narrow down your search to find a lender that accepts your borrower qualifications.
So look at that list you made in step two and compare it to lenders' requirements. With any luck, you'll find at least one lender that matches up with your qualifications.
Of course, you should also make sure you're fine with their qualifications. Do they offer a large enough loan amount for your needs? Can you afford their interest rates? Is the loan term long enough for you?
If you can answer yes to those questions, then you're ready to get your loan application together.
4. Apply for your personal loan
Most lenders try to make their application process as painless as possible, which means you can usually start a loan application online.
You'll probably have to upload some documentation as part of your loan application. Again, the exact requirements will depend on your lender. But don't be surprised if you're asked to submit tax returns, proof of income, and other documents.
After you've applied, the lender will review your loan application. If all goes well, you'll get a loan offer.
Don't accept it right away, though―make sure you review your loan offer carefully. You want to make sure you know and understand all the costs (including the interest rate and fees) and terms.
Origination fee
The most common fee we've seen on personal loans is an origination fee (or administration fee), usually between 1% and 10%.
You should probably even use a loan calculator to make sure you know exactly how much your loan will cost―and if you can afford it.
If the costs are too high, you always have the option to reject the offer, apply with a different lender, or pursue a different financing option entirely. The last thing you'd want is to be stuck with a loan you can't afford to pay back.
Once you find yourself corresponding to your loan offer after an orderly assessment using the techniques mentioned above, you can go ahead and accept it.  Most lenders will fund you within a few days, so you can get your business financing in no time.
Your financing journey isn't over yet, though. You have the working capital you need right now, yes, but your next step is to start planning for the future.
5. Make a plan for future financing
As we said back in step one, personal loans just aren't the best type of financing for most businesses. So we recommend coming up with a plan to qualify for better financing options in the future.
For example, think back to your personal credit score. Even if it's solid, you can probably take steps to improve it. These steps may be very simple (like paying your small-business personal loan back on time). But you might also want to consider less obvious strategies, like improving your credit utilization ratio (the percentage of your credit limit you're using).
You should also consider how to improve your business's credit qualifications. Again, some things will be simple: the longer your business is around, the more likely it will be able to qualify for a business loan.
Some things, though, will be less simple: Increasing revenue will obviously help your business qualify for a business loan. You should also work on arranging your budget so that you have plenty of cash flow. And you can take steps to improve your business's credit score (perhaps by taking out a business credit card).
Yes, your personal business loan is an okay solution for now. But in the future, we want to see you qualify for the best small-business loans.
When you're a business owner, your cash flow needs can't always wait. If you don't currently qualify for a business loan, you can try to get a personal loan and use that for your business instead.
Personal business loans do tend to have higher rates, shorter terms, and lower loan amounts than true business loans do. But since personal lenders care more about your qualifications than your business's, personal loans can be easier to get for some business owners.
So if you think a personal loan will work well for your business, go ahead and get one. Just make sure you have a plan to qualify for better financing in the future.
Considering a personal loan because you have a young business? Take a look at our rankings of the best small-business loans for startups to see some other loan options.
Personal business loans FAQ
It's not necessarily easier to get either a personal loan or a business loan, since the two have different requirements.
For example, most personal lenders have minimum credit requirements in the 600s, while there are plenty of business loans for bad credit that accept a credit score in the 500s. So if you've got bad credit, you might actually find it easier to get business financing.
On the other hand, business lenders care about your revenue and how long your business has been around. Personal lenders don't. So if you've got a young startup, you'll likely have an easier time getting a personal loan.
Put simply, your own specific qualifications will determine which type of loan is easier for you to get.
As we mentioned earlier, you don't have to default to getting a loan when you want financing. You can explore other financing options too:
Plenty of businesses have gotten funding in these ways. So while we can't promise these options will work for your business, they're worth a shot.
Most personal lenders we've seen ask for a credit score in the 600s. That said, you can find lenders that go lower. Rocket Loans, for example, accepts credit scores as low as 540.
Disclaimer
At Business.org, our research is meant to offer general product and service recommendations. We don't guarantee that our suggestions will work best for each individual or business, so consider your unique needs when choosing products and services.