The 5 Best Point-of-Sale Systems for Small Businesses
---
Process payments, manage inventory, and create loyal customers with these best-in-class POS systems. Whether you run a restaurant or retail store, find the right POS systems for your small business.
Last Updated: 1 month ago
We updated our POS system page with a link to our
customer payment study
. With more insight into how your customers want to pay, you're better equipped to pick the right POS option for your business.
It used to be that as a small-business owner, you had just a few ways to accept payments from your customers. Window signs brightly proclaimed, "We take cash, check, and all major credit cards!" Inside, customers would rummage through their wallets for bills, scribble out a check, or hand you a credit card to swipe at a bulky cash register.
Today, smartphones, cloud computing, and RFID technology enable even the smallest businesses to become point-of-sale (POS) wizards. The best POS systems combine payment processing, inventory and customer management, payroll and accounting, and other services into powerful POS hardware and software packages.
But if you've done any online searches for POS systems yourself, you've likely discovered something overwhelming: there's a staggering pile of POS solutions to choose from. Search no more. Instead, let us sort through the crud and recommend the right POS systems for small businesses.
Square Point of Sale: The overall best POS system
Zero monthly cost for the basic plan
Seamless setup and easy-to-use software and hardware
Transparent transaction fees
Pricier transaction fees than some major processors
Higher fees for manual entry
Our pick for best POS system for small-business owners is Square. It's free to start, easy to use, and chock full of useful features. These benefits make Square a great choice for new business owners who need simple but powerful features from the get-go.
Square is a common favorite of mobile businesses like food trucks and boutique retail shops. In fact, we also picked Square as the best mobile POS system for small businesses. For an all-in-one system for taking payments wherever your customers are, pair the Square POS and mPOS systems together to give your business an extra boost.
Taking customer payments is easy with Square's credit card readers and point-of-sale mobile app, which works with most Android and Apple devices; for example, many Square users run their businesses with iPads. You can create customized receipts to send via email or print from a receipt printer. Plus, you can keep open tabs, split checks, and manage your inventory in real time—all within Square's point-of-sale software.
Square provides detailed reporting and analytics and lets you send invoices, track employee shifts and timecards, and manage multiple locations. You can also run email marketing, customer loyalty plans, and gift card programs from Square's point-of-sale software.
Now the downsides. Transaction fees with Square Point of Sale tend to be more expensive than what major credit card processing companies charge—and you can't opt out. Square's transaction costs can add up if you process loads of payments a day.
You can lower your transaction fees by purchasing the Square for Retail plan, which costs $60 a month per location. Square also provides customized pricing and features for retail businesses with sales greater than $250,000. But if your business has grown to that level, you may want to consider another POS option on our list.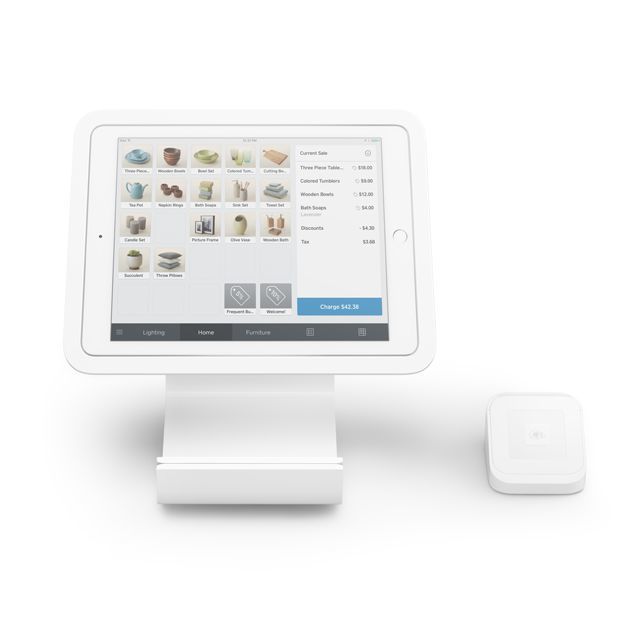 Square
Best Overall
Free to start and full of powerful and well-designed features, Square is the best POS solution for most new small businesses.
Credit card transaction fees
Here are the fees you'll pay Square on its free plan:
Square Reader or Stand payments: 2.75%
Square Cash Register payments: 2.5% + 10¢
Keyed-in payments: 3.5% + 15¢
On the Square for Retail plan, you just pay one flat transaction rate: 2.5% + 10¢.
Runner-up: Vend
Vend offers a comprehensive and customizable point-of-sale suite solution for retail business. Vendo isn't quite as fully featured as Square and doesn't offer a free subscription. But with plans that start at $69 per month, you get in-depth inventory, customer, and accounting management in a professional and impressive package. Check out Vend for yourself.
Shopify POS: The best POS system for retail stores
Affordable basic subscription and processing fees
Free 14-day trial
Robust e-commerce tools
No subscription-free plan
Limited reporting on the basic plan
Expensive fully featured plans
Shopify gained a reputation in the retail space as a premier web-based POS platform. The company now touts 600,000 business customers worldwide using its e-commerce, Amazon marketplace, and point-of-sale services.1
The company's powerful e-commerce integration translates into an impressive point-of-sale solution for retail brick-and-mortar stores too. Shopify POS is a service that's easy to set up and highly customizable to fit small businesses and scale up as your business grows.
Shopify offers three major plans plus one scaled-down "Lite" plan for doing retail business on Facebook only. Plans differ on their monthly price, fees for payment processing, and breadth of included services.
*Via Stripe Payments.
The $29 Basic Shopify plan is an affordable option for smaller retail businesses—like bakeries, flower shops, or thrift stores—to get started. You'll pay just 2.7% per credit card payment taken in your store. Online transactions via Shopify Payments cost 2.9% + 30¢ per transaction with no extra fees as long as you use the Shopify system.
Features on the basic plan include two employee accounts, a custom domain and website, shipping label printing, security and fraud tools, and 24/7 customer service. Shopify also provides integrated inventory control and order shipping tools, plus moderate discounts on shipping rates through partnerships with the US Postal Service, UPS, and DHL.
Unfortunately, you have few reporting options with the Basic Shopify plan. So for more advanced analytics, lower processing fees, marketing automation, and better discounts, you'll need to upgrade to the more expensive plans.
Still, for retail businesses that want a straightforward POS system for online and in-person sales, Shopify packs a potent punch.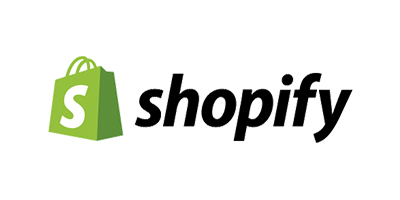 Shopify
Best for Retail
An e-commerce powerhouse, Shopify POS equips you with streamlined tools to manage your retail businesses with ease.
Runner-up: Springboard Retail POS
As it says on its website, Springboard Retail POS is "built by retailers, for retailers." And this service, which starts at $69 per month, includes useful, intuitive features like mobile POS, inventory and cash drawer management, customer and employee tracking, and more. Learn more about Springboard Retail POS.
Revel Systems: The best POS system for customer loyalty
Customizable customer loyalty and management services
Tools built for food and beverage businesses
Loads of software integrations
Nontransparent pricing
Android-only terminals and mobile software
Customer relationship management (CRM) tools can help turn passive, infrequent buyers into loyal advocates for your brand. One POS provider we looked at, Revel Systems, offers what we think is the best CRM service to come packaged with an iPad restaurant POS system.
The Revel Systems POS system was mostly created for bars, quick-service restaurants, coffee shops, and breweries. Food and beverage service businesses can benefit from Revel's customizable loyalty programs.
In addition, Revel Systems is built to speed up front-of-the-house order taking with its Mobile Order Taker system that communicates seamlessly with stationary devices. And comprehensive inventory, analytic reports, and QuickBooks integration can help you understand your business and customers better.
The major downside: price transparency. You have to contact Revel to find out about pricing—but the company does offer a free demo, so you can try out the services before making the investment.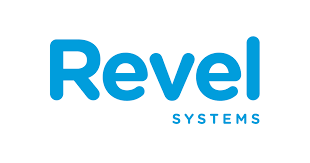 Revel
Best Loyalty Program
Keep customers happy to return with Revel Systems' customizable loyalty programs and seamless mobile POS systems.
Runner-up: Toast
You should also consider demoing Toast, another restaurant POS system with food and beverage customers in mind. Toast's integrated CRM software can help you build an inventory of loyal customers and craft messages and promotions to keep your guests happy and your business profitable. See if Toast is the right POS system for your restaurant.
ShopKeep: Best POS system for inventory management
Unlimited inventory management
Simple, intuitive software and hardware design
24/7 customer support
Obscure pricing
Limited support for multiple locations
iPad-only POS system
Keeping track of your inventory can be a nightmare if you don't have the right tools. ShopKeep can save you time and hassles with its powerful inventory management tools built into a solid iPad POS system.
ShopKeep helps you keep track of your store inventory with no limit on the number of managed items and with reporting that goes down to the ingredient. You also get details about best-selling items and real-time low stock alerts. Plus, employee payroll and time tracking are built into the ShopKeep system.
Although ShopKeep is another service that doesn't publicly display its pricing, you can get a free customized quote. ShopKeep is also one of the few POS systems we found that offers a month-to-month solution, saving you from long-term commitment risks if that's a concern. But ShopKeep also suffers from another drawback: it's not built for multi-location management. And it's an iPad POS system—no Android devices allowed.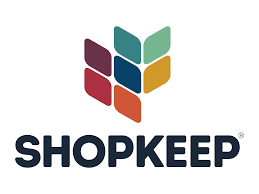 Shopkeep
Best Inventory Management
Easily track an inventory of any size with the simple, user-friendly ShopKeep POS system.
Runner-up: Bindo
Bindo is another iPad POS system that boasts sophisticated—yet user-friendly—inventory management features. Pick your own credit card processor and Bindo will handle just about everything else, from shift management and cash drawers to e-commerce and order management. Try Bindo for your small-business POS.
QuickBooks Point of Sale: Best POS for integrated accounting
Effortless integration with Intuit accounting software
One-time purchase with no monthly fees
Software compatible with Windows desktops and tablets
Expensive fully featured plans
Simple payment processing and inventory management
No iPad compatibility
Keeping track of your inventory can be a nightmare if you don't have the right tools. ShopKeep can save you time and hassles with its powerful inventory management tools built into a solid iPad POS system.
QuickBooks by Intuit hardly needs an introduction—the company has been powering the accounting needs of businesses for decades. Now you can combine Intuit's point-of-sale software, accounting services, and POS hardware to effortlessly run your own small businesses.
You can choose from three plans. But unlike most other paid POS systems on our list, QuickBooks requires a one-time purchase—no monthly subscription fees to use the POS services.
Processing payments with QuickBooks Point of Sale is more complicated. Apart from your one-time fee to use the POS services, you'll need to choose a payments plan. The rates differ by method of payment and whether you want to pay a monthly subscription fee.
Plan
Swipe/dip payment fee
Keyed payment fee
Monthly fee
Pay as You Go
Without PIN
2.7%
With PIN
1%
3.5%
None
Monthly Subscription
Without PIN
2.3% + 25¢
With PIN
1% + 25¢
3.2% + 25¢
$19.95
Processing payments with QuickBooks Point of Sale is more complicated. Apart from your one-time fee to use the POS services, you'll need to choose a payments plan. The rates differ by method of payment and whether you want to pay a monthly subscription fee.
It's true that the prices are a bit complicated. But if you're a QuickBooks user for accounting and payroll, you can't find a better solution for integrating those services into your POS system. And with QuickBooks hardware and software, you can take any type of payment from just about any device—barcode scanner, touch screen terminal, iPad, or mobile reader.
QuickBooks locks a lot of its services into the higher-priced plans—a definite downside. Integrated inventory and employee management, customer loyalty programs, and multi-store management all require purchasing the more expensive plans.

Quickbooks
Best for Integrated Accounting
For the most optimized connection to Intuit's powerful accounting software, QuickBooks Point of Sale is the clear winner
Runner-up: TouchBistro Restaurant POS
Using Intuit's accounting software but with a different iPad POS solution? TouchBistro—an iPad-based POS system tailored to restaurants, bars, and breweries—partners with Shogo to provide integrated QuickBooks accounting services. TouchBistro also provides unique floor plan, table, and menu management, as well as CRM features.
POS systems: Honorable mentions
There are dozens more POS system options for businesses to choose from. While the ones above represent our favorites, we like three more that are worth mentioning:
Acme Point of Sale
With plans starting at $69 per month, Acme Point of Sale has earned a positive reputation as a POS solution for speciality retailers. From candy and tobacco to groceries and guns, retail businesses can access features like detailed reporting and analytics and inventory optimization.
Ambur Point of Sale
Ambur Point of Sale offers several plans, including a $59 monthly "Solo" plan. It's a restaurant POS system that can help your start-up eatery or drinkery take orders, manage tables and menus, and get real-time inventory and staff alerts.
Flint
Flint is a simple, beautifully designed POS system tailored for service-style businesses like beauticians, personal trainers, and designers. The system includes useful features like Apple Passbook customer reward coupons, customized receipts, and an intuitive reporting dashboard. Our favorite feature? The Basic plan is totally free and lets you manage up to 10 clients and invoices per year—a great way for fledgling service businesses to try out the POS system. 
POS FAQs​​​​​​​​​​​
What is a point-of-sale system?
A point-of-sale, or POS, system is the hardware and software that allows a business to process customer payments for products and services. Specifically, "point-of-sale" refers to the physical place where the transaction happens.
Traditionally, POS systems were physical cash registers that accepted only cash, checks, and credit cards. The term also includes receipt printers, cash drawers, barcode scanners, and other devices.
Modern mobile point-of-sale (mPOS) software and credit card readers let businesses use mobile devices, like iPads, to process customer payments from almost anywhere. And many POS systems are capable of accepting almost any type of payment, including contactless payments like Apple Pay and Google Pay.
POS systems now do more than just process payments. Many products, including the ones we have reviewed here, serve as essential business hubs that handle everything from inventory, customer, and employee management to accounting, payroll, and shipping services.
What are the common features of a POS system?
Modern POS systems include a variety of features that help you manage your day-to-day business operations. Features vary by product, but here are some of the most common POS system features:
Payment processing: This is the hardware and software required to accept customer payments. Your POS system may include terminals, credit card readers, barcode scanners, cash drawers, and online e-commerce platforms.
Inventory management: Many POS systems help you keep track of your product inventory, allowing you to enter specific details about each item you sell and track your product receiving, sales, and shipping.
Employee management: Employees can clock in, process payments, and enter product and customer information with these features. And you can track staff schedules, productivity, sales activity, and more.
Accounting and payroll: Your POS system may include accounting services or integrate with third-party software like QuickBooks. Manage your costs, revenues, invoices, and payroll to keep track of your business and find opportunities to improve profits.
Reporting and analytics: Gain valuable insights into your business with reporting and analytic features. Dashboards give you a bird's-eye look at important information, including sales, inventory, and revenue data. Or dive into the details with sales summaries and historical comparisons with more advanced, real-time reporting features.
Customer relationship management (CRM): CRM features let you store information about customers to understand them better. Manage customer loyalty programs, offer discounts and gift cards, or create promotional campaigns to turn one-time customers into advocates for your business.
How to decide on a POS system for your business
If you're setting up your first POS system or considering switching to a new product, ask yourself the following questions to help make your decision.
Is the POS system built for my type of business?
Many POS systems are tailor-made and marketed to specific types of businesses, especially full-service restaurants or retail. For example, ShopKeep and TouchBistro build their systems around food and beverage businesses like quick-service restaurants, bars, and coffee shops. So these POS systems have powerful tools for quickly taking orders in the front of the house and keeping up with the hectic operations and inventory needs in the back.
In contrast, VendHQ and Flint mostly target small businesses in the service industry, like contractors, designers, and trainers. These businesses should look for features like invoicing, e-commerce, and CRM.
What's more, if you manage multiple employees, you'll want a POS solution to help you. Many systems let you individually track employee details, shifts, payroll, and more and then send that data to accounting software. Anything that helps you streamline staff management—and potentially lower labor costs—is a plus.
Hint
Weigh the costs of setting up a new POS system against the included features. Some options offer free or low-price subscription plans with scaled-down functionality. These can be great for newer, smaller businesses just getting started.
How will I need to accept payments?
Traditional POS or mPOS? That is the question. Consider how you or your staff will be taking payments from your customers. Will patrons come to you at a counter or cash register? If so, a traditional, stationary POS system may make sense.
But if you need to take payments on the go—from customers wandering around the floor or coming up to a roving truck—you'll need a mobile POS and card reader system that accepts payments. Fortunately, most modern POS systems either include their own mPOS technology or work with existing products you can buy. Square Point of Sale, our pick for best overall POS system, has an excellent all-in-one solution for taking payments through stationary or mobile devices.
Also, make sure you know what hardware and software works with brands you're considering. Some POS systems are built just for Android devices while others work with only Apple's iPad. If you have existing hardware, you may want to choose a POS system that works with what you already have.
What is customers preferred methods of paying?
In a world driven by technology, how are customers paying for stuff? Can your business survive with a cash-only approach, or do you need to jump into e-payments to keep up?
We used Pollfish to survey 500 Americans about their payment habits. We asked about payment methods, including which ones they used most commonly and which ones they thought were the safest and most convenient.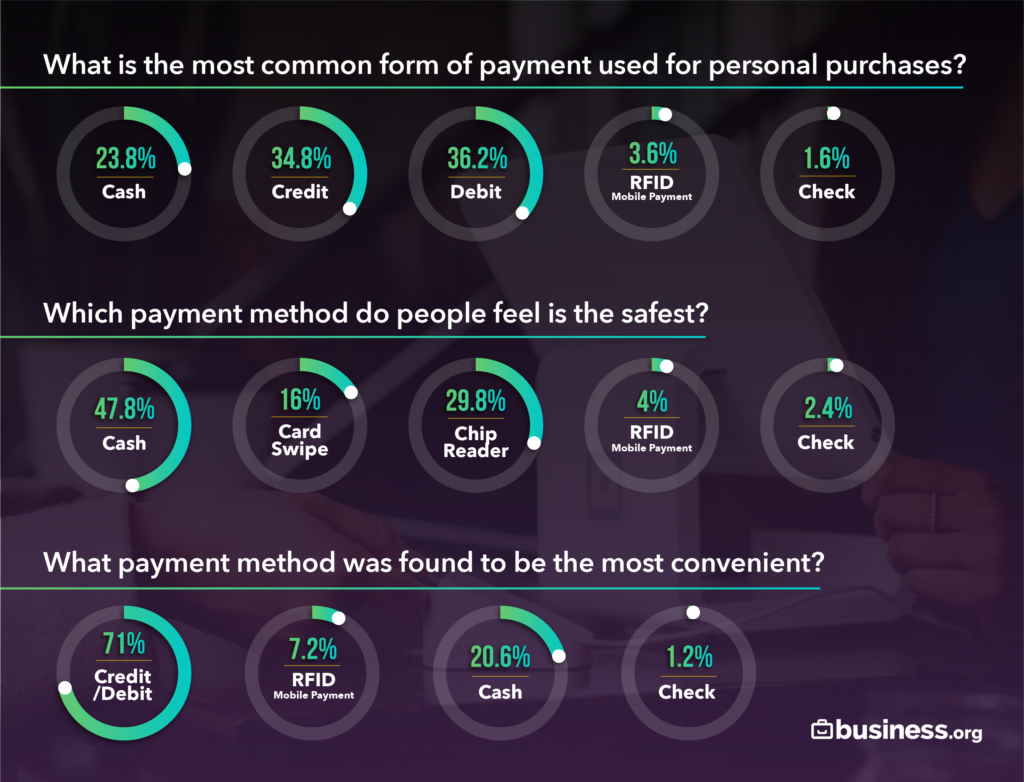 Make it easy on your customers
It turns out that convenience is king, which ultimately means that cards are king. Most people pay with cards these days, followed by cash. Very few people (only 5.2%) pay with either checks or RFID mobile payments.
What's an RFID mobile payment?
These are services like Apple Pay, Google Pay, Samsung Pay, and Fitbit Pay that you can use with your mobile devices. RFID stands for Radio Frequency Identification. The mobile payment part is sometimes called "contactless payments," which means your card's swipe stripe or chip doesn't need to be used.
In our survey, 34.8% of Americans use credit cards and 36.2% use debit cards, which gives us a total of 71% of Americans using cards. And unsurprisingly, 71% of Americans think that a credit or debit card is the most convenient payment method.
Even though over 71% of Americans use cards the most, only 42.8% feel using a card is the safest payment method.
Only 16% of respondents said swiping a card is safest. But Americans have more confidence in chip readers: 29.8% said a card with an RFID chip is the safest way to pay.
When it comes to safety, cash still feels like the safest way to pay. Almost half of our respondents said cash is the safest, but only 23.8% said they use it the most.
So if you're a business, you need to make it as easy as possible for people to pay for your products and services. That means you need to accept both debit and credit cards. A cash-only plan isn't viable anymore.
Do I need to manage a large inventory?
Some less expensive POS systems and plans are built primarily for payment processing. But what if you're running a restaurant or retail business with hundreds of products, ingredients, or parts to keep track of? In that case, you'll want to consider a POS system that includes or integrates with a robust inventory control system.
How much reporting and analytic information do I need?
For newer, smaller businesses, you may not need advanced and expensive POS system reporting features. But if you're looking for deeper insights into details like profits, labor costs, and historical comparisons, look for retail POS systems that offer advanced real-time reporting.
The takeaway: Square is the POS smart bet
Although you should consider your business's unique POS system needs, we think Square offers the best overall package to fit most small business, from restaurants to retail shops.
Square's simple and affordable POS hardware and software let you take payments anywhere your customers can meet you. And with a zero-cost starter plan and a competitive processing fee, Square is an affordable solution for building a solid point-of-sale base.
We're constantly trying to improve our reviews and recommendations—that's where you come in. Leave a comment below with your own review of a POS system your business has tried. Whether rants or raves, we want to hear from you.
Disclaimer
At Business.org, our research is meant to offer general product and service recommendations. We don't guarantee that our suggestions will work best for each individual or business, so consider your unique needs when choosing products and services.
Sources
1. Shopify, "About"