The 6 Best Inventory Management Software for Small Businesses of 2020
---
Companies can increase their profitability 20%–50% or more through careful inventory control.1 So if you want to stay competitive in today's business world, it's time to make the switch from pen and paper to real-time tracking and cloud-based inventory management software.
Last Updated: 3 months ago
Good news: we double-checked and found that all the info on this page is up to date. We also added some more details about Fishbowl's and inFlow's product offerings to make sure you're getting the best information possible. Finally, we shared a few tidbits on how our top brands are helping businesses affected by the coronavirus pandemic.
Less than 6 months
We want to make it easy for you to find the information you need. So we updated this page with links to our new brand reviews for Cin7, Ordoro, Fishbowl, TradeGecko, and Stitch Labs. We also updated some pricing info for Veeqo Inventory.
Less than 6 months
We updated this page to reflect the most recent pricing and plans available from inFlow. We also included information on how you can get two months of
free inFlow service
to help your company deal with the unexpected setbacks caused by the coronavirus.
More than 6 months
A couple months ago, Cin7 removed all pricing info from its website, and we updated this article accordingly. Fortunately, we were recently able to reach a representative of the company and confirm the service's actual starting price. We've updated this article to reflect our newly acquired insider knowledge.
More than 6 months
We updated this page to reflect the most recent information available from Cin7, Ordoro, and Unleashed—all of whom have changed their pricing (or hidden their pricing behind a mandatory quote process) within the last two months.
More than 6 months
We updated our information to reflect Veeqo's new pricing changes.
More than a year
Based on updated pricing for our top picks, we elected to move Cin7 to our top spot. Ordoro remains our number-two pick, especially if you want a versatile inventory management system that can handle POS integration, drop shipping, and more.
Navigating through different inventory management software can be a tedious process. To help you save a little time, we've researched different options and collected what we think are the top five inventory management systems for small businesses.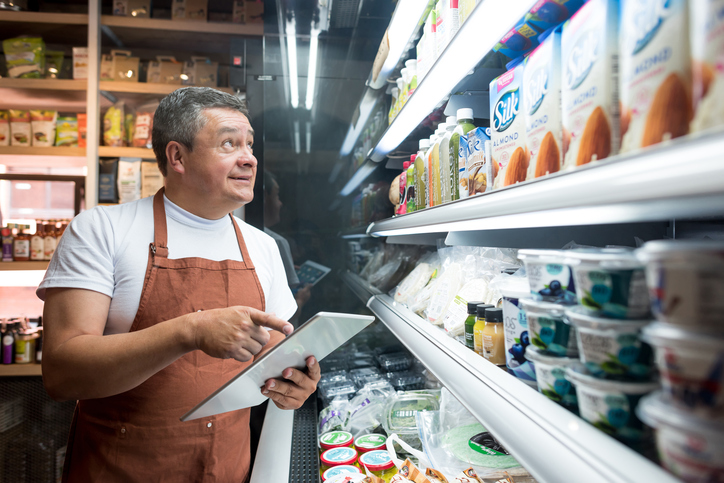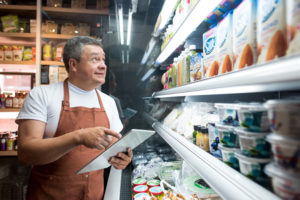 Compare the best inventory management software
Data effective 7/2/20. At publishing time, pricing is current but subject to change. Offers may not be available in all areas.
*Annual pricing available
**With annual payment

Cin7
Cin7 tops our list of the best inventory control software because it connects online sales channels, POS systems, warehouses, Electronic Data Interchange (EDI), and third-party logistics (3PL) to create a comprehensive business system.
What makes Cin7 stand out is its vast knowledge base, which includes expert articles and videos detailing its in-depth features. In addition, Cin7 provides in-house experts to guide you through the setup process, plus plenty of webinars, tutorials, and extensive guides. After that, you'll have a dedicated account manager at your disposal.
We also love that Cin7 can sync up easily with your point-of-sale (POS) system. So if you're using a Lightspeed Retail POS system, you don't have to give up all the features you love about your current system to automatically sync your POS transactions with your real-time inventory tracking.
Cin7's packages cater to companies of all sizes, from startups to mid-sized businesses and all the way up to enterprises. It even offers a free trial to help you gauge if it's a good solution for your business. However, Cin7 doesn't list specific prices for any of its packages, so you'll need to request a free demo to find out the exact cost.
Data effective 7/2/20. At publishing time, pricing is current but subject to change. Offers may not be available in all areas.
Though Cin7 doesn't list exact prices, we've confirmed through a company representative that the starting price for Cin7's Starter plan is $299 per month. That's a little on the steep side, especially compared to contenders like inFlow and its $69-per-month starting price.
Still, when it comes to inventory management, you definitely get what you pay for. So if you want a fully functional inventory tool that doesn't skimp on features, Cin7 is well worth the price.
Help for PPE providers
RIght now, Cin7 is offering free services to any manufacturer or distributor of personal protective equipment (PPE) as part of its response to COVID-19. Check out Cin7's website to see if you qualify and apply.
Runner-up: SOS Inventory
SOS Inventory's user guide, informative how-tos, and 24/7 customer support are enough for us to name it runner-up for Cin7's excellent customer service.

Ordoro
As one of our front-runners, Ordoro offers an accessible platform, automation rules, exceptional customer service, and a wide range of capabilities.
Because it's a cloud-based inventory management software, users can access their Ordoro account without downloading or installing anything. Plus, its POS integration offers simple back-office management for easy control of inventory levels, so you can sell anywhere, anytime.
The highlight of this system, though, is its cloud-based software, which includes a host of tools, particularly its hands-free drop-shipping management—which makes it easy to have goods sent to your customers directly from the manufacturer.
Once you've set up your products and vendors, you can either manually or automatically route products to the correct drop-shippers. Ordoro also gives you the option to take sales orders that include multiple products and separate the drop-shipped SKUs (stock-keeping units).
While Ordoro does offer the Express plan for just $59 per month, it includes only shipping tools. For inventory management, you'll need to upgrade to at least a Pro plan. The good news? You'll get all the drop-shipping, SKUs, RFID (radio-frequency identification) kitting, and business analytics your company needs.
Data effective 7/2/20. At publishing time, pricing is current but subject to change. Offers may not be available in all areas.
*Annual pricing available
In the interest of transparency, we also have to mention that Ordoro falls a little short on features if you get a basic plan. In fact, the Express plan doesn't include inventory management at all—only shipping tools. So to get the inventory management features you need, you'll have to sign up for at least a Pro plan.
Ordoro's support resources are also a bit outdated, which can be frustrating anytime you experience a problem or have a question about your software.
On the plus side, though, Ordoro does have an award-winning support team ready to help you over the phone or via email. And frankly, the sheer power of Ordoro's inventory management on the Pro plan makes it well worth the cost (we think).
Runner-up: Zoho Inventory
Zoho Inventory is our pick for runner-up because of its efficient multi-channel inventory management and the powerful inventory control it provides small businesses.

Fishbowl
Fishbowl gets our pick for the number one QuickBooks inventory management platform because it allows small to mid-sized businesses to use popular cloud-based accounting software (QuickBooks) while accessing advanced inventory tracking features.
Fishbowl's top-notch accounting configuration wizard walks you through the steps to successfully import and export your data between Fishbowl and QuickBooks, so you can spend less time looking up how-tos and more time running your business.
And its inventory-centric system offers several features:
Multi-channel inventory
Real-time tracking
Shipping integration
Barcode scanner setup
Merchant services
Fishbowl doesn't integrate with a ton of third-party features, so it isn't the best solution for businesses already using software to manage their shipping and logistics. But it does automate quoting, ordering, and purchasing processes, making it easier for businesses to stay on top of asset management. Plus, if you're new to inventory control, take advantage of Fishbowl's training videos, online tutorials, in-house specialists, and customer support—all at no extra cost.
Data effective 7/2/20. At publishing time, pricing is current but subject to change. Offers may not be available in all areas.
Fishbowl offers a 14-day free trial too, which is probably a pretty good idea considering it's one of the more expensive options on our list, coming in at a starting one-time c0st of $4,395 for Fishbowl Warehouse or $5,895 for Fishbowl Manufacturing. After the first year, the total renewal price for your software depends on the number of users on your plan, but you can expect to pay $1,395–$7,295 each time you renew Fishbowl Warehouse and $1,795–$8,895 for each Fishbowl Manufacturing renewal.
If that's a little too rich for your blood, though, you can opt not to renew your license after your first year of service. Your software will continue working even if you don't have a current license, so you can still use the software without having to pay for it every year. Just keep in mind that without a current license, you'll lose access to customer support and software updates.
How Fishbowl can help during the COVID-19 pandemic
To help businesses during the coronavirus pandemic, Fishbowl is offering 12-month, 24-month, and 36-month financing. That way, your business doesn't have to deal with a major up-front expense in the middle of a recession. Fishbowl is also offering extra implementation assistance to new customers so you can get your system up and running fast, with little to no down time while you transition to a new inventory system.
Runner-up: Boxstorm
Developed by Fishbowl, Boxstorm is our runner-up choice for QuickBooks users who need warehouse management with seamless cloud-based accounting software integration.
Veeqo
We named Veeqo "Most user-friendly" because of its minimalistic interface, easy navigation, and fast load times. Its slick dashboard allows users to toggle between sales, profits, and returns.
Veeqo's dashboard offers a wide breadth of stats, including total sales orders, total revenue, average order value, and average shipments per day. Plus, businesses can automatically sync inventory data across every store, which means you'll never oversell.
Veeqo helps you organize multiple warehouses, radio-frequency identification (RFID) kits, and bundles with inventory histories and other features. And if you're working with foreign currency, Veeqo will automatically convert orders into your base currency using real-time exchange rates. Add the discounted shipping rates you get thanks to Veeqo's FedEx and Royal Mail integrations and you've got an inventory management system that really packs a punch in the budget department.
Veeqo offers three plans, but the price for each plan depends on the maximum number of orders you need to ship each month (options range from 500 to 10,000 orders per month). That gives you a bit more flexibility to choose the right plan for your business needs. Plus, like most subscription services, you receive a discount if you choose annual billing over monthly.
Data effective 7/2/20. At publishing time, pricing is current but subject to change. Offers may not be available in all areas.
*With annual payment
In addition, Veequo offers custom pricing for businesses that need to ship over 10,000 orders per month.
So what's the catch? For starters, Veeqo's invoicing system lacks the in-depth functionality of other options on our list. It also doesn't include any demand forecasting tools, making it difficult to use if you're operating on a push system of inventory control.
Fortunately, if you're not sure about Veeqo, you can opt for its 14-day free trial to see whether its offerings (or lack of offerings, depending on your business) work for your company.
Runner-up: TradeGecko
If you're looking for a user-friendly inventory management solution that's more affordable, consider TradeGecko's straightforward Founder plan for $39 per month. But before committing to a plan, take advantage of their 14-day trial.
Unleashed
If you're looking for an asset management tool with excellent retail power, look to Unleashed. It stands out from the competition due to its extensive features.
This serious inventory software caters to larger businesses with multiple warehouses and extensive product lines. With Unleashed, businesses get access to real-time data on stock levels, costs, and tracking information.
Unleashed offers three plans, all of which support unlimited warehouse management. Considering that the starting price is only $259, that makes it one of the most cost-effective solutions for businesses with multiple warehouses and locations. However, pricing varies based on the number of users included in your plan (you can have up to twenty, depending on your plan). Here's how the prices break down.
Data effective 7/2/20. At publishing time, pricing is current but subject to change. Offers may not be available in all areas.
*With annual payment
Another note of caution: while Unleashed is a powerful inventory control tool, the sheer number of features it offers can be overwhelming at first. The good news is you can get in-depth tutorials and video instructions via the service's Unleashed University feature. The bad news? If you're on a Medium plan, you'll have to pay an extra per-user fee to access Unleashed University.
On the plus side, though, Unleashed offers tons of integrations. With a Small plan, you can integrate your inventory management with any third-party accounting solution, and Medium plan subscribers and above get unlimited integrations. That gives you the flexibility to choose the right tools for your business while still enjoying the convenience of managing all your software in one place.
Business insights for companies affected by COVID-19
The business landscape has shifted significantly since the coronavirus pandemic hit in March. Unleashed helps you stay competitive with its curated collection of COVID-19-related articles—packed with helpful insights and advice to help your business weather the storm.
Runner-up: Stitch Labs
Stitch Labs comes in a close second due to its ability to track inventory across multiple channels, POS systems, and warehouses, which makes it easier to scale your business.
6. inFlow: Honorable mention

inFlow
If you're a first-time user of inventory control software looking for a low-cost option, inFlow should be your first choice.
Archon Systems' inFlow Inventory is used in a variety of industries, including retail, e-commerce, manufacturing, health care, wholesale, and more. Why is it so popular? That's largely due to the software's expansive features and low cost.
inFlow is considerably cheaper than other inventory management options, with packages starting at a low $71 per month. However, if you need a way to generate work orders and bills of materials, you'll need to pay $39–$199 per month (depending on your plan) for an extra add-on.
Data effective 7/2/20. At publishing time, pricing is current but subject to change. Offers may not be available in all areas.
*With annual payment
In addition, inFlow offers a free local software option called inFlow On-Premise. While it's nowhere near as comprehensive as the plans we've listed above, inFlow On-Premise is still (we think) the best free inventory management option for most businesses.
Another thing we like about inFlow? Its navigation is simple enough to allow modern business owners to find everything they need without a lot of rigamarole—even if you're new to inventory management. If you need to reorder stock, for example, all you have to do is hit the "Reorder Stock" button and inFlow will automatically generate purchase orders for any products with low stock levels. You also get great organization tools, which allow you to sort inventory items by location and sub-location to track aisle and bin numbers.
Bottom line? inFlow's dashboard doesn't detract from the fact that the software offers plenty of modern functions to keep your business in line with its inventory goals.
FAQs about inventory management
What is inventory management, and how can it help?
Inventory management is the process of ordering, storing, and controlling a company's raw materials and finished products. Cash flow and inventory tracking can be a challenge if you don't have the proper tools. And unfortunately, spreadsheets can't handle the demands of real-time data and inventory control.
That's where inventory management software comes in. With an inventory management solution, you can automatically forecast demand, prevent product overstock, eliminate shrinkage concerns, increase productivity, and cut costs. Yes, you read that right. Just check out our nifty guide to learn more about how inventory system software reduces costs for you and your customers.
When do you need inventory management software?
If you're monitoring inventory levels for multiple stores and online sales channels, you should definitely consider investing in an inventory management system. With inventory management software, you can see real-time inventory data, making it easier to manage new purchase orders and see what you have on hand in the store and the warehouse. Plus, most services offer a mobile inventory management app to simplify the process even further.
Long story short: the right software can provide insights that help you make faster, better business decisions.
What is supply chain management?
Supply chain management (SCM) is an important business process. Basically, the goal is to find ways to manufacture and deliver your products faster and at a lower cost.
Optimizing your supply chain can give your business a competitive edge, but it can be complicated to manage and track all the data, time, and costs associated with your manufacturing and delivery process. Fortunately, most inventory control platforms offer solutions to simplify the process. That way, you can make inventory-related decisions faster and more accurately.
What are the benefits of integrating a POS system with inventory management software?
Point-of-sale (POS) systems like LightSpeed Retail are used to process transactions and record sales. Integrating your inventory management system with your POS system allows you to automatically sync these records with your inventory tracking. Otherwise, you'd have to enter updated inventory counts manually. And frankly, who has the time?
Can a free inventory management system provide enough support?
Good news! You don't need to break the bank to keep an eye on your inventory. There are several free inventory management systems for small businesses, like POS Maid or Skyware Inventory.
However, you may miss out on advanced user features and options. So if you need something more robust to scale your business, we recommend upgrading to paid packages.
What is product life-cycle management?
Managing a product's life cycle helps business owners understand certain elements of their products at particular points in time. The main stages of the product cycle are introduction, growth, maturity, and decline.
Depending on the platform you use, your inventory control software may be able to help you track inventory during each phase of your products' life cycles. That way, you can make smart decisions about whether or not to order more stock when you run low.
Do I need any hardware as part of my inventory management solution?
Certain types of hardware (like handheld scanners) can simplify your inventory management, so it's important to choose inventory software that integrates easily. The most commonly used inventory control hardware includes:
What are common terms in inventory management?
Bill of materials: A bill of materials is a list of raw materials, subassemblies, and components, along with the quantities needed to manufacture your product.
Just-in-time inventory (JIT): Also known as lean manufacturing, just-in-time inventory management is the process of ordering and receiving inventory for production and customers' orders as it's needed. Although JIT management can cut costs and improve your return on investment, it can lead to stockouts (times when items are out of stock).
Drop-ship: Drop-shipping allows retailers to sell products without having to pay for storage of their inventory items in a warehouse. When customers place orders, the retailer fulfills these requests by making purchase orders with the manufacturer that ship directly to the customers. Amazon is perhaps the largest drop-shipper.
To learn more terms, take a look at our overview of inventory management acronyms.
Should I use a perpetual or periodic inventory system?
The perpetual system alerts retailers when product amounts are low, and in some cases, it can automatically reorder products. Meanwhile, a periodic inventory system is a non-continuous manual process for tracking sales.
Since the perpetual system is easier, most business owners prefer it over periodic inventory systems. However, to use a perpetual system, you'll need some sort of inventory management software. In most cases, that means extra costs for your business—though it may be worth it for the accuracy and peace of mind you get with an automatic system.
For more info, be sure to check out our guide to perpetual vs. periodic inventory systems.
Final verdict
Overall, the affordable and functional Ordoro is our pick for the best inventory management software for small businesses. However, every business has different needs, so don't just take our word for it. Most of the options on our list include a free trial, so feel free to shop around until you find the ideal inventory management software for your company.
Do you have a different inventory management software that works for you? Let us know in the comments below!
Disclaimer
At Business.org, our research is meant to offer general product and service recommendations. We don't guarantee that our suggestions will work best for each individual or business, so consider your unique needs when choosing products and services.
Sources
1. Entrepreneur, "The 4 Essential Elements Inventory"