Free Excel Inventory Management Template
If you're looking for a cost-efficient solution to inventory management, Excel is an excellent choice. And with a free inventory management template from Business.org, you have all the tools you need to be successful.
Using an Excel sheet to manage your inventory is a great way to save money. But if you're not proficient with Excel, it can also be overwhelming and confusing.
Fortunately, we've taken care of the hard work for you and put together this free Excel spreadsheet template to help you manage your inventory as effectively as possible—without any of the stress that comes with navigating complex formulas, VLOOKUP, and pivot tables (and yes, those are all real things).
Data as of 3/29/23. Offers and availability may vary by location and are subject to change.
Quick warning
Our template is specifically designed for use in Microsoft Excel. If opened in Google Sheets, the template may show strange formatting, lose some of the features we discuss below, and otherwise act funky. If you're really set on using a cloud-based inventory management spreadsheet, we recommend using this template with Microsoft's new Excel Online feature instead.
What our Excel template has to offer
We've put together everything you need to run an efficient inventory management system.
Our template features a products page that essentially acts as your comprehensive inventory list. It helps you organize product details, calculate inventory value, and track storage location for each of your items. It will even automatically highlight inventory items that fall below your set reorder level.
With our free Excel template, you can enter new purchase orders and track their arrival. The sheet automatically highlights items that are late so you can identify vendors with frequent fulfillment issues. The template will also highlight purchase orders that arrive before their due date.
The sales tracking sheet can be used to manage both in-store and online sales—perfect for a company running a brick-and-mortar and e-commerce business. Our inventory tracker includes space for you to enter a shipping deadline, as well as automatic formatting within the template to help you easily spot items that are shipping late.
Inventory count management
Finally, our template includes an inventory count sheet, which automatically pulls stock location for each item so you can quickly and easily conduct physical inventory counts.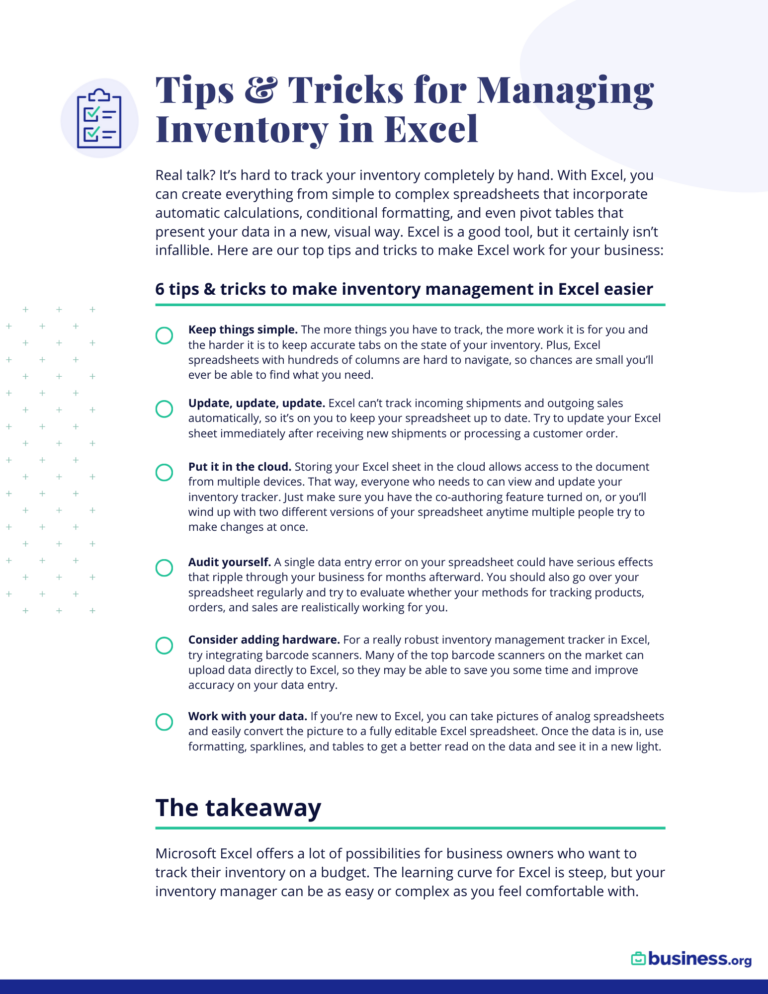 Get your free template
Keep your inventory organized, monitor shipments, and track vendor reliability with our customizable Excel inventory template and our included tips and tricks.
Once you've received our Excel inventory tracking template, you'll want to get started entering your stock item information on the sheet labeled "Products." This inventory sheet includes all the conditional formatting needed to highlight items that are due for reordering.
To enter your product info, you'll need the following information for each item:
SKU: The item number you use to track your products
Product category: The category of your product (like "Clothing")
Name: A name for your product to help you recognize the item at first glance
Description: A brief description of the item
List price: The amount you sell the product for
Stock location: The warehouse inventory location where the item's stored (you can get as vague or as specific as you want—whatever's most useful for you)
Reorder level: The stock level at which you need to reorder the item
Reorder quantity: The number of units you should reorder (when it's time to reorder)
Vendor: The company you order the item from
We also left a spot where you can specify whether an item has been discontinued or not. And if you get lost, don't worry—we've left some examples of inventory items on the sheet for you to take your cues from.
We've also included some columns highlighted in blue. These columns feature auto calculations and complex formulas to help automate your inventory valuation, current stock levels, and more.
Once you've entered all the details for your products, copy and paste your SKU numbers over to the Stock Count sheet. Once the SKU is entered, the sheet should automatically fill in the product name, description, and stock location for each item.
Next, fill in the date. This will be an important metric in determining your current inventory down the line. From there, you can use the stock location info on your Stock Count sheet to find your inventory items and do a physical count. Enter the number of items in the Quantity in Stock column.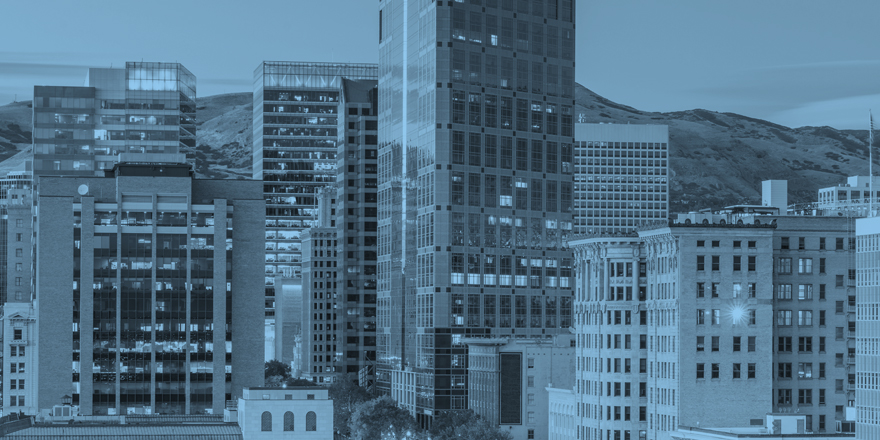 Ordoro offers everything you need to sell your products online or in person.
Get total control over your inventory
Align your business strategy with your stock management
Maintain vendor and customer relationships
You're probably not going to sell the same products forever, in which case you'll need to add new products to your template. Simply right-click one of the rows on the left side of the page, click "Insert" to add a new row, and fill in the info for all the gray columns.
Make sure to copy and paste the SKU number for your new items into the Stock Count sheet too—otherwise, the template won't be able to update your current inventory numbers.
If you ever need to reorder products, head over to the Purchase Orders tab. There you can enter the following details:
Invoice number
SKUs for items on order
The vendor you're ordering from
The quantity you're ordering
The cost price per item
The date you made the purchase
The date when you expect to receive the shipment
Make sure to enter each item individually—even if they're on the same invoice.
We've included some auto calculations here as well to pull in product details, calculate the total cost for the order, and track the number of days between the purchase date and the date you receive the shipment.
We've also thrown in some Excel formatting to highlight purchase orders that are late to arrive, as well as those that are early.
Any sales you make can be recorded on the Sales tab in your Excel file.  For items sold in person, you need to enter only the following details:
Item SKU
Quantity sold
Sale date
For online sales, you need to enter only the sales order number, ship deadline, ship date, tracking number, and client info—though you're welcome to enter that information for brick-and-mortar sales as well.
And again, our inventory control template includes convenient conditional formatting to help you pinpoint any items that are late or early.
Upgrading your inventory management
Eventually, you're going to outgrow your Excel spreadsheet. When that happens, you can either upgrade the spreadsheet itself through use of the cloud and barcode scanning, or you can upgrade your inventory management game altogether and move to an inventory management software.
Cloud-based inventory management systems allow for multiple users to collaborate on the massive job of tracking your inventory.  Fortunately, you can have a cloud-based solution without spending big bucks on a cloud-based software.
Microsoft now offers Excel as an online service, so you can always migrate your free inventory template from your desktop program to the cloud. This allows you to share your inventory tracking spreadsheet with other inventory management experts within your company.
Alternatively, you can use other cloud-based spreadsheet programs like Google Sheets to achieve a similar result. Be warned though: Google Sheets doesn't have nearly the functionality of Excel, so you're going to miss out on a few features and automations included in our template.
If your business is growing and you need to upgrade your inventory system to be faster and more accurate, try pairing a barcode scanner with the inventory tracking that's already set up in our Excel template.
Best Inventory Management Software
Most people don't know that Excel is compatible with most barcode scanners. So you can get all the convenience of a barcode tracking system without having to pay hundreds of dollars per month for inventory management software.
Move to inventory management software
If you're running multiple warehouses, tracking mass inventory movement on a daily basis, and managing hundreds of products at a time, chances are you've outgrown an inventory spreadsheet template.
In that case, the most efficient option for your business is likely upgrading to an inventory management software. This will give you unfettered access to your stock counts, as well as real-time updates that you don't have to enter manually throughout the day. Score.
Ready to get your inventory operations off the ground? Just enter your email below to get started with your free Excel inventory template.
MS Excel not right for you? No worries—check out our top free inventory software picks to find a better solution for your needs.
Disclaimer
At Business.org, our research is meant to offer general product and service recommendations. We don't guarantee that our suggestions will work best for each individual or business, so consider your unique needs when choosing products and services.