The 5 Best Mobile Credit Card Readers for Your Small Business in 2020
---
Since 50% of customers don't normally carry cash,1 not investing in a mobile credit card reader could cost you. Don't miss out on a single sale—get one of these processing solutions for taking on-the-go payments.
Last Updated: 2 months ago
We checked all pricing and processing fee information in this article and found that everything was up to date.
3 months ago
We updated pricing information for Payanywhere's mobile reader and removed information about a Payanywhere plan that is no longer available.
Less than 6 months
We've updated pricing information to reflect minor price changes in Square and PayAnywhere readers and clarified how Fattmerchant's processing prices work.
Less than 6 months
We've updated this page to include the most recent pricing and product offerings from Square and Payanywhere.
More than 6 months
PayAnywhere and PayPal Here both lowered the cost of their swipe + chip readers, so we updated this page with the current pricing.
More than 6 months
We updated our Payanywhere info to reflect the service's new (lower) transaction fees for manual-entry payments. We also updated a couple of old links to help you find the card readers you need.
More than 6 months
We updated this page with the most recent transaction fee rates for both Square and Shopify.
More than 6 months
We updated our on-page links and clarified a few key points to help you actually get the information you need.
More than a year
We updated our article to reflect the current pricing and packages for our top picks.
More than 2 years
We took another look at mobile credit card readers available, and talked to business owners to get their input. Ultimately, Square continues to be our recommended credit card reader for small businesses.
Because many people go without cash, you need a mobile credit card reader to avoid losing out on customers carrying only credit and debit cards.
Investing in mobile credit card processing is also a smart decision for traditional small-business owners. Your customers are getting more tech-enabled—and they may expect you to have equipment that accepts credit and debit cards.
But which products and services are right for your business? Let us do the heavy lifting for you. Here are our picks for this year's best mobile credit card readers.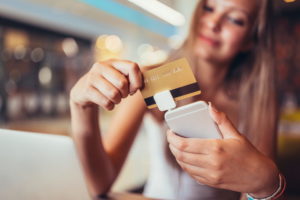 Mobile card readers, compared
We'll get into the nitty-gritty of each product we reviewed below, but here's a quick look at how each brand compares to one another in key areas.
Compare the best mobile credit card readers of 2020
Product
Swipe + chip reader cost
Shortest deposit time
Buy product
Square
$10.00*
(swipe and chip readers sold separately)
1 day
Buy Now
Shopify
$29.00*
2 days
Buy Now
Payanywhere
$18.99*
1 day
Buy Now
Intuit GoPayment
$19.00*
1 day
Buy Now
PayPal Here
$19.99*
1 day♰
Buy Now
Data effective 8/6/20. At publishing time, pricing and features are current but are subject to change. Offers may not be available in all areas.
*First device free with subscription
**Lower transaction fees available for certain monthly subscription plans
♰With a PayPal Business Business Debit MasterCard® account
Square: The overall winner

Square
For low and simple fees, a free and easy-to-set-up reader, and funding as fast as one day, Square is the best overall choice for small businesses that need a quick, affordable, and user-friendly way to accept credit card payments on the go.
The Square reader and the Square mobile app for iOS and Android make up one of the most recognizable and popular mobile credit card processors available—and for good reason.
With Square, you get a free card swipe reader and access to the free Square mobile point-of-sale (mPOS) app. Square's fees aren't the cheapest—but they are the simplest. You pay a flat 2.75% for all swiped credit card transactions with no extra per-transaction or monthly subscription fees.
"While Square's fees aren't the cheapest, they are the simplest."
Square accepts all major credit cards, including American Express, and iy works on all iOS and Android mobile devices. And while Square's fees aren't the cheapest, they are the simplest. You pay 2.6% + 10¢ for all swiped credit card transactions with no extra monthly subscription fees.
Manually entered transactions will cost a bit more per entry at 3.5% + 15¢. But if your service goes offline, you can take advantage of Square's offline mode and pay the same flat processing fees for swipers.
If you want to accept regular magstripe payments, you'll need to buy a Square Reader for magstripe that fits either your headphone jack or your iOS lightning connector—both of which cost just $10. For chip cards and "contactless" payments like Apple Pay or Google Pay, you can purchase the $49 NFC reader or shell out $299 for Square's three-in-one, battery-powered reader to take all types of credit card payments.
Square promises to deposit your money within one to two business days. This is about average, but it lacks the guaranteed next-day funding option offered by other products. It also touts a suite of high-end security and encryption protection, so you can trust in the safety of your and your customers' money and information.
Shopify: Best for pop-up shops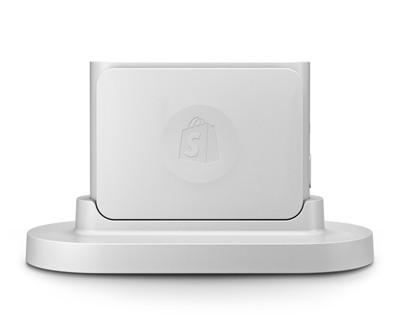 Shopify
An increasingly trendy way to run a business, pop-up shops allow online small-business owners to try out a new revenue stream: in-person sales. If you're one of the tens of thousands of online retailers selling, for example, art, clothes, or jewelry, setting up a booth or kiosk could boost your brand and your profits.
Shopify's platform has long provided retailers a place to sell their wares online, but did you know it also offers an in-person sales solution?
With Shopify's robust mobile app, online store, and mobile card readers, you can start selling products and processing payments wherever your customers are.
The Shopify POS service starts at $29 per month for the Basic plan, which provides shipping label support, retail reports, and a free swipe card reader for up to two users. In-person transactions on the Basic plan cost you 2.7%, while online rates start at 2.9% + 30¢ per transaction.
These costs put Shopify in the more expensive column compared to some of the other brands we reviewed. But for occasional in-person sales, it's a good investment.
Plus, Shopify offers lower fees when you upgrade your plans. For example, the $79 per month plan has in-person fees of just 2.5%. If you plan to expand your physical retail presence and set up a more permanent store, this plan is super affordable.
Shopify's app and readers work with iOS and Android mobile devices and accept all major credit cards. Online reviews of the apps are just so-so, but you can access Shopify customer support 24/7.
The bottom line is if you're thinking of testing out a physical presence for your burgeoning online store, Shopify is an excellent choice.
Payanywhere: Cheapest transaction fees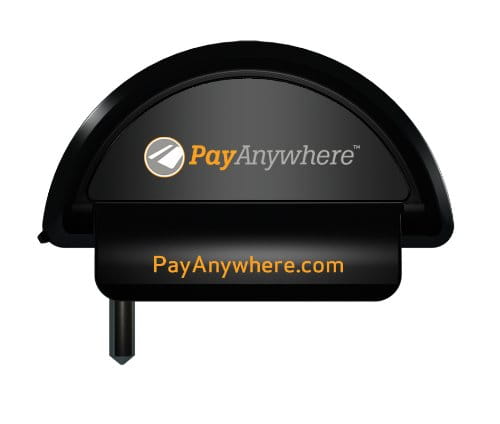 PayAnywhere
For the least expensive option among the five major readers we reviewed, consider Payanywhere's low transaction fees and next-day funding.
With Payanywhere, you get a free credit card reader, and you pay no monthly subscription fees—just 2.69% per transaction with the Pay As You Go package.
Yes, that's a bit higher than Intuit GoPayment's 2.4% transaction fee, but GoPayment also charges an additional $0.25 per transaction. If your business will be taking a large volume of small mobile payments, those per-transaction fees could add up.
For example, if you did a thousand $5 transactions in one month, you'd pay $134.50 in Payanywhere transaction fees. GoPayment would leave you with $420 in fees. That's quite the difference!
The Payanywhere app's mPOS services also include personalized receipts, inventory management, customer purchase reporting, online resources, and multilingual customer support—all at no extra cost.
Intuit GoPayment: Best for QuickBooks users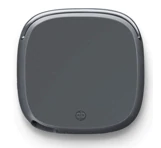 GoPayment
Intuit's GoPayment service allows you to accept and track any payment type—including PayPal, cash, and checks—through the mobile app. And it syncs up with your QuickBooks account to deliver robust solutions for both mobile and desktop users who want to accept in-person payments and online payments through their website.
From the familiar financial software company Intuit, GoPayment is the best mobile card reader for businesses already using QuickBooks accounting and sales software.
To use GoPayment, you'll need a QuickBooks account. It costs $20 per month and allows you to enjoy transaction fees as low as 2.4% + $0.30. As we already mentioned, that comes out a bit higher than Payanywhere, but it's still a decent price.
Of course, the greatest advantage to the GoPayment reader and app is its integration with Intuit's QuickBooks software. Many businesses use QuickBooks to manage payroll, inventory, sales, and other functions, so integrating your mPOS system with the accounting software is a major upside.
The downsides? GoPayment includes higher monthly costs, and the service doesn't offer a contactless payment reader. That means you won't be able to process Apple Pay, Android Pay, or other "contactless" forms of payment.
That being said, GoPayment's QuickBooks integration may compensate for the service's higher monthly fees because your transactions are automatically recorded and synced with your bookkeeping software.
PayPal Here: Most payment options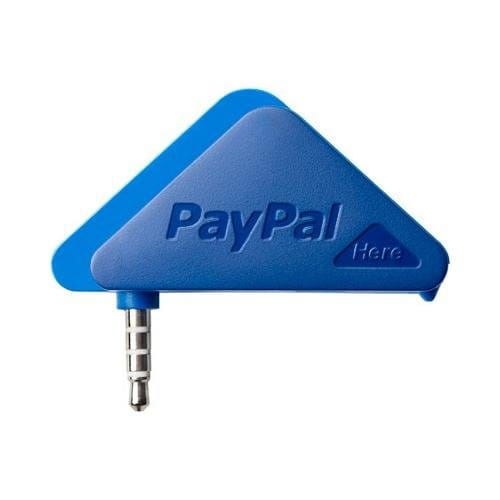 PayPal Here
The PayPal Here mobile card reader and mPOS app are great if your business has both a large online and in-person presence. It's especially great if you need to take lots of different payment types, like checks, and want next-day funding.
PayPal Here is one of the best mobile credit card processing providers when it comes to hardware. All PayPal mobile credit card processors are Bluetooth-enabled, which gives you the flexibility to accept payments anywhere within range of your mobile devices. And PayPal's POS devices are some of the most affordable on the market.
All PayPal Here customers can get either a basic mobile card reader (normally $14.99) or a chip and swipe reader (normally $24.99) for free when you set up your plan. Or you can upgrade to the Chip and Tap + Charging stand for contactless, chip, and magstripe transactions. It costs only $79.99—the cheapest three-in-one device we found.
PayPal Here also lets you accept checks through the mobile iPhone, Android, or Windows app. And of course, customers, vendors, and anyone else can use their own PayPal accounts to send and receive funds.
Swipe transaction fees are a flat 2.7%, beating Square's 2.75% (though they come out the same on keyed transactions with a 3.5% + $0.15 fee on manually entered payments). And like Square, PayPal doesn't charge any monthly subscription fees. Best of all, PayPal's reader and mPOS system integrate seamlessly with PayPal's popular merchant services—making it easy to take both in-person and online payments from anywhere.
Out of the gate, PayPal Here doesn't have next-day funding, but it does have an alternate solution you can choose. If you sign up for the PayPal Business Debit MasterCard®, you can get your payments as quickly as one business day.
If your business needs the flexibility to add additional credit card terminals, consider purchasing from PayPal's suite of POS products. You can get receipt printers, cash drawers, and POS device stands and cases. PayPal Here also lets you customize your profile and receipts, manage inventory, add multiple users, and access lots of online tools and resources.
Find the right POS system for your business
More small-business payment processing solutions
Fattmerchant: Good for high volumes of transactions
If your business does a large number of transactions—about 1,000 or more per month—Fattmerchant offers an enticing monthly subscription service that doesn't charge transaction percentages above the standard merchant fees.
Fattmerchant eschews the traditional per-transaction rate of its competitors and charges just a monthly subscription cost plus a low per-transaction fee. Other mPOS solutions bake the interchange fees into their transaction rates, so in contrast, Fattmerchant is a fantastic option if your business processes transactions in the thousands.
The standard $99 no-contract subscription gets you an EMV-ready mobile card reader, access to its virtual mPOS software, and integration with major POS merchant terminals. Each transaction costs you only what cardholders' banks charge for interchange fees plus $0.08—that's it.
Fattmerchant provides free 24/7 technical support, analytics, and tools. Long-term customers are eligible for next-day bank account funding. But it's probably not a great option for smaller businesses with fewer transactions. In addition, the mobile card reader currently works with only iOS mobile devices, and Fattmerchant doesn't currently offer a solution for contactless payments.
Best mobile credit card readers
ROAMpay: BlackBerry compatible
ROAMpay is unique because it's the only option we found on the market to offer a combination card swiper that works with iOS, Android, and BlackBerry devices. It even works with certain flip phones and older mobile phones. So if you have these devices and want to use them for accepting mobile payments, ROAMpay may be worth a look.
ROAMpay also provides end-to-end encryption for transactions and secure PIN-based user authentication, ensuring the highest levels of data security possible.
Innerfence: High transaction fees and monthly costs
Originally, we placed InnerFence on our "best of" list as a worthy credit card processing contender. This mobile reader and mPOS solution has a few things to like, including a free swipe reader and the ability to work with Windows phones and Mac and PC desktops. But things go downhill from there.
Transaction fees start at 2.9% plus $0.30—higher than any other reader we reviewed—and you're required to sign up for a pricey merchant account to use the service. If you don't have an existing merchant account, Innerfence offers one for $39 per month (billed annually).
Even if you do have an existing merchant account, you still have to pay Innerfence a monthly fee to use its reader and mPOS system. The lowest plan costs $9 per month, but you can connect only one device and user at a time. The next option is $79 per month, which—combined with the high transaction costs—make Innerfence too expensive for us to recommend it.
Dwolla: Peer-to-peer bank transfers for growing businesses
Dwolla doesn't process credit cards and doesn't have a mobile card reader. But considering the buzz around it, we'd be remiss not to mention this intriguing peer-to-peer payment processor for businesses.
Let's be clear: Dwolla isn't a solution if you need to simply take customer payments in a store or online. And as a service that starts at $2,000 a month, it's beyond the budget of most small businesses.
What the company does do well, however, is help companies make large electronic bank account transfers quickly at a fraction of the cost of other Automated Clearing House (ACH) processing companies.
Dwolla is a comprehensive and secure application programming interface (API) that you can integrate into your own business information technology infrastructure. If you frequently send and receive ACH payments, contact Dwolla for a customized quote.
The true cost of mobile card readers
To give you an idea of how much each product will cost your business to accept mobile payments, we calculated the transactions and monthly fees for each plan. As you can see, Payanywhere is the clear winner in terms of cost—especially if your average transaction amounts are low.
Note that we didn't include ROAMpay or Fattmerchant in the tables below. Because ROAMpay doesn't clearly define its fees publicly and Fattmerchant's costs depend on variable credit card company merchant fees, neither company could be accurately compared in this format.
Cost of one thousand monthly transactions ($5 each) over three months
| | | | |
| --- | --- | --- | --- |
| Product | Card-present transaction fees | Monthly fees | Total |
| Payanywhere Pay As You Go | 2.69% | $0 | $403.50 |
| PayPal Here | 2.7% | $0 | $405 |
| Shopify | 2.7%* | $29 | $492 |
| Square Point of Sale | 2.6% + 10¢ | $0 | $690 |
| Intuit GoPayment | 2.4% + 25¢ | $25 | $1,185 |
Data effective 8/6/20. At publishing time, pricing and features are current but are subject to change. Offers may not be available in all areas.
*With a Shopify Basic plan
Cost of one thousand monthly transactions ($100 each) over three months
| | | | |
| --- | --- | --- | --- |
| Product | Card-present transaction fees | Monthly fees | Total |
| Intuit GoPayment | 2.4% + 25¢ | $25 | $8,025 |
| Payanywhere Pay As You Go | 2.69% | $0 | $8,070 |
| Square Point of Salet | 2.6% + 10¢ | $0 | $8,100 |
| PayPal Here | 2.7% | $0 | $8,100 |
| Shopify | 2.75%* | $29 | $8,187 |
Data effective 8/6/20. At publishing time, pricing and features are current but are subject to change. Offers may not be available in all areas.
*With a Shopify Basic plan
As your transaction amounts go up, the rankings shift a bit. Payanywhere's subscription is still the cheapest option, but GoPayment pulls into a close second place thanks to its super-low 1.69% rate.
Hint
With 50% of your customers often going without cash,2 having a mobile card reader is a must—especially if your business is one of these:

Everything you need to know about mobile card readers
Have you recently decided you need to start accepting mobile payments but aren't sure about some of the details? Start here to learn the basics.
What's the difference between mobile card readers and mobile POS systems?
A mobile point-of-sale system, or mPOS system, is a program that runs on a smartphone or tablet and uses software to process business transactions like a traditional POS terminal. The advantage of an mPOS system is that it can function without the need for expensive electronic cash registers or merchant services—and it can be used just about anywhere.
A mobile card reader is an electronic device that connects to an mPOS system to accept credit and debit cards. Basic readers let you swipe cards to take payments. Higher-functioning devices can accept EMV (chip card) and NFC (contactless) payments too.
Hint
With 50% of your customers often going without cash,1 having a mobile card reader is a must.
What are NFC, EMV, and magstripe readers?
Magstripe is short for magnetic stripe, referring to credit cards that store information in a band of magnetic material. All mobile card readers can accept magstripe cards.
EMV stands for Europay, MasterCard, and Visa, and the term is used for a rapidly developing worldwide standard for credit card payments. EMV-enabled readers can accept microchip cards that allow for more secure authentication of card transactions.
Near-field communication (NFC) readers accept "contactless" card payments like Apple Pay and Google Pay. These readers are called contactless because the card information is stored on a separate device—such as a smartphone—which needs only to be placed near the reader to initiate a transaction.
Do I need a chip reader?
To protect your business and customers, you should adopt EMV-enabled readers as soon as possible. Although not all issued cards are 100% chip ready, their use is growing.
Chip cards are harder to counterfeit, which means customers are at a lower risk of fraud. In 2015, the rules governing who is liable in cases of in-store credit card fraud shifted from the credit card companies to businesses that don't adopt the EMV-reading standard.2 So you'll be liable for a counterfeit purchase if it's made using a chip card, but if your business uses EMV readers, your risk in counterfeit cases is reduced. It's a win-win!
Look out!
If you haven't adopted chip-enabled readers, you're putting your business at risk of counterfeit credit card liability. Purchase EMV-enabled readers to protect yourself and your customers.
I so enjoy the mobile credit card reader Square. It's so convenient and easy to use. I can travel with it wherever I go. I also get money in my account within a couple of days. I wouldn't change anything about it. The biggest reason I purchased it was ease of use."
I mostly use Shopify's mobile credit card reader, but occasionally Square's. Ease of integration with all of our other tools was the main influencer; cost was also a consideration.
I use a PayPal mobile card reader. What I like best about it is the size. It is a little larger than a credit card and less than a half-inch thick. PayPal already processes my online payments, so it made sense to have them process my mobile payments as well. The card reader was free, so there really was no reason for me not to use it. Honestly, the more difficult part of this process is choosing your merchant services provider.
In our digital agency, we use the mobile credit card reader by Shift Processing. It was worth it to us to go with a smaller processor that can take care of us personally rather than a huge global company where we feel like a very small cog in a giant machine. We use their free credit card reader that connects with our mobile phones and we take advantage of their virtual terminal for any transactions we need to run when the card isn't present.
The takeaway
Overall, the popular, affordable, and secure Square mobile card reader is the best choice for most small businesses. But depending on your business's needs, one of our other favorite mobile card readers may be the right one for you.
Want a mobile card reader that integrates perfectly with your point-of-sale system? Check out the hardware costs for our favorite POS systems.
Disclaimer
At Business.org, our research is meant to offer general product and service recommendations. We don't guarantee that our suggestions will work best for each individual or business, so consider your unique needs when choosing products and services.
Sources
1. CNBC, "Here's How Many Americans Say They Don't Carry Cash," November 2, 2017. Accessed August 6, 2020.
2. SumUp, "The EMV Liability Shift: What You Need to Know in 2019." Accessed August 6, 2020.