Shopify is one of the premier point-of-sale providers of 2022. It's packed with features and is able to fit itself neatly into most small business situations.
Data as of 12/9/22. Offers and availability may vary by location and are subject to change.
If you're running a brick-and-mortar business, online store, Facebook sales operation, or all of the above, Shopify is a service worth considering. Shopify makes it easy to automate all aspects of your sales process, from employee management to rewards programs.
An automated sales process means more sales and more repeat customers. And we can confidently say that Shopify seems designed to make a difference for your bottom line. Read on to find out how.
Shopify is best for multichannel sellers
If you sell in store and online, you'll be able to get the most out of Shopify. For example, Shopify's app makes it easy to connect the inventory from all your locations.
Say a customer comes to your store and needs an item that's out of stock at your current location but in stock elsewhere. With Shopify, you can easily access your other stock at the point of sale and perform a ship-to-store or ship-to-customer transaction. Whatever is convenient for your customers.
Additionally, if your customers are buying online but would rather come to pick up their items in your physical store, you can easily add an in-store pickup option to your online Shopify store. This functionality only works if you're a multichannel seller.
That said, any business can benefit from the multitude of features Shopify has on offer, but the multichannel flexibility is a key selling point of its services.
| | | | | |
| --- | --- | --- | --- | --- |
| Plans | Price | Online card rates | In-store card rates | See Plans |
| Basic Shopify | $29.00/month | 2.9% + $0.30 | 2.7% + $0.00 | Get Started |
| Shopify | $79.00/month | 2.6% + $0.30 | 2.5% + $0.00 | Get Started |
| Advanced Shopify | $299.00/month | 2.4% + $0.30 | 2.4% + $0.00 | Get Started |
In terms of the base Shopify plans, the only things that change as you move from the Basic to the Advanced Shopify plans are decreasing transaction costs and more report generation tools. Additionally, the Advanced Shopify account adds third-party calculated shipping rates and shipping account integration.
So if you already have a shipping infrastructure in place, Advanced Shopify will be able to integrate with your current system.
Now let's take a look at Shopify's POS plans. These plans are add-ons to any of the above-mentioned plans. They cannot be used without one of the base plans.
| | | |
| --- | --- | --- |
| Plans | Pricing | See Plans |
| Shopify POS Lite | Included with all plans | Get Started |
| Shopify POS Pro | Plan price + $89.00/month per location | Get Started |
The Shopify POS Lite plan comes free with any base Shopify plan, but the Shopify POS Pro plan is an additional cost of $89/month per location.
There are quite a few features included in both plans:
Complete checkout experience with discounts and customizable smart grid interface
Ability to integrate Shopify POS hardware
Ability to accept payments from all major credit cards
Gift card program (not available with Shopify Basic base plan)
Social media marketing tools
Tons of analytics reports
You may be wondering what the extra $89 a month per location gets you with the Shopify POS Pro plan. Quite a lot, actually:
Buy online, pick up in store
Buy online, return or exchange in store
Buy in store, ship to customer
Custom printed receipts
Exchanges online or at any store
Ability to save and retrieve carts
Unlimited store staff on POS
Staff roles and permissions
Staff sales reports
Manager approval settings
Inventory management tools
One final cost to consider when using Shopify is the cost of new hardware. Shopify has a ton of hardware credit card terminal and POS systems that range from simple mobile readers ($29) to fully customized retail kits ($879).
Compare Shopify to top competitors
Data as of 12/9/22. Offers and availability may vary by location and are subject to change.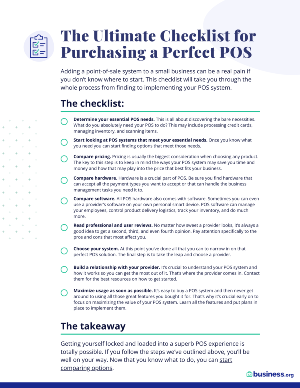 Follow these steps to purchase the perfect POS system
Read our free ultimate checklist for finding the right POS for your business. Don't get saddled with the wrong system. Enter your email and the checklist will arrive promptly.
Easy multichannel selling
Tons of app integrations
Great hardware options
Great cancellation options
Plans and pricing can be a little confusing
Transaction fees for 3rd party processors
As we've said above, Shopify is great for integrating your multichannel selling strategy. It gives your customers more ways to get the products they want which, in turn, gets you more sales.
Shopify also has a huge list of extra apps you can download into your POS software. You can download inventory management tools, accounting automation integrations, and so much more.
Best of all, these apps can run on Shopify's proprietary POS app. You can run this app from a tablet or smartphone in connection with any of Shopify's great hardware terminals. And Shopify really has all your bases covered with the hardware it offers, like mobile readers, smart terminals, and full POS rigs.
But, if you need to cancel your account permanently or briefly, Shopify has a ton of different cancelation options. One option lets you cancel completely, but keep in mind that you'll lose access to your account. Another option lets you cancel for up to three months with no charges. The final option allows you to make your system inactive while still being able to edit it on the back end. This final option has a greatly reduced monthly fee.
Best POS Systems for Small Businesses
There's a lot to buy with Shopify if you want the full POS experience. You have your base account, your POS account, and your hardware. It can be confusing to decide what you actually need. But, even if you opt for the most expensive options, the total cost is fairly reasonable compared to competitor plans.
One weird downside to Shopify that we don't really like is that it doesn't let you use a third-party processor without charging you an extra transaction fee. So, if you're processing with another company and want to integrate Shopify into your current ecosystem, you'll end up paying extra processing fees to Shopify.
Shopify instead wants you to use its processing services. And while Shopify's processing fees aren't the cheapest in the world, they're actually not that bad. That said, we'd like to see Shopify make its processing integrations free like so many other providers.
Shopify's service is built around automating your point-of-sale process. These automations make it easy for your customers to get the products they want, when and how they want.
We've been beating the multichannel selling drum pretty hard in this review, but that's because it's Shopify's main selling point. The convenience of having all your products synced up on the same grid shouldn't be understated.
It makes it easy for a customer who, say, can't find a pair of jeans in the right size at your store, to check and see if that size is available at another location. Then, they can choose whether to have those jeans shipped directly to them or go pick them up themselves. Multichannel selling is, quite simply, a way to make more sales in more ways.
And you know what more sales means.
It's great to be able to adjust permissions and add roles for staff members within your POS system. With the Staff management feature, you can also track the performance of each individual staff member and generate reports. These reports make it easy to tailor your training to the needs of your staff and the needs of individual staff members.
Create customer profiles and tag your customers with unique signifiers to create intuitive client segments. You can also save customer contact info making it easy to call, email, or text customers from your POS app.
Plus, don't forget to set up a loyalty program for your customers so they'll keep wanting to come back.
You can run a ton of reports on Shopify:
Retail sales reports
Cash flow reports
Finance reports
Discount reports
Product reports
Cash tracking
Daily sales reports
Each of these reports gives you the actionable data you need to optimize your short- and long-term business strategies. These reports are also a great way to monitor the overall health of your business, making it easy for you to catch and analyze declines.
Finally, we reach the kind of no-brainer Shopify feature. It offers tools for you to quickly set up an online store so you can start making sales online. Shopify will take you through the whole process of getting a domain and setting up your site.
So what's the verdict? Well, Shopify is a fantastic option for businesses looking for ways to integrate their online and in-store sales. It's also got all the features businesses need to have a fully automated POS experience. It's definitely worth checking out if you're looking to modernize and simplify your business processes.
If you're not quite sold on Shopify, there are tons of other POS options available on the market. Here is an article with some of our top picks.
We examined Shopify by looking for essential POS features needed in all modern systems. We also compared its pricing to other top providers on the market. Finally, we examined third-party user and professional reviews to confirm and validate our research.
Disclaimer
At Business.org, our research is meant to offer general product and service recommendations. We don't guarantee that our suggestions will work best for each individual or business, so consider your unique needs when choosing products and services.