Best High-Speed Internet Providers for Small Businesses of 2018
---
Nearly 30% of businesses say they need internet faster than 50 Mbps.1 With download speeds up to 1,000 Mbps, these are your best business broadband bets for high-speed internet.
Updated: 11/13/18
Published: 04/25/18
The fastest animal is the peregrine falcon. The fastest car is the Hennessey Venom F5. The fastest business internet provider is . . . well, that's what we set out to uncover.
Speed is a top concern for businesses that frequently need to download files, run sales software, or stream video and audio. But you may be considering more factors—like price or reliability guarantees—to help you choose a business internet service provider.
We researched the top providers of high-speed business internet services to find out how they compare. From maximum download speeds to costs and more, find out which internet cheetah can carry your business the furthest.
Hint
"Broadband" and "high-speed internet" are somewhat murky terms that not everyone defines equally. But here's what we use: in 2015, the FCC defined broadband service as any connection that provides customers with download speeds of at least 25 Mbps.
Best High-Speed Internet Providers for Small Businesses
Data effective 01/17/18. At publishing time, pricing and speeds are current but are subject to change. Offers may not be available in all areas.
Here's how we arrived at the list above. We only included plans with download speeds of 25 Mbps or more to match FCC guidelines for broadband internet. We also left out any plans that were extraordinarily expensive for the download speeds they provide—they're just not worth the money.
In the end, our list of best broadband service providers includes several major companies with cable, digital subscriber line (DSL), and fiber-optic plans.
Not sure which option will help you grow?
Transform your business with a free assessment, and get a tailored recommendation for services that will drive better results.
Verizon: Overall best for high-speed business internet
Symmetric download/upload speeds up to 500 Mbps
Reliable near-gigabit fiber connection
Excellent customer service for business customers
No true 1,000 Mbps plan
24-month contract with auto-renewal
Verizon serves up the best combination of business internet speeds, reliability, and support.
Although Verizon sells a few business DSL plans, none have speeds at 25 Mbps or more. For truly fast speeds, fiber is hard to beat. Verizon's fiber plans, branded Fios, offer you a chance at near-gigabit connections.
What do we mean by "near gigabit"? Verizon's fastest plan—Fios Gigabit Connection—gives you maximum download speeds of 940 Mbps with upload speeds up to 880 Mbps. That's lightning fast by today's standards, but it doesn't quite reach 1,000 Mbps, the true definition of gigabit speed. Yet with fiber plans that consistently meet the speeds Verizon advertises, and then some,2 we'll let that bit of fudging slide.
Another feather in Verizon's cap is its customer service. We understand that most internet providers have poor reputations. But the fact that industry rating juggernaut J.D. Power gave its highest scores to Verizon for business customer satisfaction should give you warmer feelings.3
Verizon high-speed internet plans
| | | |
| --- | --- | --- |
| Plan | Starting monthly price | Learn more |
| Verizon Business Gigabit Connection | $214.99 | View Plans |
| Verizon Business Internet 500 | $214.99 | View Plans |
| Verizon Business Internet 300 | $184.99 | View Plans |
| Verizon Business Internet 150 | $109.99 | View Plans |
| Verizon Business Internet 75 | $84.99 | View Plans |
Verizon's fastest plan is priced at about $215 per month. That may be a bit expensive for some very small businesses, but it's far better than the nearly $500 that Comcast charges for gigabit speeds.
Many Verizon plans offer symmetric speeds, which means you get the same speed for downloads and uploads. Fast upload speeds can significantly improve activities that require sending data from your device, including video conferencing in real time and uploading large files to cloud storage.
One gripe: contracts. While some ISPs—like Spectrum and AT&T—offer contract-free plans, Verizon requires a 24-month agreement that renews automatically. It's not the worst thing in the world, but if you need more freedom than a long contract allows, Verizon may not be the right choice.
The bottom line: Verizon Fios offers an impressive array of high-speed internet plans to fit businesses of just about any size.
AT&T: Best for pure speed
Symmetric-speed gigabit connection
Contract-free fiber plans
Wide range of high-speed fiber and DSL plans
Too pricey for some businesses
Troubling business customer satisfaction record
If you're focused on finding the fastest business internet plans possible, we recommend AT&T. Business plans from AT&T soar all the way up to 1,000 Mbps download and upload speeds, offering you true gigabit connection potential.
But it's not just its fiber plans that are fast—AT&T has some seriously speedy DSL plans too. Small businesses can get DSL plans with up to 500 Mbps download speeds. So if fiber isn't available in your area, you may still have a chance at some of AT&T's top-speed plans.
AT&T fiber plans come contract-free, while DSL plans require a 12-month agreement. Several fiber plans give you the option of symmetric speeds—but at a lofty price. If your business is a frequent user of upload-heavy applications and real-time communication software, you should consider one of these plans with symmetric speeds.
AT&T high-speed internet plans
Data effective 01/17/18. At publishing time, pricing and speeds are current but are subject to change. Offers may not be available in all areas.
Pure, unadulterated internet speeds do come at a cost: AT&T charges a premium for its fastest plans. Prices for symmetric fiber plans can cost you upwards of $650 per month—out of range for many budget-sensitive businesses.
Another problem we found with AT&T were signs of faltering business customer service ratings. Although AT&T earned J.D. Power's top score in its 2015 business customer satisfaction study, ratings have since fallen.4
Frontier: Best budget-friendly option
Affordable high-speed plans
Fiber plans with symmetric speeds
3-year price guarantee
Poor customer service reputation
Limited access to fiber plans
If you saw the plan prices for our picks above, you may be worried that an affordable high-speed internet connection is beyond reach. With plans priced at the hundreds of dollars per month, budget-conscious businesses need an alternative.
Enter Frontier Communications. Frontier offers a suite of business internet plans that are fast but won't break the bank. And thanks to its recent purchase of certain Verizon Fios networks, Frontier now offers high-speed, symmetric-speed fiber plans throughout the country. Plus, there's one DSL plan that makes the cut too.
What's more, the Frontier AnyWhere VoIP service offers a comprehensive, integrated voice system solution for businesses that want to avoid telephone landline connections.
Frontier high-speed internet plans
| | | |
| --- | --- | --- |
| Plan | Starting monthly price | Learn more |
| Frontier Business Fios 150/150 | $174.99 | View Plans |
| Frontier Business Fios 75/75 | $84.99 | View Plans |
| Frontier Business Fios 50/50 | $59.99 | View Plans |
| Frontier Business "Extreme" DSL | $139.99 | View Plans |
| Frontier Business Fios 30/30 | $49.99 | View Plans |
Data effective 01/17/18. At publishing time, pricing and speeds are current but are subject to change. Offers may not be available in all areas.
All of Frontier's high-speed internet plans come in under $200 per month. And each fiber plan includes free installation, which can save you a bit of up-front cash. We also love that most Frontier business plans are price guaranteed for 36 months, so you don't have to worry about surprise cost spikes in your bill.
Now for Frontier's major shortcomings. Frontier's customers lodge a lot of complaints against the internet service provider. One common grievance is high latency. Latency, which refers to data transfer delay time, can cause serious headaches for businesses that require fast and reliable connections. Activities like video streaming are at risk of disruption from high latency.
Despite customer service and reliability concerns, you should consider Frontier if low prices for high-speed plans is your number one priority.
CenturyLink: Best phone and TV bundling
Affordable DSL plans
$20 phone service add-ons
Attractive DIRECTV bundles
Expensive fiber plans
Lackluster customer service
Very limited fiber availability
CenturyLink is another low-cost option for hooking your business up with high-speed internet access. The company's fiber plans are limited to just a few areas in the northeastern US, so we're focusing on CenturyLink's DSL options.
Two DSL plans from CenturyLink surpass the 25 Mbps download speed threshold. Pick the 40 Mbps plan if you want a cheaper option. It's fast enough for a few employees to do moderate web browsing, video and audio streaming, and file sharing.
For a faster connection, go with the 100 Mbp plan. With this plan, you can connect more than 10 users for constant internet usage, including browsing, streaming, conferencing, and cloud syncing. It's fast, but at just over $100 per month, it's also a good value.
The best way to go with CenturyLink is to bundle. You can combine internet with phone, TV, or both and save cash on each service. Add phone services with unlimited nationwide calling for only about $20 per month.
CenturyLink partners with DIRECTV, so you can entertain your customers with packages that start at around $25 a month. Or go for the triple play: combine internet, TV, and phone with packages starting around $109.
CenturyLink high-speed internet plans
| | | |
| --- | --- | --- |
| Plan | Starting monthly price | Learn more |
| CenturyLink Business Internet 100 | $104.99 | View Plans |
| CenturyLink Business Internet 40 | $84.99 | View Plans |
Data effective 01/17/18. At publishing time, pricing and speeds are current but are subject to change. Offers may not be available in all areas.
Unfortunately, we couldn't find upload speeds for CenturyLink's DSL plans. So if they're important to you, ask before you sign up. And CenturyLink's customer service reputation isn't the shiniest.
CenturyLink may not tick all the boxes for every business. But small businesses like bars, restaurants, and medical offices should consider this provider's enticing bundles, moderately fast speeds, and not-too-pricey plans.
Spectrum: Best no-contract cable
No monthly contracts
Low-priced high-speed plans
Bar and restaurant special bundles
Hard-to-get fiber access
Sluggish uploads
Low business customer satisfaction
Want high-speed internet for your office but feel squeamish about signing a long-term contract? Spectrum will connect you to cable internet speeds up to 300 Mbps totally contract-free.
Spectrum, a Charter Communications brand, provides cable internet to US businesses. The upside to cable internet is that you access it through the same cable modems used to deliver cable TV. This makes cable internet widely available. Spectrum provides fiber connections in some areas, but the service is so limited that we haven't included the plans here.
Spectrum offers three high-speed cable options to business customers: 100, 200, and 300. Each plan denotes the download speed you can expect from your connection in megabits per second.
The fastest plan—Spectrum Business 300—is also pretty affordable. At $139.99 per month, it delivers three times the download speed of AT&T's 100 Mbps fiber plan at about the same price.
Spectrum high-speed internet plans
Data effective 01/17/18. At publishing time, pricing and speeds are current but are subject to change. Offers may not be available in all areas.
Where Spectrum falters is its upload speeds. Cable technology limits how much upstream heft you can get, and Spectrum's plans can get you up to only 20 Mbps upstream.
Another trouble spot is customer service. Although Spectrum has received awards for superior customer service on the residential end, in the business market, it fares much worse.5
But if these factors don't concern you too heavily, Spectrum cable internet appears as a rosy alternative to expensive DSL and fiber providers that lock you into lengthy contracts.
Comcast: Honorable mention for reliability
Supremely reliable connections
Symmetric fiber speeds
Competitive business plan pricing
Limited fiber plan access
Mixed customer reviews
Comcast business internet is undeniably reliable. The company offers the strongest uptime guarantee—99.998%—of any business ISP we surveyed.*
But why should you care? High uptime translates to low downtime. In other words, you can expect your internet to be up and running year-round nearly 100% of the time. Small- and medium-sized businesses that rely on constant, data-heavy connections should consider Comcast's top-of-the-class uptime guarantee a potential lifesaver.
There's more to like about Comcast, including fiber plans with symmetric speeds up to 1 Gbps. And its pricing, while not the cheapest, is competitively matched against other providers like Verizon and AT&T.
Plus, Comcast plans come with zero-cost installation, a 30-day trial period, and access to tons of extra apps, software, and tools for Wi-Fi, security, and more.
Comcast high-speed internet plans
Data effective 04/17/18. At publishing time, pricing and speeds are current but are subject to change. Offers may not be available in all areas.
But we couldn't talk about Comcast without mentioning its dreadful reputation with residential customers. However, Comcast business customers don't rate their ISP nearly as harshly as their home-based counterparts.
We breathed a bit easier when we realized that Comcast truly does offer a solid internet option that's super reliable and super fast.
High-speed internet FAQs
There's no indisputable definition of high-speed internet. In fact, internet service providers attach the term to just about any plan, regardless of speed.
What's more, the terms broadband internet and high-speed internet are often used interchangeably, further confusing things. What are we to do?
High-speed internet vs. broadband internet
Broadband more appropriately refers to any internet type that isn't a dial-up connection. Essentially, broadband's debut marks the age at which most of us moved on from the days of modems that tied up our phone lines to dial into internet provider companies like AOL. And what an age that was (we still hear the screeching modem sounds in our dreams).
Today, broadband internet generally includes any "always on" cable, DSL, fiber-optic, and even high-speed satellite internet connection. But not every plan operates at truly high speeds. So to compare internet providers, we decided to use the FCC's 2015 guidelines on broadband internet speeds, which set the minimum at a 25 Mbps downstream.6
Most small to midsize businesses can operate well at 25 Mbps or more. Of course, as speeds get faster, even this current definition will start to seem slow. And the FCC may change its mind on minimum broadband standards. We'll update you as necessary.
What types of high-speed internet are available?
High-speed broadband internet connections encompass plans from a variety of service providers and connection types. Depending on your area, you may have access to several of these or just one.
Cable: Using the same modems and coaxial cables that deliver cable TV, cable internet is widely available in most well-populated areas.
Digital subscriber line (DSL): Sent via phone lines, DSL connections are faster and more reliable than the phone-based dial-up internet of yesteryear.
Fiber: Beamed through glass or plastic bundles of wires—each wire the size of a human hair—fiber-optic networks offer some of the fastest internet speeds on the planet.
Satellite: Sent to earth by planet-orbiting stations, satellite internet serves as an internet angel for rural business without access to land-based broadband.
Wireless: Whether through hotspots, cellular signals, or fixed radio towers, wireless internet provides options for remote and traveling businesses.
Learn more about the difference between internet types with our detailed comparison.
Speed and bandwidth: How much do you need?
Speed and bandwidth are another two ambiguously used terms in internet parlance. But we can define them a bit clearer than broadband and high-speed.
Speed is the rate at which an internet connection transmits data from one end to the other. Measured in bits per second, most modern high-speed internet speeds range between 25 megabits (about 1 million bits) and 1 gigabit (about 1,000 megabits) per second.
Bandwidth refers to the maximum capacity of a connection to carry internet data. Although ISPs often use speed to market their plans, they're actually selling bandwidth. For example, a 100 Mbps plan has the capacity to deliver data at 100 megabits per second. But beware—you may not actually experience the advertised speed all the time.
Now back to the question: how much speed or bandwidth do you actually need? The answer depends on the type and frequency of internet activity your business engages in on a day-to-day basis.
While guidelines on speed use vary, here's our recommendation for the speed you'll need to run your business smoothly.
| | | |
| --- | --- | --- |
| Internet speed (download) | Number of connected users/devices | What you can do |
| 25 Mbps | 3 to 5 | Large-file downloading, basic Wi-Fi, business communication |
| 75 Mbps | 5 to 10 | Video streaming, frequent file sharing, numerous POS transactions |
| 150 Mbps | 10 to 15 | Frequent cloud computing, video conferencing, and online backups |
| 250 Mbps | 15 to 20 | Server hosting, seamless streaming and conferencing |
| 500 Mbps | 20 to 30 | Multiple-server hosting, constant cloud-based computing, heavy online backups |
| 1 Gbps (1,000 Mbps) | 30+ | Extreme-speed operating for enterprise-ready offices with near-zero interruptions |
What else should you consider when choosing business internet providers?
Price and speed. That's what matters when it comes to choosing a business internet provider, right?
Well, not entirely. The truth is that unless you have an unlimited budget (who does?) or run a supremely data-heavy business (not likely), you'll have other factors to consider. Here are the ones we focus on.
Connection type: Depending on your business's location, connection type may be a key consideration. Some areas may have only a few internet connection choices—or even just one.
Customer and industry ratings: Customer reviews of internet providers tend toward the hellish. But remember that businesses often have different experiences than residential customers. Make sure you understand how a potential ISP handles business customer complaints and concerns.
Fees: Your customers hate hidden fees, and so should you. Check to see if you'll be paying your provider extra for things like installation, static IPs, or early termination.
Bundles: Most internet providers offer special deals for packaging more than one service under the same roof. Whether phone or VoIP or TV, consider bundles as a way to shave off some extra cost when you need several services.
Data caps: You'll run into limits on the amount of data you can use most often with satellite and wireless providers. It can be costly or disruptive to exceed these caps, so ensure you pick an internet plan that can accommodate your data needs.
Cloud, security, and software services: From backing up your precious business data to running email, accounting, and e-commerce applications, many ISPs include or offer special rates on software and cloud-based services.
Hardware: Each internet type requires a unique set of equipment to get up and running. Some setups are simple—just a modem connected to an office cable line.
But others, like satellite internet, may require hefty hardware—and hefty costs too.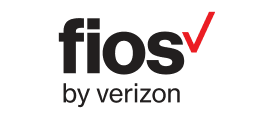 The right combination of fast internet, reliable connections, and solid customer support makes Verizon Fios a worthy choice for nearly any small business.
Verizon is our pick for the best overall high-speed business internet provider. But just because the ISP is our number one choice doesn't mean it's the right one for your business. Consider the factors important to you—cost, contracts, customer service—and then choose the one that best fits your business's demands.
Now tell us your own opinion. We've done a ton of research, but we know that our readers have their own experiences with business internet. In the comments below, tell us which ISP has provided your businesses the best high-speed internet service.