Best Satellite Internet Providers for Rural Businesses: Viasat vs. HughesNet
When you can't get DSL, cable, or fiber, there's one satellite internet provider that delivers better service than the competition.
100
Spreadsheet cells analyzed
Last Updated: several months ago
In response to COVID-19 (the coronavirus), many business owners are leaving their offices and working from home. Internet service providers are working to alleviate the effects of the outbreak by pledging to waive any late fees or data overages for the next 60 days. In addition, certain companies are offering special discounts and features to new and existing users.
Cox is offering one free month of their Connect 2 Compete low-income internet program until May 12, 2020, in addition to providing free phone and remote desktop support.
Comcast Xfinity is offering two free months of their Internet Essentials package to new customers and increased internet speeds to all existing subscribers.
Also, anybody can use an Xfinity hotspot for free, and subscribers get unlimited data use for 60 days.
Updated: several months ago
We reviewed this article for accuracy and currency. Not much has changed with either HughesNet or Viasat. While HughesNet still has the lowest starting price, Viasat remains our preferred provider for business satellite internet.
Spoiler alert—satellite internet isn't for everyone. Compared to earth-based broadband internet connections—DSL, cable, and fiber—satellite is generally slower, less reliable, and often more expensive.
But many businesses don't have those choices on the menu. If you're in a rural area, you may be left with archaic dial-up or satellite service. Fortunately, satellite internet is far more capable than the technology of last century—and has recently gotten even faster.
Satellite internet providers for small businesses
There are only two major providers in the business satellite internet arena. However, they're certainly not identical.
Viasat Internet (formerly Exede Internet): With high download speeds that are unprecedented in satellite internet service,1 as well as soft data caps, Viasat is tops. Just be prepared to pay for it.
HughesNet Internet: When it comes to pricing for budget-minded businesses with minimal online priorities, HughesNet is a reliable and less costly satellite internet service provider (ISP).
Look out
In 2017, Viasat launched its ViaSat-2 satellite into orbit. The system's new technology can deliver satellite internet speeds of up to 100 Mbps, according to the company.1 Although we've yet to see ViaSat offer these next-generation plans to US businesses, we'll update you when we do.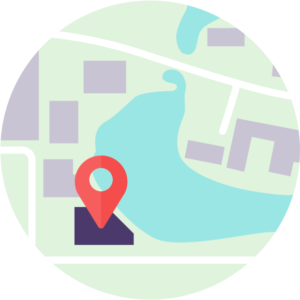 Enter your zip code to find the best business internet providers in your area.
The best business satellite internet: Viasat
When we compared services from the two big satellite internet providers, we considered the factors we think are most important for businesses. From speed to reliability, Viasat was our clearest choice.
Download speeds are the most glaring difference between HughesNet's and Viasat's business internet plans. Viasat plans give you download speeds ranging from up to 35 to 100 Mbps while HughesNet plans max out at 25 Mbps.
The difference in Mbps may not seem like a lot, but if your business relies on frequent internet use, slower download speeds could disrupt your daily work.
Note that these figures represent the maximum speeds you can expect from internet service providers. Depending on your location, the time of day, and other factors, the speeds you experience at any given time will vary.
Comparing each plan from both internet providers, HughesNet offers the lowest prices. HughesNet's introductory business internet plan is $69.99 per month, compared to Viasat's $100 plan. HughesNet's introductory plan gives you 25 Mbps maximum download speeds and a monthly data cap of 35GB; Viasat's lowest-tier plan gives you 35 Mbps with a soft 75GB data cap (a "soft" data cap means reduced speed rather than a "hard" shutoff).
And whichever company you choose, you'll need some equipment. Expect your provider to install a satellite dish receiver, modem, and wireless router in your office—for a price, of course.
Viasat's installation costs a flat $300, with a lease fee included in the price.
HughesNet lets you lease its hardware for $19.99 per month, with a $99 lease setup fee. Or you can purchase the equipment up front by paying $599.99 for equipment and installation without extra monthly costs, which offsets HughesNet's "cheaper" status somewhat.
For data, each company lets you increase your data caps for a fee. HughesNet charges $3 per gigabyte, while Viasat's fee is $10. Once again, HughesNet is more affordable.
Customer service is a tie
Our research also included looking at customer and industry ratings for Viasat and HughesNet.
The Better Business Bureau (BBB), which collects complaints about internet providers and then rates the companies, scored both ISPs an A+.2,3 While a good BBB score isn't a foolproof measure for predicting your own customer experience, the rating signifies that both organizations respond to customer complaints seriously.
However, the BBB also reports that both companies received 99% "negative reviews" from customers. That's troubling. But it's important to remember that all providers in the internet industry tend to have dismally low customer ratings.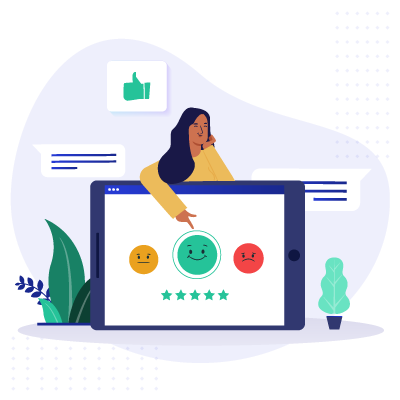 Expert Advice, Straight to Your Inbox
Gain confidence in your business future with our weekly simple solutions newsletter.
What else to know about Viasat service
Viasat has had a busy few years. It gobbled up a former competitor satellite ISP called WildBlue. It announced the end of the Exede satellite internet brand name. And it invested in improving its technology both on earth and in orbit, increasing download speeds up to 100 Mbps, meaning rural businesses now have satellite internet access that can compete with broadband cable, fiber, and DSL.
Viasat's 100 Mbps downloads blow HughesNet's 25 Mbps top-speed plan out of the water. This technology is a huge boon for businesses without access to traditional high-speed internet connections, allowing them the kind of internet use that others have enjoyed for years.
Unlike HughesNet, Viasat doesn't split data allowances on its business plans by time of day. A 50GB plan means you get 50GB to use anytime throughout the month.
But akin to HughesNet, once you reach your data limit with Viasat, your speed drops. Viasat will start prioritizing other customers' data needs above yours until the month ends.
If you need more data at regular speeds, you can pay Viasat $10 per gigabyte to upgrade your internet service.
What else to know about HughesNet service
We've shown how HughesNet offers the most affordable business satellite plans available. Next, we dive into some finer details about the service provider.
Charges for nonstandard installation
Although HughesNet gives you free "standard" installation when you lease your equipment, it'll cost you to go outside of that definition. So, what's non-standard? You'll pay extra if you want a special network or computer configuration—such as a customized local area network—aside from what's included with the built-in Wi-Fi modem.
HughesNet also charges for any work needed to build or remove structures at your office to accommodate the satellite system.
HughesNet plans give you a lot of data—but there's a catch. Your data is split between what the company defines as Daytime and Anytime. Daytime Data applies to internet use between 8 a.m. and 6 p.m. Any data used outside of that window—or after maxing your Daytime limit—is Anytime Data.
For example, the Business 150 internet plan gives you 150GB of total monthly data. But you're allowed only 50GB of Daytime Data, with the other 100 relegated to Anytime. If your business eats up a lot of data during peak hours, that Daytime Data can disappear quickly.
If your business eats up a lot of data during peak hours, that Daytime Data can disappear quickly.
What happens if you go over both data allowances? HughesNet won't charge you—it just slams the brakes on your service speed. You could end up with download speeds as low as 1 to 3 Mbps.
To avoid internet slowdowns, you can purchase additional gigabytes for $3 a pop. Or if it's feasible for your business, save your data-heavy internet use for off-peak hours. Delaying large file downloads or video streams to later in the day may keep you from maxing out your Daytime Data or having to pay for extra monthly gigabytes.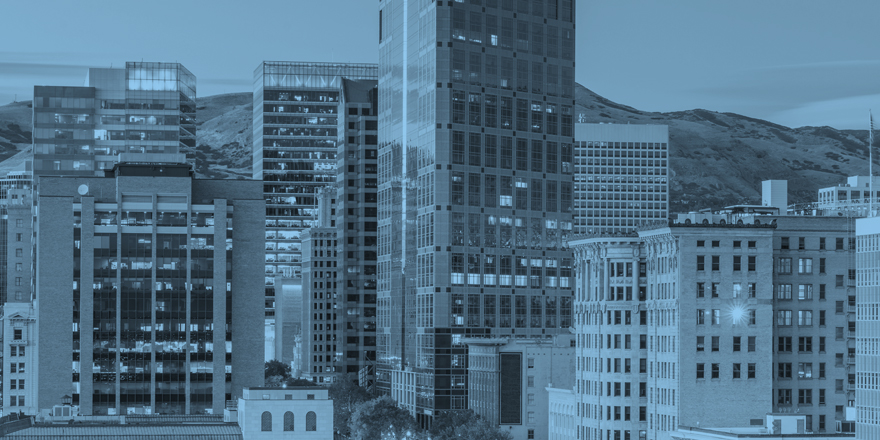 Not sure which option will help you grow?
Transform your business with a free assessment, and get a tailored recommendation for services that will drive better results.
How much speed do you need for satellite internet?
High-speed internet service can seem like a rare commodity with satellite internet. You may feel like you can never get a connection that's fast enough.
But what does speed actually mean? Internet speed refers to the rate at which you receive data from your service provider. For example, a plan with 25 Mbps download internet speed is capable of sending you 25 megabits every second (a bit is the smallest unit of internet data). Download speeds are measured separately from upload speeds.
The speeds that satellite providers advertise represent the maximum "bandwidth" of your internet connection. Bandwidth is what your connection is capable of delivering. Your actual speed at any given moment can vary depending on the type of connection, the time of day, and environmental factors.
So how much bandwidth do you need? Take a look at our recommendations in the table below.
| | |
| --- | --- |
| Bandwidth (download Mbps) | What it can handle |
| 1 Mbps | One user for basic web browsing and light file downloading. |
| 5 Mbps | A couple of users for moderate browsing, file downloading, and standard-definition audio and video streaming. |
| 15 Mbps | A few users for moderate browsing and file downloading and occasional high-definition audio and video streaming. |
| 25 Mbps | Several users for frequent browsing, file downloading, and high-definition audio and video streaming. |
| 100 Mbps | Multiple users for frequent browsing, web hosting, ecommerce, file downloading, and high-definition audio and video streaming and conferencing. |
Note that these figures refer to download speeds (data coming to you from your internet service provider). Satellite upload speeds (data sent by your device) are much lower than download speeds, which can hinder tasks like file sharing and videoconferencing.
How does satellite internet service work?
Satellite-based internet is possible thanks to technologically advanced systems that hover over 22,000 miles above the planet. The ViaSat-2 system weighs more than seven tons and has a wingspan of 158 feet.4
These huge systems are called geostationary satellites because they match their speed to the earth's orbit to maintain constant positions above the ground. When you type in a web page, broadband satellite systems request data from ground-based network operations centers (NOCs). Then the NOCs send the requested data back to the satellites through radio waves.
As a customer, you're equipped with receiver dishes, which are pointed toward the southern sky to receive radio signals sent by the satellites. Routers connected to the receivers convert the signals into readable data and send it to your modem via Ethernet cables.
Available nearly everywhere
Faster than dial-up internet
Cheaper than cellular internet
Slower than DSL, cable, and fiber broadband internet
Less reliable and has high latency
Limited in data usage
The biggest advantage of satellite internet is that you can get it nearly anywhere. Businesses in remote areas that need rural internet often have limited choices. Earth-orbiting systems can cover huge swaths of the planet to provide near-universal coverage.
Other broadband internet connections, such as cable, DSL, and fiber-optic, aren't commonly available in rural or remote areas. That's why satellite internet, which is faster than older technology like dial-up and cheaper than cellular plans, is the best option for most rural offices.
Still, satellite internet has its downsides. In most cases, it's much slower than wireline options like cable, DSL, and fiber-optic internet (although new satellite technology is starting to change that). Plus, data allowance limits make it difficult—and expensive—to be a frequent internet user.
Satellite internet also suffers from reliability and latency issues. Speeds sometimes fall below what service providers advertise. High latency, or the time delay in data transfers, is another weakness stemming from the thousands of miles stretching between your office and the satellites.
What other internet connection options exist for rural businesses?
Although satellite is usually the best internet choice for businesses located in rural areas, it may not be the only one.
Depending on what's available near your office, you may have access to one of these internet types:
Fixed wireless: Some ISPs can connect your business to the internet through land-based radio towers. AT&T provides fixed wireless internet in some areas.
Mobile/cellular: You may be able to get internet access via mobile hotspots provided by wireless providers. But be careful—mobile data can cost more than it's worth.
T1: T1 is an older technology that delivers internet service through copper wire cables. But unlike DSL internet, which also uses phone wires, a T1 connection is solely dedicated to one location. This makes T1 super reliable. But it's also extremely expensive—despite only being capable of speeds up to about 1.5 Mbps.
The takeaway: For rural offices, Viasat is the best 'net
While one-time satellite leader HughesNet is still a viable budget alternative for out-of-the-way business locales, Viasat's recent technology upgrades in speed and stability are too powerful to overlook—especially for small companies with big internet appetites. That extra 75 Mbps can make the difference between growing and slowing for some businesses; for them, it'll be worth the higher price tag.
Make sure you have fast enough internet for your business with our guide to internet speed.
Disclaimer
At Business.org, our research is meant to offer general product and service recommendations. We don't guarantee that our suggestions will work best for each individual or business, so consider your unique needs when choosing products and services.
Sources
1. Viasat, "Viasat Announces Highest-Speed, Unlimited Satellite Internet Service," 2018. Accessed December 11, 2020.
2. Better Business Bureau, "Hughes Network Systems, LLC." Accessed December 11, 2020.
3. Better Business Bureau, "Viasat, Inc." Accessed December 11, 2020.
4. Viasat, "Viasat-2 at a Glance." Accessed December 11, 2020.