8 Best Business Security Systems
---
Find the right commercial security system to keep your small business safe.
So you've decided to protect your small business with a security system. Good choice! But also, maybe a confusing choice? After all, lots of companies claim they have the best solutions to protect your valuable assets. But at the end of the day, how do you know who can actually make sure no one steals shiz from your biz?
That's why we've rounded up the best security systems out there for small-business owners. In this article, we'll tell you what systems work best for what kind of businesses and give you some guidance on choosing a commercial security system.
Ready to secure your business? Then let's get started.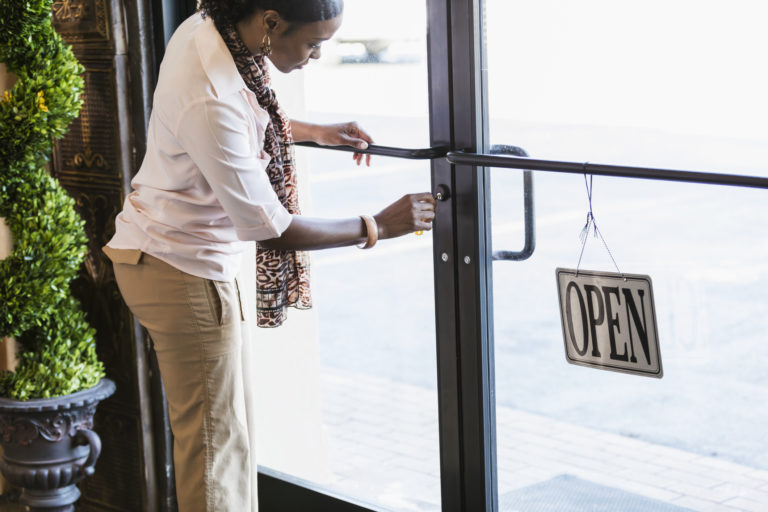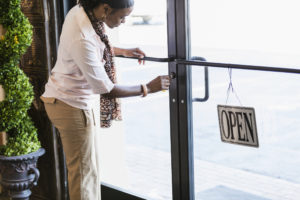 Compare the best small-business security systems
| | | | | | |
| --- | --- | --- | --- | --- | --- |
| | Frontpoint | Vivint | ADT | Nest | SimpliSafe |
| Monthly starting price | $34.99 | $29.99 | $27.99 | $19 | $14.99 |
| Activation fee | N/A | N/A | N/A | N/A | N/A |
| Installation type | DIY | Pro | Pro | DIY | DIY |
| Monitoring service | Pro | Pro | Pro | DIY and pro | DIY and pro |
| Contract length | 36 mos. | 42–60 mos. | 36 mos. | Monthly or 36 mos. | N/A |
| Smoke detector | ✔ | ✔ | ✔ | ✘ | ✔ |
| Carbon monoxide detection | ✔ | ✔ | ✔ | ✘ | ✘ |
| Cellular monitoring | ✔ | ✔ | ✔ | ✔ | ✔ |
| Landline monitoring | ✘ | ✘ | ✔ | ✘ | ✔ |
| Pro video monitoring | ✔ | ✔ | ✔ | ✘ | ✔ |
| Equipment warranty | Limited lifetime | Lifetime with premium service | Lifetime with Quality Service Plan | 2-year limited | 3-year limited |
| | View Plans | View Plans | View Plans | View Plans | View Plans |
Data effective 05/03/19. At publishing time, pricing and features are current but are subject to change.
How we're reviewing
All the companies on this list have the essentials—modern monitoring equipment, professional 24/7 alarm monitoring options, and a good track record of keeping people safe. With that in mind, we'll be focusing on what really sets each brand apart so you can see why you'd choose one brand over another.
Frontpoint: Best overall security system for small businesses
Installation type: DIY
Monitoring type: Professional
Contract length: 36 months
Cancellation cost: 80% of remaining contract
Excellent reputation
No installation or activation fees
Crash and Smash Protection
Higher starting costs
No 24/7 customer support
We recommend Frontpoint for most businesses, thanks to its solid combination of pricing, equipment, and reputation.
That reputation is where Frontpoint really excels: customers have given Frontpoint a 9.3 (out of 10) on Trustpilot and a 4.79 (out of 5) on the Better Business Bureau (BBB) website.1,2 Those scores are way, way higher than what other security companies have. Customers love Frontpoint. So if you want a commercial security system that won't add to the stress of running a small business, Frontpoint is the way to go.
Plus, Frontpoint offers Crash and Smash Protection with its Interactive and Ultimate plans. Not sure what that is? (No worries—neither did we.) Crash and Smash Protection automatically alerts law enforcement if someone—say, a grumpy burglar—destroys your system's control panel. That means no one can trick your system by destroying it, giving your business extra security.
Customer support
Frontpoint doesn't have 24/7 customer service (not to be confused with 24/7 monitoring, which of course it has), but unless you're setting up your alarm at 2 a.m., that shouldn't be much of a problem.
So while Frontpoint doesn't have the lowest prices or the fanciest equipment (SimpliSafe and Nest, respectively, take those honors), we think it offers the most value to most businesses.

Frontpoint
The verdict
Frontpoint offers a valuable blend of price, equipment quality, and reputation that makes it a good fit for most small businesses.
Vivint: Best for home-based businesses
Installation type: Professional
Monitoring type: Professional
Contract length: 42–60 months
Cancellation cost: 100% of remaining contract
Home automation capabilities
Mobile system access for all plans
Negative reputation
Longer-than-average contracts
Vivint works best for home-based businesses thanks to its many home automation features that complement its high-quality security system.
Some of those features make your home (and business) more secure, like smart door locks, a remote garage door controller, and a doorbell camera. Other features mostly add convenience, like a smart thermostat or integrations with smart light bulbs and other smart home devices. So if you want to use a mobile app to close your garage door from that midtown business lunch or you just want to adjust all the lights from your office chair, Vivint has you covered.
Vivint plans
| | | | |
| --- | --- | --- | --- |
| Plan | Monitoring cost | Installation fee | Get started |
| Package one | $29.99/mo. | $99 | View Plans |
| Package two | $39.99/mo. | $99 | View Plans |
| Package three | $49.99/mo. | $99 | View Plans |
One downside? Vivint has longer contracts than most other companies. You can avoid their contracts entirely by paying for your equipment up front, but of course that only works if your business can afford a large expense.
Still, Vivint offers robust business security along with impressive home automation features. So if you want to make the most of securing your home-based business, Vivint has just what you need.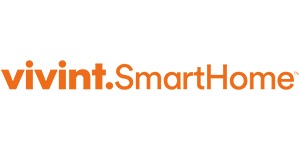 Vivint
The verdict
Vivint's many home automation features make it a great security system for a business you run out of your home.
ADT: Best for multiple employees
Installation type: Professional
Monitoring type: Professional
Contract length: 36 months
Cancellation cost: 75% of remaining contract
Robust access control
Variety of plans
Costly high-tier plans
Installation fees on all plans
If you manage several employees who have access to your business, then ADT's access control features, including key fobs, offer a good way to keep your business secure.
ADT lets you create unique codes for each person who uses your alarm system, and it sends you mobile alerts when someone arms or disarms your system. So you'll know if Ashley actually arrived and opened in time, and you'll know if Tim is there late at night when he shouldn't be. Plus, ADT offers more advanced access options like permission-based access (so no one gets in that filing room that shouldn't) and card-based access.
ADT plans
| | | | |
| --- | --- | --- | --- |
| Plan | Monitoring cost | Installation fee | Get started |
| Basic | $27.99/mo. | $99 | View Plans |
| Basic + equipment service protection | $36.99/mo. | $99 | View Plans |
| Basic security + wireless connect | $48.99/mo. | $99 | View Plans |
| ADT Pulse plus video | $58.99/mo. | $99 | View Plans |
| ADT Pulse + Smart Home Connect | $59.99/mo. | $99 | View Plans |
ADT's higher-tier plans do cost more than most other alarm companies—plus they require a $99 installation fee—but if you need a lot of control over the comings and goings of your business, it's probably worth it. And since ADT offers same- and next-day installation, you can get that extra security in no time, which seems like good bang for your buck.
So if you want to keep an eye on who's accessing your business and its alarm system, ADT lets you do just that.

ADT
The verdict
ADT's robust access control options make it a good security system for anyone who wants to monitor who's accessing their business (and when).
Nest: Best for retail businesses
Installation type: DIY
Monitoring type: Professional and self-monitored
Contract length: Monthly or 36 months
Cancellation cost: 100% of remaining contract
Contract-free option
High-quality equipment
Expensive contract cancellation
No professional video monitoring
The thing that makes Nest the best security system for retail businesses? Its cameras.
While many alarm companies offer camera systems, Nest has the best: glorious 1080p cameras that you can point right at the cash register. Most cameras get grainy and blurry in low light (not helpful for catching perps), but not these. Their excellent picture quality will help you identify thieves—or even better, their presence will deter thieves in the first place. (Nest also has video doorbells if that's more your thing.)
The rest of Nest's security equipment is high-quality, if not particularly groundbreaking, so we're really recommending the security cameras here. Some small-business owners will also like Nest's contract-free plan option. Sure, you get a lower price if you go with a three-year contract, but since Nest requires you to pay 100% of your remaining contract if you cancel, it's a big commitment. So choose what will be the better deal for you. If you know you'll stay put for at least three years, go with the contract and reap those savings. But if you might upgrade to a new office with different security needs, contract-free is your best bet.
Who's the thief?
According to a 2018 study, 36.5% of inventory shrinkage happens because of shoplifting or external theft, while employees account for another 33.2%.3 Either way, security camera systems can help prevent theft—or help you ID the perps.
Keep in mind that Nest cameras aren't professionally monitored—that part's on you. (The rest of the equipment is monitored by Brinks Home Security.) But since most retail theft wouldn't trip an alarm anyway (an employee slipping some extra cash while giving a customer change, for example), we think it's more important to have high-quality images so you have the evidence you need. And that's what Nest gives you.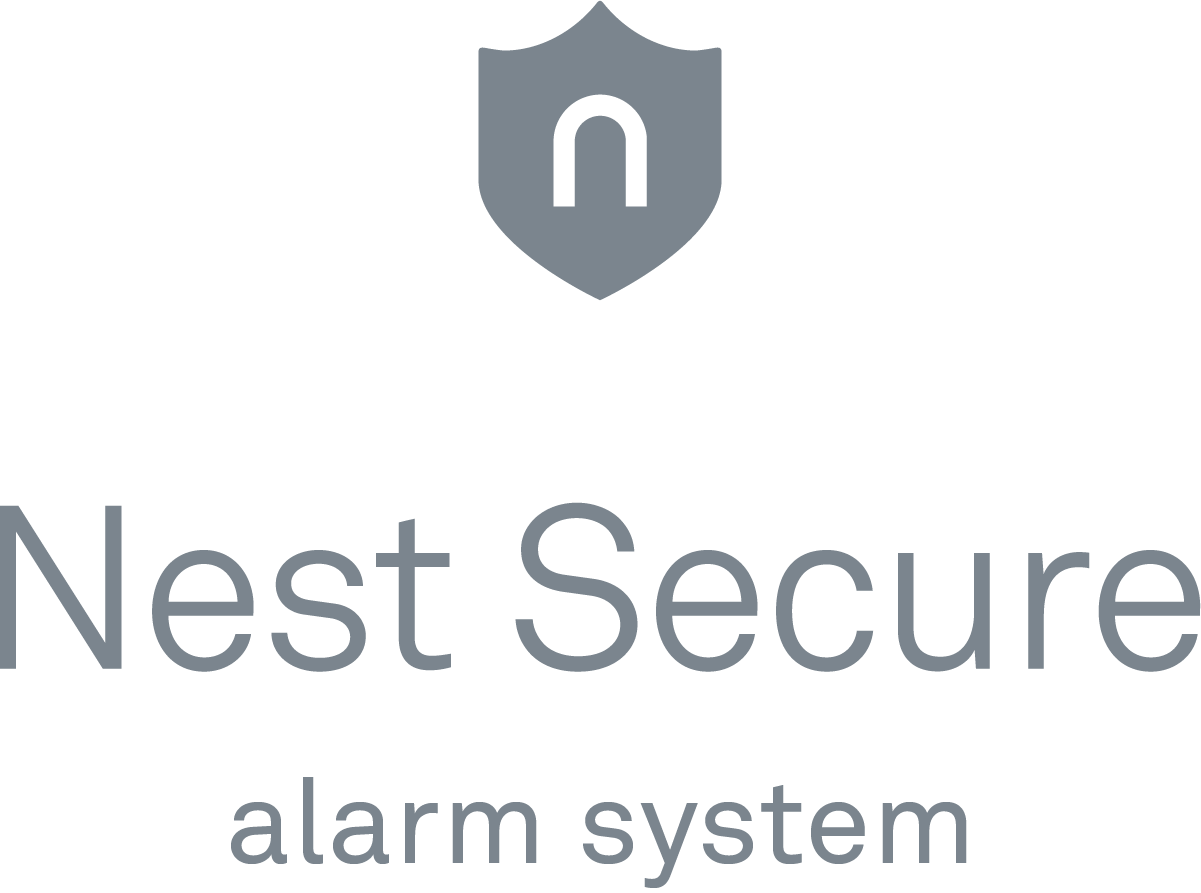 Nest
The verdict
Nest's HD cameras make a shoo-in for businesses that need to keep a close eye on their cash.
SimpliSafe: Best budget option
Installation type: DIY and professional
Monitoring type: Professional and self-monitored
Contract length: N/A
Cancellation cost: N/A
Affordable monitoring
Contract-free service
No alerts with self-monitoring
Limited integrations
If you just want to protect your business on a budget, then take a look at Simplisafe.
As you'll see, its monitoring plans are super affordable—its best plan is cheaper than the starting prices of Frontpoint, Vivint, and ADT. And if you need another way to lower your security costs, SimpliSafe lets you turn professional monitoring on and off as you need it. So if, say, you only want to have your business monitored when you're away for an expo, you can do that with Simplisafe.
Now, you know how sometimes you get what you pay for? You'll mostly see that in SimpliSafe's equipment offerings. It has proprietary equipment, and some users say it's lower quality than other alarm brands; at the very least, SimpliSafe has fewer equipment options, and it doesn't really integrate with outside equipment.
But if you just want to secure your small business as cheaply as possible, then SimpliSafe's low costs make it a great option.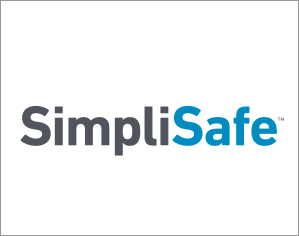 SimpliSafe
The verdict
With low plan costs and the option to turn pro monitoring off and on, SimpliSafe offers reasonable security at a low cost.
Honorable mention business security systems
| | | | |
| --- | --- | --- | --- |
| | Protect America | Abode | Link Interactive |
| Starting price | $19.99/mo. | Free (self-monitoring) | $30.99/mo. |
| Installation type | DIY | DIY | DIY |
| Monitoring service | Pro | DIY and pro | Pro |
| Contract length | 36 mos. | N/A | 12–36 mos. |
| Smoke detector | ✔ | ✔ | ✔ |
| Carbon monoxide detection | ✔ | Some devices | ✔ |
| Cellular monitoring | ✔ | ✔ | ✔ |
| Landline monitoring | ✔ | ✘ | ✘ |
| Pro video monitoring | ✔ | ✔ | ✔ |
| Equipment warranty | Lifetime | 1 yr. | 3 yrs. |
| | View Plans | View Plans | View Plans |
Protect America: Best for rural businesses
We recommend Protect America for rural businesses thanks to its many monitoring options. If you're in an area where monitoring over a cellular connection would be unreliable (or downright impossible), Protect American has broadband and traditional landline monitoring options to keep your business safe.
Protect America plans
| | | | | |
| --- | --- | --- | --- | --- |
| Plan | Landline monitoring cost | Broadband monitoring cost | Cellular monitoring cost | Get started |
| Copper | $19.99/mo. | $41.99/mo. | $41.99/mo. | View Plans |
| Bronze | $35.99/mo. | $47.99/mo. | $47.99/mo. | View Plans |
| Silver | $37.99/mo. | $49.99/mo. | $49.99/mo. | View Plans |
| Gold | $39.99/mo. | $51.99/mo. | $51.99/mo. | View Plans |
| Platinum | $42.99/mo. | $54.99/mo. | $54.99/mo. | View Plans |
Abode: Best for self-monitoring
We don't really recommend self-monitoring for your business, but if that's the way you're determined to go, Abode is a good choice. It offers a free self-monitoring plan. And if you ever need someone to look out for you, you can always switch over to its contract-free pro monitoring plan.
Link Interactive: Best for niche customization
Link Interactive has some specialized equipment that other security companies don't, like a grill sensor (to let you know if it's hot when it shouldn't be), gun locks (complete with sensors), and an outdoor sensor (for use on gates and sheds). So if you want to customize your system for your unique needs, Link might be the company to go with.
Business security 101
Before you choose a security system for your small business, make sure you understand the essentials of business security.
For starters, most security companies don't offer business-specific alarm systems—they just offer home security systems and equipment to businesses. So if you already protect your home with a security system you love, you can probably get a similar system for your business (assuming it meets all your business needs, of course).
Do business security systems even work?
A security study found that half of burglars would definitely give up on a break-in if they found an alarm system, and another 31% might give up.4 Sounds like surveillance systems make a big difference.
As you weigh your security options, make sure you're not neglecting the security basics. Why bother getting that fancy alarm system if you consistently leave the front door unlocked and have such dim lighting that a camera can't record a clear image anyway? Invest in good door locks and window locks, and make sure important areas like entrances and the cash register are well-lit.
One final thing to consider: your acceptable losses. Will you end up spending more on security than you'd lose in a burglary? In other words, would you rather lose $500 of merchandise in a break-in than pay $800 a year for an advanced security system? Sure, the peace of mind alone might be worth the cost of a security system—but that's a call you need to make.
Advanced business security
Security systems are not a guarantee. So if you really can't stand a potential loss, make sure you double up on your security measures. For physical goods, that might mean investing in security guards; for data, that probably means encryption and other security measures.
FAQs about commercial security systems
Should I install my own system or get it professionally installed?
Ooh, that depends on your personal preferences and your business situation. DIY installation is usually cheaper, while pro installation saves you time.
Consider how you spend your time: Would it disrupt your business if you took the time to install your equipment personally? Or do you have enough downtime that you can take an hour or two to do that work yourself without it causing an issue?
Likewise, ask yourself if you'd feel more secure knowing that a professional had installed your business security system. If you would, go with the pro.
Thinking about moving?
One other thing to consider: DIY installation means that moving your system is super easy. So if you think your business is likely to change locations, that's something to keep in mind.
To be clear, we think that just about anyone can install their own system; it mostly comes down to peeling the backs off stickers and then sticking equipment where you want it. And if you run into any problems, companies like Frontpoint will walk you through the process over the phone if you need help.
So while our top pick is DIY-install only, some of our other picks offer pro installation. It's up to you which works better for your business.
Should I use DIY monitoring or professional monitoring?
We have a stronger opinion about this question: we recommend professional monitoring for pretty much all businesses.
That's because pro monitoring offers more security than DIY monitoring can. DIY monitoring depends entirely on you, the business owner, to work. When your alarm gets triggered, you get an alert, at which point you can call the authorities.
So what happens if something triggers your alarm but you're in a meeting with a vendor and you don't get the alert? Or what if you've finally gone on a much-needed vacation and your spotty cell service means you don't get alerted until the next day? If your system equipment includes an audible alarm, the noise might scare off would-be intruders—if you're lucky. But the police won't come until you personally call them.
While pro monitoring costs more, it's more secure. When something triggers your alarm, your monitoring company will get the alert and then notify the authorities for you. Seems like a safer bet to us.
The DIY discount
If you really want to save money, you can go with a company like Simplisafe that lets you use professional monitoring on an as-needed basis. But mostly, we suggest you opt for professional monitoring all the time.
What equipment do I need for my business security system?
Good question. There's some basic equipment that most businesses will want:
Control panel
Door and window sensors
Glass break sensors
Motion detection
Video cameras
Of course, you don't necessarily need every one of those things (though it wouldn't hurt).
Best Business Security Systems
At minimum, you should get contact sensors for all your doors and windows. Glass break sensors on your windows are a good upgrade for extra security. Likewise, you'll probably want motion sensors in valuable areas (by a cash register, say, or in a server room). And video cameras provide additional security, particularly if you want to monitor a cash register or other sensitive area.
If you have concerns about things like fires or leaky water pipes, you can also get environmental sensors for your system:
Fire and smoke detectors
Carbon monoxide detectors
Flood detectors
Freeze sensors
And if you want some more specific advice for your business, the support team at your security company will be more than happy to point you in the right direction.
The takeaway
Securing your business is serious, well, business. But honestly, you have more options now than ever before. Whether you just want a cheap way to secure your office or you want an advanced system that gives you remote control over your system via app across various devices, there's a system to meet your needs.
And with our list of recommended business security companies, you can find the security solutions that fit your business's unique needs.
So while we know your business is probably always on your mind, hopefully that extra security will help you sleep a little better at night.
Want to keep your business secure in the virtual realm too? Check out our resources on database security and network security.