Best Tax Software for Small Businesses in 2020
---
Filing tax returns electronically gets more popular every year—now over 90% of tax returns are filed online.1 Which software will work best for your business?
Last Updated: 2 months ago
There were no major pricing or product changes in August. All prices and product details are current.
3 months ago
As the July 15 tax day approaches, we made sure to update this article with the most current pricing information. The only notable change was a slight hike in the price of state filing with TaxAct. All other tax software prices stayed the same.
Less than 6 months
Tax Day in 2020 is now July 15. We're working hard to keep tabs on any relevant tax developments for small businesses during the COVID-19 health crisis. We've also updated our article with the most recent pricing changes for H&R Block, eFile.com, and FreeTaxUSA.
More than 6 months
Because of governmental reactions to COVID-19, there's expected to be a lot of changes to small-business taxation. Proposed legislation could bring tax breaks. Additionally, the IRS is expected to announce a new deadline for 2019 tax filing in addition to penalty-free tax deferment. These changes may alter our future rankings of online filing software depending on how long it takes for each individual brand to update their software to meet new regulations.
More than 6 months
Crunch time for taxes is getting nearer, which means some of our top tax providers are changing their prices. TurboTax's cost jumped up by a good $50, and TaxAct's increased by nearly the same amount.
More than 6 months
We checked this page to make sure our pricing information was up to date. Most of our recs kept their pricing the same, but H&R Block's plans went up a few dollars while Liberty Tax is running a sale on all for early-bird February filers.
More than 6 months
We updated this page to include the most recent pricing and discount information for the 2020 tax filing season. We'll be checking this page frequently during tax season; software discounts and pricing will likely change as the tax filing deadline draws closer.
More than 6 months
Tax software pricing often changes from one tax season to the next, so it's not too surprising that some of our top five tax software providers changed their prices by at least a few cents over the last year. For instance, TurboTax's state filing fee went from $45.90 to $45.99 per state; meanwhile, H&R Block's self-employed federal tax filing fee went down to $64.95. One main exception? FreeTaxUSA—which makes sense, since their premise is offering federal tax filing for, well . . . free.
Perhaps you're a veteran of the tax software debates on TurboTax vs. H&R Block. Or maybe you're a business owner who's ready to make the switch from a personal tax preparer to software. Or maybe you're a new freelancer wondering if using tax software is really better than just filing taxes yourself.
Finding the tax software with the right features will help you file on time, file correctly (audits aren't fun!), and get a better tax return, putting more money in your pocket.
Here's our take on the five best tax software options for small businesses, with a runner-up included as well.
Compare the best small-business tax software
| | | | |
| --- | --- | --- | --- |
| Brand name | Federal filing starting cost | State filing starting cost | Get started |
| TurboTax | $120.00 | $50.00 | File Now |
| H&R Block | $74.95 | $19.95 | File Now |
| Liberty Tax | $44.95 | $34.95 | File Now |
| eFile.com | $39.95 | $28.95 | File Now |
| FreeTaxUSA | Free | $14.99 | File Now |
Data effective 8/6/20. At publishing time, pricing and features are current but are subject to change. Offers may not be available in all areas.

Best overall business tax software: TurboTax

TurboTax
TurboTax offers plenty of valuable features, but its greatest value it its reliability.
With a clear and comprehensive approach to tax filing, business owners can trust TurboTax to answer their questions and maximize their returns.
Features and cost
TurboTax is one of the most recognizable names in the business. But do the features live up to the hype? The answer is a decisive "yes," but you will pay more for all those helpful features. Here's what you get when you file with TurboTax:
Error checks while filing and a double check of your finished return
Maximum refund guarantee (or your money back)
W-2 uploading through your company or by taking a photo
Easy income and expense account importing if you have QuickBooks Desktop
TurboTax Self Employed starts at $120 for federal taxes and $50 per state, or you can pay $200 to get live help from a CPA to ensure you're filing taxes correctly. If you have more than one or two employees, you'll want TurboTax Business, which costs $169.99 plus $54.99 for state filing.
Is TurboTax right for my business?
TurboTax fits a lot of small-business needs, but this tax preparation software works especially well if you relate to any of the following:
You have doubts about which deductions to claim for maximum profit.
You worry about mistakes and want to cover any holes in your return.
You want a streamlined system for your business to make the filing process easier and faster.
While all the extra features might be tempting, you may want to search other options if this matches your situation:
You're confident about which small-business tax deductions will apply to you, and
You want to save money when filing.
TurboTax ticks a lot of boxes. It's easy to use and helps you file quickly. The software's user interface makes sense and guides you through the process smoothly—and if you still need help, one-on-one support will soon be on the way. And its guarantees (including a maximum refund guarantee) provide peace of mind that you'll file taxes in a way that benefits your business most.
That said, the features and reliability definitely come with a cost. If you're self-employed or freelancing, you could save some money with a cheaper service if you already know which tax deductions to claim. The more complicated your business is, the more attractive an option like TurboTax becomes.
Best for complex businesses: H&R Block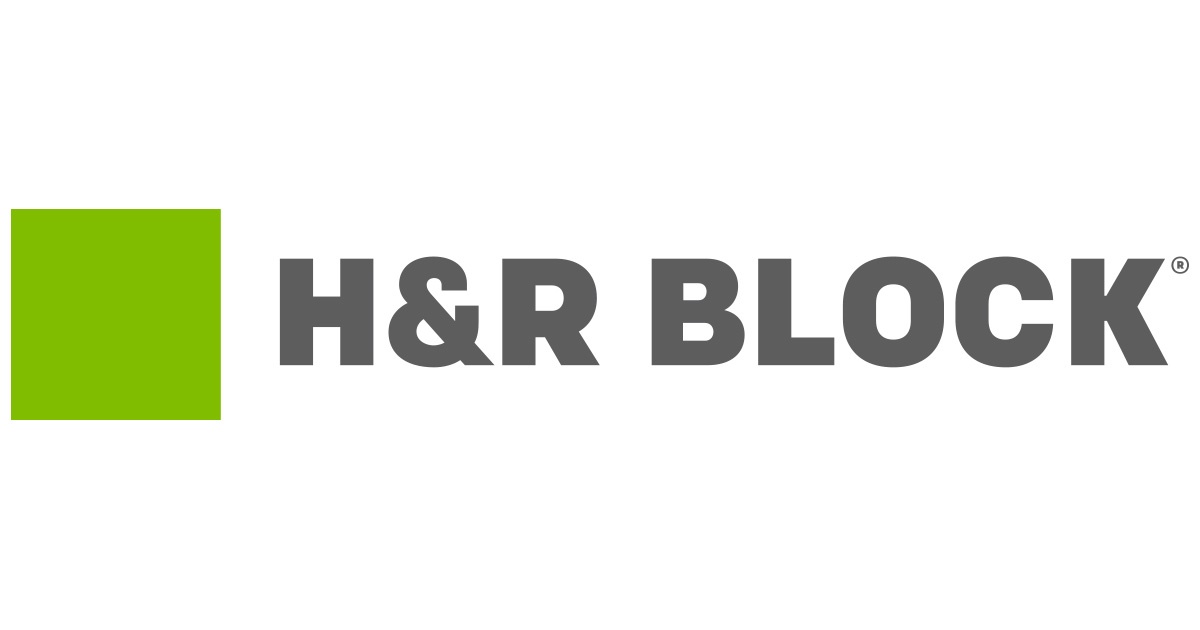 H&R Block
If your business has a lot going on, we recommend H&R Block to ensure you have every last bit of support you need.
For some small businesses, tax filing is a relative breeze, but not every business is so lucky. Maybe you have a lot of tough deduction decisions to make, or perhaps your company needs additional software for accounting or HR.
Features and cost
H&R Block is a popular company with plenty of experience—it's been around for over 60 years. And while it doesn't provide the cheapest software, but H&R Block reassures businesses that every expense and deduction is accounted for. Here are some of the benefits H&R offers:
Quick, easy integration of past tax return info (even if it's from a competitor's software)
Free audit representation if needed
Chat help with a tax professional
Partnership with Xero for day-to-day business accounting needs
Extra assurance if you choose Tax Pro Review
Software costs for self-employed business owners starts at $74.95 but can range up to $104.99 (state tax filing starts at $19.95). Additional resources like Xero or Tax Pro Review cost extra.
Is H&R Block right for my business?
H&R packs plenty of features into its software, but do you need them? Consider H&R if your business checks off these boxes:
You have a complex set of itemized deductions and expenses to deal with.
You want to consult someone on some of your decisions.
You think you might miss out on some of your deductions without help.
Consider a different option if your business matches this scenario:
You have straightforward freelance or self-employment income.
You want the cheapest filing option possible.
There are two major circumstances where H&R Block's services will benefit your business. The first circumstance is if you worry whether your small business is maximizing every advantage possible. Thanks to online chats with professionals and the option for pros to sign off every last inch of your return, you can rest easy knowing that you did right by your taxes.
Second, H&R could work great if you are also looking for accounting support in addition to help with filing taxes. Through a partnership with Xero, you'll have several accounting tools that should smoothly integrate with H&R Block when tax season comes around.
But some businesses might not use all those features—in that case, investing in H&R Block would just be throwing money away. If you know which deductions you can claim, or if your business just doesn't have that many direct expenses, there are cheaper options for filing.
Best for beginners: Liberty Tax

Liberty Tax
Liberty Tax's mix of on-site and online tax preparation options might be the right fit for some businesses that are just starting out.
Why lean on experts when you can become the expert yourself? Liberty Tax's Tax Education School, which offers online and classroom tax courses, is a unique feature that helps tax novices gain tax know-how.
Features and cost
Beyond their unique branding—if you've seen someone twirling a sign dressed as Lady Liberty on a sidewalk, it was likely for Liberty Tax—most of Liberty Tax's features are fairly standard.
Double-checking system to make sure your return checks out
Multiple support options, including chat, email, or even in-person help
Audit assistance if needed
Online-to-office transition if you ever get stuck mid-filing
Free tax education courses
If you're self-employed, you'll need at least the Deluxe edition, which usually costs $64.95—but thanks to Liberty Tax's ongoing sale, all of its online tax filing products cost just $44.95. That includes the typically pricier Premium edition, which is perfect for S corporations.
Is Liberty Tax right for my business?
Liberty Tax has reasonable prices and some standard features, but when does it make the most sense for your small business? Consider Liberty Tax if you relate to these factors:
You want to take its tax education courses.
You feel more comfortable with the option to meet face-to-face if needed.
You don't need many extra features.
On the other hand, consider looking elsewhere if either of these match your situation:
You definitely want to file from your computer only.
Liberty Tax's unique features don't benefit you.
Similar to H&R Block, Liberty Tax combines brick-and-mortar storefronts with online offerings. That combination might appeal to some small-business owners, especially anyone who is just starting out. For most people, face-to-face contact works best when working out a tricky tax situation. This makes the online-to-office filing transition especially appealing.
In contrast, if you don't see yourself visiting in-store or attending the tax education courses, there might be better options at both lower and higher price points. Liberty Tax's interface and features are pretty standard, and the price is average as well.
Best for small businesses: eFile.com

eFile.com
If you have a self-employed business and sitting down to finally do your taxes fills you with dread, eFile does a lot to make the process as painless as possible.
While eFile.com has a mixture of useful features, its quirky sense of humor and personable approach to taxes stands out.
Features and cost
Moving past the entertainment aspects of the site, eFile promises a lot of standard features. You can't file a Form 1120 for corporations from the site, but smaller businesses will score a solid value with eFile. Here are some of the features eFile offers:
Calculator systems for quick estimates before you file
A personally assigned "Taxpert" support agent
Free audit assistance
Unlimited state returns
Businesses will need to buy the premium edition for $39.95. If needed, the fee for unlimited states returns will be $28.95, which is pretty good—competitors like TurboTax charge you over $40 per state.
Is eFile.com right for my business?
With a straightforward approach to pricing and a smaller price tag than other options, eFile.com is a compelling option for small-business tax software. Consider eFile if you relate to the following:
You feel like some humor and diversions might motivate you to file.
You aren't sure what features you'll even need from your tax software.
You'd like to do some basic number crunching before you file.
On the other hand, consider another option if your business fits these descriptions:
Your business is not a pass-through entity and needs to file Form 1120.
You don't like distractions.
You could benefit from eFile.com if you own a pass-through business, even if you don't appreciate their more light-hearted approach to filing. Their pricing structure is direct and affordable, and several basic filing features are covered.
However, some might find the website unprofessional, and some of the pop-ups and menus make navigating the site difficult. Since you can't fill out Form 1120 on eFile.com, you'll need to find another option if your business is registered as a C corporation.
Best budget option: FreeTaxUSA

FreeTaxUSA
If you're okay with fewer features, FreeTaxUSA's unbeatable cost makes it a great fit for any small businesses looking to file taxes as cheaply as they can.
FreeTaxUSA's appeal is obvious from its name alone.
Features and cost
If you know the price is right, the real question is whether FreeTaxUSA has the features you need to file properly. Here's a rundown of what they offer:
Over 350 credits and deductions accounted for
Integration of previous tax returns, even from competing tax software
Email-based customer support
Tax return backup if you need to print old returns
Chat support and audit assistance (with Deluxe edition)
You can file your federal taxes for free, and a state return will cost you $14.99. The Deluxe upgrade adds a few features, like amended returns and priority support, for $6.99.
Is FreeTaxUSA right for my business?
With fewer features and less support than other small-business tax software, who can benefit most from FreeTaxUSA's low cost? Consider FreeTaxUSA if the following describes your business:
Your business is simple self-employment or freelance work.
You want the cheapest filing option available.
You need little to no support to fill out your tax forms.
On the other hand, consider shopping elsewhere if this matches your business:
You need to file Form 1120 for a corporation.
You plan on having lots of questions during the filing process.
FreeTaxUSA will work perfectly for freelancers and other people who file as sole proprietors. You don't need to spend any extra money on unneeded features, and if you happen to be in a state without income tax, you might file absolutely free.
But this online filing service won't work at all for more complex businesses. Many business tax forms are unsupported. FreeTaxUSA might also be a poor fit if you need help with questions as you file—its support options and help features aren't top of the line.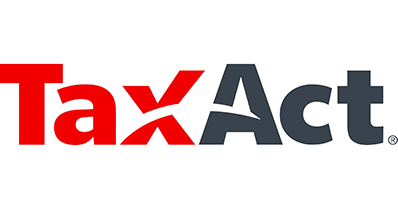 TaxAct
We also took a look at TaxAct, tax preparation software that offers many features at a reasonable price.
TaxAct is the Toyota Corolla of tax software: affordable, straightforward, and well-rounded when it comes to the benefits it offers.
Features and cost
So what are those balanced benefits? You can generally expect all standard features—plus a few nice bonuses—with the TaxAct software.
Integration with tax data from a previous TaxAct return
Integration with accounting software that uses CSV format
One-on-one help from tax and technical experts over the phone
Bookmarks and alerts to help you navigate your return
TaxAct helps you file a single federal return for $109.95. State tax returns cost an additional $54.95. If you own a larger business, like a C corporation or S corporation, you'll pay the same cost.
Is TaxAct right for my business?
Consider TaxAct if these benefits appeal to you:
You have a larger business but want a cheaper filing price.
You want the comfort of one-on-one support with a tax expert.
On the other hand, consider an alternative option if you identify with these priorities:
You value a range of additional features.
You want a cheaper filing option for simpler businesses.
TaxAct is a great middle-of-the-road option for businesses who want a few extra features, such as tax expert support, for a reasonable price. If you or your business is already familiar and happy with TaxAct, you shouldn't feel pressured to change.
If nothing about TaxAct immediately grabs you, your business might want to find an option that either offers more support and features, like TurboTax and H&R Block, or a cheaper price, like eFile.com and FreeTaxUSA.
2020's Best (and Worst) States for Small-Business Tax Deals
Thanks to the government's recent tax-filing extension, the tax deadline isn't quite around the corner—but it'll still arrive sooner rather than later. Whether you have or haven't filed yet, we hope you're in for a substantial return. But since tax laws vary drastically from state to state, the place you choose to set up shop can influence your business's growth, success, and sustainability.
How? Well, for starters, seven of our top states lack a state income tax, and one, Tennessee, has just a 1% rate. Some, like Washington, are famous for their startup culture and tech friendliness; it's practically a given that their tax laws would incentivize small-business owners. Other winners, like South Dakota and Montana, are rural states where the cost of living is low—and so is the cost of starting a business, which makes the area enticing to small-business owners, individuals, and families alike.
In contrast, our lowest-ranked states have notoriously high taxes and high costs of living, especially California and New York. The lack of tax deals might make them less appealing to business owners who are trying to make money, pay their employees, send in the rent check on time, and, you know, eat the occasional meal or two.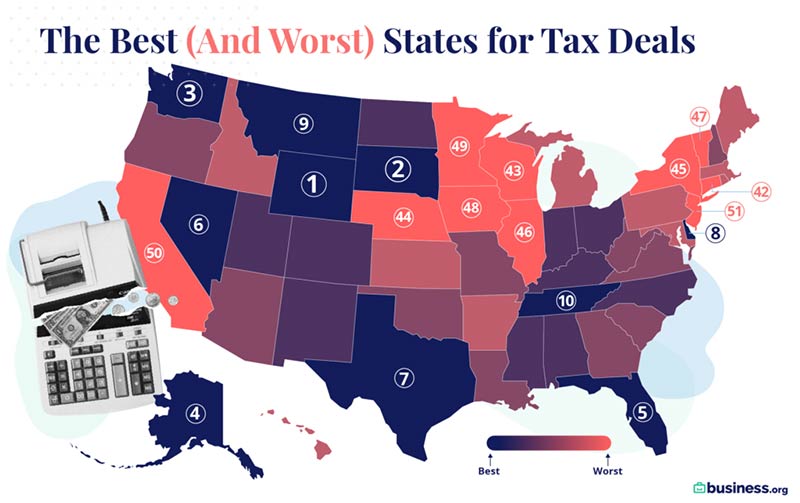 Your taxation situation
Of course, while location is crucial to your tax prospects, it isn't the be-all and end-all of tax deals—or of business success. State business taxes often break down by industry, so you'll want to do more research before planning your immediate move from Minnesota to Wyoming. Still, if tax deals are important to your business, give our top picks an extra look; a good tax bargain can nudge your business in the right direction.
Top 10
| | | | | | | |
| --- | --- | --- | --- | --- | --- | --- |
| Rank | State | State Individual Income Tax Rate | Combined State and Federal Corporate Tax Rate | Combined State and Local Sales Tax Rate | Median Property Tax Rate | Score |
| 1 | Wyoming | 0.00% | 21.00% | 5.30% | 0.60% | 84.11 |
| 2 | South Dakota | 0.00% | 21.00% | 6.40% | 1.30% | 73.7 |
| 3 | Washington | 0.00% | 21.00% | 9.20% | 0.90% | 72.02 |
| 4 | Alaska | 0.00% | 28.40% | 1.80% | 1.00% | 68.84 |
| 5 | Florida | 0.00% | 24.60% | 7.10% | 1.00% | 67.49 |
| 6 | Nevada | 0.00% | 25.70% | 8.30% | 0.80% | 63.76 |
| 7 | Texas | 0.00% | 21.00% | 8.20% | 1.80% | 63.75 |
| 8 | Delaware | 6.60% | 27.90% | 0.00% | 0.40% | 60.99 |
| 9 | Montana | 6.90% | 26.30% | 0.00% | 0.80% | 59.18 |
| 10 | Tennessee | 1.00% | 26.10% | 9.50% | 0.70% | 59.14 |
Bottom 10
| | | | | | | |
| --- | --- | --- | --- | --- | --- | --- |
| Rank | State | State Individual Income Tax Rate | Combined State and Federal Corporate Tax Rate | Combined State and Local Sales Tax Rate | Median Property Tax Rate | Score |
| 51 | New Jersey | 10.80% | 29.30% | 6.60% | 1.90% | 14.29 |
| 50 | California | 13.30% | 28.00% | 8.70% | 0.70% | 18.81 |
| 49 | Minnesota | 9.90% | 28.70% | 7.50% | 1.10% | 26.43 |
| 48 | Iowa | 8.50% | 29.50% | 6.90% | 1.30% | 26.8 |
| 47 | Vermont | 8.80% | 27.70% | 6.20% | 1.60% | 28.37 |
| 46 | Illinois | 5.00% | 28.50% | 9.10% | 1.70% | 30.28 |
| 45 | New York | 8.80% | 26.10% | 8.50% | 1.20% | 31.31 |
| 44 | Nebraska | 6.80% | 27.20% | 6.90% | 1.80% | 31.82 |
| 43 | Wisconsin | 7.70% | 27.20% | 5.50% | 1.80% | 32.47 |
| 42 | Connecticut | 7.00% | 26.90% | 6.40% | 1.60% | 34.81 |
Our methodology
To determine the best and worst states for business tax deals, we looked at four tax rates in each state:
State income tax rate (weighted 40%)1
Combined state and federal corporate tax rate (weighted 20%)2
Combined state and local sales tax rate (weighted 20%)3
Property tax rate (weighted 20%)4
We weighted each rate and assigned the states' scores based on how high or low their tax rates were. Specifically, we normalized each measurement on a 0–1 scale with 1 as the measurement that would most positively affect the final score and 0 as the measurement that would most negatively affect the final score. These adjusted measurements were then added together with the weights mentioned above to get a score of out of 100.
Choosing the right tax software for your business plan
Looking for some more tips on picking the perfect software for your small business? With so many features offered by even the simplest software out there, it can be tough to narrow down what you need while checking prices at the same time.
A tax software with the right features will help you file on time, file correctly (audits aren't fun!), and get a better tax return, meaning more money in your pocket.
It might make sense to put features first—after all, any gains from a correctly filed return tend to outweigh the price difference from product to product. But don't just "ooh" and "aah" over an impressive list of capabilities and extras. Instead focus on the features you know you'll need. Then find the cheapest product that still gives you everything your business requires.
Take a look at your business plan and make sure your legal structure, products, services, and staff will all work with the tax program features you choose. If you don't have an official business plan, consider creating one before choosing your software.
Personal vs. business taxes
You'll also need to decide whether you're using tax preparation software mostly for personal income taxes or for business taxes.
The biggest shift from personal to business taxes is probably the shift of responsibility. With personal taxes, a lot of the tax preparation falls on the shoulders of your employer. Generally, you just fill out a relatively short form once a year and claim the proper refund.
But if you own a business, you need to know a bit more and you need to prepare a bit more. Depending on what type of business entity you registered, you'll need to track a variety of forms and deadlines.
For typical full-time employees, the employer withholds taxes from an employee's paycheck. That means many employees look forward to a nice tax refund as a reward for filing. But with business taxes, you probably shouldn't expect a refund unless you overpay on your quarterly filings.
For both personal and business taxes, it's important to keep solid records of your finances. However, personal returns have more restrictions when it comes to tax deductions. Since so many business expenses are tax deductible, keep those business receipts if you want those deductions.
Forms you'll need to file business taxes
One key difference between filing personal and business taxes will be the various forms you need to complete. Different business entities each use different tax forms—we'll give you a quick rundown here.
Sole proprietors
If your small business isn't registered as a legal entity, you should fill out a Form 1040, which is your personal tax return. As part of your 1040, you'll also need to complete the Schedule C portion, which allows you to report the income and expenses from your sole proprietorship. These same forms will also work if you registered your business as an LLC with you as the sole member.
Partnerships, LLCs, and S corporations
What if you're not running a solo gig? Every member of a partnership, LLC, or S corporation will need to fill out Form 1065 and a Schedule K-1. Each of these business organizations pass through business income to the owners or shareholders, so the members will need to account for those earnings under Schedule E in their personal income taxes.
C corporations
Unlike the organizations above, C corporations do not pass through income to the business owners. These businesses file their corporate taxes using Form 1120. If you're a business owner, you should get a Form 1099 to inform you of the income you made from the business for your personal return.
Other considerations
Different situations will require extra forms, like a Form 720 for excise taxes (necessary if you sell items like tobacco, alcohol, or gasoline) or Form 941 for taxes withheld from paychecks. As the complexity of your business grows, you'll probably need more powerful tax software to keep up with all the required filings.
Annual vs. quarterly taxes
After years of ignoring taxes until April tax season comes along, switching to a quarter-based tax schedule can be jarring. Depending on whether you have employees or what goods you sell, you might not have an option.
If you pay employees, then those Form 941s will need to be filed quarterly. Likewise, Form 720, used for excise taxes, will also need to be filled out every three months. Unsure if you'll need to report excise taxes? If your business plans on selling items like tobacco, alcohol, or gasoline, you are required to charge excise taxes and will need to file those earnings.
Outside of those categories, you have the option of making quarterly payments or a single year-end payment to the IRS. Many businesses choose to file quarterly based off an estimated return. But if you're willing to set aside money for one large payment, you can simply pay at the end of the tax year.
Take the worry out of tax season
That wraps up our list of the best tax software for small businesses. Whether you found the perfect software to fit your unique situation or chose the reliability of our overall winner, TurboTax, you can rest assured that tax season will be less stressful with the right kind of help.
Check out our guide on filing taxes as a small business for even more tips.
Disclaimer
At Business.org, our research is meant to offer general product and service recommendations. We don't guarantee that our suggestions will work best for each individual or business, so consider your unique needs when choosing products and services

Sources
1. eFile.com, "Income Tax Return, eFile Statistics," June 1, 2020. Accessed August 6, 2020.