Best Payroll Software for Restaurants 2020
---
Restaurant owners have unique payroll needs, like meeting minimum wage requirements while factoring in tips. The right payroll software can make federal minimum wage compliance easier while ensuring your employees get paid on time—and the right amount.
As a restaurant owner, you savor the sound of happy customers chatting over a hearty meal, the smell of your restaurant's signature dish (pad thai with prawns, maybe, or your famous short ribs), and the crisp cleanliness of a well-run kitchen.
Running payroll, on the other hand? There's nothing savory about it, especially when customers' unreliable tipping habits have you scrambling to meet minimum wage requirements each pay period.
Alas, the right payroll software can't solve the problem of customers who refuse to tip, no matter how good the service is. But it can take the harry and hassle out of paying your employees. Here are our top picks for the year's best payroll software for restaurant owners like you.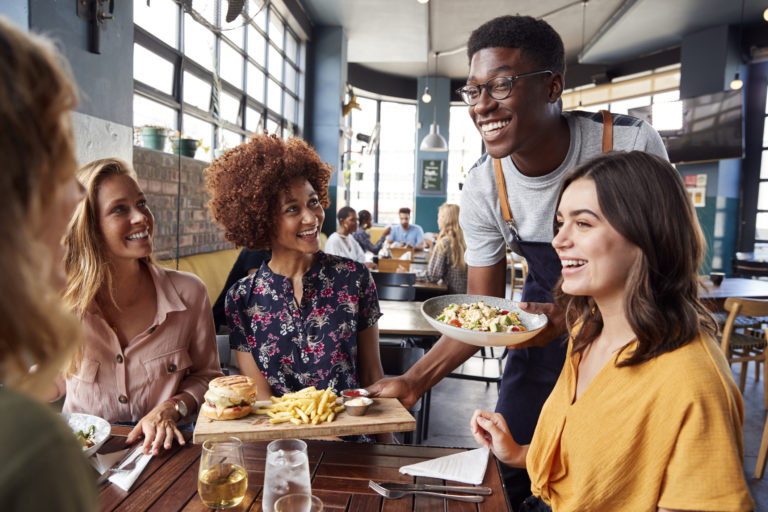 The best payroll software for restaurants
| | | | | |
| --- | --- | --- | --- | --- |
| Brand | Starting cost | Additional cost per payee | Mobile app for employers | Learn more |
| SurePayroll | $29/mo. | $4/payee | Yes (iOS and Android) | See Plans |
| Square Payroll | $29/mo. | $5/payee | Yes (iOS and Android) | See Plans |
| Wave Payroll | $20/mo. | $6/payee | No | See Plans |
| OnPay | $36/mo. | $4/payee | No | See Plans |
| Inova | Contact for quote | Contact for quote | No | See Plans |
Data effective 12/5/19. At publishing time, pricing is current but subject to change. Offers may not be available in all areas.

Our Methodology
To evaluate the best payroll software for restaurants, we looked at these key criteria and ranked our payroll brands accordingly:
Affordability. Is the software reasonably priced for its features? Does the software company list their pricing online and up front, or do you have to contact the company for a quote?
Accessibility. How easy is the software for employers to navigate? Does the software have an app for employers to pay employees on the go?
Customer service. Can customers reach the company for help 24/7 or simply during business hours?
Industry specifics. Does the payroll software offer restaurant-specific features, support, or resource guides?
Payroll features. Does the software include HR options, payroll tax automation, and third-party integrations (for instance, with accounting software like Xero or QuickBooks)?
SurePayroll: Best overall

SurePayroll
With its restaurant-specific assistance (including minimum wage alerts and makeup tip options), low starting price of just $29 a month, and automatic payroll tax payments, SurePayroll is an affordable, comprehensive payroll solution for restaurant owners.
Here at Business.org, we like SurePayroll a lot. Like, a lot a lot. Here's what its payroll software offers restaurant owners:
Automatic minimum wage alerts when an employee's tips don't meet federal wage requirements
Makeup tip options for when employees' tips for a given pay period don't meet federal wage requirements
Tip sign-off reports, which record your employees' tip declarations so you can demonstrate federal compliance
FICA tip credit report access, which shows your eligibility for federal tax savings based on the FICA tip credit
SurePayroll also offers automatic new-hire state reporting and US-based phone, chat, and email support beyond regular business hours—you can get in touch for payroll assistance on weekends and evenings, which is a rarity in the payroll software world.
A few other features set SurePayroll apart from other brands:
Its tax-filing guarantee ensures that if the IRS has a problem with a SurePayroll tax payment, SurePayroll will pay the fine and handle the complaint for you. In comparison, QuickBooks Payroll offers a tax-filing guarantee with only its most expensive plan.
Its automated payroll feature lets you set payroll on autopilot so you won't forget to pay employees on time.
SurePayroll is one of the only payroll providers with an employer-facing mobile app. You can check employee hours and run payroll on the go.
Of course, nothing's perfect, not even SurePayroll. You can't see plan and pricing details online beyond SurePayroll's most basic plan unless you get in touch with the company. Plus, some features that should be included for free cost extra—most notably, accounting software integration costs an extra $9.99 per month, which is just plain weird.
Overall, though, SurePayroll's $29 per month base price and restaurant-specific features make it a good fit.
Square Payroll: Most convenient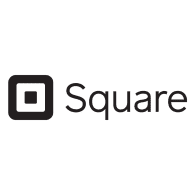 Square Payroll
If you already use Square Point of Sale, Square Payroll is the perfect add-on. When you use the two together, you can easily import credit card tip amounts and employee hours worked to process payroll quickly and accurately.
Square Payroll doesn't necessarily offer restaurant-specific services—at least, not yet—but its restaurant-specific point-of-sale software was tailor-made for business owners like you. If you're already using Square Point of Sale for its floor plan, menu, and discount features, Square Payroll is the logical (and affordable) next step for your business.
In particular, with Square Payroll, it's easy to import and split tips left with credit cards. If your employees use Square Point of Sale to clock in and out, the data seamlessly syncs with the payroll software. And like SurePayroll, Square Payroll comes with an employer-facing app—one of only five payroll providers to do so. With a starting base cost of $29 per month and $5 per employee, Square Payroll goes easy on your wallet too.
Of course, Square Payroll is also super accessible for employees. With the Square Team app, your chefs and waitstaff can update their tax info, check pay stubs, clock in and out, and specify their preferred payment method—completely on the go.
With the Square Team app, your chefs and waitstaff can update their tax info, check pay stubs, and clock in and out.
While Square lacks SurePayroll's restaurant specificity, it does provide a handy guide that spells out the complicated payroll and tax issues related specifically to restaurants. Unfortunately, its customer service isn't quite as robust as SurePayroll's—while Square has a US-based customer support team, they're available only over the phone.
Wave Payroll: Most affordable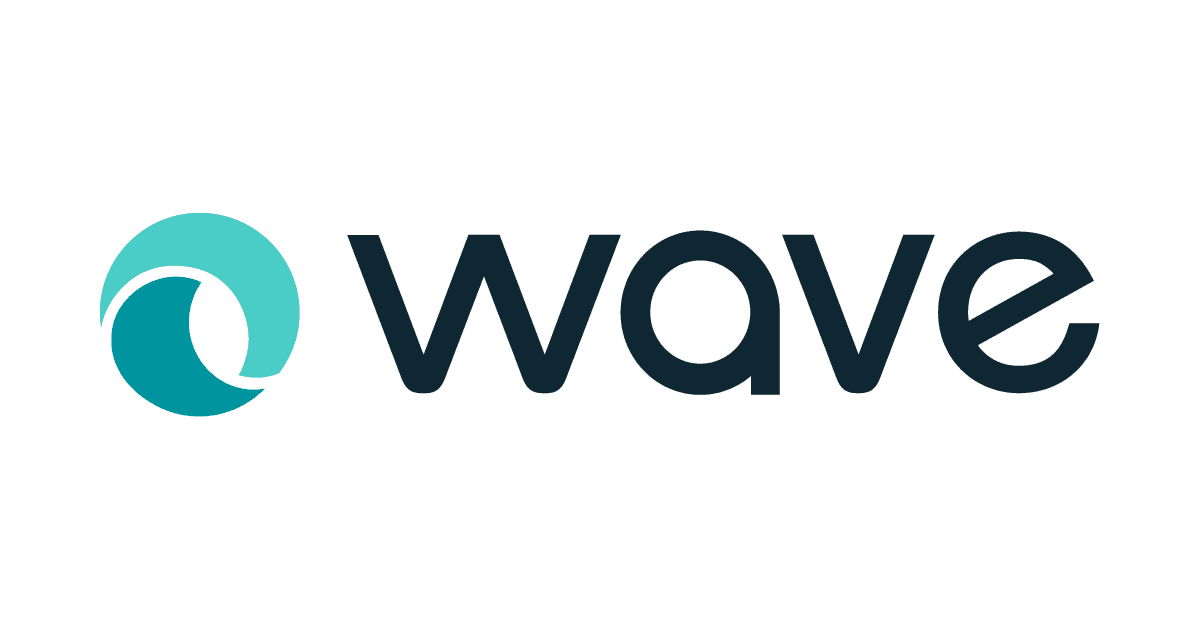 Wave
Starting at just $20 a month, Wave Payroll is far and away the cheapest provider on our list, though the affordability comes at a price: in most states, you'll have to file your own payroll taxes. Even with that caveat, though, Wave Payroll still offers quite a lot for your buck.
Wave Payroll doesn't necessarily include restaurant-specific features, but its general payroll services pack a punch regardless of your industry:
Employee self-service portals (employees can access their own W-2s and pay stubs)
Workers compensation coverage options
Easy check printing and direct deposit
Vacation and sick day payment integration
With features like these, why is Wave Payroll so cheap? Here's the bad news: in most states, Wave Payroll costs just $20 because you have to file your own payroll taxes. While Wave Payroll can calculate the tax amounts for you and even withhold them from your employees' paychecks, you'll have to go through the trouble of submitting the forms on your own.
Currently, Wave offers automatic payroll tax filing in Arizona, California, Florida, Georgia, Illinois, Indiana, Minnesota, New York, North Carolina, Tennessee, Texas, Virginia, Washington, and Wisconsin. Residents of these states can't opt for the more affordable self-service payroll option—you'll automatically be enrolled in the full-service payroll plan, which starts at $35 a month.
Wave's free accounting software
Looking to save even more? Wave's accounting software is completely free without sacrificing quality for pricing. In fact, its comprehensive accounting features and user-friendliness rival those of established providers like QuickBooks Online.
If you bundle Wave Payroll with Wave Accounting, the $20 or $35 base payroll charge (plus the $4 charge per payee) is all you'll pay per month. In contrast, QuickBooks Online charges a minimum of $74 a month for both services.
OnPay: Most User-Friendly
OnPay
With next to no learning curve, OnPay's payroll software is super intuitive and easy to use for employers and employees alike.
At $36 per month, OnPay is a tiny bit pricier than our picks thus far. But OnPay's restaurant-specific focus makes the few extra dollars worth your while:
Minimum wage tip makeup
Form 8846 preparation for FICA tip credit
Tax-filing accuracy guarantee
Paid time off (PTO) tracking
Employee self-onboarding
Easy overtime calculation
What really sets OnPay apart is how easy the software is to learn and use. New hires can quickly upload their tax forms and bank information for direct deposit with minimal hassle. And like SurePayroll, OnPay helps you stay on top of minimum wage requirements. OnPay also goes out of its way to keep extra charges off your plate: you can run payroll as much as you like without being penalized for off-cycle or holiday payroll runs.
OnPay's customer service team is available only over the phone, but its online knowledge base is fairly comprehensive and easy to navigate, especially the tax resources section.
Inova Payroll: Best customer service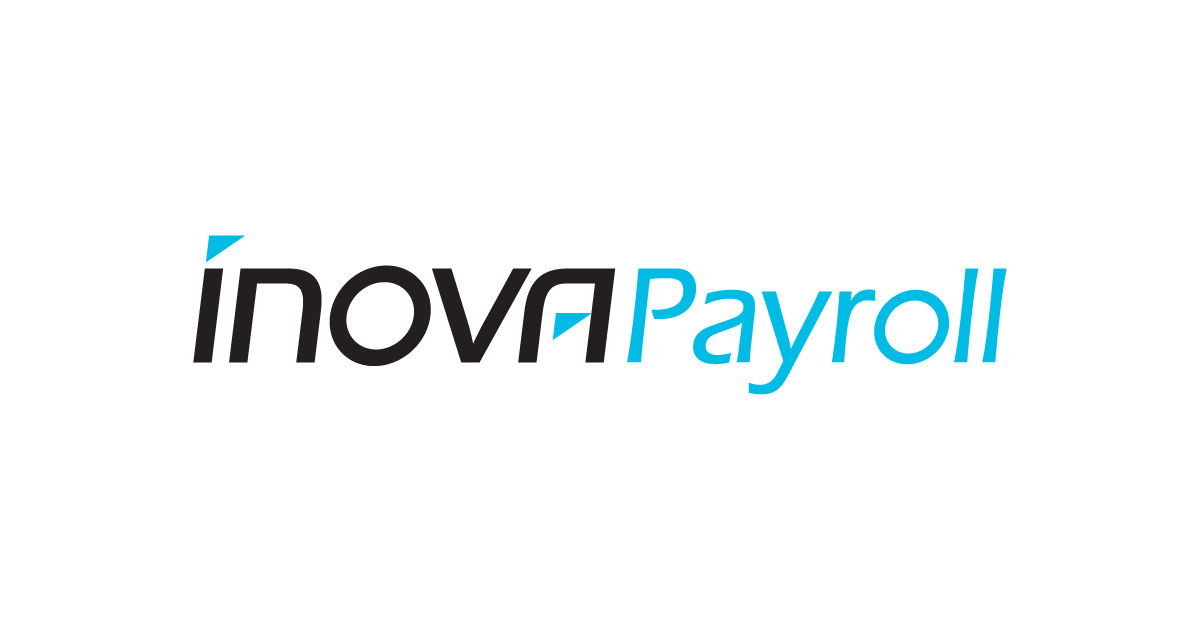 Inova Payroll
Want a dedicated customer service representative you can reach out to directly for help? Inova Payroll assigns each customer their own agent so specific, personalized payroll help is just a phone call away.
Inova Payroll isn't as well known as most of the other providers on our list; it was founded fairly recently (for payroll software, at least) in 2010. But Inova Payroll includes a host of features—easy POS integration, overtime and tip calculations, and new hire and ACA compliance reporting—that make it worth looking into.
But Inova Payroll's most standout feature is its dedicated customer service structure. When you sign up with Inova, you'll be assigned a dedicated customer service representative—or even a customer service team—who will get to know your business about as well as you do. When you need help, you can turn to your dedicated representative instead of waiting in an anonymous phone queue.
Of course, the trade-off for dedicated customer care is usually a higher price . . . and Inova Payroll doesn't list any pricing on their site. You'll have to contact the company for a customized quote, which likely means Inova charges more than some of our other payroll provider picks.
More restaurant payroll picks
Need more options? Here are five others to consider. Sure, they didn't make our top cut, but they have plenty to recommend them.
Gusto
All three of Gusto's payroll plans include health benefits and workers compensation options.
Starting at $39 a month, Gusto is pretty reasonably priced, especially considering its automated payroll processing, new hire reporting, and even child support wage garnishments. Even its most basic plan includes health benefits and workers comp support, which we think justifies the $6 charge per employee.
Gusto's mid-tier plan bundles payroll basics with timekeeping software, employee self-service onboarding, time-off requests, and PTO features. Its most expensive plan gives you access to a dedicated HR consultant and a host of HR resources.
Paycor: Best for franchises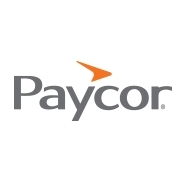 Paycor
If you need a total human capital management solution, Paycor has your back—which makes it a great system for larger companies, specifically franchisors.
As a total human capital management (HCM) solution, Paycor offers payroll plus an easy onboarding process, HR software, benefits administration, time and attendance, and learning management system options. If you're looking for an all-in-one HR solution for your expanding franchise—and you're willing and able to pay extra for the heftier HR lift—Paycor could be a good bet.
Paychex Flex: Best for bigger restaurants

Paychex Flex
Managing more than five to ten employees? Paychex Flex's tip management system helps you track and pay out employee wages at the end of shifts—no matter how many tipped employees you're juggling.
Worried about sharing tips equally among dozens of tipped employees? Paychex's Tip Network pools tips for easy division at the end of employee shifts; it bypasses direct deposit by loading tips onto prepaid debit cards called paycards.
SurePayroll is a Paychex company, so if you like SurePayroll but need a more robust solution for an expanding company (and are fine paying a higher monthly fee), Paychex Flex shouldn't demand a huge learning curve.
RUN Powered by ADP: Most package options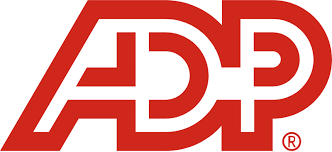 RUN Powered by ADP
If a one-size-fits-all approach doesn't work for you, try RUN Powered by ADP. With four distinct packages and varying levels of HR features, it's easier to find a payroll plan you love.
Most of our top five providers offer one package with one base price and a standard charge for each payee. Not so with RUN Powered by ADP, which markets four packages with differing levels of human resources (HR) support. To get more pricing information on RUN Powered by ADP, you have to request a quote with fairly detailed company information. Based on the quote request and expanded HR services, we assume RUN Powered by ADP is one of the more expensive payroll service providers.
QuickBooks Payroll: Easiest QuickBooks Online integration

QuickBooks Payroll
QuickBooks Payroll's mobile app makes on-the-go payments easy, and the software integrates seamlessly with QuickBooks' popular cloud-based accounting program.
QuickBooks Payroll's interface is user friendly, modern, and up to date. With the mobile app, you can pay employees anywhere, anytime, and all three payroll plans include health care options for your employees.
But with a $45 per month starting price, QuickBooks Payroll is much more expensive than other options. Worst of all, only the most expensive plan—which starts at an absolutely unjustifiable $125 a month plus $10 per payee—includes a tax-penalty guarantee. That's ludicrous, and you deserve better.
Still, if you're used to QuickBooks Online's accessibility, user-friendliness, and sleek dashboard, its payroll management software could work for you. Just be prepared to shoulder the fees for any tax mistakes yourself.
The takeaway
Thanks to tip calculation and payroll taxes, running payroll probably won't ever be a breeze at your restaurant. But the right payroll provider can take the hardest parts of payroll off your hands, leaving them free to slice, dice, and sauté your way into your customers' hearts . . . or, at the very least, their stomachs.
Want to learn more about how payroll works? Our article on how to run payroll can point you in the right direction.
Disclaimer
At Business.org, our research is meant to offer general product and service recommendations. We don't guarantee that our suggestions will work best for each individual or business, so consider your unique needs when choosing products and services.
The Best Local Eats in the Most Food-Obsessed Cities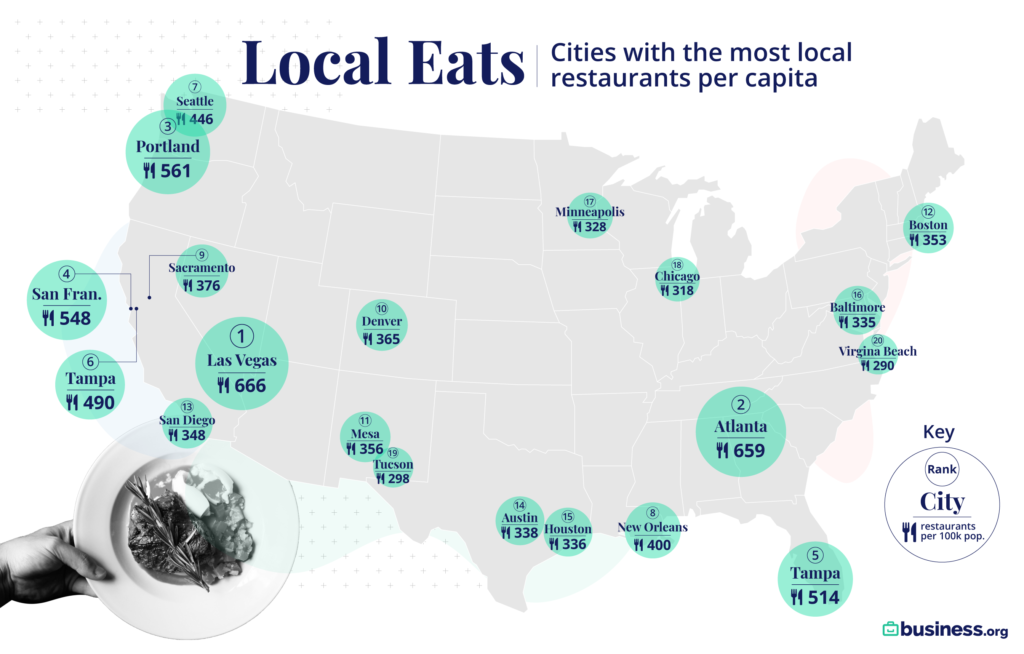 Do you miss your favorite coffee shop's croissants? Or the thrill of life scoping out the new spots in town and finding those perfect little holes in the wall?
With more small-business restaurants reopening, we wanted to highlight which cities are food havens—and the best place in town to find a meal. Restaurants have implemented sanitizing and social distancing measures, as well as using technology like Square to make your visit as clean and touch-free as can be.
Not every restaurant will be open for full service inside, so make sure to check the location's website or call ahead before you put on your best pearls—you may opt for takeout on the couch in sweats instead.
Check out our rankings below to find your town, or to start dreaming about where you want to travel for your next foodcation.
| | | | | |
| --- | --- | --- | --- | --- |
| Rank | City, State | Number of Restaurants | Number of Restaurants per 100k | Top-Rated Local Restaurant |
| 1 | Las Vegas, Nevada | 4,337 | 666 | Yardbird Southern Table & Bar |
| 2 | Atlanta, Georgia | 3,342 | 659 | Mary Mac's Tea Room |
| 3 | Portland, Oregon | 3,676 | 561 | Screen Door |
| 4 | San Francisco, California | 4,832 | 548 | San Tung |
| 5 | Tampa, Florida | 2,054 | 514 | Bern's Steak House |
| 6 | Oakland, California | 2,120 | 490 | Homeroom |
| 7 | Seattle, Washington | 3,363 | 446 | Pike Place Chowder |
| 8 | New Orleans, Louisiana | 1,562 | 400 | Acme Oyster House |
| 9 | Sacramento, California | 1,933 | 376 | Bacon & Butter |
| 10 | Denver, Colorado | 2,659 | 366 | Denver Biscuit Co. |
| 11 | Mesa, Arizona | 1,843 | 356 | Backyard Taco |
| 12 | Boston, Massachusetts | 2,448 | 354 | Carmelina's |
| 13 | San Diego, California | 4,959 | 348 | Phil's BBQ |
| 14 | Austin, Texas | 3,316 | 339 | Franklin Barbecue |
| 15 | Houston, Texas | 7,800 | 336 | JINYA Ramen Bar |
| 16 | Baltimore, Maryland | 1,988 | 335 | Thames Street Oyster House |
| 17 | Minneapolis, Minnesota | 1,409 | 328 | Butcher & The Boar |
| 18 | Chicago, Illinois | 8,578 | 318 | Girl & the Goat |
| 19 | Tucson, Arizona | 1,634 | 298 | The Parish |
| 20 | Virginia Beach, Virginia | 1,304 | 290 | Captain Georges Seafood Restaurant |
| 21 | Nashville, Tennessee | 1,865 | 278 | Hattie B's Chicken – Midtown |
| 22 | Tulsa, Oklahoma | 1,098 | 274 | Andolini's Pizzeria |
| 23 | San Antonio, Texas | 4,214 | 272 | Rosario's Mexican Cafe Y Cantina |
| 24 | Albuquerque, New Mexico | 1,496 | 267 | Cocina Azul |
| 25 | Philadelphia, Pennsylvania | 4,144 | 262 | Reading Terminal Market |
| 26 | Colorado Springs, Colorado | 1,236 | 259 | Shuga's |
| 27 | Dallas, Texas | 3,455 | 257 | Pecan Lodge |
| 28 | Los Angeles, California | 10,231 | 257 | Daikokuya Little Tokyo |
| 29 | Fresno, California | 1,342 | 253 | Dog House Grill |
| 30 | Raleigh, North Carolina | 1,192 | 251 | The Pit |
| 31 | Charlotte, North Carolina | 2,173 | 245 | Cabo Fish Taco |
| 32 | Louisville, Kentucky | 1,496 | 242 | Doc Crow's |
| 33 | Omaha, Nebraska | 1,137 | 238 | Block 16 |
| 34 | Kansas City, Missouri | 1,173 | 237 | Q39 – Kansas City |
| 35 | Long Beach, California | 1,070 | 231 | The Attic |
| 36 | Wichita, Kansas | 897 | 230 | Public |
| 37 | Oklahoma City, Oklahoma | 1,446 | 221 | Cattlemen's |
| 38 | Columbus, Ohio | 1,975 | 220 | Schmidt's Sausage Haus |
| 39 | Milwaukee, Wisconsin | 1,296 | 220 | St Paul Fish Company |
| 40 | El Paso, Texas | 1,476 | 217 | L & J Cafe |
| 41 | Indianapolis, Indiana | 1,887 | 215 | The Eagle |
| 42 | San Jose, California | 2,139 | 209 | Gen Korean BBQ House |
| 43 | Memphis, Tennessee | 1,324 | 203 | Gus's World Famous Fried Chicken |
| 44 | Arlington, Texas | 781 | 196 | Prince Lebanese Grill |
| 45 | Jacksonville, Florida | 1,739 | 191 | The Bearded Pig |
| 46 | Fort Worth, Texas | 1,670 | 184 | Joe T Garcia's |
| 47 | Miami, Florida | 772 | 165 | Versailles Restaurant |
| 48 | Phoenix, Arizona | 2,760 | 164 | Pizzeria Bianco |
| 49 | Detroit, Michigan | 1,096 | 164 | Green Dot Stables |
| 50 | New York, New York | 10,910 | 131 | The Halal Guys |
The City of Sin had a deliciously devilish 666 restaurants per 100K people, making it the big winner for our most food-obsessed city. In Las Vegas, odds are everyone can find food worth betting on.
It's no surprise that even though New Orleans has a lower population than others on the list, it had 400 restaurants for every 100K people, ensuring there's plenty of good cajun cookin' (and more) to go around.
If you think New Yorkers have an "eat or get eaten" attitude, it's because 8.3 million people have 10,910 restaurants to choose from. That's far more places to eat than any other city, but for the Big Apple, it means there are only 131 restaurants per 100K people.
Speaking of hungry mouths, both Phoenix and Miami have populations of over one million people but ranked low for their disproportionate lack of restaurants. We think one of the best ways to beat the heat is to have a cold drink and eat, so hopefully, these art-centric cities add a little more food to their selection.
Which restaurants in your hometown could use a boost to their business? Let us know in the comments below which spots you plan on visiting.
We ranked the most food-obsessed cities by the number of restaurants per 100K residents. To get the info, we sourced population figures from the U.S. Census Bureau1, the number of restaurants in each city from Trip Advisor2, and the most "recommended" restaurant within 20 miles of each city's center from Yelp3.
Sources: