The 4 Best Fiber Internet Service Providers for Business of 2020
---
Fiber-optic business internet offers the speeds to fly a small business into the future—but which option is right for you? Business.org breaks down four of the fastest in the fiber game.
Our Approach
8
Brands considered
40
Hours of research
100
Spreadsheet cells analyzed
20
Cups of coffee drunk
Last Updated: More than 6 months
Because of COVID-19 (the coronavirus), more small-business owners are working from home than ever before. In response to the outbreak, internet providers are offering to help out.
All internet companies nationwide are pledging to waive any late fees or data overages for the next 60 days. In addition, certain companies are offering special deals and upgrades to new and existing customers.
Comcast Xfinity's
Internet Essentials
program offers two free months of service to new customers and unlimited data use for 60 days to all subscribers. Additionally, the provider is allowing anybody to use Xfinity hotspots for free and is automatically increasing internet speeds for all essentials customers.
Cox is offering the first month of its low-income internet program,
Connect 2 Compete
for free until May 12, 2020. The provider is also giving free phone and remote desktop support.
More than 6 months
We updated this page with the most recent pricing and plan information from Verizon, AT&T, Frontier, and CenturyLink. It didn't change our rankings, but we figured business owners would prefer a completely up-to-date picture of the fiber-optic internet prices they can expect from each provider on our list.
More than 2 years
This review has been updated to include recent fiber-optic internet service providers' changes in pricing and plan features. Business.org's top four picks for fiber internet services for small businesses now include CenturyLink over Comcast.
Fiber is the newest innovation in high-speed internet service—it's also the oldest. The core of the internet was built on fiber-optic lines, which have been connecting cities, countries, and continents for decades.
You've only heard about it more in recent years because internet service providers (or ISPs) are answering increased consumer demand for faster, more reliable internet access connections by bridging what's called "the last mile," or the gap between the fiber-optic backbone of the internet and homes and businesses.
That gap has typically been filled by the aging copper cable infrastructures of phone and coaxial lines, which is like jamming lightning through an AA battery—you're only experiencing a fraction of the internet's potential power and faster speeds. New fiber-optic technology is here to fix that with its super high speeds.
These are our favorite fiber internet service providers for business, based on our research.
The best fiber internet providers for business
Data as of 11/22/2019. Offers and availability may vary by location and are subject to change.
*For Yr 1. + taxes, fees & equip. charges.
**Prices and packages vary depending on location.
†For 12 months with minimum one-year agreement on new internet service. Actual speeds may vary. Taxes, installation and Business High Speed Internet Fee apply. Subject to availability.
‡Requires 2-year term, Autopay, and E-bill. New Customers only. May not be available in your area.
The core of the internet was built on fiber-optic lines, which have been connecting cities, countries, and continents for decades.
Fiber cable technology transmits data as pulses of light, not electricity, at high frequencies capable of handling large capacities through hair-thin glass or plastic strands with far less electromagnetic interference. They're also scalable, meaning they can sustain the future speed and capacity growth of the internet itself; copper lines can't and won't. Matching the fiber transmission of the internet with a like-designed "last mile" bridge to your residence or office is literally the fastest internet service connection currently possible (ruling out mind-to-mind telekinesis, sci-fi enthusiasts).
Best overall service: Verizon Fios Business
Supremely fast downloads and uploads
99.99% fiber uptime guarantee
Superior customer service for businesses
Complaints about latency
Availability limited to select northeastern areas
Another big advantage of fiber internet that we haven't yet mentioned is symmetrical download and upload speeds—meaning, if you're downloading at 100 Mbps, you're uploading at nearly or exactly 100 Mbps. If your business's internet needs stop at web-surfing and emailing, this is no big deal. However, if you're spending hours transferring large files or enduring choppy video conferencing, you'll be wondering where this glorious symmetry has been all of your life.
Not only are the upload and download speeds for Verizon Fios fiber internet 100% guaranteed, but its upload speeds have also tested even faster by a few points (with the exception of the 940 Mbps plan, which rates "only" 880 Mbps for uploads). For a business moving heavy amounts of data, running cloud-based applications, and accommodating bandwidth for a dozen or more employees, Verizon would be a workhorse; for a smaller shop looking to grow, it might be worth the extra bucks for business continuity as you scale.
Verizon services come with a two-year contract, but you can opt for a no-contract plan if you want to date Verizon before making that big commitment for an extra $5–$15 per month (depending on your plan).
There is, however, a minor downside to Verizon Fios Business internet: it's not the cheapest service out there. But its above-average customer service reputation and reasonable bundling packages are tempting incentives to pry open the company wallet.
Verizon Fios business internet plans
Data as of 11/22/2019. Offers and availability may vary by location and are subject to change.
*For Yr 1. + taxes, fees & equip. charges.
**New York customers may experience faster speeds than shown.
The not-so-minor downside to Verizon: its Fios service is currently available in only 21 states in the northeastern part of the country—you're out of luck, flyover-staters and West-Coasters. Verizon is expanding its fiber-optic network, but at the moment, you'll want to confirm its availability before you set your sights on this provider.
But if your business is in the (geographical) position to get it, we recommend you get it. Verizon Fios Business internet is a verified powerhouse that's built to grow, with reliable customer support to back it up. This quick, quality service is tough to beat, even if it costs a little more.
Best for small shops: AT&T Business
Good value for bare-bones plans
No contract required for fiber plans
Unlimited data usage and cloud storage
Free internet security software and support
Expensive high-speed plans
Limited fiber availability
Now for the disadvantage of fiber internet: it's not available everywhere. The rollout of new fiber-optic infrastructures is expensive and slow; depending on where you're located, you could be waiting a while for the sweet speeds we've been dangling in front of you here (sorry).
Fortunately, some companies are filling in the regional fiber network gaps. Whereas Verizon is concentrated in the Northeast, AT&T Business covers the Midwest and the Southeast, as well as a good chunk of the West Coast. Also, some of AT&T's business plans are slightly less pricey than Verizon's, and their customer service ratings top even our number one pick, Verizon.1

AT&T
With fiber internet, the deciding factors will ultimately come down to pricing and service, and AT&T Business offers some attractive (small) plans.
For small shops, AT&T's Business Fiber 100 plan (speeds up to 100 Mbps) works well for web usage, sharing files, and allowing Wi-Fi access for employees and customers at $140 a month, and the more substantial Business Fiber 500 plan (500 Mbps) offers five times the speed and capacity for $160 more. If your business is growing quickly, AT&T's Business Fiber 1000 tier (1,000 Mbps, or 1 Gbps) can handle as many web-active employees and fat files as you can throw at it for $500 a month.
If you're trying to keep a relatively tiny team productive and bustling, AT&T Business's lower-level DSL plans will do the trick for fewer bucks. Also, consider AT&T's bundling options, which offer what the others don't—access to the world's largest phone service provider (AT&T, of course) and the leading satellite TV service provider (DIRECTV, owned by AT&T).
Best budget deal: Frontier Business
Lower-cost basic plans
Symmetric fiber speeds
36-month price guarantees
Premier VoIP solutions
No speeds faster than 150 Mbps
Limited fiber availability
No trial period or money-back guarantee
Disappointing customer ratings
If it seems like we keep coming back to fiber availability, it's because we keep coming back to fiber availability—aside from pricing and customer-service ratings, it's the biggest differentiating factor between these metro ethernet ISPs. Which is good news on at least one front for Frontier FiOS business internet: it's among the most inexpensive.
Unfortunately, even though the company has recently purchased gigabit internet fiber lines from Verizon (the stipulation for "FiOS" in the name), it's not as widely available as the other providers profiled here, as it's limited to portions of California, Florida, Indiana, Oregon, Texas, and Washington. As for Frontier's FiOS for business customer service numbers . . . well, they're not pretty. Let's focus on the positive first.
Frontier
Frontier Business's basic FiOS 100M plan starts at $49.99* per month, which is enough for a small office to get by with as long as you stick to web browsing and email.
Frontier Business's reasonable FiOS 100M plan starts at $49.99* per month, and the plan just above that, Fios 500M, comes in at $89.99 a month. Topping out the plan chain is FiOS 1 Gigabit Connection at $239.99* per month. Frustratingly, not every one of them is available even within Frontier's own service areas.
Wherever you are, you'll want to research business.frontier.com closely.
Frontier's contracts are relatively short at 12 months, and installation is included free with those contracts.
Frontier's contracts are relatively short at 12 months, and installation is included free with those contracts. But their phone and TV combos aren't quite as attractively priced as other ISP's bundles. Also, the company's 24/7 tech support promise is outweighed by dismal across-the-board customer satisfaction ratings that make Comcast look like the Make-a-Wish Foundation.
Frontier Business internet is definitely a mixed bag, which can be expected of a growing company, but their lowball pricing on symmetrical fiber internet speeds should be enough to make any small business take notice. Just proceed with caution.
*For 12 months with minimum one-year agreement on new internet service. Actual speeds may vary. Taxes, installation and Business High Speed Internet Fee apply. Subject to availability.
Best full-service fiber: CenturyLink Fiber
Solid service-level agreements
Wide variety of extra features
Murky pricing
Limited availability
The much-hyped nationwide expansion of Google Fiber may have ground to a quiet halt in 2017, but the threat of competition did at least motivate legacy telecom giants to move up their own fiber timelines. Most notably, CenturyLink has run fiber lines into Arizona, Colorado, Iowa, Minnesota, Nebraska, North Dakota, South Dakota, and Utah—areas other fiber internet providers haven't thoroughly covered yet.
CenturyLink Business fiber plans come in gigabit-size plans with symmetrical upload and download speeds. Prices start at $65 per month, but you'll have to call to a) see if the package is available in your area and b) find out how much it actually costs in your business's zip code. On that front, CenturyLink doesn't exactly make things easy for a business owner who just wants to browse internet options.

CenturyLink
If you're in its fiber coverage area, CenturyLink Business offers plenty of speed, stability, and services—though we'd be more impressed if it were as transparent in its pricing as some of its fiber competitors.
What CenturyLink Business does disclose about its fiber plans, however, is worth a look. CenturyLink's fiber-optic plan doesn't require you to sign a contract, and it comes fully loaded with Wi-Fi features. And if you want to add VoIP (voice over internet protocol) phone service, CenturyLink will set up an interface that works with your existing analog phone system or install a SIP (session initiation protocol) trunk to integrate all of your office's digital data needs.
Some businesses may also want to check out CenturyLink's residential offerings: information on CenturyLink home fiber internet plans is readily available and comes with surprising "price for life" monthly bills (at least at this point in its promotional cycle). CenturyLink Business fiber plans likely don't come with a "forever" rate, but the company could be more forthcoming so we didn't have to take our best guess.
Best cable runner-up: Comcast Business
24/7 local support
Free installation, 30-day trial
No data caps or throttling
Wi-Fi services included
Limited fiber-optic availability
Extra charge for static IPs
Higher prices than similar networks
$200 early termination fee
Mixed customer reviews
If you're not lucky enough to have business fiber internet in your neighborhood, Comcast Business offers a promising, fast alternative—and it's likely to be available in your area. No, not the residential cable company—that's Xfinity . . . which used to be Comcast, hence some confusion. The coaxial-cable residential TV and internet side of Comcast was split off as Xfinity in 2010; today, Comcast Business is a cable internet service for professionals. As with their home high-speed services, Comcast's business reach is wide, with a fiber infrastructure that spans 39 states.
If you're located outside of a fiber coverage area we've mentioned so far, Comcast Business high-speed cable internet is probably nearby—but this doesn't mean you'd be "stuck with" an inferior service. To the contrary, Comcast's customer service ratings are nearly as impressive as Verizon's (remember, this is the business side; Comcast's legendarily negative consumer ratings stem from their residential side, now branded as Xfinity).
Hint
If you're trying to keep a relatively tiny team productive and bustling, AT&T Business's lower-level plans will do the trick for fewer bucks.
Comcast also guarantees that their internet connectivity will be up and running 99.998% of the time, a reassuring stat for any small business that depends on reliable internet service.
Offers and services that further strengthen Comcast's "built for business" case: free installation; a 30-day, money-back guarantee trial period; 24/7 local support; no data caps or throttling; and included Wi-Fi services to cover both employees and customers. In the minus column, there's a $200 early termination fee should you decide to bail on Comcast Business's two-year contract, and their packages aren't exactly priced competitively.
Not sure which option will help you grow?
Transform your business with a free assessment, and get a tailored recommendation for services that will drive better results.
Call 855-983-1267
What to consider when choosing a fiber provider
How much speed is needed?
Not sure of the best numbers for your business? Here's what to know.
| | |
| --- | --- |
| Speed range | Best for |
| 15–50 Mbps | 1 or 2 employees, basic web browsing and email |
| 50–75 Mbps | Up to 5 employees, large-file transfers and point-of-sale transactions |
| 75–150 Mbps | Up to 7 employees, video calls and data backups |
| 150–500 Mbps | 10 or more employees, website hosting and heavy Wi-Fi traffic |
| 500 Mbps–1 Gbps | All of the employees, all of the above and then some |
To bundle or not to bundle?
In most cases, your business is going to need phone service—sometimes TV as well. Bundling these with your gigabit internet service can simplify the billing process and cut down on costs. Verizon, AT&T, Comcast, and Frontier all offer internet, phone, and TV bundles—some better than others.
If customers will be spending any idle time at your business (waiting room, restaurant, bar, etc.), TV service is almost a must. Likewise, some businesses can't get by without a phone line, even in 2018. However, if your operation is the smallest definition of "small business" (you and maybe one other person) conducting transactions strictly online, don't bother with a bundle, no matter how cheap they come.
What if fiber internet isn't available in my area?
When will fiber arrive in your area? The short answer: "Eventually." The real answer: "Not soon enough." Fiber-optic lines are the future, but they still have to navigate the local politics of infrastructure and the provider's realities of cost—they're expensive to build out and demand has to be there (which it is, and there's more every year).
If you're currently running, or starting up, a small business and fiber internet isn't yet available in your neighborhood, look into coaxial cable or DSL broadband internet, and avoid signing any lengthy contracts. Some high-speed connections are fast and stable enough to sustain a small business, but you don't want to be locked into it when fiber internet does finally arrive.
The takeaway: Verizon Fios is a business beast—if you can get it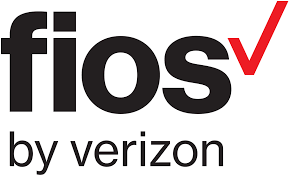 Verizon
Best overall
The speed, price, and customer satisfaction that comes with Verizon Fios Business is a persuasive combo for small businesses—any in its eastern service area, that is.
While Verizon is our top pick, it's not everywhere. But there are at least a couple of viable fiber alternatives across the country, even though the potentially market-transforming fiber singularity of full continental coverage is still a few years away.
Disclaimer
At Business.org, our research is meant to offer general product and service recommendations. We don't guarantee that our suggestions will work best for each individual or business, so consider your unique needs when choosing products and services.
Source
1. J.D. Power, "U.S. Business Wireline Satisfaction Study 2019"