Verizon Business Internet Review 2020
---
Fiber plans that reach over 100% of advertised speeds, have reliable connections, and provide all-star customer service make Verizon a smart choice for small businesses with big-time data needs.
Best Overall
Plan prices starting at $39.99/mo.
Fiber speeds up to 940 Mbps
Top-rated customer service
Slow, expensive DSL plans
Last Updated: More than 6 months
Because of COVID-19 (the coronavirus), more small-business owners are working from home than ever before. In response to the outbreak, internet providers are offering to help out.
All internet companies nationwide are pledging to waive any late fees or data overages for the next 60 days. In addition, certain companies are offering special deals and upgrades to new and existing customers.
Comcast Xfinity's
Internet Essentials
program offers two free months of service to new customers and unlimited data use for 60 days to all subscribers. Additionally, the provider is allowing anybody to use Xfinity hotspots for free and is automatically increasing internet speeds for all essentials customers.
Cox is offering the first month of its low-income internet program,
Connect 2 Compete
, for free until May 12, 2020. The provider is also giving free phone and remote desktop support.
More than 6 months
We updated this review with the latest plan and pricing information from Verizon. It renamed some plans and adjusted some of its pricing (some higher, some lower), but Verizon still has standout fast speeds. Because of that, Verizon held onto its spot as our favorite internet provider for small businesses.
Imagine you're close to landing a new client for your business, and as you try to send a critical file, your internet connection freezes. If this worst-case scenario terrifies you, then your business needs what Verizon offers: superior speeds matched by equally superior uptime guarantees.
Verizon is best for small businesses that need the fastest and most reliable internet
Recommended and fastest Verizon Business Internet plans
| | | | |
| --- | --- | --- | --- |
| Plan | Type | Starting price | Learn more |
| Fios Gigabit Connection | Fiber | $214.99 | View Plan |
| Fios Internet 500 Mbps | Fiber | $214.99 | View Plan |
| Business Internet 10–15 Mbps | Fiber | $54.99 | View Plan |
Data effective 10/26/18 (ZIP code 15212). At publishing time, pricing and speeds are current but are subject to change. Offers may not be available in all areas.
Verizon's fastest option is its Fios Gigabit Connection plan that boasts top speeds of 940 Mbps download and up to 880 Mbps upload. At those speeds, you and dozens of employees can zip through the web, conduct HD video conferences and VoIP calls, and upload massive files to the Cloud interruption-free.
The fastest Verizon DSL plan tops out at 15 Mbps, which isn't that impressive—especially for $55 a month. But if you think that's the plan for you, you can still connect a few employees and operate your business online.
What you should know about Verizon business internet
When comparing Verizon to other business internet service providers, Verizon stands out in several ways.
We praised Verizon for its lightning-fast fiber-optic speeds and uptime guarantee. These are factors that business owners should consider if they want to expand the number of users on their networks without sacrificing reliability.
Another pro for the company is its reputation for providing superior customer service to its business customers. Other internet providers—Comcast Business, for example—are known for the opposite.
But Verizon isn't perfect. Verizon's fiber-optic network stretches across only a few dozen zip codes in the northeastern United States. Compared to Comcast internet, that's a much smaller footprint.
Moreover, you may pay more for Verizon business internet than you would to another provider for the same speeds. Plus, Verizon's DSL plans are much slower than the competition, which Verizon's higher prices don't make up for. Finally, we uncovered some troubling complaints about latency, which we explain a bit later.
Supremely fast downloads and uploads
99.99% fiber uptime guarantee
Superior customer service for businesses
Slow, expensive DSL plans
Complaints about latency
Availability limited to select northeastern areas
Verizon business internet plans, pricing and speed
Below, we've put each Verizon business plan side-by-side so you can compare them by price and speed. Verizon Fios (fiber) plans are the standouts, but we'll take a look at each DSL plan too.
Verizon Fios business internet fiber plans
| | | | |
| --- | --- | --- | --- |
| Plan | Starting price (per month)* | Download speed | Learn more |
| Fios 100M | $69 | 100 Mbps | View Plan |
| Fios 300M | $129 | 300 Mbps | View Plan |
| Fios Gig Connection | $249 | 940 Mbps | View Plan |
Data effective 11/22/11. At publishing time, pricing and speeds are current but are subject to change. Offers may not be available in all areas.
*For 1 year. Plus taxes, fees & equip. charges.
Verizon's bread and butter are its Fios-branded plans. These connections, delivered via fiber optic cables, offer some of the fastest internet around. The Gig Connection plans are the prime offering.
The shining feature of Verizon Fios for small business is that the plans come with identical maximum upload and download speeds. These connections are often called "symmetric," and they are great if you need to send or upload large files online. Symmetric connections are even more important for HD video and VoIP calls if you want to avoid interruptions.
Verizon Fios Gig Connection is expensive, but it's a blazingly fast plan for businesses with the most demanding internet needs.
Verizon Fios Gig Connection is expensive, but it's a blazingly fast plan for businesses with the most demanding internet needs. Of course, even though it's named "Gigabit," which equals 1,000 Mbps, the plan's download and upload speeds are just shy of a true gigabit, at 940 Mbps and 880 Mbps, respectively. However, considering Verizon's Fios business internet plans are known to operate at above 100% of their advertised speeds,1 you can expect the Gig Connection plan to be as fast or faster than competitor gigabit plans.
For medium-sized businesses—those with more than 20 employees—Verizon offers the same Fios plans at the same price as the small-business market. This provides an excellent solution for growing businesses that aren't quite ready for the cost and complexity of the Verizon Enterprise Solutions suite of products.
Not sure which option will help you grow?
Transform your business with a free assessment, and get a tailored recommendation for services that will drive better results.
Call 855-983-1267
Verizon business internet DSL plans
Verizon small-business DSL plans start at a wimpy1 Mbps and go up to 15 Mbps. Prices average around $59 per month.
| | | |
| --- | --- | --- |
| Plan | Starting price (per month)* | Learn more |
| Business Internet 3 Mbps | $47.99 | View Plans |
| Business Internet 5 Mbps | $64.99 | View Plans |
| Business Internet 7 Mbps | $64.99 | View Plans |
| Business Internet 10–15 Mbps | $64.99 | View Plans |
Data effective 11/21/19. At publishing time, pricing and speeds are current but are subject to change. Offers may not be available in all areas.
*For 1 year. Plus taxes, fees & equip. charges w/2-yr agmt. & auto renewal.
Verizon's DSL plans aren't what you'd call "high speed." You can't do a whole lot with 1 Mbps—or even 15 Mbps. And with prices ranging from about $50 to $65, we can't make a good case for Verizon DSL plans.
On the other hand, if your business employs only two or three people and you don't need much speed—but you do need a reliable connection—then one of these plans is for you.
By the way, if you thought it was a typo that three of those plans were priced at $64.99 for different speeds—nope! Verizon sells each of these plans for the same price, but the prices do change if you choose to bundle your business internet with phone or TV services.
These DSL prices are what you get with a two-year contract. But, if you're willing to pay a little extra on your monthly rate ($5 to $15, depending on the plan), you can operate contract-free without the worry of a potential early-termination fee.
Verizon business bundles and packages
We bet your business needs more than internet—most likely, you're going to need a phone system too. You may be able to save money on both by bundling services with Verizon. You can also add TV or other packages.
Bundles
If your business has a phone number, you'll still need phone service basics like toll-free numbers, three-way calling, long-distance calling, etc. You can bundle phone service—meaning business voice, not cell phone—with any internet plan. The cost depends on whether you choose Fios digital voice phone (VoIP) or standard voice services (and the cost of either service varies based on your location). One VoIP line adds about $5 per month to your internet plan (a $35 cost on its own), while one standard voice line adds $10.
For TV, pay an extra $10 a month to get Verizon Fios TV, delivered using the same fiber connection as your high-speed internet service. This standard plan gets you only local TV stations, but there are more expansive plans available for higher costs.
Value-added services and packages
Verizon sells an array of extra services and packages to let you tailor your internet plan to your business's needs. From cloud storage to high-end technical support, see if you need any of these value-added plans.
| | | |
| --- | --- | --- |
| Package | Price per month | Description |
| Business Preferred | $20 | Move to the head of the support line to resolve technical problems |
| Data Protection Premium | $12 | Get extra privacy and security for your critical data, including emails, documents, and data stored in the cloud |
| Digital Security and Cloud | $5 | Protect and store your data |
| Merchant Services | Requires a quote | Process credit card transactions for in-store and e-commerce business |
| Security and Privacy Multi-Device | $5 | Get virus, spyware, and mobile protection for all devices |
| Storage | $5 (500GB) or $9.99 (1TB) | Back up your files to the cloud for protection in case of loss or theft |
| Tech Support Pro | $10 | Get access to 24/7 technical support to get back up and running if your internet goes down |
| Verizon Service Protection Plan | $8.99 | Access extra diagnostics, maintenance, and repair services for all wires and connections |
| Verizon Small Biz Rewards | N/A | Earn points spending with the Verizon Small Biz Rewards Prepaid MasterCard, then redeem them for gift cards with retailers like Amazon |
| Verizon Web Listings | $15 | Create and list your website so customers can find you online |
| Verizon Websites | $5–$50 | Buy packages that include site building tools, social network connections, web listings, and more |
Data effective 11/21/19 (ZIP code 15212). At publishing time, pricing and speeds are current but are subject to change. Offers may not be available in all areas.
Products for medium-sized businesses
Verizon puts midsize businesses in a unique position. If you have more than 20 employees—but fewer than 500—you get access to certain Verizon business enterprise products.
From business digital VoIP to dedicated internet, these services help upgrade your networks, increase productivity, and improve communication within your organization.
| | | |
| --- | --- | --- |
| Product | Description | Learn More |
| Business VoIP | Consider switching to an internet-based solution for handling customer and interoffice calls. It's fast, reliable, and portable. | Learn More |
| Dedicated Internet | If internet delays are a major worry for you, a dedicated internet connection provides consistent speeds and an immensely reliable connection. | Learn More |
| Private IP | Concerned about data privacy and potential security breaches? Set up a private, encrypted network to ensure only permitted employees get access. | Learn More |
Discounts and promotions
Aside from bundling several services together, Verizon offers a few ways to get discount promotional pricing of your internet services or get special perks. At publishing time, here are some of the discounts and promotions Verizon is enticing customers with:
Get a $300 Visa prepaid card after signing up for a Gig Fios Internet and Business Digital Voice bundle with a two-year agreement. Get the full details at Verizon's website.
Verizon business reigns supreme with reliability and support
For businesses that have reliability and technical support as their utmost concerns, Verizon is a shining option.
Uptime: Guaranteed reliability
Verizon's 99.99% Fios uptime guarantee means you can expect downtimes below only four or five minutes per month. If you experience service worse than that, Verizon will credit your bill.
Verizon's 99.99% Fios uptime guarantee means you can expect downtimes below only four or five minutes per month."
DSL plans from Verizon have a 99.95% uptime guarantee—still impressive for high-speed internet plans. That exposes you to about 22 minutes of downtime a month.
For more information about uptime, see our FAQ section below.
Technical and customer support: Best in class
In 2017, J.D. Power rated Verizon best for customer satisfaction for all business internet market segments ("very small," "small/midsize," and "large enterprise").2 This distinction is important if you care about the factors customers used to rate Verizon so highly, like reliability, cost, billing, and customer service. But then again, who wouldn't?
If you want access to the best technical and customer service support Verizon offers, consider purchasing one of its extra services or applications mentioned above.
Latency: Pinged as a potential problem
It isn't all roses with Verizon's high-speed internet service. We caught whiffs of complaints in internet customer perceptions stemming from problems with latency. Latency is the delay in how long it takes Verizon to send a bit of information from one end of its connection to the other. High latency can lead to headaches: when your connection stalls or slows down, it can cause lower-quality VoIP calls, disruptions in file uploads and downloads, and delays in employee and customer communication.
Verizon has a service level agreement for latency of 45 ms (milliseconds) or less for its US business connections. That isn't terrible, but it isn't as good as what some competitors—like AT&T—offer their customers. This could be why we found all those online latency-related complaints.
Verizon business internet: The fine print
Let's break down some of the less obvious costs, rules, and hardware requirements you may run into with Verizon.
Fees
On top of your monthly cost for Verizon internet services, you may pay certain fees for the installation, activation, or early cancellation of your service.
Installation and activation: Verizon waives most installation fees we could find, but you will pay $99.99 to activate a new Fios 100 Mbps internet connection or $24.99 for DSL (or $149.99 without an annual contract for either internet type).
Early termination: To cancel early with a two-year agreement, you'll pay 35% of your base monthly charges for the remaining months of your contract.
Contracts
You can get lower prices for signing a two-year agreement that renews automatically. For no-contract plans, expect to add about $15 to $20 per month to your bill.
Equipment
You need certain hardware to run your business internet, including the Wi-Fi network. For DSL lines, Verizon will ask you to purchase a $24.99 router. Fiber plans require higher-tech equipment, so you'll need to buy the $199.99 (or $9.99 per month) Fios Quantum Gateway. You can extend your Wi-Fi range with a network extender, which costs another $99.99 (or $6.99 per month).
FAQs about Verizon business internet
But wait, there's more! Let's see if we can answer some questions you might have about Verizon business internet.
What's the difference between Verizon Fios and fiber?
Fiber internet gets its name from the fiber-optic wires with glass connections used to transmit internet data at super-fast speeds. Fios is Verizon's brand name for its fiber-optic internet and TV services.
In other consumer news: Thanks to a 2016 purchase of Verizon internet lines in some US states, you may see Frontier FiOS internet plans in more areas.3
How much uptime do I need for my small business?
Verizon's 99.99% uptime guarantee is one of the reasons we recommend the brand to many small businesses. But how much uptime do you need to run your online business functions?
First, here's a look at how various uptime guarantees translate into very real amounts of internet downtime.
| | | |
| --- | --- | --- |
| Guarantee | Downtime per month | Downtime per year |
| 99.9% (AT&T Fiber*) | 43.8 minutes | 8.76 hours |
| 99.95% (Verizon DSL*) | 21.9 minutes | 4.38 hours |
| 99.99% (Verizon Fiber*) | 4.38 minutes | 52.56 minutes |
| 99.998% (Comcast*) | 52.56 seconds | 10.51 minutes |
*Uptime guarantees confirmed from online chat conversations with internet service provider representatives.
With less than four and a half minutes downtime per month, Verizon's "four nines" service level guarantee is worth the extra cost of its plans.
How much speed do I need for my business internet?
Not every business needs the lightning-fast internet speeds of a gigabit fiber connection. Many can get by on a few megabits per second. See which of these download speed ranges might be best for your business. (Each bullet adds to the capabilities of the previous one.)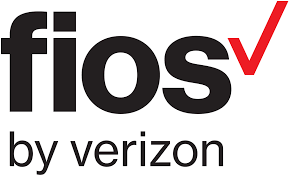 Verizon
With downloads up to 940 Mbps and uploads up to 880 Mbps, you can do near-instant file transfers, operate sophisticated e-commerce services, and scale your internet capabilities as your business grows.
1 to 4 Mbps: Allows one to three users to do light web surfing, email, online computing, and standard-definition video streaming and conferencing.
5 to 19 Mbps: Connects a few employees and adds the ability to easily transfer files, run e-commerce services, and stream and conference in high definition.
20 to 49 Mbps: Several employees can download big files and stream and communicate online with little interruption. You can also set up well-functioning Wi-Fi for employees and customers at this level.
50 to 99 Mbps: About a dozen employees can work, conference, and collaborate in real time. File sharing is easier, and downloads and backups are faster. Hi-def streaming and conferencing is clear.
100 to 499 Mbps: Suits internet-heavy business operations with many users who access applications and files on the cloud. Supports website services with lots of online traffic and activity.
500 Mbps to 1 Gbps: The fastest business internet available. As you approach 1,000 Mbps, all the previous activity and more become near-instantaneous, and you rarely wait for any service to function.
Where is Verizon Fios available?
Fiber internet is relatively new in the market, which means companies that provide it are still building out their connections across the United States. Unfortunately, Verizon Fios is limited to a few markets clustered in the Northeast.
Using this information about the Verizon Fios service area, we listed the cities and states where business fiber plans are available:
Baltimore, MD
Boston, MA
Providence, RI
Washington, DC
Connecticut
Delaware
New Jersey
New York

Albany, NY
Buffalo, NY
New York City, NY
Syracuse, NY

North Carolina
Pennsylvania

Harrisburg, PA
Philadelphia, PA
Pittsburgh, PA
Should I pay extra for a static IP address?
Verizon's plans all give you the option to have either a dynamic or static IP address. The static IP address costs another $20 per month, so what is it—and should you buy it?
Dynamic IP addresses can change over time if your service provider thinks it's necessary. Many customers and businesses won't notice the change. But a shifting IP address can spell trouble if you use certain services online. That's why Verizon gives you the choice to lock in your IP address—for an extra fee on your forward-looking statement that covers the administrative cost.
For example, you might need a static IP address if you work in digital marketing and need to "whitelist" certain IPs, including your own, so your activity on a client website doesn't mess with the client's traffic analytics.
Static IPs also help if your employees or others need to remotely access your network, or if you host your own servers for online communication, e-commerce, or virtual private networks (VPNs).
The takeaway
If it's available in your area and you're a small or medium-sized business that needs the fastest and most reliable internet, picking Verizon Fios is an excellent decision. You can expect high speeds, very little downtime, and superior customer service that'll keep your business running smoothly online. Here are a few particular Verizon plans we like best:
For top-of-the-market speeds, Verizon Fios Gig Connection lets you do just about anything online—and scale your internet connection as your business grows too.
If you're budget-conscious but still need a fiber connection, go with Verizon Fios 100M. At $69 with matching download and upload speeds, you can balance your needs for speed and cost.
Don't need a speed-demon-friendly plan? Verizon Business Internet 3 Mbps is good for a one-person, data-light business for under $50 per month.
Want to see alternative internet options? Check out our list of the best high-speed internet providers for small businesses.