Lendio vs. LendingTree Loans 2023
See how loan options, borrower requirements, and other factors compare between Lendio and LendingTree.
Data as of 12/16/22. Offers and availability may vary by location and are subject to change.
Let's talk lending marketplaces.
Lendio and LendingTree are two of the most popular loan marketplaces out there, offering small-business owners the chance to shop around for loan offers with just one funding application. That gives you the chance to see all your financing options and find the best deal―but which lending marketplace does it better?
Well, we've found that Lendio is the best business loan marketplace―and in this article, we'll tell you why. We'll compare factors like loan options, borrower requirements, and funding processes so you can see which lending company you ought to go with.
Compare Lendio vs. LendingTree
As we've said, Lendio and LendingTree are both loan marketplaces (or lending marketplaces, if you prefer).
Since you're interested in these two companies, you probably already have a pretty good idea of what that means―that they partner with lenders rather than extending loans themselves, that they let you compare your personalized loan options, and so on. You can think of them as business loan brokers, really.
Lendio vs. LendingTree overview
| | | |
| --- | --- | --- |
| Factor | | |
| Lender type | Loan marketplace | Loan marketplace |
| Business loans | Yes | Yes |
| Personal loans | No | Yes |
| Max loan amount | $5 million | Unlisted |
| Business lending partners | 75+ | 300+ |
| | See Loan Options | Apply Now |
Data as of 12/16/22. Offers and availability may vary by location and are subject to change.
So Lendio and LendingTree work in a pretty similar way. But the details matter―and that's where Lendio and LendingTree start to look pretty different.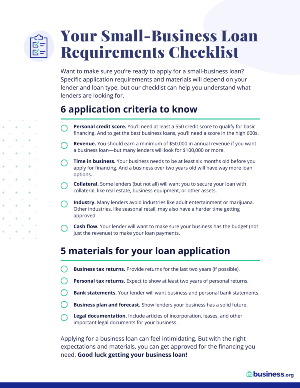 Applying for a small-business loan soon?
Our free checklist can help you understand what lenders are looking for.
Most flexible borrower requirements: Lendio
For starters, Lendio has more flexible (and more clear) borrower requirements than LendingTree does.
LendingTree doesn't actually publish any application requirements. But if you submit an application with less than $200,000 in revenue or two years in business, LendingTree will tell you it can't match you with any lender partners. It does note, however, that it has lenders that can work with pretty much any personal credit score.
Lendio vs. LendingTree borrower requirements
| | | | | |
| --- | --- | --- | --- | --- |
| Lender | Min. credit score | Min. revenue | Min. time in business | |
| | 560 | $50,000/yr. | 6 mos. | See Loan Options |
| | Unlisted | $200,000/yr. | 2 yrs. | Apply Now |
Data as of 12/16/22. Offers and availability may vary by location and are subject to change.
Lendio, on the other hand, lets you submit a loan application even if your business is less than one year old. It also has lower minimum revenue requirements, and it too can work with bad credit.
Of course, with any lending marketplace, borrower requirements will vary between different lenders and financing types. But Lendio has overall lower, more flexible borrower requirements, making it better for young and growing businesses.
Best business loan options: Lendio
Aside from letting you apply with lower qualifications, Lendio also lets you apply for more types of business loans.
Both Lendio and LendingTree have common types of business loans:
Accounts receivable financing (aka invoice factoring)
Business line of credit
Equipment financing
Long term business loans
Merchant cash advance
Short term business loans
SBA loans
Startup business loans
Working capital loans
And sure, a list like that offers plenty of loan options for most business needs. But Lendio adds a couple more key types of business financing:
Given how expensive buying a business or buying real estate can get, it's often best to use specialized loans for those purposes (rather than any old term loan or line of credit). So while LendingTree has enough lending options for most day-to-day business expenses, Lendio has better business loan options for some big expenses.
Now, LendingTree does also offer personal loans, while Lendio does not. In fact, LendingTree can help you with everything from auto loans to home mortgages to student loans. But since this is Business.org, we're really focusing on business loan options―so we're still giving the point to Lendio.
Best application process: Lendio
We've already told you that Lendio and LendingTree have similar business loan application processes: You fill out a brief online application, and then you get matched with potential loan offers. But between these two business loan brokers, we prefer Lendio's process.
That's partially because Lendio always gives you a dedicated loan specialist (your "personal funding manager") to help explain your options and answer your questions. LendingTree offers to let you chat with someone, but you can also just view your matches yourself.
And that might be fine, except LendingTree doesn't seem to put much work into the matchmaking. Its initial application is very brief compared to Lendio's. They both ask about your credit score, revenue, business type, and so on―But Lendio also asks some extra things:
What matters most to you in a loan (speed vs. loan amounts vs. loan costs)
Special considerations about your business (such as nonprofit status, seasonality, and whether you invoice customers)
How much of the business you own
How much profit you make (rather than just revenue)
Lendio also asks for some initial documentation as part of your application. That helps it do a better job of pre-qualifying you for a business loan (though you will still have to finalize your application directly with the lender you choose).
These extra questions allow Lendio to find you better loan matches. That means less wasted time for you if you get matched with, say, a lender that doesn't work with nonprofits or seasonal businesses. (And again, your Lendio lending specialist can help you spot these kinds of potential issues.)
So while either lending site can help you find relevant business loans, Lendio has a more personalized touch that makes its application process better overall.
With all that said, which lending company can get you a better deal?
Unfortunately, it's hard to say. That's because, as we already told you, LendingTree doesn't offer much in the way of details on its lending products.
Lendio, does, though. And fortunately, it offers competitive pricing.
Lendio business financing costs
Data as of 12/16/22. Offers and availability may vary by location and are subject to change.
Now, since we know that Lendio and LendingTree partner with at least some of the same lenders, we assume LendingTree has pretty similar pricing. And with either company, you at least get to compare personalized loan offers to find the best deal for your business.
So while we wish we had more definitive answers about LendingTree costs, we're calling affordability a draw.
Both Lendio and LendingTree give you an easy way to match with and compare potential business loans. But Lendio offers the better experience overall, thanks to its additional types of business loans, more flexible borrower requirements, and more personalized loan application experience.
So while we'd still recommend LendingTree as a fine option for personal loans, we prefer Lendio for your business loan needs.
Want to see how Lendio compares to another business loan marketplace? Check out our comparison of Fundera vs. Lendio.
Lendio vs. LendingTree FAQ
Lendio is a legitimate business loan broker, but it's not a lender itself. Instead, it partners with business lenders to help match you with the right loan for your business.
Lendio partners with more than 75 business lenders. Its list of lending partners includes plenty of lenders you may have heard of (like Bank of America and Kabbage) to lesser-known lenders (like Financial Pacific Leasing and Knight Capital Funding).
Who competes with LendingTree?
LendingTree competes with other personal and business loan marketplaces (like Bankrate, Funding Circle, and Lendio) as well as online lenders (like Kabbage and SoFi).
Disclaimer
At Business.org, our research is meant to offer general product and service recommendations. We don't guarantee that our suggestions will work best for each individual or business, so consider your unique needs when choosing products and services.
Sources
Trustpilot, "Lendio." Accessed December 16, 2022.

Trustpilot, "LendingTree." Accessed December 16, 2022.