Lendio vs. Kabbage Lending 2023
Compare loan options, borrower requirements, and more between Lendio and Kabbage.
Data as of 12/14/22. Offers and availability may vary by location and are subject to change.
Lendio and Kabbage are two small business lending companies, but they work in very different ways. Lendio matches you with potential loan offers from its lender partners, while Kabage directly offers lines of credit. So which company offers the better way to get a small-business loan?
Well, that depends on your specific needs―but mostly we recommend Lendio. And in this article, we'll tell you why. We'll break down what loan types Lendio and Kabbage offer, what it takes to qualify for them, and how you apply for them and get funded.
Compare Lendio vs. Kabbage
Lendio and Kabbage are both online lending companies that offer small-business owners a way to get business loans. They go about that very differently, though.
Lendio vs. Kabbage overview
| | | |
| --- | --- | --- |
| Factor | | |
| Lender type | Loan marketplace | Direct lender |
| Loan types | Term loans, lines of credit, AR financing, & more | Lines of credit only |
| Lowest starting rate | Various | 2% monthly fee |
| Max. loan amount | $5 million | $250,000 |
| Min. time in business | 6 mos. | 12 mos. |
| Get Funding | See Loan Options | See Loan Options |
Data effective 12/14/22. Offers and availability may vary by location and are subject to change.
See, Lendio isn't actually a lender―it's a loan marketplace. You can think of it like a broker for business loans. You submit a loan application with Lendio, and then Lendio shops around its lender network for you. You'll get some relevant loan offers, and then you'll choose which lender you want to go with. At that point, you'll have to finalize things with your chosen lender.
Kabbage, on the other hand, is a direct lender. That means you apply with Kabbage itself, get approved by Kabbage, and ultimately get your money from Kabbage.
This difference matters a lot. To see how, let's start by talking about loan options.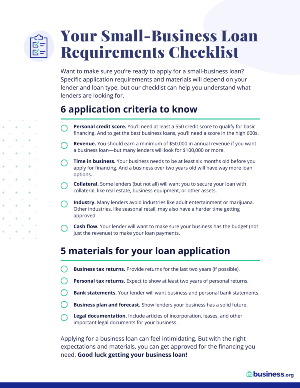 Applying for a small-business loan soon?
Our free checklist can help you understand what lenders are looking for.
Best loan options: Lendio
As a lending marketplace, Lendio partners with all sorts of different lenders (both online lenders and traditional lenders). And all those different lenders offer all sorts of loan types. So with one application to Lendio, you can get considered for loads of different loan options:
Term loan
Line of credit
Merchant cash advance
Commercial real estate loan
Accounts receivable financing (aka invoice factoring)
(That's not even a comprehensive list.) Lendio's loans range from a few hundred dollars to several million, making them suitable for all kinds of financing needs.
Kabbage, meanwhile, offers exactly one type of financing: a business line of credit. And that credit line maxes out at just $250,000.
And sure, lines of credit offer very versatile working capital. (You use them kind of like a credit card, by borrowing, repaying, and borrowing again.) But if you need to buy a new building, say, or get cash from unpaid invoices, then you'll probably want something more specialized―which is where Lendio's loan choices come in handy.
Plus, Lendio partners with more than 75 lenders (including Kabbage itself!). So even if you want a line of credit, Lendio will let you compare lines of credit from different lenders.
Put simply, Lendio has a ton of loan options―and that gives you the chance to find the perfect loan (or other type of financing) for your business. 
Most flexible borrower requirements: Lendio
Of course, you'll need to qualify for any kind of financing you want. Generally, this means meeting certain basic requirements, like a minimum credit score, annual revenue amount, and time in business.
Lendio vs. Kabbage borrower requirements
Data as of 12/14/22. Offers and availability may vary by location and are subject to change.
With Lendio, specific borrower requirements will depend on the type of loan you want and the lender you go with. But overall, Lendio has accessible and flexible borrower requirements. Thanks to all the types of financing it offers, Lendio can help business owners that have bad credit, young businesses (less than one year old), and moderate revenue amounts (of just $50,0000).
So even if you don't qualify for a big term loan, for example, Lendio may be able to match you with a different working capital loan or cash advance or something.
But with Kabbage's one line of credit, you don't get that kind of flexibility. And annoyingly, Kabbage doesn't list all of its borrower requirements. We know your business has to be at least one year old to qualify (older than Lendio's minimum), but Kabbage doesn't list specific credit score or revenue requirements.
Still, Kabbage would have a hard time beating Lendio, since Lendio's minimum requirements can compete with most online lenders. Between its low minimums and the flexibility from all its loan choices, Lendio wins when it comes to borrower requirements.
Best application process: Tie
Things get a little less clear cut when it comes to actually applying for your loan.
As a direct lender, Kabbage has a faster loan application process. You just answer a few questions and then let Kabbage connect with your business bank account (don't worry―it's safe). Then Kabbage will automatically decide whether or not to approve you. The whole process takes maybe 15 minutes.
Lendio takes a lot longer. After all, you have to fill out that initial application, wait to get matched with appropriate financing options, and then finalize your application with your desired lender.
Still, that doesn't necessarily mean Kabbage will get you money faster. It can take up to three days for Kabbage's business funding to show up in your bank account. Depending on what type of financing you're looking for, Lendio can match you with lenders in less than 24 hours, and those lenders can then fund you within a day or two.
So while Kabbage can approve you faster, it may not actually fund you faster than Lendio. And since Lendio offers the more personalized matchmaking experience, we don't think either lending company offers a clearly better loan application process.
Lendio vs. Kabbage financing costs
Data as of 12/14/22. Offers and availability may vary by location and are subject to change.
While prices vary depending on the type of financing you want, Lendio has multiple very affordable funding options. And even if you go with one of the pricier options, Lendio's matchmaking ensures you'll get the best deal you can qualify for.
Kabbage, on the other hand, uses monthly fees rather than interest. You can end up paying as little as 2% of your loan cost in monthly fees, but that's only for the shortest repayment terms and the most qualified applicants. Expect to pay more.
(And make sure you do the math. Kabbage tries to make its credit line look cheap, so you may end up paying more than you expect.)
At any rate, while you may qualify for a not-terribly-expensive credit line from Kabbage, in most cases we expect you'll get a better deal through Lendio.
Lendio's marketplace offers the chance to get many kinds of loans from many different lenders (even Kabbage)―meaning good deals for you as a business owner. That's why it's our top pick for most businesses.
Kabbage does have a versatile line of credit, though. And it may be worth applying directly with Kabbage if approval speed matters to you (though funding could still take a few days.)
Want to see options besides Lendio and Kabbage? Check out our rankings of the best small-business loans.
To score and rank Lendio and Kabbage, we looked at factors like loan availability, loan rates, borrower requirements, customer reviews, and more. We then based our reviews on these scores and factors.
Yes, Lendio is a legitimate company. That's why it has thousands of very good reviews on Trustpilot.1
Yes, Lendio was a legitimate source for PPP loans. Of course, Lendio―like all other lenders―no longer offers new PPP loans.  
Is Kabbage a good lender?
Kabbage can be a good lender for some businesses, depending on their needs.
Are Lendio and Kabbage the same company?
Nope, Lendio and Kabbage are not the same company―but they do partner together. Lendio is a loan marketplace (that lets you compare loan offers), while Kabbage is a direct lender.
Disclaimer
At Business.org, our research is meant to offer general product and service recommendations. We don't guarantee that our suggestions will work best for each individual or business, so consider your unique needs when choosing products and services.