We've spent hours finding all the information we can on Kabbage and comparing it to other lending companies.
Data effective 12/16/22. At publishing time, pricing is current but is subject to change. Offers may not be available in all areas.
Kabbage offers small-business lines of credit with fast approval and fast funding—but does it offer an improvement on traditional lenders, or will it make you wish you'd stuck to a brick-and-mortar bank?
Kabbage does have some things going for it, from its flexible financing product (a line of credit) to its fast application to the monthly repayment schedule. But the confusing fee structure, lack of important information, and rise in negative reviews do worry us.
Read our Kabbage review below to find out more about all that―and to figure out if Kabbage will work for you.
Fast, automated application
Monthly payment schedule
Flexible lines of credit
Confusing fee structure
Negative recent reviews
Vague website and missing information
Kabbage loans and pricing
Kabbage offers just one product: a small-business line of credit.
A line of credit gives you a credit limit and allows you to draw against that limit. If you have a $50,000 limit, for example, you can draw $1,000 and then $5,000 and so on until you've withdrawn up to your limit of $50,000.
As you repay what you've borrowed, those funds become available again. Pay back $5,000, and you'll have another $5,000 you can borrow. That's why lines of credit are called "revolving" credit, and it means you'll have working capital on hand when you need it.
Kabbage small-business line of credit
| | | | |
| --- | --- | --- | --- |
| Min./max. amount | Monthly fee | Repayment term | Learn more |
| $2,000/$250,000 | 2%–27% | 6, 12, or 18 mos. | See Loan Offers |
Data effective 12/16/22. At publishing time, pricing is current but is subject to change. Offers may not be available in all areas.
With Kabbage, you can think of each withdrawal from your line of credit as a separate short-term loan, each with its own loan terms and accompanying fees. Kabbage will bundle your payments for each loan, so you'll still make just one monthly payment, even if you have several short-term loans.
But how much can you borrow, anyway? Well, Kabbage offers credit limits of up to $150,000—a decent maximum for an online lender, but lower than you'd find from most traditional banks.
Keep in mind, you won't get a $150,000 credit limit by meeting the minimum application requirements. If you apply with fairly little revenue and a year-old business, you can expect to get a limit closer to $1,000. For high limits, think three years in business and plenty of annual revenue.
But your credit limit isn't the only number you need to consider with Kabbage; you also need to know your fees.
First, let's clarify something: we're not talking about Kabbage interest rates here, but rather fees. Kabbage doesn't charge interest on its line of credit. Instead, you pay monthly fees on each draw.
These fees start as low as 2% per month, and they can go as high as 27% depending on your repayment term. (Longer terms get you lower maximum fees.) And take note, these fees are all-inclusive―there's no separate origination fee, application fee, or anything else. 
You pay fees any month you have an outstanding balance. But here's where things get annoying. Kabbage doesn't make it clear whether these fees are a percentage of your initial loan principal or your outstanding balance. That could make a big difference, since 1% of $10,000 for 12 months will cost you more than 1% of your remaining balance each month.
We suggest you assume the worst―that it's always based on your principal loan amount. How much does that end up costing you?
Well, either very little―or very much. Assume you have a $10,000 loan. The table below shows you what you might pay in fees for different fee amounts and repayment terms.
Best Short-Term Business Loans
Kabbage loan costs for a $10,000 loan
| | | | | |
| --- | --- | --- | --- | --- |
| Monthly fee | Repayment term | Monthly fee amount | Total fee amount | Fees as percentage of loan |
| 2% | 6 mos. | $200.00 | $1,200.00 | 12% |
| 2% | 18 mos. | $200.00 | $3,600.00 | 36% |
| 7.5% | 6 mos. | $750.00 | $4,500.00 | 45% |
| 7.5% | 18 mos. | $750.00 | $13,500.00 | 135% |
| 9% | 6 mos. | $900.00 | $5.400.00 | 54% |
Data effective 12/16/22. At publishing time, pricing is current but is subject to change. Offers may not be available in all areas.
As you can see, your fees can be as little as 1.5% of your loan amount (an excellent deal) to 45% of your loan amount (pretty expensive).
And take note: Kabbage describes its fees the way it does to make them sound lower than they are. While a 1% loan fee may sound small, you'll actually end up paying 18% of your loan amount over 18 months.
So make sure you understand what you'll be paying in fees with your Kabbage line of credit. Because while you might get pretty cheap financing from Kabbage, you may end up paying way more than you expect.
To its credit, Kabbage does send a SMART Box with its line of credit offers. This document breaks down the cost of small-business loans in clear, readable terms so you'll know exactly what you're getting into. Just make sure you read it.
Early repayment
Kabbage doesn't charge any prepayment penalties, so you may be able to save on total loan fees by paying off your balance early.
Kabbage offers a fast, automated application process. It's not the only alternative lender to do this—Kabbage competitors like Fundbox use a similar method—but if you've only ever applied for startup loans by putting on a tweed blazer and going to talk to Joan down at your local credit union, we think you'll be impressed.
Where some lenders make you spend hours filling out a lengthy application and trying to remember where you stashed your tax returns, Kabbage simply asks you to answer a few brief questions about your business. Next, you connect Kabbage with your bank account or accounting software.
Then Kabbage works some automated algorithmic magic and bam!—you get approved within 10 easy minutes via the magic of online lending.  That means you don't have to sit around and worry about making ends meet as you wait to find out if you got approved for funding. You know right away.
The limits of automation
If you apply for a high credit limit or if Kabbage has trouble connecting to your account, an actual human will have to review your application.
Kabbage will perform a hard credit inquiry when you apply. Just know that this could affect your credit score.
Note also that Kabbage stays connected to your accounts after this process, and, in fact, must stay connected so long as you use it. Kabbage uses up-to-date security practices to keep your information safe, so it shouldn't pose a problem; we just want to make sure you're well-informed.
But enough about applications. Assume you get approved—what does that mean for your financing?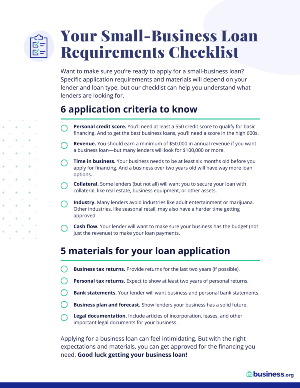 Applying for a small-business loan soon?
Our free checklist can help you understand what lenders are looking for.
Kabbage vs. other business lenders
| | | | | |
| --- | --- | --- | --- | --- |
| Lender | Lowest listed rate | Min. time in business | Loan options | Get a loan |
| | 2% monthly fee | 1 yr. | Lines of credit | See Loan Offers |
| | 6.2% interest | 3 mos. | Lines of credit & invoice factoring | See Loan Offers |
| | 4.66% draw rate | 6 mos. | Lines of credit | See Loan Offers |
| | 4.25% | 6 mos. | Term loans, lines of credit, commercial mortgages, & more | See Loan Offers |
| | 29.9% APR | 1 yr. | Lines of credit & term loans | See Loan Offers |
Data effective 12/16/22. At publishing time, loan types and requirements are current but are subject to change. Offers may not be available in all areas.
For starters, Kabbage has higher borrower requirements (at least for time in business) than many other lenders. That makes it less accessible for many business owners.
Kabbage also offers fewing financing products. It has just a line of credit, while most other lenders offer at least a term loan and line of credit. (Even Fundbox is beta testing a new term loan product.)
As for costs? Well, it really depends on the rate you get. As we showed you above, Kabbage can cost a lot―or not much at all. That makes it hard to compare directly to other lenders. But overall, we expect Kabbage to be pricier than lenders that have starting interest rates under 10%.
Comparing Kabbage to other lenders highlights some of the drawbacks it has.
Like the fee structure, which we already discussed at length. Still, it's worth repeating: Kabbage is unlikely to be cheap, and its fee structure is definitely annoying.
But Kabbage has a few other drawbacks we want to point out.
If you struggle with cash flow, you likely already know that a business line of credit (LOC) can help you. Unfortunately, you may also know that—like many of the best business loans—lines of credit often require high credit scores, high annual revenue, and several years in business, making them inaccessible to many borrowers.
Kabbage used to have very low borrower requirements, but it no longer publishes a minimum credit score or annual revenue. That makes it hard for us to recommend.
It does publish a minimum time in business―one year―which is more than many online lenders require.
So between the lack of clear credit and revenue requirements and a high-side-of-average time-in-business requirement, Kabbage doesn't have the laxest borrower requirements out there.
Plus, Kabbage requires a personal guarantee for its line of credit. So if your small business defaults on its loan, you'll be held personally responsible for the debt. This puts your personal assets in danger. But if you don't default on your loan, it won't be an issue.
Another potential issue? Kabbage says you'll get funded within three days. That's faster than many banks, yes, but is downright slow when lenders like BlueVine and OnDeck offer same-day or next-day funding.
It's even more frustrating because Kabbage used to offer minutes-fast funding, so you could get approved and funded within the span of an hour. But since the American Express acquisition, Kabbage no longer promises those fast funding times. And that makes it less competitive as a whole.
Kabbage used to have great reviews. These days? Not so much. It still manages a 2.9 out of 5 on Trustpilot, but many of the recent reviews look pretty grim.1 Borrowers complain about terrible customer service, slower funding times, and high fees. Some long-time customers complain that Kabbage got much, much worse after being acquired by American Express.
There are still some positive reviews though. Borrowers praise just what you'd expect: customers like Kabbage's fast, easy approval process. They like knowing immediately whether or not they'll get funds.
We also need to mention all the reviews about Kabbage and PPP loans. Lots of customer reviews also complain about Kabbage's failure to follow through with PPP loan forgiveness. (This also gives Kabbage an F rating with the Better Business Bureau.2) That's a really big deal, and we don't want to minimize that.
But you should know that Kabbage got acquired by American Express after PPP loans had been funded―and American Express didn't acquire Kabbage's loan portfolio. That means that Kabbage, as it currently stands, doesn't have anything to do with PPP loans. Instead, those loans are being serviced by K-Servicing. And while K-Servicing is doing a terrible job (by the sound of things) that shouldn't necessarily reflect badly on the newly acquired Kabbage. Just FYI.
Want more options? Fund your business with a personal loan.
Kabbage's line of credit can give you access to the working capital you need to deal with cash flow interruptions. With a fast application and monthly payments, we can see why Kabbage could appeal to many business owners.
However, Kabbage has potentially high fees and a confusing payment schedule, which makes it a less-than-perfect offering. Throw in the lack of clear borrower requirements, slower funding times, and negative recent reviews, and Kabbage looks a little less appealing.
If you do decide to apply with Kabbage, we just urge you carefully read your loan offer so you understand what you'll end up paying.
Want to see some alternatives to Kabbage? Check out our rankings of the best small-business loans.
American Express acquired Kabbage in the fall of 2020.
You need a 640 credit score to meet Kabbage's qualifications.
We scoured Kabbage's website, customer reviews, and other sources to learn more about Kabbage. We graded it on many factors, including loan sizes, loan costs, and customer reviews. With these grades, we were able to get an accurate comparison of Kabbage to other lenders and create our Kabbage review.
Disclaimer
At Business.org, our research is meant to offer general product and service recommendations. We don't guarantee that our suggestions will work best for each individual or business, so consider your unique needs when choosing products and services.
Sources
1. Trustpilot, "Kabbage." Accessed December 16, 2022.
2. Better Business Bureau, "Kabbage, Inc." Accessed December 16, 2022.