Kabbage vs. Fundbox: Which Business Line of Credit Is Right for You?
Your priorities and your qualifications can help you figure out whether Fundbox or Kabbage is better for your business.
Data effective 10/10/22. At publishing time, line of credit specifications are current but are subject to change. Offers may not be available in all areas.
If you've been looking at business lines of credit, you've probably seen Fundbox and Kabbage come up over and over again. They're both online lenders that offer lines of credit. They both have relatively low borrower requirements (a nice change from traditional banks with their high requirements).
In fact, they seem to have a lot in common―so much that it can be hard to figure out which company you should apply with.
Well, we've dug into both lenders for you. We'll explain how they're similar, cover how they're different, and help you find out which one will work better for you.
Kabbage vs. Fundbox table of contents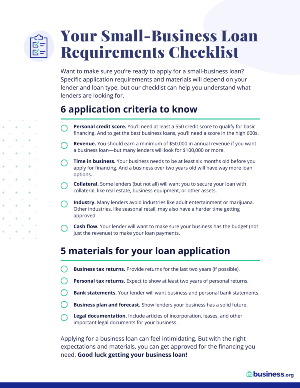 Applying for a small-business loan soon?
Our free checklist can help you understand what lenders are looking for.
How Fundbox and Kabbage compare
As we've already mentioned, Fundbox and Kabbage seem to have a lot in common. So let's take a closer look and see how Kabbage and Fundbox compare in a few key categories.
A technical note
Fundbox and Kabbage are technically fintech companies (a fancy way of saying their product deals with financial technology). They connect you with lenders, but they don't lend themselves. You shouldn't notice any difference, though. For simplicity's sake, we'll still refer to them as lenders.
Fundbox and Kabbage both offer exactly one funding product: a business line of credit.
That means that they both give you a credit limit and let you borrow as much as you want up to that limit. As you repay the money you borrow, you can go ahead and borrow more money. You can do this over and over as much as you want.
Kabbage vs. Fundbox lines of credit
Data effective 10/10/22. At publishing time, line of credit specifications are current but are subject to change. Offers may not be available in all areas.
Lines of credit work well for all sorts of working capital needs. For example, you can use them to address cash flow problems (like paying bills while you're waiting on unpaid invoices). Or you can use them for revenue-building projects (like marketing campaigns). You can also use them to take advantage of time-sensitive opportunities (like bulking up your inventory before a seasonal rush).
As you can see, Fundbox's line of credit has a lower maximum amount than Kabbage's does. So if you think you need larger amounts, then you'll probably prefer Kabbage. (Of course, these are maximum credit limits―there's a fair chance your credit limit will be lower.)
Fundbox invoice financing
Fundbox used to offer invoice financing, called Fundbox Credit (at the time, its line of credit was Fundbox Direct Draw). It no longer offers this type of financing.
Kabbage also has longer repayment terms (perhaps to go along with those higher loan amounts?). In fact, its minimum repayment term is as long as Fundbox's longest repayment term.
Note too that Kabbage has a monthly repayment schedule, while Fundbox has weekly payments. In both cases, your lender will automatically withdraw your payment from a linked business bank account.
And then there's the fees.
Fundbox and Kabbage express their fees in different ways. It can make it hard to compare. Neither charges simple interest. Instead, they both simply charge "fees" that are a percentage of your loan amount.
Because of their payment structures, Fundbox charges fees on a weekly basis, while Kabbage charges on a monthly basis.
When you make payments to either lender, you're paying both principal (the amount you borrowed) and interest. Both lenders schedule their payments so that for a while, a bigger percentage of each payment is fees. Partway through your term, your payment will be adjusted to a higher percentage of principal and a lower percentage of interest (but your payment amount will stay the same).
Note that if you look at annual percentage rate (APR), both Fundbox and Kabbage are relatively expensive when compared to traditional lenders. That doesn't mean that they charge huge amounts in fees (although they do charge more than some business lenders), but it does mean that you have to repay those fees (and your principal) very quickly. If you spread the same fees over several years, the APR would look much lower.
At any rate (get it?), Fundbox and Kabbage will tell you exactly what fees you'll pay before you draw from your credit line. So you should never be surprised by fees.
Of course, your exact fee amount will depend on things like your borrower qualifications.
Compared to traditional lenders (banks and credit unions), both Fundbox and Kabbage have very relaxed borrower requirements.
Kabbage vs. Fundbox borrower requirements
Data effective 10/10/22. At publishing time, line of credit specifications are current but are subject to change. Offers may not be available in all areas.
Both lenders accept credit scores in the 600s, though Fundbox will accept a lower personal credit score than Kabbage will. That makes them both good business loans for bad credit.
Kabbage has a much lower revenue requirement, but Fundbox has shown to be flexible with their requirements in the past. Most online lenders ask for at least $100,000, and traditional lenders often look for revenue north of $200,000.
But when it comes to how long your business has been around, Fundbox and Kabbage have different philosophies. Fundbox will lend to businesses that have been around for just six months, making it ideal for young startups. Kabbage, on the other hand, wants to see one year in business before it will extend a credit line.
As you can see, Fundbox has lower application requirements on the whole.
Please note that these are only minimum borrower requirements. Even if you meet them, you're not guaranteed to get credit. The higher your qualifications, the more likely you are to get approved (and to get a higher credit limit and a lower rate).
So how do you get approved, anyway?
Fundbox and Kabbage both use automated approval processes. That means that you can get approved for funding in a matter of minutes (literally). No need to be patient.
All you have to do is provide your lender of choice with some details about your business. Then they'll ask to connect with your business bank account.
If you've never encountered an automated application before, you might be a little squeamish about letting Kabbage or Fundbox see your bank account. We get it. But rest assured that this practice is becoming increasingly common, and thousands of customers have used Fundbox and Kabbage without any problems. It's safe.
After you connect your bank account, Kabbage and Fundbox will use their proprietary algorithms to analyze your application. If things look good, you'll be approved and on your way in no time.
Manual approval
In a few cases, Kabbage and Fundbox might need to manually approve your application. This underwriting process can take a few days. It's a bummer, but it doesn't necessarily mean you've been denied.
If you're still reading, you probably think that Fundbox and Kabbage sound okay. And lots of customers would agree with you.
Fundbox has a 4.8 out of 5 on Trustpilot, and Kabbage has a 3.1 (though Kabbage has about 3,000 more reviews than Fundbox does—with 82% having 5 stars).1,2
Customers praise the fast, easy application process. They also like how easy it is to both draw and repay funds. They do have some negative reviews, though. These complain about getting denied for funding, high fees, and low credit limits.
Even with those negative reviews, the vast majority of reviewers report a positive experience with Fundbox and Kabbage. The odds are in your favor.
But with all they have in common, how do you know which lender you should go with? Well, we've got some ideas.
Same-day funding available
Multiple ways to access funding
Fast, automated approval process
High rates and APR
Confusing fee structure
It would be great if you could always plan far, far ahead―but sometimes you need to get financing ASAP.
With Kabbage, that's not a problem. You can get approved for your new line of credit within just a few minutes, thanks to the automated application. And then you get your money just as quickly.
Sure, Fundbox also has an automated application. But Fundbox takes at least one business day to fund you.
Kabbage, on the other hand, can fund you much faster. If you choose to get money through PayPal, you can have your Kabbage funding deposited in a few minutes. (Or, if you're in less of a hurry, you can opt for direct deposit or a Kabbage card.)
If you don't have time to waste, then Kabbage funding may be the easiest way to get money as quickly as possible.
(Learn even more about Kabbage in our in-depth Kabbage review.)
Fundbox: Best for low credit
Automated application
Low approval requirements
Fast funding
Low maximum loan amounts
High APR
Not all of us have perfect credit. (It happens.) Thankfully, that doesn't have to end your business financing dreams.
Fundbox has some of the lowest credit requirements we've seen, requiring just a 500 personal credit score. So even if you're working on rebuilding your bad credit, you can qualify for a line of credit.
Yes, Kabbage has relatively low credit requirements too. But Fundbox accepts lower scores than Kabbage does.
Plus, as we pointed out above, Fundbox has low borrower requirements across the board. That means that Fundbox credit can also work well for startups and other businesses that need a little financial flexibility.
So if you're looking for a line of credit despite your less-than-perfect credit, you may want to apply with Fundbox.
(And for more information on Fundbox, check out our detailed Fundbox review.)
Want more options? Fund your business with a personal loan.
Enter your loan needs and qualifications to get matched with a list of lenders best suited to you. Then, sort by the financing factor that you find most important. (Note: not all lenders allow personal loans for business use.)
Kabbage and Fundbox both offer lines of credit with relatively low borrower requirements, making them ideal for many businesses that traditionally wouldn't have qualified for term loans.
Of the two, Fundbox has even lower requirements, making it better for businesses with bad credit. Kabbage can provide faster funding turnaround, making it ideal for businesses with urgent financial needs.
Either way, you'll get a well-reviewed line of credit.
Not convinced by either Kabbage or Fundbox? Check out our list of the best small-business loans to see some other options.
FAQs about Fundbox and Kabbage
Yes, Fundbox checks your credit as part of your application. You need at least a 600 credit score to qualify.
Fundbox requires a minimum 600 credit score, $100,000 annual revenue, and a minimum of 6 months in business. So they allow for the bottom range of a fair credit score—but your revenue has to be pretty high. 
Does Kabbage check credit?
Yep, Kabbage does a credit check too. It looks for a personal credit score of at least 640.
Does Kabbage file a UCC lien?
According to Kabbage's website, there "may" be a UCC lien placed on your business assets. It also requires a personal guarantee for all loans. (Note that these are both normal practices and nothing to worry about.)
Disclaimer
At Business.org, our research is meant to offer general product and service recommendations. We don't guarantee that our suggestions will work best for each individual or business, so consider your unique needs when choosing products and services.