What Is APR?
We give you the lowdown on APR and how it affects what you pay on your loans.
Whether you have credit card debt, a student loan, a mortgage, or any other kind of loan, you've probably seen APR, or annual percentage rate. But there's a good chance you don't know what it is or why an annual percentage should matter to you anyway.
We're here to help. Because honestly, if you're borrowing money (especially as a small-business owner), you need to understand APR and how it affects your loan cost.
We'll dive into APR: what it is, what it isn't, and how it works with business loans (and other types of credit).
Here we go!
APR applies to loans and credit of all types (including personal loans like your adjustable rate mortgage, car loan, and personal credit card accounts), but let's take a quick look at APR and small-business loans.
Why APR?
If you're wondering why APR has become the standard for comparing loan costs, look no further than the Truth in Lending Act. This 1968 law required lenders to start using the annual percentage rate to talk about loans (rather than misleading borrowers with other rate calculations).
Some loan types tend to have lower APRs than others. For example, SBA loan rates tend to be lower than non-SBA loan rates. Likewise, term loans usually have lower APR than lines of credit, which have lower APR than credit cards.
As you shop around for a loan, most lenders will give you a range for their business loan rates, so you can choose whether or not to apply. But you won't know your actual APR until your loan application is approved.
In fact, several things can affect the APR a lender offers you, including term length (lenders usually offer lower APR on longer loans than short-term loans), your business's credit history, and your personal credit score.
And again, we highly recommend you take the time to calculate the total cost of your loan rather than relying on APR alone. APR is a useful comparison tool, but it's not the be-all and end-all.
SMART choices
Some lenders have started including a SMART Box on loan offers. This tool includes information about APR, but it provides a much more comprehensive explanation of your total loan cost. We love SMART Boxes.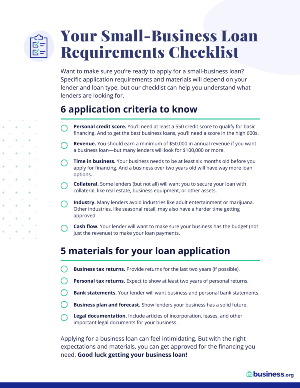 Applying for a small-business loan soon?
Our free checklist can help you understand what lenders are looking for.
What's the average APR for business loans?
That's tough to answer, and we've never found any credible stats. While we could make some wild guesses, remember that APR depends on everything from your loan type to your personal credit score. Better to look at the best rate you can get rather than worry about the average.
How can I get the best rate?
Well, for starters, you can make your loan application as strong as possible. Lenders usually give a lower interest rate (and therefore lower APR) to businesses with good credit history, high revenue, etc.
But that's a long-term solution. If you want the best possible rate right now, we recommend using a lending marketplace like Lendio. It lets you compare loan offers from different lenders, so you can see what kinds of APRs are available to you.
Some types of business financing use a set rate (like a factor rate) or fees (like draw fees) instead of an interest rate. Because the interest rate is a fundamental part of APR calculations, and these types of financing don't have an interest rate, you can't calculate a true APR on those loans.
Instead, you can calculate "effective" APR, which is another way of showing the cost of a loan. But since these types of loans, like a payday loan or a merchant cash advance (MCA), tend to have really short repayment terms (less than a year), the APR looks ridiculously high—like 150% high.
And sure, MCAs are a pretty expensive way to borrow money, but mostly those high APRs just tell you that you're paying everything back in a short period of time. (We explain this in more detail in our guide to merchant cash advances.)
In other words, you should be careful when you take out a loan with a high effective APR, but you should also make sure you understand what that effective APR is actually telling you.
Don't qualify for a business loan? Get a personal loan instead
Next time someone asks what APR is, you'll have the answer. More importantly, you'll have the know-how you need to compare your next credit offer, whether it's a business loan, credit card, or mortgage loan. And that means you can make wiser decisions when it comes to taking on new debt.
Because while your annual rate won't tell you everything you need to know as a borrower, it will tell you a lot.
Now that you understand APR, you're ready to compare the best small-business loans and find the right one for your company.
Disclaimer
At Business.org, our research is meant to offer general product and service recommendations. We don't guarantee that our suggestions will work best for each individual or business, so consider your unique needs when choosing products and services.