How Do I Get a Business Line of Credit?
You probably already know that business lines of credit, or LOCs, provide a great working capital solution for businesses that need a little cash flow help. But how do you actually go about getting a line?
Well, you'll need to figure out what you need from a line of credit, find a lender you can qualify for, submit an application, and then choose to accept or decline your offer―all of which we'll explain in this guide.
Let's get you that LOC!
How to get a business line of credit
1. Narrow down your financing needs
While you may think all lines are created equal, they come in large ranges of amounts, repayment terms, and rates. So before you even apply for a business line of credit, you need to figure out what you need from an LOC. 
First of all, begin by deciding how much money you actually need. Will you need a few thousand here and another few thousand there to take advantage of sales? Or will you need a larger lump sum to purchase equipment?
Do a little math to figure out what size line of credit you're looking for.
Revolving credit
Remember, business lines of credit are a type of revolving credit. That means you can draw from your line, repay what you drew, and draw again―over and over.
Then consider your ability to repay your line of credit, starting with payment frequency. Can your finances handle weekly repayment? Or would you prefer to make monthly payments?
Think about the repayment term too. Some lenders require you to repay a draw from your LOC in a matter of months, while others give you years. How long will you need?
And of course, you should think about interest rates and fees. Having a huge line of credit might sound great―until you realize how much money you'll pay to use it. (The APR, or annual percentage rate, can help you figure this out.) It's worth taking the time to determine what kind of interest and fees you can handle with your budget.
Is bigger better?
Bigger loans give you more purchasing power, but they also mean you're paying more in rates and fees (since those are percentages of your loan amount). Think carefully about what amount of money you actually need.
As you think about your line of credit needs, you might want to come up with two lists: one list that has your ideal line of credit (say, $300,000 limit, monthly repayment, 5% interest) and one that's the minimum you're willing to accept (maybe $100,000 limit, weekly repayment, 10% interest).
The ideal list can help you look for the best lenders for your needs. But if you can't meet your ideal, your minimum list can keep you from settling for an outrageously expensive offer later in the process.
Competitive business lines of credit
Data as of 6/6/2023. Offers and availability may vary by location and are subject to change.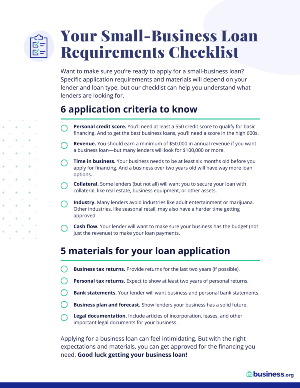 Applying for a small-business loan soon?
Our free checklist can help you understand what lenders are looking for.
2. Take an honest look at your qualifications
While it would be nice if you could get whatever line of credit you wanted, your options will really depend on your credit worthiness and qualifications. 
In fact, lenders will look at a few key things to determine whether or not you'd be a good borrower:
Personal credit score
Business credit score
Annual revenue
Time you've been in business
The higher your credit scores, revenue, and length of time in business, the better lines of credit you can qualify for. The opposite is also true: lower credit scores, a lower revenue, and less time in business limit the LOCs you qualify for. So before you even consider applying, take a clear-eyed look at your financial situation. After all, no business owner wants to waste time applying for loans they aren't qualified to receive.
Depending on your situation, you might decide to delay applying for an LOC. If you have a credit score below 500, for example, you'll probably want to spend some time and effort improving your score before you apply for a line of credit. And if you've only been in business for six months, you might want to hold on for another six months so you can qualify for better lines of credit.
But if you're sure you're ready to apply, then check your credit score, run the revenue numbers, and keep those numbers handy as you start looking at lending companies.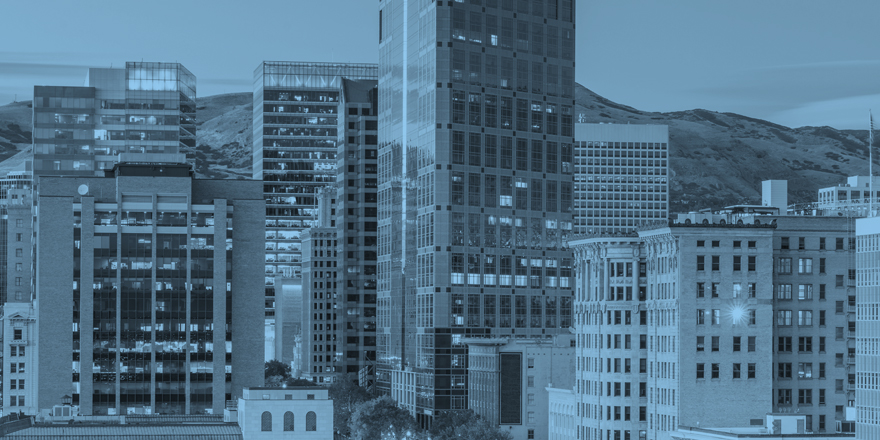 Browse hundreds of loan options, custom-tailored to your business and budget needs, from a single, simple platform.
3. Find the best lender for your needs
Now that you understand what you need out of a line of credit and what your qualifications are, you're ready to search for the right lender. Remember, you're looking for a lender that both meets your needs and matches your qualifications—which can be a tricky sweet spot to hit.
Business lines of credit vs. business credit cards
Lines of credit usually have higher credit limits and lower APR than business credit cards do―but credit cards often have reward incentives (like cash back). Generally, lines of credit are better for bigger purchases, while business credit cards are better for smaller expenses you plan to repay quickly.
For example, if you need an APR under 10%, don't waste your time looking at lending companies that have APR starting at 15%. And if you've only been in business for one year, you don't need to apply with online lenders that require a minimum of two years in business.
If you're not sure where to get started looking for lenders, then check out our rankings of the best business lines of credit. We recommend a variety of lenders for different needs and qualifications, so you should be able to find a good fit. And you can always start with Lendio, a lending marketplace that can match you with many different lenders.
Once you know where you want to apply, it's time to get your application ready.
4. Submit your line of credit application
The exact application process for a line of credit varies from lender to lender.
Some lenders, like Kabbage, just ask you a few questions and then connect to your business checking account. Within minutes, its algorithm will decide whether or not you're approved for a business line of credit.
Other lenders have much more involved application processes. Lendio, for example, will get some basic information from you and then ask you for supporting documentation. Then it takes a day or three to match you with lenders, after which you can choose from LOC offers.
In any case, your lender should clearly walk you through the process. But if you want to be extra prepared (which we support 100%), have some commonly requested documents ready:
Personal tax returns
Business tax returns
Bank statements
Business plan
Collateral details
Other relevant financial statements
After you submit your application, you'll have to wait to hear back about whether you were approved. Again, in some cases you might hear back almost immediately, but other lenders can take a week or two.
5. Choose to accept or decline your offer
Hopefully, when you hear back, it's to say that you've been approved for a business line of credit. In that case, your lender should provide you with an official offer that has details about the line of credit. You then get to decide whether or not to accept the offer.
Here's where those lists from step one come in handy. If you're lucky, your loan offer will look a lot like your ideal line of credit. In that case, great! You should probably accept your LOC.
But sometimes, the offer won't be quite what you were expecting. For example, the lender may approve you but offer you a sky-high interest rate. Or the lender might offer you a much smaller credit limit than you'd asked for.
This is when you'll want to look back at your minimum acceptable line of credit. If the APR is far higher than what you calculated you could afford, you'll probably want to turn down the offer and start over. Yeah, that sucks―but in almost all cases, it's better than taking on debt you can't afford to repay.
Best Business Lines of Credit
6. Responsibly use your new line of credit
As you use your line of credit, remember the fees and terms of your funding (many lines have an annual fee, for example). Make sure you repay the line on time. And keep in mind that some lines of credit have expiration dates, so you might want to check on how long your credit line lasts.
Responsible use of your line of credit should help build your credit profile. So in the future, you can qualify for even better financing offers―but this time, you'll already have the process of getting an LOC down.
Want more options? Fund your business with a personal loan
Lines of credit are a helpful source of business financing for many businesses. Getting your own will take some time and effort, but our guide should help you navigate the process.
Best of luck with your LOC application!
Not sure an LOC is right for you after all? No problem. Learn more about your other business financing options with our ranking of the best small-business loans.
Business line of credit FAQ
Is it hard to get a business line of credit?
Depending on where you're trying to get a business line of credit from, it can be hard to qualify. Most traditional banks want you to have a well-established business with plenty of revenue before they'll consider you for an LOC.
That said, online lenders are making business lines of credit more accessible than they've ever been. Fundbox, for example, has some of the lowest minimum credit score and revenue requirements of our recommended lenders. Just $50,000 in revenue and a 500 credit score can get you considered for a Fundbox LOC. That's a whole lot easier to qualify for than a traditional line of credit.
What qualifies you for a business line of credit?
Since different lenders have different application requirements, there's no one standard for qualifying for a line of credit. But as a general rule, you'll need―at minimum―a business that's at least one year old, $50,000 in annual revenue, and a personal credit score over 550.
Of course, the better your qualifications, the better your LOC choices. If you've been in business for seven years, make $500,000 in annual revenue, and have a 700 credit score, you'll have a lot more lenders willing to give you a business line of credit―and you'll qualify for larger lines and lower rates too.
Which bank is best for business lines of credit?
We don't have one favorite bank for lines of credit, but most banks (including Bank of America, TD Bank, U.S. Bank, and Wells Fargo) offer at least one business line of credit. In most cases, these banks offer lower rates than you'd get from online lenders, making most business lines of credit from banks a good deal.
But bank financing is much harder to qualify for than alternative, or online, financing. Many businesses will have better luck applying for a line of credit from an alternative online lender―though you'll probably pay higher interest rates than you would at a bank.
If you want to get the best line of credit you can, we recommend you start with Lendio. It's a lending marketplace, which means that one application at Lendio can get you matched with a variety of lending companies―including some traditional banks. Lendio will let you compare offers and find the best one for you (which may or may not be from a bank).
Can you get unsecured business lines of credit?
Yes, you can get unsecured lines of credit. In fact, several of our favorite unsecured business loans are lines of credit.
Note that when lenders talk about unsecured lines and loans, they really just mean you don't need specific collateral to get business financing.
In most cases, you'll still be expected to have a personal guarantee and potentially a UCC lien. Those guarantee that your lender can go after your personal or business assets, respectively―but only if you default on the loan. As long as you're staying on top of your payments, you'll be fine.
Disclaimer
At Business.org, our research is meant to offer general product and service recommendations. We don't guarantee that our suggestions will work best for each individual or business, so consider your unique needs when choosing products and services.