Kabbage vs. OnDeck: How to Choose between These Online Lenders
Kabbage and OnDeck may seem similar, but they cater to very different stages of businesses.
Trying to compare your business financing options can often feel like comparing shampoos at the supermarket―you have dozens of choices, each loudly claiming to have unique benefits, and it's hard to tell which will actually work best for you. Clarifying or moisturizing? Automated application or credit building?
Fortunately, we've thoroughly researched different lenders for you. And when it comes to Kabbage and OnDeck, we've found some pretty clear differences that should make it (relatively) easy to choose the right lender for you.
In this article, we'll explain those differences, and we'll help you decide which lender can best meet your business financing needs.
Are Kabbage and OnDeck offering the COVID-19 Paycheck Protection Program?
No, neither Kabbage nor OnDeck are offering the Paycheck Protection Program (PPP) anymore. In fact, nobody is offering the PPP loan anymore—it ended on May 31, 2021, per the Small Business Administration (SBA). But to their credit, both Kabbage and OnDeck did offer PPP loans when the program was active at the start of the COVID-19 pandemic.
Comparing Kabbage and OnDeck
Kabbage and OnDeck are both online lenders (also called alternative lenders) that offer financing to business owners. But that's where their similarities end.
Kabbage and OnDeck have major differences in everything from their loan products to their borrower requirements to their application processes.
Neither Kabbage nor OnDeck offers many types of financing, though OnDeck gives you a little more choice.
Kabbage vs. OnDeck financing options
Data effective 4/08/22. At publishing time, line of credit specifications are current but are subject to change. Offers may not be available in all areas.
Kabbage and OnDeck both offer a business line of credit (LOC). In fact, that's all that Kabbage offers.
As with any business LOC, these lines of credit work kind of like a credit card. You get a credit limit, and then you can borrow money against that limit.
Each time you borrow, you're essentially taking out a loan with its own repayment term and interest. But unlike normal loans, repaying your LOC lets you borrow money over and over again―as long as you stay within that credit limit. That makes it very convenient for working capital needs.
Now, if you want a larger line of credit, Kabbage wins. Its maximum credit limit is more than double the amount of OnDeck's (though your personal credit limit will depend on your specific qualifications).
APR refresher
For more info on how APR and effective APR get calculated and what they mean, check out our guide to APR.
And what about repayment terms? Well, Kabbage offers loan terms of 6, 12, or 18 months. OnDeck keeps it simple with 12-month repayment terms. In other words, Kabbage has both shorter and longer terms, if that matters to you.
The two lenders have different repayment schedules too. OnDeck requires (automatic) weekly payments, which is typical of online lending companies.
But depending on your business's cash flow, Kabbage's monthly payments may fit better in your monthly budget.
As we said above, Kabbage offers only LOCs. OnDeck, though, has term loans too.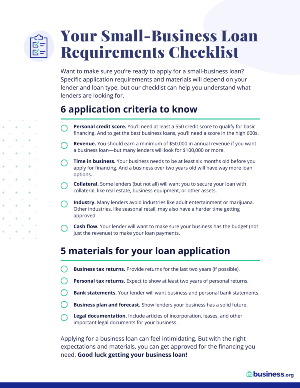 Applying for a small-business loan soon?
Our free checklist can help you understand what lenders are looking for.
OnDeck's term loans come in much larger amounts than its lines of credit ($500,000 versus $100,000). So if you've got a big, pricey project planned, then these term loans will likely be your best option.
The APR on OnDeck's loans starts at a slightly higher rate than on its LOCs (a difference of about one percentage point), but still much lower than Kabbage's starting effective APR.
OnDeck's term loans also have the longest and shortest repayment terms, with repayment terms ranging from 3 to 36 months. That still puts these loans squarely in short-term loan territory. (Few online lending companies offer long-term loans.)
Note that your OnDeck loan may have either daily or weekly repayment (it depends on your loan amount and your repayment term). In either case, OnDeck will automatically take payments from your business bank account.
Now that you know what kinds of financing you can get from Kabbage and OnDeck, let's talk about what it takes to get them.
Kabbage vs. OnDeck borrower requirements
Data effective 4/08/22. At publishing time, line of credit specifications are current but are subject to change. Offers may not be available in all areas.
Kabbage has much, much lower borrower requirements than OnDeck does.
Take credit scores. You can qualify for Kabbage with a 640 credit score. OnDeck, however, requires a 600 minimum credit score (in the "fair" range).
You'll see the same thing with their revenue requirements. Kabbage will accept annual revenue of $50,000―a little on the low side, but pretty standard for online lenders. OnDeck, however, asks for a minimum of $250,000. That's five times the revenue requirement of Kabbage. (It's pretty comparable to what traditional banks ask for―which means it's quite high.)
And the time in business requirement keeps up the trend. Kabbage will lend to businesses as young as one year, but OnDeck insists on at least three years. For reference, even traditional financial institutions (banks and credit unions) usually ask for only two years.
Clearly, OnDeck has stricter standards than Kabbage does. Yes, there are benefits that come along with those high standards, like those lower rates we discussed above and the choice of a term loan. But for young startups or businesses with bad credit, Kabbage is the better choice.
Application, approval, and funding process
So how do you actually get money from Kabbage and OnDeck?
Both lenders try to make the process simple and painless―though Kabbage's ends up being faster.
To apply with Kabbage, you just have to answer some basic questions about you and your business. Think stuff like your name, your business's name, your address―you know, easy stuff. Then you have to allow Kabbage to connect to your business bank account (don't worry, it's safe). Its special algorithm will analyze your account to decide whether or not you get approved, and you can get an answer within minutes.
OnDeck's application takes a little more prep. You'll need your business tax ID (your EIN, or employer identification number) and three months of bank statements. After you've uploaded those documents and answered some other questions, OnDeck's underwriting team will look at your application. You should get a call from OnDeck within one business day telling you what you've been approved for.
After approval, both lenders offer same-day funding.
With Fundbox, you should get an answer in just a few minutes. BlueVine also offers near-instant approval on its invoice financing, but for its business loans and lines of credit, you should expect to wait at least a few hours to get approved (usually it takes less than 24 hours).
Once you've been approved, you can get your funding. In many cases, Fundbox can get you your money within one business day. BlueVine offers same-day funding if you pay a $15 wire transfer fee, or you can wait one to three days for free funding through an ACH transfer.
But before you dive into your application, let's set your mind at ease with some customer reviews.
You'll be happy to know that Kabbage and OnDeck both have excellent reviews. Kabbage has 4.7 out of 5 on Trustpilot, and OnDeck has an even higher 4.9 out of 5.1,2
Kabbage borrowers like just what you'd expect: the fast application and funding process. The small number of negative reviews mostly complain about the relatively high fees and confusing repayment schedule.
As for OnDeck, borrowers like the fast funding and praise its customer service. Some business owners say the approval process took longer than advertised or that their rates were too high.
But again, the vast majority of reviewers have only good things to say about both lenders. So you should feel comfortable going with either lender.
And by now, we expect you've figured out whether Kabbage or OnDeck will work better for you. But just in case, we'll give you our final judgment on these two lenders.
Same-day funding available
Multiple ways to access funding
Fast, automated approval process
High rates and APR
Confusing fee structure
If you want the business financing process to be as painless as possible, you'll have a hard time doing better than Kabbage.
It all starts with Kabbage's borrower requirements. While they're not the lowest we've seen, they're close. So even if you have a young business or you've got a bad personal credit score, you can likely apply for Kabbage without agonizing about whether you'll qualify.
And it only gets easier from there. Kabbage's automated application means you don't have to put in much work to apply―just type some answers and connect your bank account. Then forget waiting around and worrying, because Kabbage's algorithm should get you an answer within just a few minutes.
The simplicity and speed only continues with the funding process. If you choose to get your money through PayPal, you can have your money in only a few minutes more. If you'd rather have the money in your business bank account, you can get it in a day or two. Or if speed matters less than usability, you can always get the convenience of a physical Kabbage Card, which works just like a debit card.
Yes, Kabbage charges higher rates (technically fees, given its payment structure) than other lenders. That's the price you have to pay for convenience, in this case.
Because Kabbage tries to make things easy for you every step of the way. If you want convenient financing, you want Kabbage.
(You can learn even more about Kabbage in our Kabbage review.)
OnDeck: Best for repeat borrowing
Lower rates for repeat borrowers
Reporting to business credit bureaus
Excellent reputation with borrowers
High rates for first-time borrowers
High typical qualifications
If you've got plans to take out multiple loans or lines of credit in the next few years, you can get some sweet perks by going with OnDeck.
That's because OnDeck rewards loyal customers. Sometimes, that just means making it easier to access additional funding. Once you've paid a loan down to 50%, for example, it gives you an option to renew the loan. If you do, you won't have to pay the rest of the interest on your old loan―just the interest on your new loan.
But the benefits don't stop there. Repeat borrowers at OnDeck can get discounted funding. As you repay your OnDeck loans on schedule, you may qualify for lower interest rates on future financing. That's thanks, at least in part, to your improved credit score. Because OnDeck, unlike many online lenders, reports to credit bureaus.
Plus, repeat borrowers can qualify for reduced or even free origination fees. So as you borrow more, you can save more.
Of course, OnDeck isn't right for everyone. It's relatively high application requirements make it harder to qualify for than other lenders. And the first time you borrow from OnDeck, you might have higher rates than you'd like.
Even so, OnDeck's loyalty perks make it a great choice for business owners that plan to get more financing over the years.
(You can get more details about OnDeck in our OnDeck review.)
FAQs about Kabbage and OnDeck
Do Kabbage and OnDeck offer unsecured loans?
Strictly speaking, loans from Kabbage and OnDeck get secured by both a personal guarantee and a UCC lien on your business (which means that both your personal and business assets are at stake if you default).
That said, neither Kabbage nor OnDeck require any specific collateral to get a loan. They're about as unsecured as it gets.
Does Kabbage do a hard credit check?
Yes, Kabbage does a hard credit pull when you apply. That means it could affect your credit score, so you'll want to be relatively confident you qualify before you apply.
No, Kabbage is not a bank. It's technically not a lender at all, in fact. It's a lending platform, and its real product is actually the approval algorithm it uses to process applications. It uses that algorithm and then partners with banks who actually do the lending.
That being said, Kabbage creates a pretty seamless experience for borrowers. You'll apply and make payments through Kabbage, so you probably won't notice any difference from other lenders.
Kabbage loans can work well for some businesses, especially those that need fast, convenient funding and can't qualify for better loans (as we discuss above). Its loans aren't the best, due to the high fees. Still, Kabbage provides a good source of cash for many businesses that otherwise would be high and dry.
Do Kabbage and OnDeck offer invoice financing?
No, neither Kabbage nor OnDeck offer invoice factoring or invoice financing of any kind. So if you're interested in getting cash in exchange for your outstanding invoices, you'll have to look to OnDeck competitors like BlueVine.
Want more options? Fund your business with a personal loan
While Kabbage and OnDeck are both online lenders that offer lines of credit, they don't have much in common. Kabbage has low borrower requirements and a near-instant funding turnaround (but higher rates). OnDeck has more funding options and lower rates (but higher borrower requirements).
So by taking an honest look at your borrower qualifications and your business needs, you can probably easily tell which lender will work better for you.
Want to see how Kabbage and OnDeck stack up against other lending companies? Then take a look at our rankings of the best small-business loans to find out how they compare.
Disclaimer
At Business.org, our research is meant to offer general product and service recommendations. We don't guarantee that our suggestions will work best for each individual or business, so consider your unique needs when choosing products and services.