OnDeck Capital vs. Lendio Small Business Loans
While Lendio has most of the advantages, there are some times when OnDeck could be the better choice.
Data as of 11/3/21. Offers and availability may vary by location and are subject to change.
Picking between a business from Lendio or a business loan from OnDeck can feel like a tough decision. But once you know how these two lenders compare in some key categories, your choice should get a whole lot easier.
That's why we've broken down how OnDeck and Lendio stack up. We'll tell you about their loan types, borrower requirements, interest rates, funding times, and more.
So by the end of this article, you'll know exactly why we think Lendio is the better choice for most small-business owners―and why you might still want to go with OnDeck anyway.
OnDeck vs. Lendio: Table of contents
:

Lendio

:

Lendio

:

OnDeck

:

The takeaway
Compare OnDeck vs. Lendio
Before we get too into the weeds, let's take a broad look at OnDeck and Lendio.
Both companies offer online loans (and other financing products) to small-business owners. But while OnDeck is a direct lender―meaning it offers its own business loans―Lendio is a lending marketplace. So instead of offering its own loans, it partners with a bunch of traditional and alternative lenders (also called online lenders) to let you shop around.
As we go on, you'll see why that distinction matters.
OnDeck vs. Lendio overview
| | | |
| --- | --- | --- |
| Feature | OnDeck | Lendio |
| Funding options | Line of credit & term loan | Lines of credit, term loans, invoice factoring, merchant cash advances, & more |
| Min./max. loan amounts | $5,000/$250,000 | $500/$5 million |
| Repayment terms | 12–24 mos. | 1 yr.–25 yrs. |
| Fastest funding time | Same day | 24 hours after approval |
| Get started | Apply Now | Apply Now |
Data as of 11/3/21. Offers and availability may vary by location and are subject to change.
That said, both lending companies let you apply for loans online. Likewise, they both give you at least a couple business loan choices. And OnDeck and Lendio both offer flexible enough financing that it can be used to pay for many kinds of business expenses.
Now with those basics out of the way, let's dig deeper into how these loan companies compare.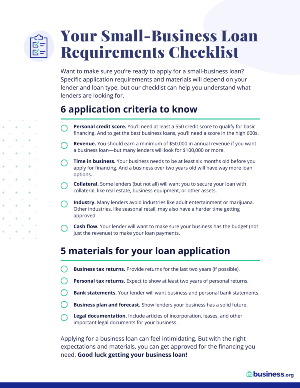 Applying for a small-business loan soon?
Our free checklist can help you understand what lenders are looking for.
Best loan options: Lendio
We told you already that Lendio is a lending marketplace, not a lender. In other words, it works with lots of lenders to offer business loans. And because of that, Lendio offers way more small-business lending options than OnDeck does.
In fact, as we explain in our Lendio review, Lendio offers almost a dozen different loan types through its lending partners:
Accounts receivable financing (aka invoice factoring)
Business acquisition loan
Business line of credit
Commercial mortgage
Credit card
Equipment financing
Merchant cash advance
Short-term loan
Startup loan
Term loan
So whether you need general working capital, a business loan to buy a building, or financing to purchase a tractor, Lendio has a business credit option for you.
OnDeck, on the other hand, offers just two business financing options:
Business line of credit
Term loan
Now, to be clear, those two financing choices still give you lots of versatility. You can use a business line of credit for all kinds of working capital needs, from marketing to hiring to purchasing inventory. And likewise, there's no reason you can't use an OnDeck term loan to buy more kitchen equipment (or whatever kind of equipment you need) for your business.
But at the end of the day, Lendio has more specialized loan options―and that often means loans tailored to specific needs. That becomes an advantage if you want to buy real estate, for example, or need certain kinds of cash flow funding designed for bad credit (like invoice financing or a merchant cash advance).
Lendio and OnDeck's partnership
OnDeck is actually one of Lendio's lending partners. So when you apply with Lendio, you may end up getting approved for an OnDeck loan. That's one more reason we suggest applying with Lendio in most cases.
Now, we do need to point out that meeting Lendio's minimum requirements doesn't mean you'll qualify for its best loans. The requirements to get equipment financing, for example, skew higher than the requirements for a line of credit. (Think a 650 personal credit score rather than a 560, and closer to one year in business.)
Still, a 560 credit score will get you rejected by OnDeck, while it might qualify you for some kind of financing at Lendio (especially if you have an older business and decent revenue).
So if you're at all concerned about your borrower qualifications, Lendio is the way to go.
Fastest funding times: OnDeck
As you can see, Lendio has plenty of advantages over OnDeck. But OnDeck does have one big advantage over Lendio: speed.
OnDeck can get you money faster than Lendio can. In fact, you can get approved for your OnDeck business loan in just a few minutes. Then, depending on what time of day it is, you may be able to get funded the very same day. Or, worst case, you get funded in 24 hours or so.
Lendio, on the other hand, takes time. After all, Lendio has to match you with lenders and loans. That takes time. And then you have to choose between your loan options. And after that, you have to finalize your application with the lender you choose. Only then will you get funded―and depending on your lender, that could be the next day, or it could be many days.
Best-case scenario, Lendio gets you funding in a couple days. But more likely, it will be several days. Maybe even a week or two.
So if you need business financing and you don't have time to wait around, then go ahead and apply with OnDeck. It's definitely the faster small-business lending company.
For most business owners, Lendio offers more value than OnDeck. That's mostly because Lendio offers more loan products through its lending network. It also has lower starting interest rates and lower borrower requirements.
But for business owners in a hurry, OnDeck offers faster funding times―its one big advantage.
Ultimately, though, they're both solid lenders that we recommend. So while we do prefer Lendio overall, you can do well with either lending choice.
See how OnDeck and Lendio compare to other business lenders with our rankings of the best small-business loans.
We looked at loan products, interest rates, borrower requirements, and more at Lendio and OnDeck. We scored these factors, and then used those scores to come up with our ranking and reviews of these two lending companies.
Are Lendio and Ready Capital the same?
No, Lendio and Ready Capital aren't the same lender. Lendio is a lending marketplace, while Ready Capital is a direct lender. Ready Capital is a Lendio lending partner, though, which means you can get approved for a Ready Capital business loan through Lendio.
While Lendio is technically a lending marketplace rather than a lender, yes, it's a good lending company. It offers lots of loan and lender choices, has competitive starting rates, and can help you shop around to get good prices on your next loan. Plus, Lendio has excellent customer reviews.
What type of lender is Lendio?
Lendio is not actually a lender at all―it's an online lending marketplace. So it doesn't do any of its own lending. Instead, Lendio matches you with other lenders, kind of like a loan broker.
What are the benefits of choosing OnDeck as a lender?
OnDeck has a few different benefits as a lender. For example, it offers same-day or next-day funding on its term loans. Plus, OnDeck offers discounts to repeat borrowers (like lower interest rates, lower origination fees, and even waived interest in some cases).
Disclaimer
At Business.org, our research is meant to offer general product and service recommendations. We don't guarantee that our suggestions will work best for each individual or business, so consider your unique needs when choosing products and services.