OnDeck vs. Bluevine Loans 2023
We scored these two online lenders on their loan costs, borrower requirements, and other important points.
Data as of 12/14/22. Offers and availability may vary by location and are subject to change.
OnDeck and Bluevine are best for . . .
So you're interested in business financing from OnDeck or Bluevine―two well-liked online lenders―but you don't know which one will work better for you. No worries, we're here to help you narrow things down even more.
In this article, you'll learn how OnDeck and Bluevine compare. We'll look at factors like borrower requirements, loan types, rates, and more.
Overall, we like OnDeck for term loans, but Bluevine has better rates on credit lines. As we compare various factors, though, it should become pretty clear which lender fits your needs better.
Let's start comparing.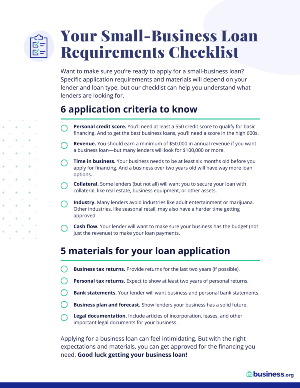 Applying for a small-business loan soon?
Our free checklist can help you understand what lenders are looking for.
Compare OnDeck vs. Bluevine
OnDeck vs. Bluevine financing at a glance
Data as of 12/14/22. Offers and availability may vary by location and are subject to change.
You've probably already noticed that OnDeck and Bluevine have a few key things in common.
They are, for example, both online lenders (as opposed to traditional lenders like banks or credit unions). They both offer fast financing, with funding turnaround in as little as 24 hours. Likewise, both OnDeck and Bluevine offer a business line of credit as one of their funding options. And both lenders have pretty positive customer reviews.
So at first blush, both lenders may seem like good fits for you. And honestly, they might be―but they have a few important differences that can help you make sure.
Most funding options: OnDeck
First off, OnDeck and Bluevine offer different financing options.
As we already noted, both OnDeck and Bluevine have business lines of credit, a type of revolving credit you can use to borrow money over and over again. (Think of a credit card, but designed for bigger expenses.) You can get a higher credit limit from Bluevine (assuming you qualify), but these credit lines otherwise look fairly similar.
Bluevine used to have term loans and invoice factoring, but now it has just credit lines.
OnDeck, on the other hand, also offers term loans (technically short-term loans). These are classic small-business loans, which let you borrow a lump sum that you repay over time (plus interest). OnDeck offers larger loans than lines of credit, so its business loans may work better for certain bigger expenses.
So with two financing options instead of Bluevine's one, OnDeck has the most funding options.
Need a business bank account?
OnDeck vs. Bluevine borrower requirements
| | | | | | |
| --- | --- | --- | --- | --- | --- |
| Lender | Product | Min. credit score | Min. revenue | Min. time in business | Get started |
| | Line of credit | 625 | $100,000/yr. | 1 yr. | Visit Site |
| | Term loan | 625 | $100,000/yr. | 1 yr. | Visit Site |
| | Line of credit | 625 | $10,000/mo. | 6 mos. | Visit Site |
Data as of 12/14/22. Offers and availability may vary by location and are subject to change.
OnDeck keeps things simple with the same borrower requirements for both of its business funding products (term loans and lines of credit). You need a fair personal credit score of 625, a business that's at least one year old, and $100,000 in annual revenue. Those are pretty moderate requirements for an online lender, and much lower than you'd see from a traditional lender.
For a Bluevine line of credit, your business needs to be at least six months older, and you need a high personal credit score of 625. You also need at least $120,000 in annual revenue.
So as you can see, OnDeck requires businesses to be older than Bluevine does, while Bluevine has higher revenue requirements. They accept the same minimum credit score of 625.
In other words, neither OnDeck nor Bluevine necessarily has lower borrower requirements―they're just different. In terms of borrower requirements, Bluevine and OnDeck tie. Your business's age and revenue will help you decide which lender offers the better fit.
Lowest financing costs: Bluevine
But let's say you think either OnDeck or Bluevine could work for you. In that case, one easy way to decide is to compare the cost of getting financing.
As a rule, online lenders tend to charge more than traditional lenders―and that's definitely true with OnDeck. APR (annual percentage rate) ranges at OnDeck start at the high end of ranges for many traditional lenders. Now, remember that APR includes both your interest rate and fees. But even so, OnDeck doesn't have especially cheap financing.
OnDeck vs. Bluevine financing costs
Data as of 12/14/22. Offers and availability may vary by location and are subject to change.
Things look cheaper at Bluevine. Interest rates on its lines of credit start at 4.8%―not too much higher than you'd see at a traditional bank. (Of course, that's just a starting rate.) And while invoice factoring is rarely one of the cheaper business funding options out there, Bluevine offers competitive weekly rates.
That means that, overall, Bluevine has cheaper financing. But since your individual rate will depend on your borrower qualifications (among other factors), OnDeck could still end up being cheaper for you specifically. Still, we'd start with Bluevine if you want the better deal, as we also explained in more detail in our review of Bluevine.
Longest repayment term: OnDeck
Another factor that might help you make your choice is how long you get to repay the funds you borrow.
Bluevine credit lines give you either 6 or 12 months to repay your funding―so one year at most. (That's on par with other online lenders.)
OnDeck's line of credit also gives you a maximum of one year. But with its term loan, you can double that and get up to two years to repay your financing. That can be especially helpful if you want smaller payments to free up cash flow. 
Do keep in mind, though, that longer repayment terms also mean you're accruing more interest―which could increase your overall loan costs. Still, if having a long payment schedule matters to you, OnDeck gives you the longest possible repayment term.
Fastest funding times: Bluevine
One final factor to consider? How fast you can get your money.
As we said, both OnDeck and Bluevine are online lenders, which generally offer fast turnaround times on applications and funding.
And sure enough, Bluevine and OnDeck both offer same-day approval on loan applications. Bluevine also offers instant approval in some cases, which makes it the slightly faster option.
Likewise, Bluevine offers same-day funding (though you'll have to pay a wire transfer fee). OnDeck's just a bit slower, with next-day funding.
Either way, you're getting your funds pretty quickly. But if you need the absolute fastest option, Bluevine offers a quicker potential turnaround.
So with all those factors in mind, let's get to our final verdicts on OnDeck and Bluevine.
Both OnDeck and Bluevine are solid online lenders with a couple loan types each and fast funding types.
If you're a small-business owner looking for a short-term loan, OnDeck offers the better business funding option (since it actually offers term loans, unlike Bluevine). But if a business line of credit will do, and you mostly want low rates, Bluevine and its competitive starting interest rates will work better for you.
Not 100% sold on either Bluevine or OnDeck? Find more great lenders on our rankings of the best small-business loans.
To get our analysis of Bluevine and OnDeck, we started off by comparing key factors like funding limits, credit requirements, customer reviews, and so on. We assigned scores to the lenders for each factor, and then averaged those scores to get overall scores for OnDeck and Bluevine. We used their overall scores to develop our comparisons and recommendations.
No, Bluevine and Lendio are not the same company. Lendio and Bluevine do partner together, though, so you can potentially get approved for a Bluevine line of credit or invoice financing by applying through Lendio. (For more details, see our comparison of Bluevine vs. Lendio.)
Yes, Bluevine is a legitimate business lender. It has thousands of good reviews on Trustpilot (with a 4.3 out of 5 overall score)1 and it earns an A+ from the Better Business Bureau.2
Which is better: Kabbage or Bluevine?
Overall, we like Bluevine better than Kabbage. That's because Bluevine offers more types of financing (a line of credit and invoice factoring), lower starting rates, and faster funding times. So while Kabbage's line of credit isn't bad, Bluevine does it better.
Is Bluevine SBA-approved?
Disclaimer
At Business.org, our research is meant to offer general product and service recommendations. We don't guarantee that our suggestions will work best for each individual or business, so consider your unique needs when choosing products and services.
Sources
Trustpilot, "

Bluevine

." Accessed

December 14, 2022.

Better Business Bureau, "Bluevine Inc." Accessed December 14, 2022.