Small-Business Bank Accounts: Your Ultimate Guide
Learn everything you need to know about getting a small-business bank account.
Last Updated: several months ago
We updated this guide to reflect the big banking news: Regulation D has changed! Long story short, that means that the federal government got rid of the rule that limited savings accounts to six transactions per month.
Before you get too excited though, we should point out that some banks have decided to keep their transaction limits in place. So don't go making tons of transactions from your savings without checking with your bank first―otherwise you might get hit by fees and even account closures.
If you're like many people, you opened a personal bank account as a teenager and haven't given banking much thought since. So when it comes time to open a business bank account, you have some questions. Why do you even need one? Where do you get one? What does it take to open one?
We've been there. (No, really, we have.) And thanks to many (many!) hours of painstaking research, we now know the answers to those questions and more.
We want to make things easier on you, so we compiled all those answers into this complete guide to small-business bank accounts.
We'll tell you everything you need to know―like how to choose the right bank and where to get a free business checking account. And along the way, we'll include links to articles that offer even more in-depth explanations.
Let's talk business banking.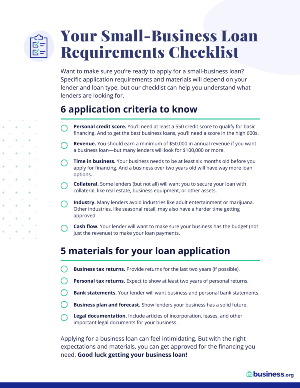 Applying for a small-business loan soon?
Our free checklist can help you understand what lenders are looking for.
Why you need a business bank account
While you might be tempted to try to get by with just a personal bank account, you almost certainly need a business bank account. There are a few reasons for that.
First of all, a lot of banks have rules about this sort of thing. They'll get really mad if they find out you've been putting business money in a personal account. They could freeze or close your account, which will obviously make your life harder.
Having separate personal and business bank accounts also make life easier for you. For example, consider tax season. When you're filing business taxes, you don't want to have to figure out if certain expenses were business-related or just personal. When you have separate accounts, it's easier to tell.
Personal bank accounts vs. business accounts
While it shouldn't affect your day-to-day usage, personal bank accounts and business bank accounts are subject to different rules and regulations. One example: Until recently, business checking accounts couldn't earn interest. With personal accounts, that was never an issue.
A separate business bank account can also offer you legal protection. Certain business structures (like LLCs, or limited liability companies) limit your personal liability. But if you mix personal assets and business assets―say, in a bank account―you could have a harder time defending those personal assets.
Finally, if you ever need funding for your business, you'll need to prove to lenders and investors that you've been financially responsible. If you're keeping personal and business funds in one account, they might think twice before giving you money.
So the real question isn't whether or not you need a business bank account―it's what kind of business bank account you need.
Types of business bank accounts
Broadly speaking, there are two primary types of business bank accounts: checking accounts and savings accounts.
You probably already have some understanding of what those do based on your personal banking. (We'll refresh your memory in just a second.) And depending on how much of a finance nerd you are (just us?), you may also know that there are actually many types of checking and savings accounts.
Let's go ahead and break them down.
You can think of a checking account as the standard bank account. If an individual or a business has just one bank account, it's almost certainly a checking account.
That's because checking accounts let you do all the most important things. They give you a place to store your money, of course. And on the flip side, they let you withdraw that money, usually as often as you want.
Checking accounts also let you make payments to other people or businesses (through debit cards, checks, wire transfers, or ACH transfers). Again, these transactions are pretty much unlimited, as long as you have funds in your account.
Standard checking accounts
A small-business checking account does everything we described above. It usually comes with a business debit card, and in most cases, you can buy some checks to go with it (not always, though).
Your average business checking account has a monthly fee (sometimes called a maintenance fee or monthly maintenance fee). In many cases, you waive this fee with a certain minimum balance requirement or level of account activity. A business checking account may also have fees for deposits, transactions, ATM usage, and other things.
Most businesses will only need a standard checking account. But we'll tell you about some other options, just in case.
Analyzed checking accounts
Unlike standard checking accounts, analyzed checking accounts give you a chance to offset fees with your account balance. The higher your average daily balance, the more earnings credits you get to apply to your account fees.
The trade-off? Most standard checking accounts come with a certain number of freebies (like 500 free cash deposits or transactions per month), while analyzed checking accounts make you pay for everything. Unless, of course, you have enough earnings credits.
Given how they work, analyzed checking accounts tend to work best for businesses that maintain high account balances.
Interest-bearing checking accounts
An interest-bearing checking account works just like a standard checking account, but it earns interest. How much interest depends on the specific bank and account you go with, but we've seen business accounts that offer up to 1% APY (annual percentage yield).
Specialty checking accounts
Some banks also offer specialty banking accounts, like these:
IOLTAs (Interest on Lawyer Trust Accounts)
IOTAs (Interest on Trust Accounts)
IOLAs (Interest on Lawyer Accounts)
MJ-IOTAs (Minor Judiciary Interest on Trust Accounts)
IBRETAs (Interest-Bearing Real Estate Trust Account)
RETAs (Real Estate Trust Accounts)
And others
If those names and acronyms look complicated, it's because they are. But don't worry―if you don't already know what those are, you don't need to. They have very specific use cases.
As the name suggests, a business savings account works best for storing money you don't plan to use immediately.
Pretty much all types of business savings accounts earn you some interest based on your account balance (unlike most checking accounts). But the amount of interest can depend on which type of savings account you use.
A traditional savings account usually offers a relatively low interest rate (less than 0.05% isn't unusual) and little flexibility. 
Your account might give you an ATM card to withdraw cash, but you won't be able to write checks from your savings account. And in some cases, your bank will limit you to six withdrawals or other transactions per month. (It used to be a legal thing. It's not anymore, but many banks have decided to keep their limits in place anyway.)
So why get a savings account? Well, traditional savings accounts still earn you more interest than your average small-business checking account. Plus, a standard savings account usually requires a lower minimum deposit than other types of savings accounts do, and the monthly fees are easier to waive.
Money market accounts work a lot like traditional savings accounts, but they often offer a higher interest rate, and they let you write checks from your account. (They may still have a transaction limit, though, depending on your bank.)
That said, they can have very high minimum opening deposit requirements. Likewise, the minimum balance required to waive the monthly fee will likely be much higher than with a traditional savings account.
CDs, or certificates of deposit, often offer the highest interest rate you can get with business savings. The catch? A CD has to "mature." That means they have a term (which can be anywhere from days to years), during which you cannot access your funds. At all.
So sure, a CD can get you a decent amount of interest. You just need to be fine not touching your money for a while.
High-yield savings refers to both traditional savings and money market savings accounts that offer much higher interest rates than average.
There's not a specific interest rate cutoff that makes an account high-yield, but you'll often see high-yield business savings accounts with rates between 0.5% and 1%. No, that's not enough to make you rich―but it can easily add up to hundreds and thousands of dollars per year (depending on your usual account balance).
Choosing a bank for your business
Now that you know what types of business accounts you can get, you're ready to get one. But how do you pick the right bank for your business?
There are a few factors you should consider.
Who has business bank accounts?
Keep in mind that not all banks offer business accounts. Navy Federal and USAA, for example, are two well-reviewed personal banks that don't offer any business accounts.
Online vs. in-person banking
Online banking often offers cheaper business accounts with lower or no fees. Plus, you can conduct all your business―from opening a deposit account to depositing checks to arranging payments―from your phone or computer. Handy, right?
That doesn't mean an online bank will work for every business. Online banks don't really handle cash well (or in some cases, at all). So if your business handles cash on a regular basis, you'll probably want to find an in-person bank.
(Keep in mind that you don't necessarily need to use an online bank to do some of your banking over the internet. Pretty much all traditional banks now offer mobile banking apps and online banking services to their customers.)
In-person banking has come a long way over the years. Yes, many banks still require you to go to a branch to open an account, get a loan, or deposit cash. But pretty much all traditional banks now offer robust apps and websites that let you handle most things online.
Still, in-person banking has some drawbacks. Traditional banks often charge higher fees for their business bank accounts. And geography matters. A lot. Most traditional banks don't operate in all 50 states, so your options will be limited by where your business is located. (Which is why we created a list of the best banks for business in each state.)
Also, if you operate internationally, you'll need to consider how you'll access banking services abroad. For example, for businesses heavily involved in many Spanish-speaking countries, BBVA is a more convenient option than, say, 1st Bank Yuma.
If you have any specific account needs, you'll need to take that into account as you search. Some banks only have one or two types of accounts. Others offer dozens of options.
So if, for example, you know you want an interest-bearing checking account, that will narrow your choices a lot. If you only want a standard business savings account, though, then many business banks will work for you.
As we've mentioned above, many banks charge fees on their business accounts, including these:
Monthly maintenance fee
Cash deposit fees
Transaction fees
ATM fees
Some banks don't charge any fees, and some give you a certain number of freebies per month before they start charging.
So as you compare bank accounts, think about how you'll use your business account.
Will you deposit loads of cash? Then look for a bank that gives you plenty of free cash deposits and has low cash deposit fees after that. Plan to withdraw lots of cash from an ATM? Then you'll want a bank that doesn't charge its own ATM fees and maybe even refunds ATM fees charged by other banks.
Other small-business banking products
While this guide focuses mostly on bank accounts, we do want to point out that banks offer way more than just checking and savings accounts.
You may also be able to get the following:
Just keep in mind that the exact offerings will depend on the bank you go with.
A huge national bank like Wells Fargo, for example, has tons of products. It offers three different credit card options. It's got many kinds of business financing, including term loans, SBA loans (loans backed by the U.S. Small Business Administration), commercial real estate loans, and lines of credit. It also has retirement accounts and merchant services.
A smaller online bank, though, often offers exactly none of those things. It may just have a business checking account.
So if there are other banking products you know you'll need, you may want to factor them into your decision.
There are a few other ways to narrow down your choices.
If you already do your personal banking with a certain bank (and you like it), then it might make sense to do your business banking there also. Some banks (like Bank of America) even reward customers for their loyalty.
If you're looking at savings accounts, you may want to find a bank that offers a high APY (annual percentage yield) so you can make the most money possible.
And finally, you probably want to choose a bank that hasn't recently had massive scandals (a lot of the big ones have) and that has positive customer reviews.
If you'd like some specific bank recommendations, we'll have some for you in just a minute. But first, let's talk about what it takes to actually open an account.
How to open a business bank account
When you've figured out where you want to bank and you're ready to open a business bank account, you'll need a few things handy:
SSN (social security number)
Business's tax ID/employer identification number (EIN)
Articles of organization for your business
Business license (if applicable)
Money for the minimum opening deposit (if required)
If you're opening a business checking account online, you may need to upload, email, or fax your documentation. If you're opening an account in person, just make sure you bring everything with you.
In many cases, the process shouldn't take more than a few minutes. Some banks, though, will need time to review your application.
Either way, you should have your new business bank account in no time.
ChexSystems
If you've got a history of bouncing checks or fraud, your bank account application could get denied. That's because most banks will check your ChexSystems report, which works kind of like a credit report for banking.
Best small-business bank accounts
At this point, you know pretty much everything you need to about business bank accounts―except, maybe, what bank you should actually choose.
Fortunately, we've got some recommendations for you.
Best banks for business overall
You can start by taking a look at the 10 best banks for small business. The banks on this list offer all-around solid business banking.
We'll go ahead and spoil it for you: Small Business Bank is our favorite bank overall. It offers a free business checking account and two affordable high-yield savings account options. Plus, it's available in all 50 states.
Of course, if that doesn't work for you, we've got plenty of other recommendations on that list.
And don't worry, we haven't forgotten about savings accounts. If you're interested (get it?) in savings, then you can have a gander at the best high-yield savings accounts for business.
Maybe you're more interested in deep dives on specific banks. No problem! You can find individual bank reviews on our banking category page.
These reviews give you an in-depth look at all the accounts and other business banking products available at a particular bank. They also include information about customer reviews, standout features, and anything else you ought to know about (like those scandals we mentioned).
What about credit unions?
We can't possibly review all the thousands of credit unions out there, but that doesn't mean we don't like them. Many credit unions offer great deals on business bank accounts. So if you've got a credit union nearby, it's worth checking out.
The world of small-business banking can feel big and confusing. But mostly, you just need to remember a few things:
Yes, you need a business bank account.
In many cases, a simple checking account will work fine.
Some types of banks will work better for you than others.
Opening a bank account requires only a few documents.
See? Easy peasy. And for anything more complicated than that, just refer back to this guide. We're here to help.
Now go enjoy your new business bank account!
Now that you know all about business banking, learn about business financing with our ultimate guide to small-business loans.
Disclaimer
At Business.org, our research is meant to offer general product and service recommendations. We don't guarantee that our suggestions will work best for each individual or business, so consider your unique needs when choosing products and services.