Online Banking vs. In-Person Banking—Which Is Better for Your Biz?
Online banking and in-person banking both have pros and cons. Let's figure out which is right for your business's financial needs.
More and more things have been moving online in the past several years, from video rentals to newspapers to maps. But should you move your business banking online? Or are some things better left to the real world?
We can't answer that for you—but we can help you figure it out. We'll unpack the pros and cons of online banking and in-person banking. By the end of this article, you should have a pretty clear idea of which kind of bank works better for handling your business's money.
So let's get going.
Comparing online banking and in-person banking
| | | |
| --- | --- | --- |
| Feature | Online banking | In-person banking |
| Bank options | Same in all 50 states | Varies by state |
| Open accounts online | ✔ | Limited |
| Cash deposits | Some banks | ✔ |
| Debit card | ✔ | ✔ |
| ATM withdrawals | ✔ | ✔ |
| Fees | Varies by bank | Varies by bank |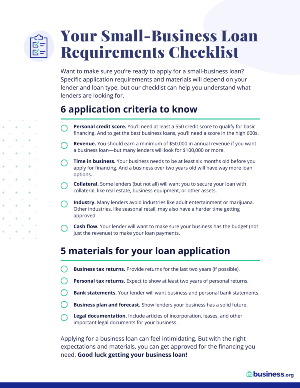 Applying for a small-business loan soon?
Our free checklist can help you understand what lenders are looking for.
Online banking: Best for credit card–based businesses
Full disclosure: we're big fans of online banking here at Business.org. Our favorite bank for small business is an online-only bank, and online banks dominate our ranking of the best banks for small-business checking.
So why do we like online banks so much? Easy. It all comes down to availability and affordability.
Online banks are available in all 50 states—and sometimes other countries too. Compare that to in-person banks, where even the biggest chains are in fewer than 40 states (and less than 20 is typical), and you can see why availability is a big advantage. With online banks, it doesn't matter if you open a location in another state or if you relocate your photography business; your bank can follow your business wherever it goes.
Plus, online banks are often cheaper than traditional banks. All the online-only banks we've seen offer free online checking accounts for small business. For example, Small Business Bank offers no-fee checking. That means no monthly maintenance fee, plus free ATMs, no transaction fees, and no other fees. Doesn't that sound nicer than getting nickeled-and-dimed by big banks?
Your online banking options
Now, you do need to know the one big catch of online banking: depositing cash can be difficult or downright impossible. Best-case scenario, you stuff your money in a deposit envelope and snail-mail it. And wait. Worst-case scenario, your online bank doesn't accept cash deposits of any sort. So if your business runs on any amount of cash, online banking probably isn't the right fit. (Online banks do allow for cash withdrawals from ATMs, though.)
But if you have an online store that only takes credit cards or if all your freelance writing payments are made through direct deposit, then online banking is the way to go. Its availability and low costs can't be beat by brick-and-mortar banks.
Available across the United States
Often cheaper than traditional banks
Convenient and works with your schedule
Difficult (or impossible) to deposit cash
Set up with fewer customer support options
In-person banking: Best for cash-based businesses
Look, if your business deals with cash on a regular basis, you probably need an in-person bank. Brick-and-mortar banks make it (relatively) easy to deposit the cash from your food truck or boutique; you just have to visit your local bank to deposit your funds. You might even get one of those little lollipops for your trouble. Sure, you'll have to go during business hours—but that's still less hassle than trying to deposit cash at an online-only bank.
That's not the only reason to go with in-person banking, though. Traditional banks tend to have more customer support options than their online counterparts. Most in-person banks offer some kind of 24/7 support, and they usually let you contact support through phone, email, and online chat. (Online banks, unsurprisingly, don't really do phones.)
And if you're the kind of person that likes to keep your eggs in one basket, traditional banks tend to offer more personal banking services than online banks do. In fact, you might even earn discounts by doing your personal and business banking at the same institution.
Do you even need a business bank account?
Of course, that's assuming your bank of choice is available in your state. Traditional banks have pretty limited availability (for example, our favorite in-person bank—Huntington Bank—is in only 10 states). You might have to settle for a bank you don't love. And if your business ever moves, you may have to find a new bank.
But the cash-depositing benefits of in-person banks make them the clear choice for any businesses that routinely handle cash—even if it requires a little settling on your part.
Easy to deposit cash
Set up with plenty of customer support options
Possible to get lots of personal banking services
Unavailable in many states
Limited to normal business hours
You may have noticed we didn't talk much about convenience above. That's because pretty much all banks let you do at least some of your banking online.
Almost every bank we've seen offers an app or website that allows you to look at your account balances and make transfers. So you can do a lot of your banking on your own schedule, whether you have downtime while waiting for a client or you prefer to balance accounts at 2 a.m.
But don't be fooled into thinking that the "online banking" from traditional banks is 100% online. Most of those banks require you to visit a branch in person to set up a bank account in the first place. Online-only banks, of course, let you sign up entirely online. Likewise, with traditional banks, you'll still have to make cash deposits (and sometimes check deposits) in person too.
Of course, traditional banks do offer one convenience that online banks can't compete with: if their website goes down (sigh), you can always go into your local bank location to do your business. With an online bank, you'll just have to wait it out.
While some goods and services really should be online-only (we're looking at you, fax machines), both online and in-person banks have something to offer small businesses. Credit card–based businesses will love the availability and affordability of online banking, while cash-based businesses will benefit from simple deposits and plentiful customer service options.
So go ahead and start banking—whether that means opening a checking account online or looking up branch locations to open an account in person. Either way, you'll be making a smart choice for your business.
Ready to open your new bank account? Make sure you've got everything ready by reading our guide to opening a business bank account.
Which banks are available in my state?
As we said above, online banks are available in all states. But if you want to go the brick-and-mortar route, you can check out a table of bank availability here.
What kinds of business bank accounts can I get?
All the banks we've seen, whether online or traditional, have business checking accounts. A couple of online banks (Axos and TIAA) even offer an interest-bearing checking account.
Most banks also offer various types of business savings accounts, including money market accounts and CDs.
What fees do I have to pay for business banking?
Typically you'll see monthly maintenance fees (though many banks waive their monthly service fee if you maintain a certain account balance). You may also pay transaction fees, cash deposit fees, ATM fees, and overdraft fees.
Like we mentioned earlier, some online-only banks offer no-fee banking, so you can avoid fees altogether.
Disclaimer
At Business.org, our research is meant to offer general product and service recommendations. We don't guarantee that our suggestions will work best for each individual or business, so consider your unique needs when choosing products and services.