How to Open a Business Bank Account
Need a place to stash your cash? Just follow our guide to opening a small-business bank account.
Choosing to open a business bank account is kind of a big deal. It's one of the best ways to legitimize your business, indicating that your business's finances are separate from your personal finances because you're a real small-business owner now.
But how do you go about opening that separate bank account?
In this guide, we'll explain each step of getting banking services for your business. Whether you need a checking account or a savings account, the process ahead will help you get your money in the right place.
Let's get banking!
1. Figure out what kind of account(s) you need
Okay, let's start off with an easy task: choosing what kind of bank account your business needs. First, you need to decide between a checking account and a savings account.
If you're like most small businesses, you probably want a checking account. You likely already know the basics about checking from having a personal account: it's an account that lets you easily access your money. You can deposit checks, get paid, or make payments with your business checking account.
Business checking account vs. business savings account
| | |
| --- | --- |
| Checking account | Savings account |
| Unlimited transactions each month | Six transactions per month |
| No or low interest rate | Higher interest rate |
| Best for using money | Best for saving money |
But if you find yourself with extra cash on hand (lucky you), then you might also want a small-business savings account. These accounts have higher interest rates than checking accounts do, which means your spare cash can earn you more money just by sitting there. The catch? Your access to your savings account is often limited.
How so? Well, the Federal Reserve has historically placed a six-transaction limit on savings accounts. This meant people could only withdraw money six times per month.
While this rule is still technically in place, the Federal Reserve no longer enforces it as of April 2020.1 As a result, banks are now free to allow customers an unlimited amount of withdrawals, although they are not required to do so.
If you're able to avoid touching your money for a while and you want to maximize your savings, you might opt for a CD (certificate of deposit) instead. In that case, you can't access your funds at all until the end of a specified term, unless you want to pay a potentially hefty early withdrawal penalty.
Once you know what kind of business bank account you need, you can start narrowing down the field.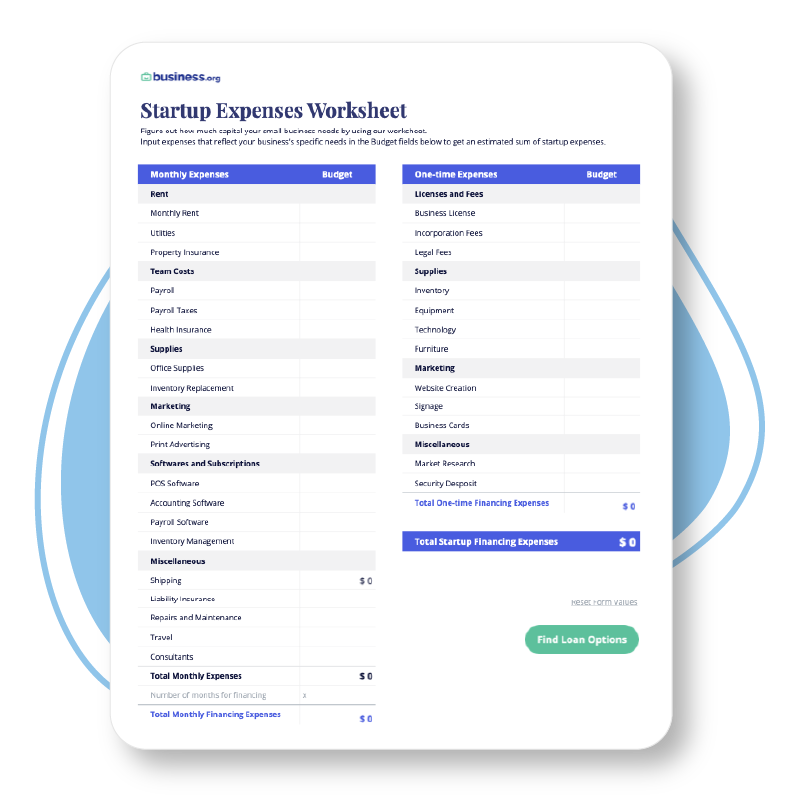 Do you know how much it'll cost to start your business?
Try our free startup costs worksheet to calculate expenses and estimate how much capital you need to launch.
2. Decide what features you want in your account
Look, there are a lot of banks out there that want your business's banking business. The easiest ways to narrow them down is to figure out if there are any specific features you need from your business bank.
For example, if you don't have a ton of cash on hand, you might want the checking account that has the smallest possible opening deposit. Or if you have highly variable cash flow, you might prefer an account that won't charge you monthly fees for carrying a low balance
Or let's say you depend on your accounting and payroll software to keep your money in order. You'll probably want a bank account that's compatible with that software. Otherwise, it's back to manual money crunching for you.
Here are some other features you might consider:
Number of branch and ATM locations
Mobile and online banking options
Bill pay capabilities
High interest rates (for savings accounts)
Discounted ATM fees
No minimum balance
No transaction fees
You might also want to look for a bank that offers complementary services like these:
Go ahead and nail down your needs. Then move on to step three.
3. Choose the right bank for you
With your list of needs and wants in hand, you can narrow down your choices and find the perfect bank for your business.
We recommend you use our rankings of the best banks for small business, where we help you easily compare your options. Some small-business owners also find that their local credit union has the best deals, so you can look into that as well.
But however you go about choosing, make sure you fully understand all the fees associated with your account. You don't want surprise transaction fees blowing your budget, after all.
Compare the top online small-business banks
Data as of 2/23/23. Offers and availability may vary by location and are subject to change.
*Waivable with a balance of over $500
4. Gather all the documents you'll need
Now that you know which bank you want to open an account with, you're almost ready. But don't march down to the bank just yet—make sure all your paperwork is in order first.
For most banks, you'll need to have your employer identification number (EIN), your social security number (SSN), your business license, and your articles of organization (or any other business formation documents you have).
Some banks will require other documentation, so check what your bank of choice asks for before you apply.
Are you a sole proprietorship?
In that case, you can use an SSN as your tax identification number instead of an EIN. Lots of banks will also expect to see a DBA (doing business as) if your business's name is different than your name.
If you don't already have an EIN or articles of organization, now would be a good time to get those. Some banks are wary of unofficial businesses. So if you haven't already filed all the paperwork to make your business legal and legitimate, go ahead and take care of that before you try to open a bank account.
5. Open your business bank account
Now that you know what kind of business bank account you want, which bank you want it from, and you've got your paperwork in order, you're ready to apply for that account. With any luck, the bank will accept your application and bam! You've got yourself a new account.
Where do you apply?
Some banks will let you apply online (especially if you're a sole proprietor), but don't be surprised if the bank insists you apply in person.
Keep in mind that banks do sometimes reject applications for bank accounts. Usually, that rejection has to do with your past banking behavior. So if, for example, the bank looks you up on ChexSystems (kind of like a credit bureau, but for bank accounts instead of credit) and sees that you have a long history of bouncing checks or overdrafting your account, it might reject you.
But hopefully that won't be a problem, and you'll get that new business bank account without any trouble.
6. Use your new bank account!
Now you can get down to using and enjoying your business deposit account. Take care of business expenses. Pay people. Pay yourself! Deposit checks. Save money. Whatever it is you plan to do with that bank account, we hope you enjoy doing it.
And look, we don't want to nag, but make sure you're responsible with your business finances. If you prove to be a good business banking customer, you might find yourself eligible for more perks or opportunities through your bank. So take care of those bookkeeping basics.
As you can see from the six easy steps above, opening a bank account is a relatively simple process once you know what you want. So what are you waiting for? Figure out your needs, go ahead and apply for your new bank account—and then use it to take care of business.
Interested specifically in a small-business checking account? Take a look at our list of the best business checking accounts.
FAQs about opening a business bank account
Nope. Pretty much all banks require your social security number too.
Probably. Most banks have some kind of minimum deposit amount, but you'll have to check with your bank of choice to find out its minimum. Some online-only banks let you open a business bank account without a deposit, but most traditional banks don't.
But take heart; most minimum deposit fees range from $25 to $100. Pretty doable, right?
Disclaimer
At Business.org, our research is meant to offer general product and service recommendations. We don't guarantee that our suggestions will work best for each individual or business, so consider your unique needs when choosing products and services.