How to Avoid Hidden Business Banking Fees: 9 Questions to Ask
"Hidden Fee" . . . or Normal Fee You Just Didn't Know About?
No one likes getting charged an unexpected fee—especially when that fee has a negative impact on your business. Before you open a business banking account, read this article thoroughly to make sure you're prepared to sidestep hidden business banking fees.
Banks are regulated institutions. That means very few of them are in the business of intentionally deceiving customers. Most of the time, bank account owners encounter "hidden fees" because they are unaware of the terms and conditions of the particular account they opened. The same holds true when considering the extra costs related to business loans.
That being said, it does help when banks are up front about the fees they charge. Certain banks are better about doing this than others, but as a business owner, it's always on you to understand the fees associated with your business banking account.
When opening your account, be sure to ask the following questions to learn about any fees associated with your new account.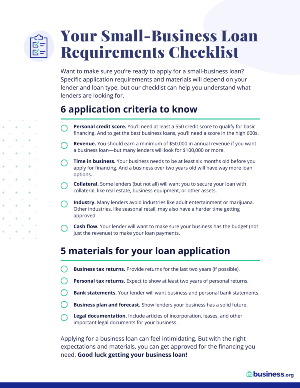 Applying for a small-business loan soon?
Our free checklist can help you understand what lenders are looking for.
Questions to Ask When Opening Your Business Banking Account
1. What's the minimum account balance?
Many banks will require you to maintain a minimum balance in your business banking account at all times. If your account balance drops below the required amount, you'll be charged a fee. Although potentially inconvenient, larger minimum account balance requirements often give you access to better banking perks.
When opening an account, be sure to choose one with a minimum required account balance that you can easily maintain. If you come across hard times, the last thing you want is to get hit with an additional fee that takes away more of your funds.
2. Can I link my accounts?
Many individuals choose to do all of their banking with one banking institution. If that sounds like you, ask your bank representative if you can link all of your accounts together. When you link your accounts together, each account stays technically separate, but you have the potential to gain additional banking perks due to your higher combined balance—and you can often move money around more easily.
3. Are there limits on deposits or any other types of transactions?
Certain business banking accounts are more receptive to a high number of transactions than others. For example, if you run a small business and see 200 customers every single day, the business banking account you choose will probably be different from a business that handles only a dozen or so transactions every day.
Banks will often make their account offerings appeal to one type of business or another. If you handle 200 transactions every day but sign up for an account tailored for a much smaller quantity, you may face a lot of unexpected fees.
4. As my business grows, what future fees could I encounter with this account?
Any savvy business owner should be looking to grow and expand their business whenever possible. The adage of "if your business isn't growing, it's dying" is so popular for a reason—it's true!
Some common fees associated with business growth are:
Company credit cards. Many banks provide a certain number of credit cards for free—and then charge a fee for any cards that go over the included threshold.
Envelopes.  
Whether it's credit cards, envelopes, or anything else related to banking (such as sub-accounts), make sure your business banking account has enough leeway so that you can grow your business without coming across new fees.
5. Is there an early closure fee?
Some banks charge a fee if you close your account before a certain period of time has passed. So if you find a better bank or switch banks for another reason, you could be forced to pay an unwanted fee. Be sure to understand the criteria you must meet to avoid early closure fees. (Early closure fees themselves are quite standard and don't indicate that a bank charges hidden fees in general.)
6. Are there notarization and/or paper statement fees?
It's 2022—and banking is different than it used to be. Most business banking accounts focus on digital transactions and services because that's what the majority of business owners need. If you think you'll need frequent notarization and/or paper statements from your bank, be sure to ask how much those services cost. Rarely will a bank offer an unlimited number for free.
7. What if I'm doing business overseas?
Even if your business currently has no international customers or clients, there's no telling what might change in the future. If you discover an international marketing opportunity, you don't want to be paying ridiculous fees to your bank so that you can seize the opportunity. Clarify any one-time and recurring fees for international transactions before you sign on the dotted line.
8. How active do I need to be with my account?
Few business banking accounts will allow you to treat your account like a personal savings account (unless it's designed for that). Most of the time, you will have to maintain some sort of activity in your account—in addition to your minimum required account balance—in order to avoid fees.
Be sure that you are crystal clear on what activity you need to maintain in order to avoid fees. And, like a minimum required account balance, be sure you can easily meet these minimum activity requirements every single month so that slow times don't bring you more fees.
9. Can I see a list of all fees?
You wouldn't sign an ordinary business contract without reading the legalese beforehand—treat your business banking account with the same diligence. That means reading all of the terms and conditions associated with your account.
Taking the time to read the terms and conditions can be a hassle—but when it's related to something as important as your business banking account, taking the time to do so can save you lots of headaches (and money) down the line.
Deciding on a business banking account isn't the most glamorous part of running a business, but opening the wrong account can have serious financial implications. Do your due diligence by asking the right questions to pick the right business banking account and avoid unwanted "hidden" fees down the line.