ChexSystems for Business Accounts: How It Affects Your Business Banking
We explain what ChexSystems is, what banks use it for, and why you need to know about it.
You probably had never heard of ChexSystems, the consumer reporting agency for banking, until just a few minutes ago. Maybe you're planning to open a business bank account and you saw your bank of choice checks ChexSystems as part of the application process. Maybe you already applied for a business checking account and got turned down because of your ChexSystems report.
So what is this mysterious ChexSystems, and why does it matter so much for business banking? We'll tell you all that in this guide—plus how you can make ChexSystems work for you.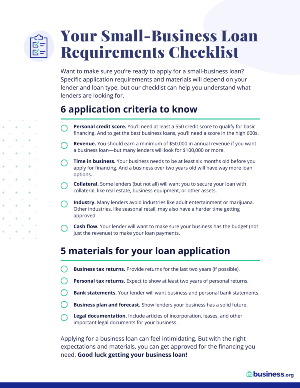 Applying for a small-business loan soon?
Our free checklist can help you understand what lenders are looking for.
ChexSystems is a credit bureau that tracks banking-specific information. But let's unpack that a little.
You probably already know you have a personal credit score and a credit report to go with it. Credit bureaus like Equifax, Experian, and TransUnion keep tabs on your borrowing and credit history. The info they collect goes into a credit report and gets boiled down to a credit score. Whenever you want to get new credit, like when you apply to get a business loan, lenders will look at your score to decide your creditworthiness.
ChexSystems works almost exactly like that, but it's a reporting agency for banking instead of credit.
Financial institutions will report to ChexSystems when you do things like bounce checks or overdraft your account. It will even report whether or not you paid those things off afterward. ChexSystems will also track stuff like how many times you've moved in the past few years or how many bankruptcies you've had over your lifetime.
All that information goes in your ChexSystems report, and ChexSystems uses it to give you a ChexSystems Consumer Score. These scores go from 100 to 899, and a higher score is better—it means ChexSystems thinks you are a lower financial risk.
So why should you care?
Why ChexSystems matters to your business
When you try to open a business bank account (whether it's a checking or savings account), banks will use ChexSystems to decide whether or not to approve you. If your ChexSystems report is full of non-sufficient funds events and suspected fraud, you'll probably have a hard time getting approved.
And unfortunately, ChexSystems mostly keeps track of the bad stuff. You might have been a near-perfect banking customer for the past five years with just one bad day, but your ChexSystems report will highlight that bad day instead of the rest of the five years.
With that in mind, you may want to take the time to get to know what's in your ChexSystems report before you apply with a bank. Thanks to federal law, you can request a free copy of your ChexSystems report once per year. You can request your ChexSystems Consumer Score too.
ChexSystems and identity theft
But what if you don't like what you see?
Getting a checking account while on ChexSystems
Having a bad ChexSystems report or consumer score can definitely make it harder to open a business checking account, but it's not the end of the world. You have some options.
Fix your ChexSystems score
Much like how you can do some things to build business credit, there are a few ways to improve your ChexSystems report and score.
For example, you might find information in your ChexSystems report that's incorrect. In that case, go ahead and file a dispute. ChexSystems will conduct an investigation (so official) and get back to you within a month or so.
If you have (accurate) unpaid balances in your report, paying those off can help your score. Once you do, creditors should let ChexSystems know.
And if time isn't an issue, you can always wait it out. Items appear on your ChexSystems report for only five years. So even if you bounced bunches of checks in 2015, you'll be good to go in 2020.
Apply for business checking with no ChexSystems
If time is an issue, you can look for banks that don't care about ChexSystems.
That's not difficult if you need a personal checking account, but we've been unable to verify if there are any big banks who don't look at ChexSystems for business bank accounts. We'll update this article if we find any.
Instead, your best bet may be to ask around at local credit unions. While many of them will check ChexSystems, they may have second-chance checking accounts in addition to regular business checking accounts.
And of course, you can always try opening an account without a perfect ChexSystems score. Banks don't broadcast their requirements, so your less-than-ideal score might end up being just good enough.
Need some financing? Fund your business with a personal loan.
If you're applying for a business checking account, you need to understand how ChexSystems consumer reporting works—and you should probably know what ChexSystems has to say about you. With our guide, you'll have the ChexSystems savvy you need.
Good luck getting that checking account!
Now that you have the info you need to open an account, check out our rankings of the best banks for small business to find the right one for you.
Disclaimer
At Business.org, our research is meant to offer general product and service recommendations. We don't guarantee that our suggestions will work best for each individual or business, so consider your unique needs when choosing products and services.