Credit Unions vs. Banks: Which Financial Institution Should Your Business Use?
While you've probably seen plenty of credit unions and banks in your life, there's a good chance you don't know what makes the two different.
After all, it's not like banks have big banners advertising the five things they do better than credit unions―or vice versa. If anything, both types of financial institutions seem to advertise the same products (like deposit accounts and financing).
No worries, though. There's no time like the present to learn how credit unions and banks compare―which is why we're here. We'll walk you through the key differences and help you decide whether your business will do better with a bank or a credit union.
Banks: Most convenient banking
More products and services
More locations and ATMs
Looser eligibility requirements
Lower deposit interest rates
Higher financing interest rates
Less focus on customer service
If you value convenience―like having lots of locations and lots of choices―then you'll prefer banks.
That's because banks offer more of just about everything. They have more locations and more ATMs, so you'll never have to travel too far to handle your banking. They also offer more products and more services, so you can take care of all your financing needs in one place. And since banks don't have many eligibility requirements, you'll also have more banks to choose from.
Of course, banks have their downsides. You'll get worse interest rates than you would from a credit union. And since for-profit banks care a lot about, well, profit, they tend to have worse customer reviews than credit unions do. You probably won't get top-notch customer service.
Even so, banks offer unparalleled convenience. And with so many banks for small business to choose from, we think you can find one that you'll like just fine.
Our top picks for small business banks
Data effective 1/10/23. At publishing time, rates, fees, and requirements are current but are subject to change. Offers may not be available in all areas.
Credit unions: Best banking experience
Higher deposit interest rates
Lower financing interest rates
Good customer service
Sometimes strict eligibility requirements
Fewer products and services
Fewer branch locations
If you want the best baking experience―from customer service to lower rates―then you'll probably do better with a credit union.
Since credit unions are nonprofits, they can afford to do more to make their customers happy. (You might even say they have to since their customers are also their owners.) Likewise, their nonprofit status gives them tax savings that they pass along to customers through better rates on loans and savings accounts.
You will have to deal with some trade offs―like fewer branches and a limited product selection. Especially if you're interested in business banking, you might have trouble finding a credit union that offers business accounts.
Still, if you can find a credit union that offers what you need, you'll probably have a great experience banking there.
First off, let's talk about what credit unions and banks have in common.
As we already mentioned, banks and credit unions offer similar products and services. They mostly offer deposit accounts (like checking accounts and savings accounts), though you might also find things like loans, credit cards, and other financial services.
| | | |
| --- | --- | --- |
| Features | Credit unions | Banks |
| Business type | | |
| Membership eligibility requirements | Yes | No |
| No. of branches | | |
| Products | | |
| Financing interest rates | | |
| Deposit interest rates | | |
| Deposit insurance | | |
Plus, both credit unions and banks have to follow strict regulations (set by either the federal or state government). And at both types of financial institutions, your deposit accounts get insured up to $250,000 (by the FDIC for banks and the NCUSIF for credit unions). So you can feel safe trusting banks and credit unions with your money.
That doesn't mean that banks and credit unions work just the same, though. In fact, they have quite a few differences you need to consider.
Banks are usually for-profit businesses, while credit unions are nonprofits (owned by the credit union members).
Why does that matter? Put simply, it means that banks care about the bottom line, while credit unions can focus more on giving members a good experience. So generally speaking, credit unions offer better customer service and more community services (like financial literacy classes) than banks do.
For-profit and nonprofit status also affects who can become a member.
In most cases, banks will let just about anyone become a customer. Yes, they might check your ChexSystems report when you open a bank account, and you will need to live in one of the states they service. But a bank doesn't care who you work for, what church you attend, or anything like that.
Credit unions, on the other hand, might care about just that. See, credit unions usually restrict membership to people who meet certain conditions, whether that's living in a specific county or working in a certain field. They're a bit more exclusive. That said, the exclusivity varies quite a lot from credit union to credit union.
For example, look at two popular national credit unions. Navy Federal Credit Union only serves members of the armed forces (and their families). If you haven't served in the military, you're out of luck. In contrast, anyone can become a member of Alliant Credit Union by asking Alliant to make a $5 donation to Foster Care to Success on their behalf.
Of course, the difference in exclusivity leads to differences in availability too.
Best Small Business Banks
In most cases, banks have more branches and ATMs than credit unions do.
A big bank like Wells Fargo has more than 5,000 branch locations and 13,000 ATMs, and even a regional bank like TD Bank has more than 1,000 branches and 2,000 ATMs.
For comparison, Navy Federal Credit Union―one of the biggest credit unions in the United States―has about 300 branch locations and 600 ATMs.
Of course, as long as you have a branch near your business (or you like online banking), the number of branches may not matter that much to you. And you should remember that many credit unions (and some banks) will reimburse you for out-of-network ATM fees.
Branches and ATMs aren't the only things banks offer more of―they also usually offer more financial products and services.
Yes, you can get a basic checking account or savings account from either a bank or a credit union. But banks often offer way more than that:
Money market savings accounts
Investment accounts
Credit cards
Home loans
Auto loans
Personal loans
Business loans
Credit unions can have some or all of those products, but they usually don't have as much as banks do. In fact, almost 40% of credit unions don't offer any credit cards.
For your personal banking needs, this might not matter much. But when it comes to business banking, you might have a hard time finding a credit union. Many credit unions don't offer business bank accounts at all. Only one-third offer commercial loans.1 Even if you like the idea of using a credit union for your business banking, you might have trouble doing so.
While credit unions don't have as many products as banks do, the products they have are quite competitive―at least when it comes to interest rates.
Credit unions have all-around better interest rates than banks do. As a rule, credit unions offer lower interest rates on loans and other financing, and they offer higher interest rates on deposit accounts. That means you'll save money on borrowing and make more on saving.
Now, the difference in average rates between credit unions and banks is small (less than 1% on many products). Still, even small differences can really add up when it comes to business loan rates on a $100,000 loan. So if you want the best rates, you should go with a credit union.
But interest rates are just one factor. Given everything we've discussed, should you choose a credit union or a bank?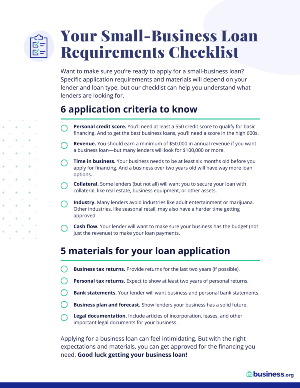 Applying for a small-business loan soon?
Our free checklist can help you understand what lenders are looking for.
Banks and credit unions both have strengths and weaknesses, which means that you need to think about your business banking needs when deciding between them.
If you care about having a great banking experience, complete with low rates and great service, then you should choose a credit union. But if you need to prioritize convenience and choices, then you go with a bank instead.
Either way, we hope you like your new financial institution.
Want a happy medium between credit unions and banks? Online banks often offer great rates and great choices. Find one on our rankings of the best online banks for small business.
Bank and credit union FAQ
Credit unions do some things better than banks do―they usually have better customer service and better interest rates―but that doesn't mean they're always better. Their eligibility requirements and limited locations mean they won't work for everyone.
Yes, credit unions are safe. They have to comply with federal or state-level regulations, much like a bank does. And just like with a standard bank account, your credit union deposit account will come with insurance for up to $250,000.
How do I choose a credit union?
To choose a credit union, you'll want to ask yourself a few questions:
Do I meet the credit union membership requirements?
Does it have branches or ATMs near me?
Does it have the account types or other products I need?
What kinds of fees does it charge?
Basically, you should ask yourself the same things you would when choosing a bank for your business.
Disclaimer
At Business.org, our research is meant to offer general product and service recommendations. We don't guarantee that our suggestions will work best for each individual or business, so consider your unique needs when choosing products and services.