How to Apply for a Business Loan Online
Once upon a time, applying for a business loan required you to do things like drive to a bank, meet with a loan officer, and even put on pants. But these days, you can apply for working capital from the comfort of your home―or your office―thanks to the magic of the internet.
So how do you take advantage of this loan application innovation? Easy. We'll walk you through the steps. Before you know it, you'll be clicking "Submit" on that online loan application.
How to apply for a business loan online
1. Figure out what type of business loan you want
Before you fire up your computer and apply for a business loan online, you need to know what kind of loan you want to apply for.
Seem obvious? Well, choosing a business loan can get complicated. First, you have to figure out what kind of loan you need and what kind of loan you can actually get.
The type of loan you need depends on how you'll use it. If, for example, you want to buy that cute bungalow on main street for your new salon, you'll probably want a commercial real estate loan. On the other hand, if you're purchasing a new screen printing press for your t-shirt business, you may want an equipment loan. And if you want financing you can use over and over, you'll probably want a business line of credit.
Choosing the right business loan for you
But just because you want a certain type of loan doesn't mean you'll qualify for it. If you're a brand-new startup, lenders probably won't give you a huge chunk of cash to buy real estate with, for example.
Remember, your business's creditworthiness will depend on a number of factors:
Your personal credit score
Your business credit score
Your business's annual revenue
Your business's age
Your collateral
Your debt load
Your business's industry
If you have an older business with high revenue and strong credit, you'll have a better chance at getting most types of loans. But if you have a younger business or poor credit, you may need to adjust your expectations accordingly and start looking at cash flow loans, like short-term loans, microloans, and invoice financing.
2. Find the right lender for your business
Once you've decided what type of business loan you want, you can start looking for a lender.
Since you already know what kind of loan you want, you can immediately narrow your search to lenders who offer that type of loan. After all, you won't have much luck getting a commercial real estate loan from a lender that only has lines of credit, like Fundbox.
To further narrow down your options, look back at those creditworthiness factors we talked about. Lenders will have different requirements for things like your credit score, annual revenue, and business age. Look for lenders whose requirements match up with your situation.
Traditional lenders vs. alternative lenders
Many traditional financial institutions (banks and credit unions) limit online loan applications. But the vast majority of alternative lenders are all about those online apps. Alternative lenders are also referred to as online lenders.
If you're not sure where to start, we recommend taking a look at Lendio. As a lending marketplace, Lendio lets you apply for a number of different lenders and business financing options―all with one online application.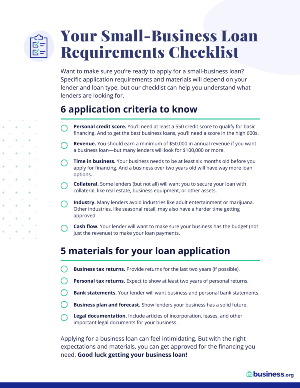 Applying for a small-business loan soon?
Our free checklist can help you understand what lenders are looking for.
3. Gather your loan application materials
Now that you know which lender you want to apply with, you can get your application ready.
Of course, the exact materials you need will depend on your lender. Some lenders require a lot of documentation, while others don't ask for much.
For example, SmartBiz connects you with government-backed SBA loans―meaning it needs a lot of information from you to meet the government's program requirements. Fundbox, on the other hand, connects with your business checking account or your accounting software―no documents like tax returns needed.
Your lender will let you know what it requires, but there are some commonly required documents:
Business tax returns
Personal tax returns
Financial statements
Business plan
Revenue projections
If you want to make the application process as quick as possible, try to have those (and any other essential documents) together before you get started.
And since you'll be applying online, you'll want to have these documents in a digital format. Hopefully you already have them as PDFs or other files―otherwise, it's time to fire up the old scanner.
4. Fill out and submit your online business loan application
By this point, you know what loan you want, you know what lender you're applying to, and you've got your materials ready. Now it's time for the main event―applying!
As we've mentioned, the exact application process depends on your lender. But in pretty much all cases, you'll look for that big, shiny "Apply Now!" button on the lender's site. Once you click it, you'll be directed to a form where you'll fill out basic information about yourself and your business.
After that, you might be asked to upload those supporting documents you prepared. Or for some lenders, you might be asked to link the lender to your business checking account. In some cases, you'll simply be told to expect a call from your lender within a few hours (in which case you'll probably upload all those other documents after the call).
With so many different application processes, we can't promise it will be a painless process (financial things rarely are). But any reputable lender should at least offer you clear direction at every step.
Before you know it, your application will be in. And ta-da! You've applied for a business loan online. But we're not done yet.
5. Wait for a decision on your loan application
Now comes the hard part: waiting for loan approval. Not to sound like a broken record, but how long you'll have to wait will depend on your lender.
Some lenders, like Fundbox and Kabbage, promise a decision within minutes. Others, like Lendio, take a couple of days. And some lenders will take even longer, especially if you're applying for a bigger or more complicated loan.
Sooner or later, you'll get your answer.
6. Use your business loan―or regroup
With any luck, you got good news and were approved for your loan. Congrats! Now you can use that funding to build your business. And though this probably goes without saying, make sure you repay the loan on time to get approved for bigger and better financing options in the future.
Making payments
Many online lenders take automatic payments from your business checking account, so make sure you keep enough money in that account. And remember, lots of online lenders require weekly payments instead of the monthly payments you might find at other financial institutions.
Unfortunately, not every would-be borrower gets approved. That doesn't mean you have to give up on getting business financing, though. There are plenty of lenders in the sea.
You might want to focus on finding lenders that can better meet your needs. For example, if you got turned down because of a negative credit report, look at loans for bad credit. If the young age of your business is a problem, narrow your focus to loans for startups.
Other ways to get working capital
Traditional loans aren't your only option. You can also look at other solutions for business financing, like getting a personal loan or borrowing from friends and family. These might not be the most glamorous funding sources, but they've helped many small-business owners and their businesses over the years.
Hopefully, you'll find the right lender for you and get the cash you need.
Want more options? Fund your business with a personal loan.
No matter what type of business financing options you're interested in―from business lines of credit to equipment financing to traditional loans―you can easily apply online.
Once you know what kind of loan you want and what lender you want to get it from, it's just a matter of getting the right materials together and submitting your application―all from the comfort of anywhere with internet access. And then, through the power of the internet, you can hopefully get the working capital you need.
Want to be an educated borrower and make sure you understand how much your loan will cost you? Check out our guide to APR.
FAQs
Can you apply for a business loan online?
Yes, you can apply for a business loan online―otherwise, we wouldn't have written this guide!
There are some exceptions, though. For example, some banks and credit unions make you apply for business loans at your local branch. And even online loan applications may require offline effort, like phone calls and faxes.
How hard is it to get approved for a small-business loan?
Business loans may be harder or easier to get depending on the type of loan, the lender you're applying with, and your own qualifications.
Traditional loans from a bank, for example, require you to have high business revenue, a high credit score, and several years in business under your belt. Working capital loans like merchant cash advances or invoice financing, on the other hand, have much less strict eligibility requirements.
You can boost your chances of getting approved by looking at funding types and lenders that you can qualify for.
What do lenders look for when applying for a business loan?
Lenders look at many factors when you apply for a business loan, including your personal credit history, debt load, business revenue, industry outlook, and collateral you have to offer.
What should I ask before applying for a business loan?
Before you apply for a business loan, you should make sure you understand all the terms and costs that come along with it. For example, ask your lender about the interest rates and fees on the loan (including whether the loan has an origination fee or prepayment penalty), and make sure you understand the repayment terms of the loan.
Disclaimer
At Business.org, our research is meant to offer general product and service recommendations. We don't guarantee that our suggestions will work best for each individual or business, so consider your unique needs when choosing products and services.