How to Get a Business Loan without Collateral
While the need for collateral is difficult to escape in the small-business loan world, there are some options available if you want a loan without collateral.
Loans can be a scary process for everyone involved—both for you as a small-business owner hoping to make a profit and for the lenders hoping to get their money back and then some. That's part of the reason collateral exists in the first place. It reassures lenders that they will get the value for their money back even if borrowers can't repay the loan.
But what if you don't have any business assets to offer as collateral? Or what if you just don't want to worry about it? Whatever your reason, options beyond typical bank loans do exist.
These loans aren't completely without security, and they come at a high price. But one of these unsecured business loans should fit your small business's needs if you want a business loan without collateral.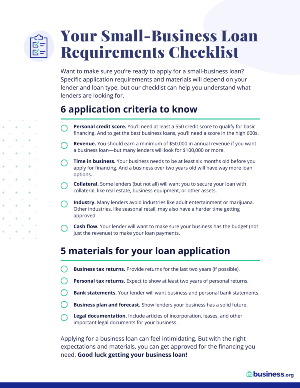 Applying for a small-business loan soon?
Our free checklist can help you understand what lenders are looking for.
Step 1: Understand the basics
The first thing to do when looking for any loan, but especially ones without collateral, is to make sure you understand the basics. So what exactly is collateral?
Collateral is any asset lenders can take as repayment if you default on your loan. For example, personal loan collateral might include your car, your giant diamond ring, or even your home. But business loan collateral is more likely to be equipment, inventory, or even land or buildings. Basically, lenders use collateral as a security measure against the risk that you won't be able to repay your borrowed money. That's why any loan with collateral is also called a secured loan. Traditional financial institutions choose secured loans because they are a safer bet.
What is an unsecured loan?
So if there are secured loans, that begs the question: Do unsecured loans exist? They do! And sure enough, an unsecured loan is simply a loan that doesn't require collateral. But the name is a little misleading. It may sound like you're getting a loan without any threat of losing anything if you default, but that's not really the case. Most unsecured loans are protected by a personal guarantee or a blanket UCC lien. Not sure what these are? Don't worry; we've got answers.
A personal guarantee means that should your business default on the loan, you, as a business owner, are personally responsible for repayment. So the lender could take your car or other personal property if you don't pay back the loan.
A blanket UCC lien means that if your business defaults on the loan, the lender has permission to come after any of your business assets—those industrial mixers or that forklift—to make up the lost money. So whether you choose a secured or unsecured loan, you still can't escape the responsibility of repaying your loan in full.
Why get an unsecured loan?
If you were hoping for a business loan without collateral to avoid responsibility, then a business loan, in general, isn't the right choice for you (really, you should never take a loan you're unsure you can pay off).
But if you just want to avoid the hassle of collateral—or if you don't have enough assets to offer as collateral for the amount of money you need—you've still got options. Alternative lenders offer quality unsecured business loans, and they can often get you a faster, larger loan than a traditional lender could get you with a secured loan.
These alternative loans come with higher interest rates and shorter terms because they're less secured, but there are lots of options. And now that you know the basics of small-business loans, you can decide which type of unsecured loan is right for your small business.
Unsecured business loans pros and cons
No collateral
Faster applications
Larger potential borrowing amount
High interest rates
Short terms
Possible personal guarantees or blanket UCC liens
Step 2: Choose the right type of loan
SBA loans are backed by the government's U.S. Small Business Administration (SBA). While the SBA doesn't lend money itself, it teams up with approved lenders to give qualified borrowers lower rates and better deals on loans. The SBA usually requires collateral (and that collateral will help you get those better rates), but you can use a personal guarantee instead with the SBA 7(a) loan program.
The SBA decides whether you're qualified for a loan from one of its lenders, and your credit score plays a large part in getting approved. So if you use that option, make sure that your credit history is strong (for the SBA, credit history includes whether or not you've been rejected for loans from other traditional lenders). If that credit history is strong, you can have your loan in 5–10 business days.
If this caught your attention, and you'd like to learn more, then be sure to check out our Types of SBA Business Loans where we get into the nitty-gritty details.
A business credit card works similarly to a personal credit card and may be one of the simplest options if you don't want collateral. Business credit cards are essentially a line of credit attached to a credit card, so it limits the way you can spend your loan (for example, you can't use it for payroll). But it can be an easy option without too much hassle, especially if you have an excellent credit score.
There are many credit card choices out there, so choose one with benefits and fees that will best serve you and your business before you apply for a business credit card.
A line of credit is a loan that allows you to borrow up to a specified amount, and when you repay the loan, you pay interest only on the money you actually spend. The nice thing about lines of credit is that they can be used in a lot of different ways, from paying for equipment to even covering your payroll.
But brands that offer lines of credit often require collateral, so you'll be limited in the brands and rates you get when it comes to options without collateral. One brand that offers an excellent line of credit without requiring any collateral is Kabbage, whose line of credit comes with a Kabbage Card. Kabbage provides the best of both worlds: a business card that isn't limited to what a typical business credit card would be.
If this sounds like your cup of tea, then feel free to also check out our How Do I Get a Business Line Of Credit where we share our tips and tricks (mostly tips).
Merchant cash advances (MCAs) are by far one of the most expensive loans you can get when it comes to interest rates, but they are the one type of unsecured loan that are genuinely unsecured—no personal guarantee or blanket UCC lien.
That's because merchant cash advances work so that you get a sum of money upfront, and then the lender takes a portion of your daily credit card sales until the loan is paid off. So while you don't have to put anything on the line for security, you sacrifice a large portion of your future cash flow, depending on what size loan you take.
Merchant cash advances can be risky, but they can also be great for fast cash. One of our favorite brands for just that is CanCapital, which not only doesn't require a personal guarantee but also doesn't require a credit check.
Still like the sound of that, though? We've got you covered with our 9 Best Merchant Cash Advance Companies 2022.
Equipment financing is when you borrow funds to buy additional equipment (any tangible resources or materials your company needs, from company cars to printers). It doesn't require additional collateral because the equipment itself acts as collateral if you default on the loan.
If you need funds for additional equipment, this will likely be the most convenient route for you. Lendio is our favorite online marketplace to compare options for equipment financing.
Sounding nice? Then check out our Best Equipment Financing Lenders for Small Businesses 2022.
Equity financing essentially means that an investor, such as an angel investor, provides the funds you need. In return, you give your investor a potential stake in your company (either some ownership or a share). If you don't want to give up a portion of your business, this may not be the right choice for you.
But if you aren't against it (maybe the fact that you don't have to repay the loan sounds promising), or if you know personal friends or family who could be excellent investors and a good match for your company, this could be an easy way to get the funds you need.
Peer-to-peer financing means that instead of borrowing through a bank loan or even an alternative lender, you lend and borrow directly with other investors through online platforms.
For this financing, you usually need excellent credit history, and the investors will charge high interest rates. But you don't have a lot of added fees, and there's no collateral necessary. Peer-to-peer financing is the most direct loan you can get—if this appeals to you, we recommend going to Lendio to find the best options available.
Similar to peer-to-peer financing, crowdfunding allows you to raise business funds from various people through online crowdfunding platforms. This is a good choice for startups that may need to be more creative in finding funds. You don't need collateral to get on most crowdfunding websites—you just need a promising idea and business plan to convince people to help fund your small business.
While you can legally raise up to $1 million with crowdfunding websites,1 crowdfunding is also really good for microloans, so it can suit your needs, whether big or small. If you're looking for a good crowdfunding website to get you started, Kiva is one of the best out there.
Feel like this option might be for you? Then check out our  Best Crowdfunding for Startups 2022 where we help you clear any doubts.
Step 3: Apply for the loan
Once you've decided what type of loan you want and which lender you'll use, the next step is to apply. Most online alternative lenders have much faster applications and application turnaround than traditional lenders. So if all your paperwork is in order and you have good qualifications (high credit scores, solid proof of business growth), you could be done with your application and approved for your funds in less than 24 hours.
Also, we know applying for a loan can be overwhelming on its own, so we've provided a clear guide on how to get a business loan that can answer any questions you have over those nitty-gritty details.
Don't qualify for a business loan? Get a personal loan instead.
Step 4: Build your business
After you've gotten your loan, be sure to focus on (of course) paying off that loan, but also continually building your credit and growing your business. As your assets grow, you have a better chance of using those assets for collateral if you need future loans. That will not only give you access to better rates, but it will also prove to your lenders (and yourself) that you deserve the best rates and are not a scary lending risk.
Also, keep in mind that lenders sometimes look at your personal credit score too, so be sure to keep that credit history just as strong as your business's credit score, even if you're not looking for any personal loans.
The good news is, if you don't want to use collateral—or don't have collateral—for a loan, you don't have to! A wide variety of unsecured loans are available to help you get the funds you need without that stress. Because of that variety, make sure you wisely choose the loan that will best suit your small-business needs.
Don't think unsecured loans are right for you after all? Take a look at our rankings for best small-business loans to discover all of your options.
Business loans without collateral FAQs
What do I need to get an unsecured loan?
If you're not going to offer collateral, you should ensure that you have an excellent credit score, good cash flow, and a promising business plan. Individual lenders, including those that offer the best unsecured business loans, will rank those factors differently. But without a high credit score and proof that your small business is and will continue to be successful, getting an unsecured loan is going to be harder because you are more of a risk to the borrower.
What should I do if I have bad credit?
If you don't have good credit, your best options might be merchant cash advances, equipment factoring, or crowdlending—they rely less on credit and more on other qualifications. However, if you are determined to get a loan with bad credit, you may want to consider other avenues, like secured loans.
Disclaimer
At Business.org, our research is meant to offer general product and service recommendations. We don't guarantee that our suggestions will work best for each individual or business, so consider your unique needs when choosing products and services.