A Guide to SBA 7(a) Loans
In 2020, the U.S. Small Business Administration (SBA) backed over $22 billion in SBA 7(a) loans,1 making them a key funding option for small businesses. Business.org explores SBA 7(a) loans, their requirements, and the best SBA lenders.
Thanks to their low interest rates, high loan ceiling, and extended repayment terms, SBA 7(a) loans are the most popular and straightforward U.S. Small Business Administration payouts. Plus, they can be used for a variety of purposes.
We understand that financing is complicated, and navigating through a handful of funding options may feel like finding a needle in a haystack. Fortunately, Business.org has your back. Here's some further insight to see if the SBA 7(a) loan guaranty program is the right financing option for you.
SBA 7(a) loans and business resources
The SBA, which stands for the U.S. Small Business Administration, is a federal agency that gives budding entrepreneurs the same access to working capital as well-established organizations.
The most common misconception about the SBA is that the agency actually lends money to businesses. On the contrary, the SBA uses federal money to guarantee up to 85% of the loan amount provided by banks and other loan providers. This means less risk for lenders. And less risk for lenders means more small businesses will be considered for traditional lower-rate financing.
SBA loan benefits don't stop there. As we mentioned above, SBA 7(a) loans are designed for a wide variety of uses:
Establishing working capital
Refinancing debts
Purchasing equipment
Buying land
Expanding existing businesses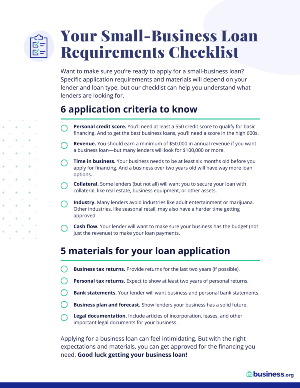 Applying for a small-business loan soon?
Our free checklist can help you understand what lenders are looking for.
SBA 7(a) loan rates and terms
The SBA 7(a) loan terms are some of the most ideal on the market, offering flexibility, longer terms, and lower down payments compared to other small-business loan options. Participating lenders set their interest rates based on the loan term and size, daily prime rate (a base rate on loans determined by banks), and a fixed base rate known as the spread (the average difference between interest rates for borrowers and depositors). The daily prime rate goes up or down depending on how the US economy is doing.
The current maximum interest rate ranges from 5.5% to 8%. This number is determined by the size of the loan. If you have excellent credit, you may be able to negotiate a lower interest rate. Depending on which lender you're partnering with, you may also be charged an origination fee or a loan packaging fee. Terms are up to 7 years for working capital, 10 years for equipment, and 25 years for real estate.
Each loan is unique, so it's difficult to say how quickly you'll receive funding. SBA Express loans and SBA 7(a) Advantage loans, two variations of the standard SBA 7(a) loan, are available to speed up the approval process.
SBA 7(a) loan requirements
SBA 7(a) loans aren't the easiest loan program to qualify for. They require a credit score of at least 650 and a gross annual revenue of $100,000 or more. You'll also need to be in business for at least two years. Businesses with recent bankruptcies, foreclosures, or tax liens will most likely be denied funding. To speed up the approval process, round up the following documents:
3 years of business tax returns
3 years of personal tax returns
Copy of original business license or certificate
Records of loan application history
Business lease
Resumes for each principal
YTD profit and loss statement
YTD balance sheet
Debt schedule
When it comes to qualifying for a business loan, there's no one-size-fits-all answer. Most lenders take a number of factors into consideration. If you'd like to learn more about how to get approved for a business loan, we encourage you to explore the most important business loan requirements.
SBA 7(a) loan down payment
When applying for an SBA 7(a) loan, be prepared to submit a 10% down payment before receiving the funds. For loans of $350,000 or higher, you may also have to secure the loan with some collateral. If you don't have enough business collateral, offering personal collateral will help you qualify.
Don't qualify for a business loan? Get a personal loan instead
Of all the types of SBA business loans, the 7(a) and 504 are among the most popular. Both offer a slew of benefits for small-business owners, but they have slight differences.
Created for small businesses looking to buy or build commercial real estate, CDC/504 loans are made up of two different loans. One comes from a bank that funds about 50% of your financing, and the other comes from a local community development corporation (CDC) who funds about 40%. The leftover 10% will come from the borrower.
When applying for a CDC/SBA 504 loan, your business must monopolize at least 51% of an existing commercial building or 60% of a new one. Similar to SBA 7(a) loans, CDC/SBA 504 loans require a credit score of 680 and have a maximum loan amount of $5,000,000.
The CDC determines the rates, fees, and terms of the loan. For 10-year loans, you'll have a 2.231% fixed interest rate. If you opt for a 20-year loan, be prepared to pay 2.364% fixed interest.
Data effective 11/21/20. At publishing time, amounts, rates, and requirements are current but are subject to change. Offers may not be available in all areas.
Lendio is an online marketplace that helps business owners see all of their loan options to help them find the best rate. Its SBA loan amounts range from $50,000 to $5,000,000 with 10- to 30-year loan terms. If you're looking for fast funding, look elsewhere. Lendio takes 30 to 90 days to fund the loan.
To help navigate your SBA loan options, take advantage of Lendio's personal loan manager.
SmartBiz caught our eye thanks to its low rates, which range from 4.75% to 7%. Plus, its platform offers a fast, less cumbersome way to apply for an SBA loan. It does, however, require more documentation than other online small-business lenders.
If you have shaky finances, you may need to seek funding elsewhere. The typical SmartBiz borrower has at least two years in business and an annual income of at least $100,000.
As a giant financial institution, Wells Fargo has helped countless small businesses grow. Its terms are up to 7 years for working capital, 10 years for equipment, and 25 years for real estate.
As a bonus, Wells Fargo's customer service ratings are more favorable than most corporate giants. If you don't mind working with large corporate entities and have a solid credit history, Wells Fargo is worth considering.
An SBA loan from Bank of America is one of the most sought-after loans out there. Ranging from $350,000 to $3.5 million, the SBA 7(a) loan from Bank of America is a great option for small-business owners looking for flexible, low-cost funding to start or expand their businesses. It also matches Wells Fargo's terms: 7 years for working capital, 10 years for equipment, and 25 years for real estate.
It's worth noting that the typical time to fund is roughly three weeks, which beats some of the other lenders on our list.
JPMorgan Chase Bank consistently stays ahead of the pack thanks to the sheer volume of SBA loans it processes and funds. Chase offers three different SBA loan programs: the 7(a), the CDC/504, and the SBA Express. Although Chase doesn't have a hard-and-fast rule on what interest rate it charges you, rest assured that the SBA sets a cap on how much it can add on to the national prime rate. In a rough estimate, your Chase 7(a) loan won't have an interest rate of more than 10%.
Hint
Searching for a more thorough list of SBA lenders? You can locate additional local SBA lenders through sba.gov.
Your SBA loan payment is determined by loan amount, interest rate, and terms. You'll also have to pay a guarantee fee, which is usually a percentage of the loan based on how much of the loan is guaranteed and the length of the repayment term. How much you borrow is influenced by qualifying components, including your personal credit score, financial projections, what you can afford, and how the loan will be used.
Avoid surprise costs by discussing additional fees with the lender, such as application fees and origination fees. To possibly reduce loan costs, ask your lender about discounts and any potential prepayment penalties.
Estimate your loan payments through our free SBA business loan calculator
SBA-backed loans, particularly the 7(a), are a hot commodity in the loan marketplace thanks to their lower rates. Although they may be considered a last resort for business owners who can't get approved for traditional funding, they can help you start, maintain, or expand your business.
Think a 7(a) loan sounds right for you? Learn how to get an SBA loan for your business.
Disclaimer
At Business.org, our research is meant to offer general product and service recommendations. We don't guarantee that our suggestions will work best for each individual or business, so consider your unique needs when choosing products and services.