What Is an Unsecured Loan?: No-Collateral Loans for Your Small Business
An unsecured loan is any loan that doesn't require specific collateral to get. Sounds simple, right?
Well, turns out there's a bit more to it than that. Unsecured loans might not be quite as unsecured as you think. And unsecured business loans have both upsides and downsides that you should know about before you rush out and get one.
In this guide, we'll take you through the ins and outs of unsecured business loans so you can decide if they're right for your business.
To understand unsecured loans, you need to know what a secured loan is first.
Put simply, a secured loan is a loan that's secured with collateral. That just means that you're telling your lender that if you default (don't repay) your loan, they can take your collateral as payment.
You can use many kinds of assets as collateral:
House or other real estate
Cars and other vehicles
Business equipment
Business inventory
Other valuable property
But what if you don't have any of those assets to offer? Or what if you don't want to offer them?
That's where unsecured loans come in. An unsecured loan is just any secured loan, except you don't need to offer up collateral to get it.
You might be wondering, then, why you'd ever choose a secured loan over an unsecured loan. After all, why offer to let the bank take your house if you don't have to?
Well, there are a few reasons you'd choose one over the other.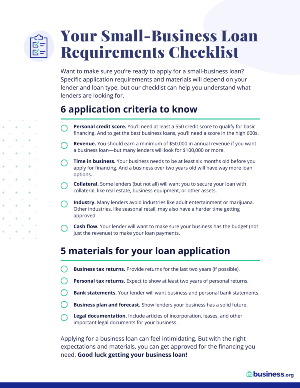 Applying for a small-business loan soon?
Our free checklist can help you understand what lenders are looking for.
Unsecured loans vs. secured loans
Unsecured loans and secured loans each have some distinct advantages and disadvantages because, as it turns out, collateral makes a big difference in how a lender approaches your loan.
How unsecured loans and secured loans compare
| | | |
| --- | --- | --- |
| Factor | Unsecured loan | Secured loan |
| Collateral | Not required | Required |
| Approval time | Faster | Slower |
| Interest rate | Higher | Lower |
| Repayment term | Shorter | Longer |
In most cases, an unsecured loan will have a higher interest rate than a comparable secured loan. That's because the lack of collateral makes the loan riskier for the lender. As a result, you end up paying more to compensate for that risk.
It's the same with your loan term. Your average unsecured loan will have a shorter repayment term than your average secured loan. Again, it comes down to that risk. Without collateral, your lender wants you to repay your loan more quickly. That way, there's less chance of your defaulting.
Unsecured loans do have some advantages, though. There's the whole no collateral thing, which can be a big deal for some borrowers. Plus, unsecured loans usually have much faster approval and funding times than secured loans do, because if you're not offering collateral, the lender doesn't have to take the time to evaluate it.
In other words, if you want to get a lower interest rate and longer loan term, you're better off with a secured business loan. If you want a faster funding turnaround and to keep your assets to yourself, then an unsecured loan will be more your style.
But before you make your final choice, there's one more thing you should know about unsecured loans.
Personal guarantees and liens
Here's the uncomfortable truth about unsecured business loans: they aren't entirely unsecured.
Pretty much any lender that offers unsecured loans will still require either a  personal guarantee or a UCC lien.
A personal guarantee is basically your commitment that a lender can go after your personal assets if you fail to repay your loan. So your house, your car, the money in your personal bank account―all of it can potentially get taken by your lender. (Potentially is the key word, though. We'll come back to that in just a second.)
A UCC lien (or Uniform Commercial Code lien) serves as a blanket lien on your business assets. As with other types of liens, it means your lender has a legal right to the specific property if you default on your loan.
But―and this is a very important but―your lender cannot take either your personal assets or your business assets willy-nilly. Whether you agree to a personal guarantee, a UCC lien, or both, your lender can't go after your assets unless you fail to repay your loan. And even then, they'll have to go through specific legal channels to enforce their right to your property.
That's why we'd encourage you not to worry too much about a personal guarantee or UCC lien. You might think they're a major downside to unsecured loans, but they're the only reason lenders offer unsecured loans in the first place. Without a personal guarantee or UCC lien, you probably just wouldn't get approved for a loan at all.
So don't panic. Go ahead and get an unsecured loan if you want one.
Want more options? Fund your business with a personal loan.
We're focusing primarily on unsecured business loans (what else would you expect from Business.org?), but we wanted to point out that everything we've talked about applies to other kinds of loans too.
In fact, you can get all of the following (and more) as an unsecured loan:
Business loan
Personal loan
Auto loan
Student loan
Credit card
That said, you'll have an easier time getting some types of unsecured loans than others. Unsecured personal loan or student loan? No problem. Unsecured car loan? A bit harder, because in most cases (but not all), your lender requires the vehicle you purchase with your auto loan to serve as collateral for the loan.
Then there are some loans that are almost impossible to get without collateral. For example, good luck finding an unsecured real estate loan. Whether you're looking at a commercial mortgage or a home equity loan, your property will double as collateral.
Now, back to business.
Where to get an unsecured business loan
Ready to get an unsecured business loan? We have some recommendations.
Generally speaking, you'll have an easier time getting a business loan without collateral from an online lender (also called an alternative lender).
That's not to say you can't get an unsecured loan from a bank or credit union―just that most traditional lenders offer only one or two unsecured loans (at most). In contrast, few online lenders require collateral.
Data effective 5/31/2022. At publishing time, amounts, rates, and requirements are current but are subject to change. Offers may not be available in all areas.
With an unsecured business loan, you don't have to offer up collateral to get approved.
You should keep in mind that an unsecured loan comes with some drawbacks for you as a borrower, like higher interest rates and shorter repayment terms. But the faster loan application and funding time―plus the lack of specific collateral―might make it worth it anyway.
Think you might be interested in a secured business loan instead? Learn more about how much collateral you need to get a business loan.
Do you have to have good credit to get an unsecured loan?
You don't necessarily need good credit to qualify for an unsecured business loan.
Some online lenders offer unsecured loans with very low credit score requirements. Fundbox, for example, requires only a 500 credit score.
So you can absolutely get an unsecured loan even if you have bad credit (assuming, of course, that you meet all the other borrower requirements).
Can you get a truly unsecured loan with no lien or personal guarantee?
Look, we don't want to say it's impossible to get an unsecured business loan without offering a personal guarantee or a UCC lien―but you'll have a hard time finding one.
Just remember that as long as you pay back your loan on schedule, you don't need to worry about that personal guarantee or lien. So it shouldn't be an issue. And if you're not sure you can repay your loan on time, then we suggest you take a long hard look at whether or not you should be borrowing in the first place.
Can you get an unsecured SBA loan?
It's not impossible to get an unsecured SBA loan―but don't count on it. The U.S. Small Business Administration (SBA) urges lenders not to turn you down just because you don't have collateral (assuming you meet all other qualifications). But if you do have collateral, you'll be expected to secure your SBA loan with it.
Disclaimer
At Business.org, our research is meant to offer general product and service recommendations. We don't guarantee that our suggestions will work best for each individual or business, so consider your unique needs when choosing products and services.