How Much Collateral Do You Need to Get a Business Loan?
A lack of collateral doesn't have to keep you from getting a business a loan.
So you want to get a business loan, but you're not sure you have the collateral to do so. You're not alone. Lots of small-business owners search for unsecured and collateral-free loans for just that reason. But how do you know if your business has enough collateral to get funded?
In this guide, we'll give you a quick refresher on what collateral is and how it works, and then we'll break down how much collateral you need to get business financing. We'll also explain how to get financing if you don't have any collateral.
Let's answer your collateral questions.
What is collateral, and why do you need it?
Collateral is an asset (property) that you promise to a lender when you take out a loan. If you default on the loan by not making payments, the lender can take that asset. It's basically the lender's way of making sure you don't bail on the loan and leave them empty-handed.
If you pay back the loan as scheduled, then the collateral remains yours―no problem. It's only if you default that the lender can seize it.
When you use collateral to get a loan, that's called securing the loan. So collateral-based loans are called secured loans, while collateral-free loans are called unsecured loans.
Do personal loans require collateral?
Many types of loans require collateral, including various kinds of personal loans and business loans. (Of course, we'll mostly be talking about business loans in this guide.)
Lenders will often ask what collateral you have as part of the loan application process. So before you start your application, you might want to take stock of what you have―and what you're willing to offer.
While offering collateral might sound like a bummer, it does give you some advantages.
As a rule, secured loans (again, that's loans with collateral) have lower interest rates than unsecured loans. That's because the collateral decreases the risk for the lender. You're more likely to pay up to keep your collateral safe, and if you don't, the lender can sell the collateral to make up its loss.
Other factors
Remember, collateral is just one part of your loan application. Other things, like your personal credit history, your business credit score, and your revenue will also affect your interest rate, repayment term, and loan amount.
Likewise, secured loans often come with longer loan terms than unsecured loans do. The lender has less risk, so it gives you longer to repay the loan.
Valuable collateral can also increase the amount of funding you get. Secured loan amounts often correlate strongly with the collateral you have, so the better your collateral, the bigger your loan opportunities. (That's not always true, but it's a good rule of thumb.)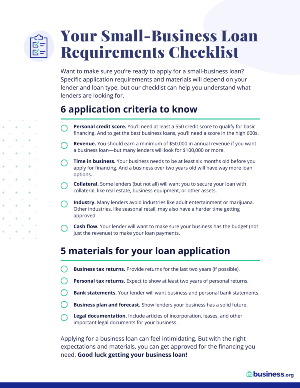 Applying for a small-business loan soon?
Our free checklist can help you understand what lenders are looking for.
What can I use as collateral for a small-business loan?
You can use all sorts of business assets as collateral:
Business equipment
Commercial real estate
Company vehicles
Certificates of deposit
Bonds
Accounts receivable
But if you don't have those types of business assets, don't worry. You can use various personal assets as collateral too:
Home and other real estate
Personal vehicles
401(k) and other retirement accounts
Keep in mind that you may need to get your collateral professionally appraised before your lender will accept it (especially if you're taking out a larger loan). Your lender can give you instructions on how to do this.
How much collateral do you need?
Now you understand how collateral works. But how much collateral do you actually need to get a business loan? You might not need any.
Yes, you read that right. While collateral has historically been a big part of business lending, the financing world has changed. Alternative lenders, also known as online lenders, often don't require any specific collateral―just a personal guarantee and maybe a lien. (We'll explain this in-depth below.)
Of course, some lenders do still require collateral.
Take traditional banks. Many traditional banks offer some unsecured (no collateral) loans. But their biggest, lowest-rate loans must be secured with collateral. Wells Fargo and Bank of America, for example, both work this way.
Note that banks and credit unions set their own collateral requirements, so some banks might have lower requirements than others. But don't be surprised if a bank sets your credit limit at the value of your collateral. So if you offer a $150,000 certificate of deposit as collateral, the bank might set your credit limit at $150,000.
Put simply, that means you need an amount of collateral equal to the amount you want to borrow. Again, that might not apply in all cases, so ask your lender.
Thanks to the U.S. Small Business Administration (SBA), you can get government-backed loans with low rates and long repayment terms. SBA loans have a bunch of specific borrowing requirements―one of which is collateral.
Now, SBA-guaranteed loans don't require a specific amount of collateral. In fact, SBA policy says that you shouldn't get turned down for a loan just because you have insufficient collateral (assuming, of course, your application would get approved otherwise).
So while the SBA will take anything it can as collateral (including your home or other personal real estate), you don't need to worry about having enough collateral to get an SBA loan.
In addition to some lenders having collateral requirements, some types of loan have pretty standard collateral practices.
With commercial real estate loans, the real estate you purchase with the loan pretty much always does double duty as loan subject and collateral. That's why lenders won't let you buy just any old property with their loans. They want to make sure you're buying a property that can be sold to recover costs, if you default on your loan.
Equipment financing works much the same. Whatever equipment you buy with your loan will also be the collateral for your equipment financing.
So you may not need additional collateral to qualify for either of these types of loans.
As an added bonus, the built-in collateral often helps to keep interest rates down on these financing types. Nice, right?
Invoices as collateral
While it's not technically a loan,
invoice factoring
(also called invoice financing or accounts receivable financing) also comes with built-in collateral. It uses unpaid invoices as collateral.
Can you get a business loan without collateral?
But what if you really don't have collateral for your loan? Well, as we mentioned above, most alternative lenders don't care. They're not looking for any specific collateral from borrowers, and they offer unsecured business loans.
You won't get off quite scot-free, though. Because even though online lenders don't demand specific types or value of collateral, pretty much all of them will ask for either a personal guarantee, a UCC lien, or both.
Personal guarantees and UCC liens
A personal guarantee basically means that you agree that you are personally liable for your loan. So if you default (stop making payments) on your loan, that liability means the lender can go after your personal assets (not just your business assets). Anything from your car to your house to money in your savings account to artwork is fair game.
When is a personal guarantee enforceable?
Remember, a lender can't go after your belongings willy-nilly. It's only if you default on your loan that they can do so―and even then, they'll probably need a court order first.
A UCC lien (Uniform Commercial Code lien) is a blanket lien on your business assets. In other words, pretty much everything your business owns serves as collateral, but the actual value doesn't matter. UCC liens are a little special because they give your lender first priority on your assets over other lenders.
If either of those definitions makes you feel panicky, we get it. But it's okay. If you repay your loan on schedule, you don't need to worry about a personal guarantee or a UCC lien. Just make proper payments, and your stuff is safe.
Plus, we want to point out that personal guarantees and UCC liens have actually been a good thing for a lot of business owners. Without them, a borrower who doesn't have enough collateral would probably just get turned down for business financing. With them, more business owners can qualify for the loans they need. That's good news, as far as we're concerned.
Personal guarantee or lien?
Note that some online lenders just require a personal guarantee. Some just require a UCC lien. Some require both.
Where to get an unsecured business loan
Most of the lenders on our list of the best small-business loans offer unsecured loans that don't require specific collateral.
But if you're interested in unsecured loans that require only a personal guarantee (and not a UCC lien), check out our rankings of the best unsecured business loans.
As a business owner with a lot on your plate, you don't need to waste time worrying about whether or not you have enough collateral. Hopefully our guide has helped.
Now you know why you need collateral and what you can use as collateral―plus you have some options for business loans without collateral, if that's more your thing.
Whichever way you decide to go, we hope you're able to get the financing you need.
Avoid defaulting on your loan by understanding the costs before you borrow. Use our business loan calculator to estimate your financing costs.
Don't qualify for a business loan? Get a personal loan instead.
FAQs about collateral and small-business loans
How important is collateral in my business loan application?
When you're applying for a secured business loan, collateral is important―but it's not the only thing that matters. Lenders will use many factors to evaluate your creditworthiness:
Personal credit score
Business credit score
Number of years in business
Annual revenue
Cash flow
(The same is true when you apply for an unsecured loan.)
Are there any truly unsecured business financing options?
While we generally don't recommend them, merchant cash advances usually don't require you to have business assets or to agree to a personal guarantee or UCC lien. Instead, your provider will take a percentage of your future credit card sales.
Is securing a loan with collateral safe?
Yes, your assets will be safe when you secure a loan with collateral―as long as you repay the loan on time. Remember, lenders have to follow lots of rules and regulations. They can't just go seizing collateral at the drop of a hat.
Disclaimer
At Business.org, our research is meant to offer general product and service recommendations. We don't guarantee that our suggestions will work best for each individual or business, so consider your unique needs when choosing products and services.