How Do Business Loans Work?
Nearly a quarter of new businesses spend over 50 grand to get up and running.1 If you're unable to invest any more of your own money into your small business, you might ask, How do business loans work?
---
Last Updated: Less than 6 months
Small businesses can now receive government aid to meet payroll through the Paycheck Protection Program. The program costs $349 billion of the $2.2 trillion stimulus package and allows small businesses to receive money totaling 250% of their average monthly payroll in 2019.
The loans max out at $10 million and can be used at the discretion of the business. The loan can be forgiven, however, if certain requirements are met. If no employee is compensated above $100,000 and at least 75% of the money goes to paying workers, the entire loan may be forgiven.
Loans that are not forgiven must be repaid in two years at a 0.5% interest rate after six months of interest deferment.
The only way to apply for these loans is through an SBA authorized lender
. Applications open on Friday, April 3, and close on June 30. The application consists of a two-page form in addition to required documentation.
To see if you qualify,
apply at a Paycheck Protection Program authorized lender
.
More than 6 months
Are you in an area affected by the coronavirus? The U.S. Small Business Administration (SBA) is offering Economic Injury Disaster Loans. If you qualify, you can get up to $2 million and a 3.75% interest rate. You can visit the
SBA website
or your local SBA office to apply.
Even if you're already familiar with personal loans for education, cars, or homes, business loans can still be hard to figure out. The qualifications you need and terms you should expect can change quite a bit when it's your business, and not you, that needs the money. In this article, we'll explain how small-business loans work, what types of loans exist, and how to track down a loan for your own business.
Business loans overview
Most likely, the same local bank or credit union that gave you a loan for your car also offers small-business loans. And some of the best rates will come from these local places that want to see you succeed. After all, your business could benefit the entire community if it does well. But many banks and credit unions are reluctant to give out business loans, so for borrowers who are unable to secure a loan from the bank, online lenders are a great option.
When compared to banks, online lenders offer much higher success rates for similarly sized business loans. However, it might still be a good idea to check with a local bank first to see if you can take advantage of lower rates. Still, no matter which lender you choose, be sure to do a little number crunching and research. You want to have a good idea of what type of loan you need, how much money you need, and what size of monthly payment your business can afford.
How does a business loan work?
Business loans, also called commercial loans, help your business in three big ways. First, loans help your business afford large purchases you need to run or grow your business. Second, loans smooth out your company's cash flow. And third, repaying loans builds up your business credit—which helps you get future loans.
You've likely heard the saying "you have to spend money to make money," and that's where business loans come in. A large expense you don't have cash for can keep your business from growing, whether it's essential equipment or real estate to set up shop in a new location,. Loans from a bank or online lender will let you buy what you need now so you can make more money—you'll just need to repay that loan over time, paying additional costs in fees and interest that benefit the bank.
Business loans can also help with the slighter, everyday costs of running a small business. Uneven cash flow—the dollars flowing into and out of your business—can cripple a company, even if the income reports look good. Using credit and loans wisely smooths out the common highs and lows of running a business, providing you with money the moment you need it to make running your business as easy as possible.
Now, remember that securing a great loan usually requires a great credit score to match. The best loan terms and lowest interest rates go to businesses that have proved they can handle credit, meaning these businesses have a solid credit score. Still, you have to start somewhere. If your small business starts building business credit now with on-time payments to current loans, it will make future loans more accessible and more profitable.
Don't qualify for a business loan? Get a personal loan instead.
Types of loans
While all loans work in a similar way—get money now and pay it back later—each business loan has different requirements, benefits, and drawbacks. Knowing the type of loan you want before you reach out to lenders will save you time and maybe even money. Take a peek at the descriptions below to see which loans may best suit your business.
Term loans. Your business receives a lump sum of cash and then makes regular repayments (often monthly payments) over a term you set with the lender.
Lines of credit (LOCs). An LOC is a type of long-term financing where you receive a set amount of money called a credit limit. You withdraw cash up to that amount whenever it's needed, and you repay the credit over time.
Business credit cards. This type of business financing works the same way as a line of credit. You might get added perks for paying with your card, but you may not be able to withdraw cash directly.
SBA loans. Some businesses qualify for government small-business loans backed by the U.S. Small Business Administration (SBA). If you do qualify, SBA backing gets you better terms from your lender.
Trade credit. You receive trade credit when your business buys goods from a supplier now with the promise to pay later. Usually these agreements don't require interest from your business.
Cash flow loans. Instead of a loan based on your company's assets, the bank lends you short-term funds backed by your business's projected cash flow.
Merchant cash advances (MCAs). With an MCA, you can get high-interest financing that offers quick money at a cost. Be aware that unlike other loans, merchant cash advances follow no federal regulations.
Invoice factoring and financing. If another company is scheduled to pay you at a later time, you can get that money early by "selling" that invoice to a factoring company. You'll get a percentage of the invoice up front, and you'll receive the remaining amount—minus a fee—once the invoice is paid.
Microloans. When your small business gets a microloan, you get a shorter, smaller loan with a competitive interest rate. Many microlenders are focused on a mission rather than profits: if you fit their mission objectives, you could qualify for the microloan.
Commercial real estate loans. Like a home mortgage, your company can apply for a loan to buy needed real estate.
Grow your business today
Browse hundreds of loan options, custom-tailored to your business and budget needs, from a single, simple platform.
Getting a loan
After you figure out what type of loan you need, you'll want to reach out to lenders. A little preparation will make the process go smoothly and cause less anxiety. Your lender will want to know how your business will use the money and if you can be trusted to repay it.
Most of the time, lenders will check your personal or business credit score. Many business loan lenders will want to look at both, especially for younger companies. They'll also want to know your industry and how long you've been in business. Expect lenders to check your business bank account and ask about your working capital, which is the difference between your current assets and liabilities.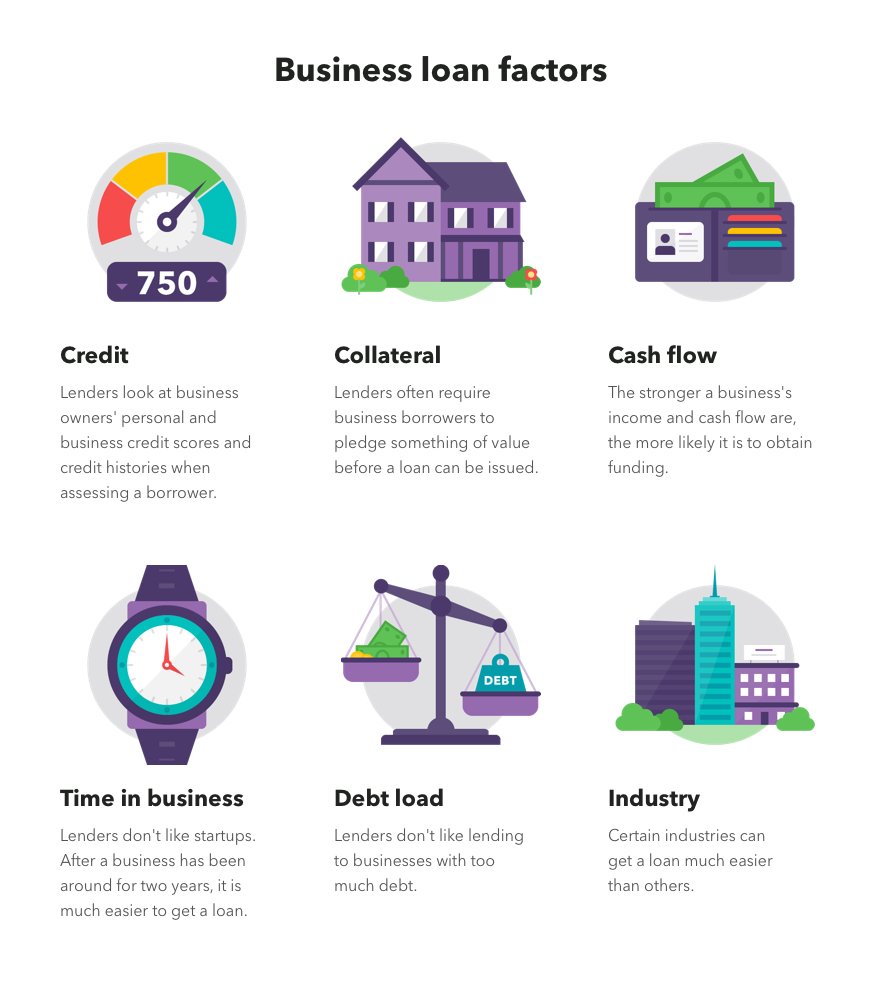 To improve your chances of getting a loan, make your pitch to the lender more attractive. In this case, that doesn't mean an emotionally stirring speech. Instead, you'll need to look better on paper: build your credit scores, pay off debts, and improve profit margins when possible.
Recommended lenders
Which lenders should you reach out to? If your business is too young for an unsecured loan from a local bank, an online lender might work with you. In another article we suggested several of our top picks for online lenders that offer small-business term loans or lines of credit.
| | | | |
| --- | --- | --- | --- |
| Company | Loan min/max | Lowest listed rate | Get a loan |
| Lendio | $1,000/$5,000,000 | 6% | Apply Now |
| Kabbage | $500/$250,000 | 1.5% | Apply Now |
| OnDeck | $5,000/$500,000 | 9.99% | Apply Now |
| Funding Circle | $25,000/$500,000 | 4.99% | Apply Now |
| Accion | $300/$1,000,000 | 7% | Apply Now |
Data effective 12/14/18. At publishing time, pricing and rates are current but are subject to change. Offers may not be available in all areas.
Lendio
As our top pick, Lendio aggregates loan suggestions from a large network of funding platforms. As long as you meet their requirements, Lendio makes for a great first option that could save you quite a bit of time by weeding out any bad fits for you.
Kabbage
Kabbage is our choice for the most convenient lender. Consider a business line of credit from Kabbage if you value a quick and easy application process and fast options for accessing your funds.
OnDeck
If you own an established business, take a look at OnDeck. The interest rates are highly competitive, but keep in mind that the repayment schedule is on a daily or weekly basis.
Funding Circle
Many businesses (and people) simply want a company known for customer service. Our favorite in that area is Funding Circle, a peer-to-peer lending site that gets great online reviews.
Accion
Accion, a nonprofit lender, is our pick for offering the best startup business loans. Their restrictions are generally much softer, but the application process takes a while, as they consider your business's unique story.
LendingClub
Our runner-up for best online lenders is LendingClub. For smaller loans with LendingClub, you won't need to provide collateral, and the slightly longer repayment terms mean smaller month-to-month payments.
Loan options with bad credit
Poor credit might seem like a deal-breaker for your business, but you still have financing options. Some online lenders will work with businesses with average or bad credit. You can also try invoice factoring or equipment financing if your business situation fits. If you're in an especially tight spot, a merchant cash advance can get you money fast, but the high interest rate will cost you money moving forward.
To help you prepare for later loans, you can build up business credit by working with the lenders available to you in the moment. Make sure to make payments on time and check to see if your lenders report to business credit bureaus. Over time, your business's improving credit score and maturity will attract better financing offers.
Startups travel a tough road until their company has been around long enough and making enough cash to convince lenders their business is worth the risk. Even a great idea and an impressive business plan won't be enough for the bank. Insufficient financing causes more than a couple startup companies to fail, but some online lenders offer loans to young, up-and-coming businesses.
Don't forget—business owners aren't limited to bank loans or online lenders. Small businesses can (and often do) start with personal savings or a little investment from family members. Business loan microlenders might help you if you fit their organization's unique mission. And angel investors (individuals that invest in the start of your business for a stake in the company) or crowdfunding sites can also help certain businesses get seed funds.
Takeaways
Hopefully you feel a bit more prepared to tackle the funding problem your small business faces. One of the many business loans listed here could be just what your company needs to score a financing victory.
If your own business has experienced a financing victory using a business loan, we'd love to hear about it in the comments section!
Perhaps your story could inspire fellow small-business owners currently in a financial bind.
Source
1. U.S. Small Business Administration, "Dissecting Access to Capital"