How to Finance Your Business with Bad Credit
A low personal credit score doesn't have to keep you from getting small-business funding.
So your credit score isn't where you'd like it to be, and now you're worried about getting the business financing you need.
We won't lie to you: the lower your personal credit score, the harder it is to qualify for a small-business loan. That doesn't mean you should give up though. You still have options for business funding with a bad credit score.
In this guide, we'll break down exactly how you can finance your business—despite your lower credit score. Plus, we'll give you some tips on improving your credit score so you can get better financing in the future.
Personal credit vs. business credit
How to finance your business with bad personal credit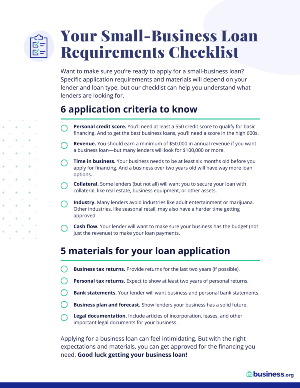 Applying for a small-business loan soon?
Our free checklist can help you understand what lenders are looking for.
1. Take an honest look at your credit
Before you ever submit a loan application, you should make sure you know your credit score, or FICO score, and what it means.
You'll need it when you're choosing what kind of funding to apply for and where. But for now, it will help you set realistic expectations for your prospects.
Fortunately, plenty of places let you do a personal credit check. For example, many banks and credit card companies keep track of your credit score. And if your bank doesn't happen to do that, services like Credit Karma work just fine.
If you want to take a more detailed look at your credit, you can check out your actual credit report. By law, you get to request a free copy of your credit reports (one from each bureau) once per year. You can easily do this by visiting AnnualCreditReport.com, the government-mandated source for free credit reports.
When you get your credit report, take a close look to make sure everything looks accurate. It's not unheard of for incorrect information to appear on credit reports and affect scores. If you find anything suspicious, you can contact the relevant credit bureau directly to dispute it.
Interpreting your credit score
Once you've got your credit score in hand, you need to make sure you know what it's telling you.
You probably already know that a higher credit score is better. But there are actual number ranges for "bad" and "good" credit. The precise ranges will depend on what credit scale you're using, but we'll stick to FICO scores for now since they're the most common.
| | |
| --- | --- |
| Credit score | Credit rating |
| 579 or lower | Bad |
| 580–619 | Poor |
| 620–679 | Fair |
| 680–739 | Good |
| 740–799 | Very good |
Let's be clear: a bad FICO credit score is a 579 or lower. Sure, you might hear people with higher credit scores complain that they have "bad" credit, but bad credit has an actual definition that you need to keep in mind.
So if you've got a 600 credit score, you might wish it was higher, but you've still got poor credit. And frankly, that opens a lot more lending doors to you.
Let's assume you actually have a bad credit score though. What does that mean for your lending prospects?
Why do lenders care about your personal credit score?
Your credit score gives lenders some idea of how likely you are to repay your loan. If you want to know more, we've got a guide that explains why your personal credit score matters to business lenders.
First of all, it means that you probably won't qualify for loans from traditional lenders (banks and credit unions). They usually require at least a fair credit score, and some look for a good score.
Instead, you'll need to turn to alternative lenders, also called online lenders. Generally speaking, online lenders have lower borrower requirements than traditional banks do. The tradeoff? They also have higher interest rates and fees. Note, though, that even among online lenders, you'll have limited choices if you've got a bad credit score.
And we'll warn you now that most lenders use your credit score to calculate your interest rate and other business loan fees. In other words, you'll need to prepare yourself to pay more for your financing.
It's not all bad news, though. Because in the end, your credit score is just one of the things lenders look at when you apply for funding.
2. Consider your other qualifications
Now that you've got a good grasp on what your credit score is and what that means for your funding, it's time to take a look at your other borrower qualifications.
Personal credit scores are just one of the many business loan requirements out there. Lenders will look at a number of other factors:
Business revenue
Time in business
Debt load (how much outstanding debt you have)
Business industry
So yeah, your credit score matters. But if you've got sky-high revenue and a rock-solid business that's been around for many years, you'll have an easier time qualifying for financing.
And the better you understand your situation, the less time you'll waste applying for financing you can't qualify for. That's why we recommend you take the time to figure out exactly what your qualifications look like. That way, when you start narrowing down your list of options, you'll be able to easily decide which lenders are doable, which are aspirational, and which are out of the question (for now, at least).
One factor you should pay special attention to is your collateral. No, you don't necessarily need collateral to get a business loan. Many online lenders offer unsecured loans, or loans that don't require any collateral to get. But if you have collateral, you can use it to get a secured loan―which probably means a lower interest rate for you. Plus, secured loans are often easier to qualify for.
Once you understand all your borrower qualifications, you're ready to start looking at your financing choices.
3. Learn about bad credit business loan options
As we said at the beginning of this guide, poor credit will limit your business funding choices. We don't want to waste your time by pretending otherwise. But the good news is that you still have quite a few financing options.
As you look through these funding types, think back to your qualifications. As you do, you should be able to naturally figure out which could work and which are out of the question.
Compare the best business funding options for bad credit
| | | | | |
| --- | --- | --- | --- | --- |
| Option | Min. credit requirement | Min. revenue | Min. time in business | Typical funding time |
| Microloans | High 500s | Flexible | N/A | Weeks |
| Lines of credit | Low 500s | $50,000/yr. | 3 mos. | Same or next-day |
| Invoice factoring | Mid 500s | $100,000/yr. | 3 mos. | Same or next-day |
| Merchant cash advances | N/A | $100,000 yr. from MCA providers; $10,000/yr. from credit card processors | 6 mos. | Same or next-day |
| Crowdfunding | N/A | N/A | N/A | A month or more |
| Friends & family | N/A | N/A | N/A | Varies |
Microloans, as you can probably guess, are pretty much just small business loans. Because they come in smaller amounts (less than $50,000), there's less risk for the lender―and that means you don't need great credit to qualify.
That said, most microlenders have longer application processes than traditional lenders do. And, as with most forms of funding for bad credit, the interest rates can get high quickly.
If you've ever had a credit card, you already get the basic idea behind a business line of credit (LOC). An LOC gives you a credit limit, and you can borrow money, up to that limit. As you repay those funds, you can borrow again.
Some lines of credit, like those from banks, can be quite difficult to qualify for. But thanks to the internet and online lenders, lines of credit have become much more accessible. Fundbox, for example, accepts credit scores as low as 500.
Just watch out for the high interest rates and fees associated with these credit lines.
We usually advise against merchant cash advances (MCAs), which give you money that you pay off through a fixed percentage of your future credit card transactions. That's because MCAs have notoriously high fees and a confusing factor rate fee structure that masks that high cost. (Plus, MCA providers have been known to be pretty predatory in their lending.)
But MCAs generally have either very low or no credit requirements―instead, providers care about your credit card sales. So we're including them on this list with the huge caveat that you should do plenty of research (especially about the payment schedule and how to decipher factor rates) before getting one.
PayPal Working Capital, Square Capital, and Stripe Capital
Your funding options don't have to be limited to lending. Many businesses have successfully used crowdfunding to get the money they need. There's absolutely no credit requirement―you just have to convince your audience your business or product is worth funding. And best of all, you don't have to repay the money you raise through crowdfunding.
Of course, crowdfunding for business isn't right for every business. It works best for product-based businesses that have flashy, novel ideas. And crowdfunding campaigns can take a long time, so it's not a good option for businesses that need funding ASAP.
Finally, you can consider asking your friends and family for money. Yes, it can be awkward, but many businesses get funded this way. And generally, friends and family won't care so much about your credit score. They'll care more about your ideas and your character.
You can ask for either loans or investments (in which case the investor should get some equity in the business). Either way, make sure you're careful to use the money wisely. And if you borrow, make sure you can repay the loan. Otherwise, that next BBQ will feel a lot more awkward.
We want to quickly point out a few financing types that don't usually work well for low credit (despite what some websites say).
Personal loans
You might notice we didn't include personal loans here. Yes, you can sometimes use personal loans for business. But most personal lenders look for good credit. And since they won't care about your business's qualifications, they could end up being harder to qualify for than the options here.
Equipment financing
With equipment financing, the equipment you purchase doubles as collateral. That means that equipment financing often has lower credit requirements than an ordinary bank loan would. But lower in this case means the low 600s―which classifies as fair credit.
SBA loans
Compared to a traditional bank loan, an SBA loan (a loan backed by the US Small Business Administration) may have relatively low borrower requirements. But when compared to financing from alternative lenders, SBA loans aren't easier to get. In fact, you'll need at least a 680 credit score to qualify.
4. Apply for your financing of choice
Hopefully, as you read through your options, you saw one that looked like a good fit for you and your business. So now, you just need to apply.
If you're applying for financing (like a microloan, line of credit, or merchant cash advance), then you may need to gather up some documents:
Personal tax returns
Business tax returns
Bank statements
Other financial statements
Business plan
The exact application materials will depend on your lender.
If, on the other hand, you're crowdfunding or asking your social network for funding, you'll want to focus more on crafting a compelling pitch. You may want to think of photos, videos, charts, and other materials you can use to sell people on your business.
Whatever you decide to try, we hope you get the funding you need.
5. Improve your credit score
Just because you get funding doesn't mean you should stop caring about your credit score. Many businesses end up requiring financing more than once. If you start improving your credit score now, you'll have more options next time you need money.
There are plenty of ways to boost your credit score. For example, making regular, on-time payments with any of the following can help:
Personal credit card
Personal mortgage
Business mortgage
Car loans
Utility bills
Student loans
Business loans
You can find more ideas (and more specific advice) in our guide to credit scores and business loans.
For now, though, we want to emphasize that you should actively look for ways to improve your personal credit score. Because next time you need small-business financing, we want to see you qualify for the best small-business loans.
(We believe in you!)
A bad or poor credit score will make it harder to qualify for business financing, but it doesn't have to stop you.
From loans to lines of credit to invoice factoring, you've still got some financing options. No, you won't get the lowest interest rates or the biggest loans. But with any luck, you will get the money your business needs.
Since bad credit business loans often come with higher rates and fees, you'll want to be extra sure you can afford it. Use our business loan calculator to figure out how much your loan will cost.
Financing a business with bad credit FAQ
There's no real minimum credit score to get approved for a business loan. In fact, some business lenders don't check credit at all. And minimum credit requirements vary between lenders anyway.
We won't lie, though: a higher credit score makes it much easier to get small-business funding. So let's talk numbers.
A 600 credit score will give you a fair number of choices, as long as you're fine with online lenders. If you prefer a traditional bank or credit union, you'll probably need at least a 680 to qualify. The threshold for SBA loans is a little lower, with a 650 minimum.
Yes, you can qualify for business financing with a 500 credit score. Unfortunately, you won't have a ton of lender choices, and you'll pay more in interest and fees than you would with good credit. Plus, you'll need to make up for your bad credit with healthy revenue.
If you can handle those downsides, though, you'll likely be able to find funding somewhere.
Our favorite source of business loans for bad credit is Lendio. It's actually a lending marketplace, so it lets you compare loan offers from many lenders. That makes it easier to make sure you're getting the best possible deal on a loan, even with bad, or poor credit.
Lendio's just one of our picks, though. You can learn about all our favorite low-credit lenders in our rankings of the best business loans for bad credit.
Disclaimer
At Business.org, our research is meant to offer general product and service recommendations. We don't guarantee that our suggestions will work best for each individual or business, so consider your unique needs when choosing products and services.