Short Term Business Loans: A Complete Guide
Need to know more about short-term small-business loans? No problem.
Short-term loans are a specific kind of business loan that you have to pay back sooner than other business loans (usually within six months to three years). Generally, they have lower loan amounts and higher interest rates than traditional long-term loans―but they're also easier to qualify for and faster to get.
Want more info? Let's dive in and talk more about what short-term business loans are, how to qualify for one, and where to find one for your small business.
Short-term business loan table of contents
What is a short-term small-business loan?
Like we said, short-term business loans are just term loans with shorter repayment terms (the time you have to repay the loan) than traditional business loans.
But let's get more specific about what kind of repayment schedules, loan amounts, and interest rates you can expect.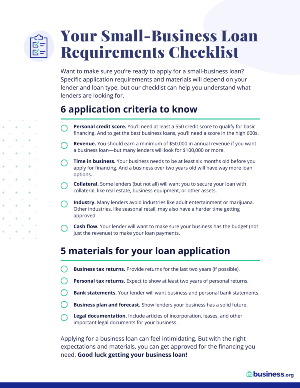 Applying for a small-business loan soon?
Our free checklist can help you understand what lenders are looking for.
Short-term loans come in a range of term lengths, from a few months on the short side to three years on the long end. We most commonly see repayment terms of six months, one year, or two years.
But with short-term loans, you need to consider more than just how long you have to repay the loan. You also need to pay attention to how often you make payments. 
See, traditional long-term loans usually come with a monthly payment schedule. But short-term loans often have a weekly payment schedule—sometimes even a daily repayment schedule.
That can cause problems for businesses with uneven cash flow, like B2B businesses that tend to wait on invoice payments. Put simply, it can be harder to find the money for loan payments during a lean week than the week your customers all pay their invoices. Monthly payments are often easier to plan around.
It may help to know, though, that your weekly (or daily) payments will be smaller than typical monthly payments. After all, you're dividing a typical monthly loan payment over four or five payments. 
Because short-term loans have such brief loan terms, they come in smaller loan amounts than long-term business loans. 
Banks and online lenders offer traditional business loans in loan sizes up into the millions of dollars. Don't expect to get that much for a short-term loan, though. Most short-term business loans max out around $500,000. In fact, many lenders don't offer short-term loans over $250,000. Keep in mind, too, that you'll need top-notch borrower qualifications to get that maximum loan amount.
(Some exceptions? Hard money loans and bridge loans are both short-term real estate loans. But those aren't what most people mean when they talk about short-term small-business loans.)
But these lower loan amounts make it possible to repay a short-term loan in a matter of months or a couple years. Most business owners wouldn't have enough cash flow to repay a $1 million loan in two years―but $100,000 is much more manageable. 
Smaller loan sizes do mean short-term loans won't work for some big business expenses. Still, you can do a lot with smaller loans, making short-term loans a fine choice for everything from inventory purchases to hiring plans to marketing campaigns.
Short-term loans tend to have higher interest rates than long-term loans do. That's partly because more online lenders offer short-term loans than traditional lenders (banks and credit unions) do―and online lenders usually cost more than traditional lenders. 
So while you can find long-term bank loans with starting interest rates around 5%, short-term loans start a bit higher, around 8% on the low end. 
Likewise, while traditional term loan rates top out around 30% (from traditional lenders), you can find short-term loans with interest rates well over 50%.
The good news? That doesn't necessarily make a short-term loan more expensive overall. Interest accrues over time, after all.
So imagine you have a $100,000 loan. With a 5% rate and a five-year term, you end up paying a bit over $13,000 in interest. Make it a 10% interest rate and a two-year term, and your loan costs less than $11,000 in interest. (You can play around with our business loan calculator to see how different interest rates and loan terms affect your overall costs.)
Put simply, expect to pay a higher interest rate on your short-term business loan―but don't assume you'll pay more overall. 
Borrower requirements for short-term small-business loans
Now you know that short-term business loans have brief repayment terms, low maximum loan amounts, and potentially high interest rates. But what does it take to get one?
We have more good news for you: Short-term business loans have lower borrower requirements than traditional term loans do.
For example, minimum business loan requirements for a bank loan would include the following:
Personal credit score in the high 600s
Business age of two or three years (at least)
Annual revenue over $200,000
But for a short-term loan, you can find lenders willing to accept much lower borrower criteria:
Credit score as low as 600
Business age of just one year
Annual revenue around $100,000
These qualifications make short-term loans a way more accessible financing option for many business owners. You don't need a perfect credit score or very mature business to qualify.
How to decide if a short-term business loan is right for your business
As you've probably already noticed, short-term business loans have some real upsides―but they have just as many downsides.
On the upside, many business owners who can't qualify for traditional business loans can still qualify for short-term loans. So if you have less-than-perfect credit or a young business, you might like a short-term loan.
Plus, because short-term loans don't pose as much risk to lenders, you can get approved for short-term loans very quickly. Many lenders offer same-day approval on their short-term small-business loans, and plenty go on to fund you within just one or two business days. If you're in a hurry to get funding, a short-term loan business loan could help.
And many different lenders offer short-term loans, giving you plenty of lender options to choose from. You can go with an online lender focused on short-term loans (like OnDeck) or a lending marketplace that can match you with various lenders (like Lendio). You may even find your payment processor can offer you a short-term loan (like Square Loans).
Short-term business loan pros and cons
Relaxed borrower requirements
Fast approval and funding times
Many lender options
Higher interest rates and fees
Short repayment terms
Daily or weekly payment schedules
That said, pay attention to the downsides. If a higher interest rate is a dealbreaker, short-term loans probably won't work for you. 
Likewise, if you want a monthly payment schedule, you may have trouble finding a short-term lender offering one. 
And if you prefer a long term that lets you spread low payments over many years, a short-term loan definitely isn't the financing option you want. 
Overall, we say short-term business loans work best for business owners who can't qualify for more traditional funding options or who need fast funding to take advantage of a short-term opportunity.
Sound like your situation? Then let's talk about how (and where) to get a short-term business loan.
How to get a short-term small-business loan
It only takes a few simple steps to apply for a short-term business loan:
Pick a lender.
Fill out your lender's application.
Provide any necessary documents (like bank statements or tax returns).
Wait to hear back on your loan application.
Get approved and funded.
Obviously, these steps take time and require you to do some work. Even so, most online lenders try to have simple applications that you can finish within an hour. They make things as easy on you as possible. And if you need more guidance, we have a guide that explains how to apply for a business loan online.
So really, the hardest step will be picking a lender.
Where to get a short-term business loan
As we said earlier, you'll generally need to turn to online lenders (aka alternative lenders) to find short-term loans.
We've rounded up a few of our favorite short-term lenders in the table below. You can read more about them in our guide to the best short-term business loans.
Compare the best short-term business lenders
| | | | | |
| --- | --- | --- | --- | --- |
| Lender | Min./max. loan amount | Lowest listed rate | Min. credit score | Get a loan |
| | $2,500/$500,000 | Various | Unlisted | Apply Now |
| | $5,000/$250,000 | 35% APR | 600 | Apply Now |
| | $500/$250,000 | Unlisted | N/A | Apply Now |
| | Unlisted | Unlisted | N/A | Apply Now |
| | $5,000$750,000 | Unlisted | Unlisted | Apply Now |
Data as of 6/2/22. Offers and availability may vary by location and are subject to change.
We think most business owners should try getting a short-term loan through Lendio. It's a lending marketplace, which means Lendio hooks you up with partner lenders rather than giving you a loan itself. Lendio tries to match you with the best loans possible, giving you all the benefits of shopping around with way less work on your part.
But plenty of other lending companies, including the ones we listed above, offer short-term loans. You've got options.
And if you have trouble finding a short-term loan lender you like, you can always consider some alternative funding solutions.
Alternatives to short-term small-business loans
Not convinced you want a short-term business loan? No problem. We have a few alternative options you can consider:
Business line of credit

. A

line of credit

gives you revolving credit (like a credit card), which means you can use it over and over. Online lenders offer accessible business credit lines with very fast funding times.

Merchant cash advance.

We dislike

merchant cash advances

, since they cost a lot and have confusing fees. But they do have very low credit requirements, making them both easy and fast to get.

Business credit card.

If you can repay your purchases very quickly so you don't get charged interest, a

business credit card

can offer an accessible way to pay for smaller business expenses.
For more short-term loan alternatives, check out our list of the best small-business funding options.
Short-term loans let you borrow money for a short amount of time―usually somewhere between six months and three years. They tend to come in low loan sizes with high interest rates and frequent payment schedules. 
But short-term loans have some notable perks, like their relaxed borrower requirements and fast funding times. Plus, short-term loans give you enough flexibility to use them on all kinds of business costs.
If that sounds tempting to you, we suggest turning to online lenders to get a short-term loan.
With any luck, you'll be surprised at how quickly you can get approved and funded.
Before you apply for a loan, make sure you can qualify by checking your credit score with one of the best credit monitoring services for business owners.
Short-term small-business loan FAQ
Proper record-keeping for small businesses makes the process easier and keeps you compliant with the law. You never want to waste time chasing down last month's missing invoice, and you certainly don't want to find yourself in trouble with legal requirements. Visit SBA.gov to find out more about how small businesses can stay legally compliant.
What is the easiest SBA loan to get?
SBA microloans are the easiest SBA loan to get, since their smaller loan amounts let lenders accept lower credit scores and younger businesses.
How long are short-term business loans?
Short-term business loans can range from three months long to three years. In most cases, you'll get a loan term between six months and two years.
What is the shortest term for a loan?
The shortest term we've seen for a business loan is three months.