Square Loans Review 2023 (Formerly Square Capital)
We dug deep into Square loans and compared them against several dozen other loan options. Here's what we think.
If you're a Square user who's been offered a Square loan, you might have a few questions―like questions about how it works, how you repay it, and whether or not it's a good deal.
Well, to make a long story short, Square loans (formerly called Square Capital loans) aren't the best deal out there. They're expensive and exclusive. But given the flexible borrower requirements (including no credit or collateral requirements), you may like Square loans anyway.
But that's just the short version. Get more detailed answers to all your Square questions in our review below. Looking for an alternative? Here's our list of top business loan picks.
Flexible borrower requirements
Automatic repayment method
No required collateral
Offers just for Square users
No way to apply for a loan
15% APR
Square loans come in just one flavor. And while Square calls it a loan, we'll let you in on a secret: it's definitely a merchant cash advance (MCA). We'll talk more about what that means in a minute. But for starters, it means that Square loans aren't exactly cheap.
Square's small-business loan
| | | | |
| --- | --- | --- | --- |
| Min/max loan amount | Term | Fees | Learn more |
| $300.00/$250,000.00 | Up to 18 months | 10%–16% of loan amount | See Loan Offers |
Data effective 12/5/22. At publishing time, pricing is current but subject to change. Offers may not be available in all areas.
Unlike traditional term loans, which charge interest on your loan amount, Square Capital charges a set fee on your loan. This fee won't change over time; whether you pay off your loan in one day or one year, you'll pay the exact same fee.
Unfortunately, Square Capital doesn't publish its fee rates. But back in 2016, Fortune reported those fees range from 10% to 16% of the loan amount.1 So a $10,000 loan could have fees ranging from $1,000 to $1,600. Now, fees could have changed since 2016, but Square uses the example of a 14% fee on its website, so we suspect they're still pretty close.
Those rates are actually much lower than the fees of many merchant cash advance companies; MCAs usually have a factor rate of 1.2 to 1.5, or 20% to 50% of the loan. But the APR (annual percentage rate) on a Square loan will probably still come out higher than the APR on a traditional loan.
That's because APR describes the cost of a loan over a year. Traditional term loans have multi-year terms, so interest and fees get spread over those lengthy terms. As a result, the yearly cost is cheaper. But for a Square Capital loan, those fees don't get spread out as much with the loan's shorter term, making the effective APR higher.
That doesn't necessarily mean you shouldn't use Square Capital. After all, it has plenty of advantages that can make up for the APR. You simply need to know how it compares to your other options.
Square loans borrower requirements
But what makes a Square loan an option for your business in the first palace?
Unlike most other lenders, you don't choose Square Capital—it chooses you. Luckily, it has very low borrower requirements compared to those other lenders.
To use Square Capital, you must actively use Square's merchant services (it's our pick for the best mobile credit card reader). If Square likes what it sees in you—or at least, in your credit card sales—it will extend you a loan offer on your Square dashboard.
Square doesn't reveal exactly how it determines your eligibility for a Square Capital offer, but it does look at the following from your Square history:
Your processing volume (at least $10,000 per year)
How recently you've used Square
Your ratio of new and returning customers
The number of chargebacks you've had
The growth of your business
Your overall activity level and history
Notice you see nothing about credit scores, tax returns, or bank statements. That means that, unlike our top choices for the best business loans, you can get business loans through Square without great credit.
And even though Square does look at your processing volume, it doesn't ask for the $50,000 minimum revenue most other lenders look for.
So Square loans have low borrower requirements going for them. But let's take a deeper look at how Square stacks up against other lenders.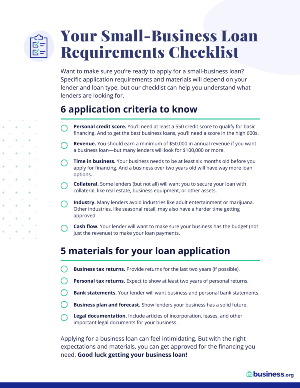 Applying for a small-business loan soon?
Our free checklist can help you understand what lenders are looking for.
Square loans vs. competitors
Data effective 12/5/22. At publishing time, pricing is current but subject to change. Offers may not be available in all areas.
As we already told you, Square loans won't win awards for being cheap. Other lenders charge much lower interest rates and fewer fees (meaning lower APR). Plus, with an interest rate, you can save money by repaying your loan early. Because Square loans use fees instead of interest, you can't save money that way.
But again, Square loans do have lower borrower requirements. You often have to have decent credit (above 600 at least) to qualify for those lower-cost loans―and that doesn't guarantee you the minimum advertised interest rate.
Put simply, Square loans are easier to qualify for than other lenders, but they're usually more expensive too.
We did want to get a little more specific about how Square compares to one lender in particular, though. We've noticed lots of business owners wondering how Square and Kabbage stack up.
Square Capital vs. Kabbage
Unlike Square, Kabbage offers a line of credit rather than merchant cash financing. However, both Square and Kabbage use nontraditional loan applications. In Kabbage's case, you connect your bank account or accounting software to your Kabbage account and Kabbage's algorithm determines your creditworthiness.
Likewise, Kabbage also uses predetermined fees rather than interest. But unlike Square Capital's percentage-based payments, Kabbage requires set monthly payments.
Both offer convenience and accessibility—and high APRs. It mostly comes down to what kind of repayment you prefer.
Now that you know a lot about how Square loans work, let's talk more about some of the downsides.
As we told you earlier, Square loans go exclusively to existing Square users. You have to have a decent business history with Square.
But even if you have that history, that's not a guarantee you'll get a Square loan―especially since you can't simply apply for one.
Square loan offers show up on your Square dashboard when you qualify. If you don't have an offer there, you simply cannot get a Square loan. Not yet, anyway.
That makes Square loans a pretty exclusive deal. And it means they're definitely not good for urgent financing needs (unless you already have a loan offer). After all, who knows how long it will take your business to qualify for a Square loan?
Like any merchant cash advance, Square's loan gives you a lump sum of cash up front, which you repay by giving Square a predetermined percentage of your daily debit card and credit card sales. Your repayment amount includes that up-front amount plus set fees (rather than interest).
You might like this merchant cash advance model because it offers great convenience: you don't have to worry about making payments since Square automatically takes them from the sales you already make. And if you have slow sales one month, you'll have lower payments thanks to the percentage-based repayment plan.
But you might dislike this model because, like pretty much all merchant cash advance companies, Square has been accused of charging high fees and trying to hide just how high they really are. Plus, percentage-based repayment can still hurt if you have a bad month. If cash flow is already tight, you'll really feel that 14% (or whatever rate you pay) more than if you have tons of excess cash on hand.
And another downer: You can repay your loan early—and Square doesn't charge early repayment fees—but there's not much benefit to doing so. Because this model uses preset fees rather than interest, paying your loan off in advance won't save you money.
Square loans funding process
So Square puts a loan offer on your dashboard. Now what?
Your offer should show you how much you've been approved to borrow. You should even be able to choose various amounts (up to your maximum) and see corresponding rates, fees, and estimated repayment terms.
If you like what you see, you can choose to accept your loan offer. Square may ask you for some documents at this point—stuff to prove your identity and your business's identity.
Once you've finished your application, Square Capital should officially approve your loan request in one to three days. After that, Square deposits your funds into your bank account within another one to three days.
Use this tool for accounts receivable financing
Square Capital provides an ultra-convenient loan for businesses already using Square. From the simple application to the automatic repayment process, Square Capital makes it easy for Square customers to get valuable financing.
But that simplicity comes with the usual drawbacks of merchant cash advances—especially the high fees and high APR. And since Square Capital decides who it offers loan applications to, many businesses simply won't have Square as a funding option.
If you're one of the chosen, Square might offer a way to get your funding. Just make sure you understand your fees and repayment structure.
Not convinced Square Capital is right for you? Find a different easy-to-qualify-for loan on our list of the best small-business loans with no credit check.
How can I get a loan offer from Square loans?
Put simply, you can't make Square give you a loan offer. Asking nicely won't help. But Square does promise to review your profile daily, so if you ever become eligible, you will get an offer.
Until then, just keep using Square. The more you use it, the more likely you'll become eligible for a Square Capital loan.
Can I get a second or third offer from Square loans?
Yes, you can get multiple loans with Square loans . Some customers report you're most likely to get another offer when you've paid off about 60% to 80% of your current loan.
That being said, you're not guaranteed to get another loan offer. Even if you're a perfect loan customer, Square's algorithm might decide that you don't qualify anymore.
Take note—if you accept another offer while paying off your first loan, your second loan will pay off your first loan and give you the remaining balance. Keep that in mind as you look at an offer's fees and rates.
How long does it take to get approved for Square loans?
After you accept an offer and upload any necessary documents, Square should approve your application in one to three days. After that, you should get funded in another one to three days. Altogether, the Square loans process takes less than one week.
Do Square loans require collateral?
Square doesn't ask for any kind of collateral for loans of $75,000 or less. With larger loans, Square will put a lien on your business assets.
Either way, Square loans don't require you to make a personal guarantee.
Will Square loans affect my credit score?
The good news? Square loans won't affect your personal or business credit. Even if you apply and get denied, Square loans have no negative effect on your credit score.
The bad news? Square loans won't affect your credit score. Even if you promptly pay off your loan, it won't improve your personal credit score, and it can't help with building business credit.
That's because Square Capital doesn't report to credit bureaus. And again, Square's "loan" is just a glorified merchant cash advance. Those never get reported to credit bureaus.
So on the one hand, Square Capital can't harm your credit; on the other hand, it can't build your credit. Think of it as credit neutral.
We did all the research we could on Square loans, looking for information on fee costs, repayment plans, borrower requirements, and more. We looked for both information from Square itself and for experiences from actual borrowers. We used our findings to score Square loans and compare them to other business lenders.
Disclaimer
At Business.org, our research is meant to offer general product and service recommendations. We don't guarantee that our suggestions will work best for each individual or business, so consider your unique needs when choosing products and services.