Do You Need a Business Bank Account?
Want to know if you need a separate bank account for your business? We've got the answer.
Ever wondered, Can I use a personal checking account for my business? Then this guide is for you.
Below, we'll explain why you do (or don't) need a business bank account. We'll give you the skinny on the benefits and the drawbacks of a business bank account, and then we'll answer some common questions.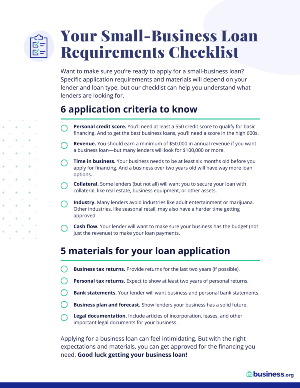 Applying for a small-business loan soon?
Our free checklist can help you understand what lenders are looking for.
Do you have to open a business bank account?
Yes.
(That was easy! Let's pack it up and go home.)
Okay, so there may be some exceptions (more on those below), but in most cases, you'll want to open a separate bank account for your business. Quite simply, keeping your business account separate from your personal bank account will protect your personal assets and legitimize your business.
Just take it from the US Small Business Administration, which suggests that business bank accounts give your business protection, professionalism, preparedness, and purchasing power. (Looks like the SBA really likes things that start with P.)
The benefits of a business bank account
But why is a business bank account so important, you ask? Well, here are three reasons.
First things first: keeping your personal everyday account and your business account separate really simplifies things. When tax season rolls around (yuck), you won't have to spend time trying to verify if expenses were part of running your business or part of running your life.
For example, was that lunch a nice date with your significant other, or were you schmoozing a client? Did you buy those pens for your children's homework, or were they for your business? Were those cash withdrawals to pay for Girl Scout cookies, or were they for business petty cash?
Speaking of expenses . . .
You'll probably want to get a business credit card too. It's another easy way to keep your business finances separate from your personal finances.
When you keep your personal funds and your business funds in different accounts, the answers to those questions will be easy as pie. If not? Good luck with that business tax accounting.
Maybe you don't mind doing the financial math—so let's talk about a little thing called liability.
As part of opening a business, you should have registered your business with the government. Maybe you chose an LLC (limited liability company), an S-corp, or a C-corp—whatever type of business you chose, one of the benefits of that registration is limited liability. In other words, if someone sues your business, your personal assets won't be at risk.
Sole proprietorships and partnerships
These two types of businesses don't get the same liability protection as other businesses. But given all the other benefits of a business bank account, we still recommend you get a separate business account if your business falls under one of these.
Here's the catch: if you commingle your business money and your personal money, that limited liability is at risk. After all, if it's all in the same deposit account, you'll have a hard time proving that only half of those assets belong to the business.
Then there's your business's professionalism to consider.
As your business grows, there's a good chance you'll need funding. When you apply for a small-business loan, you may have to show your lender of choice a bunch of financial documents. When they see that you keep your business money mixed with your personal money, lenders might wonder how legitimate your business really is. And that, in turn, could make it harder to get a loan.
The same thing applies to angel investors and venture capitalists. If you're trying to pitch your business to investors, it's far better to show that you've always followed financial best practices and kept your business money in its own account.
Business banking vs. personal banking
So you're definitely going to open a separate bank account for your business now. (Right?) But maybe you're wondering if it has to be a business-specific bank account. And again, the answer is yes.
Sure, you might not see a huge difference when you compare a business bank account vs. a personal bank account. After all, they're both transaction accounts that let you make and receive payments.
But there are a couple of differences. Unfortunately, business bank accounts often come with more fees and charges (like monthly service fees). Fortunately, they also often come with extra perks (like ATM fee reimbursement), plus all the benefits we've outlined above.
(And on the back end, there are different regulations for business banking vs. personal banking.)
Free business bank accounts
While business bank accounts are often more expensive than their personal counterparts, that's not always the case. Just check out our list of free checking accounts for business to find no-fee banking.
Setting all that aside, here's the main reason you should open a business bank account: we've read plenty of stories from business owners who used a personal bank account for their businesses—until the bank found out, got mad, froze their assets, and closed their accounts.
If you don't want to lose access to your money—even temporarily—then open a business bank account.
Full disclosure: there are some special situations where you might not need a separate business bank account. If you have a side freelancing business with no business expenses, for example, you might have simple enough finances that you can get by with one account.
If you think that applies to you, we urge you to get some financial advice from a business accountant. Because even if keeping your business money in a separate account isn't a legal requirement, it's probably still a good idea at minimum. Your accountant can help you be sure.
| | | | | |
| --- | --- | --- | --- | --- |
| Bank | Checking monthly fee | Account types | Accepts cash deposits | Get an account |
| | $0 | Checking; money market; high-yield savings | At Shazam ATMs | Visit Site |
| | $0 | Interest-bearing checking | At Green Dot locations | Visit Site |
| | $0 | Checking; money market; CDs | At MoneyPass ATMs | Visit Site |
| | $0 | Checking; interest-bearing checking; savings; money market; CDs | By mail (discouraged) | Visit Site |
| Found | $0 | Checking | No | Visit Site |
Data effective 2/23/23. At publishing time, loan amounts, rates, and requirements are current but are subject to change. Offers may not be available in all areas.
In most cases, we recommend going with an online bank, like the ones listed above. That's because most online banks charge very few fees (such as monthly maintenance fees and transaction fees), making them cheaper than brick-and-mortar banks. Plus, online banks are available all across the country, whereas traditional banks have lots of geographic limitations.
For more details on why we recommend these specific online banks, take a look at our list of the best online banks for small business. (Or if you really want to stick with a brick-and-mortar bank, you can find the best bank for small business in your state instead.)
So there you have it: yes, you need to open a business bank account.
It's a financial best practice, it will make your business accounting easier, and it will make your business more professional. And since there are plenty of free business checking accounts out there, there's really no reason to hesitate.
Enjoy your separate bank accounts!
Now that you know you need a business bank account, find the right one for you with our ranking of the best banks for small business.
Business bank account FAQ
What do I need to open a business bank account?
To open a business bank account, you'll need a personal ID and proof of address. You'll also need your business's tax identification number (TIN), which will either be your employer identification number (EIN) or your social security number (SSN), depending on your business type. If you have any documents that prove your business is legit, like a certificate of incorporation, bring those along too.
For more details, we have a guide to opening a business bank account.
How many bank accounts should I have for my business?
That depends! Most businesses will do just fine with one business bank account, like a checking account. But if you want, you can open multiple checking accounts, or you can get business savings accounts.
Can I use my business bank account for personal stuff?
You probably shouldn't use your business bank account for personal finances. If you need more convincing, this is definitely a question you should bring up with a qualified financial advisor. But again, err on the side of no.
What are the best business checking accounts for LLCs?
We're so glad you asked. We've ranked the best business checking accounts for small business just for you.
For most businesses, we recommend going with an online bank, like BlueVine, Small Business Bank, or NBKC Bank. They tend to have very few fees, and they often offer more perks (like interest-bearing checking) than you'd get from traditional banks.
Disclaimer
At Business.org, our research is meant to offer general product and service recommendations. We don't guarantee that our suggestions will work best for each individual or business, so consider your unique needs when choosing products and services.