ACH vs. Wire Transfer: Two Ways to Send and Receive Money
Find out how to choose between an ACH transfer or a wire transfer for your payments.
When you want to send money from your bank account to another bank account (or receive money in your bank account from someone else's bank account), you have two primary options: ACH transfers and wire transfers.
So, uh, how do you decide which bank transfer to go with?
Well, it turns out that there's a clear answer in most cases. And in this article, we'll show you how the two methods of sending money compare.
So whether you're trying to get the funds from a business loan or to send a payment to a vendor, we'll help you figure out which bank transfer method you want. (It's probably the ACH transfer.)
Business banking vs. personal banking
ACH transfers and wire transfers work the same way for both business and personal banking. So while we might give business-related examples, all this applies to your personal money too.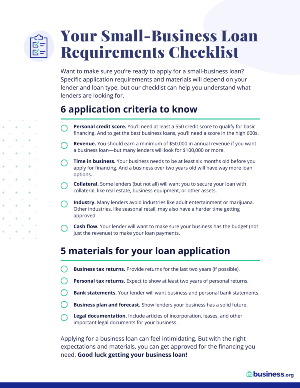 Applying for a small-business loan soon?
Our free checklist can help you understand what lenders are looking for.
ACH transfer vs. wire transfer
You already know that ACH transfers (a.k.a. automated clearing house transfers) and wire transfers are both ways that you can send money from your bank account or receive money in your bank account. In other words, the two kinds of transfers do the same thing.
But you may not know that the two money transfer types have very different costs, speeds, security, and uses.
| | | |
| --- | --- | --- |
| Factor | ACH transfer | Wire transfer |
| Speed | Slower | Faster |
| Cost | Cheaper | More expensive |
| Security | More secure for senders | More secure for recipients |
| Use | One-time or recurring | One-time |
Let's break down those differences.
As a rule, wire transfers cost more than ACH transfers do.
In fact, ACH transfers are free at many financial institutions. Some banks may charge a low (think under $1) fee for sending an ACH payment. They may also give you a certain number of free ACH transfers before charging that low fee.
Wire transfers, on the other hand, usually cost you quite a bit. Some banks charge wire fees for both incoming and outgoing wires, meaning you'll have to pay to send or get money. Other banks charge only for outgoing wires. But in either case, you'll almost always pay more for international wires than domestic wires (wire transfers from a bank account in the same country as yours).
Keep in mind, though, that wire costs (and ACH costs, for that matter) can vary a lot from bank to bank. For example, BlueVine doesn't charge any fee on incoming wires, though it has a $15 fee for outgoing wires. Wells Fargo, on the other hand, charges $15 for incoming wires and $30 for outgoing wires.
At any rate, if you want the cheapest solution, choose an ACH transfer.
While wires do cost more than ACH transfers, you get something more for your money: speed. Wire transfer services work much faster than ACH payments do.
In almost all cases, a wire transfer will be completed on the same business day. In many cases, it will take a few hours or less.
(That's for domestic wire transfers. International wire transfers can take longer―sometimes a few days.)
ACH transfers can take longer. On average, you should expect an ACH transfer to take between two to three days to complete―and remember, that's business days, so it can take longer if you schedule an ACH transaction on a Friday.
So if speed matters, go with the wire transfer.
Worried about the safety of ACH transfers and wire transfers? Well, the good news is that both payment options are pretty secure. That said, we have some details you might want to consider.
ACH transfers can be reversed. That reversal ability can be great for senders. If you mess up an account number and send money wrong to the wrong person, you can dispute the ACH transaction with your bank (or credit union) and get the whole mess cleared up.
You can't usually reverse a wire transfer, though, so you need to make sure you have the correct bank account numbers before you send one. That can make bank wires riskier for senders. On the other hand, it makes wires more secure for the payee―because you'll know someone can't file a false dispute and take their money back.
So which one is better for your security? If you're sending money, you'll probably prefer ACH transfers. If you're getting money, you might like wire transfers a little more.
ACH fraud may be easier to commit since someone just needs your checking account and ABA routing number to start an ACH transaction. But remember, you can dispute ACH transactions, so ACH fraud is also easier to fix.
As we said above, both ACH transfers and wire transfers ultimately move money from one bank account to another. Either payment option can easily take care of your office's rent, accept payment from a client, or fund your business loan.
But because the two work so differently, they often get used for different things.
Take ACH transfers. You can set up recurring ACH transfers. That, plus their low costs and slower speeds, make ACH transfers ideal for things this:
Rent
Utilities
Bill payments
Payments to freelancers and vendors
In other words, things that you can anticipate and schedule in advance.
Wire transfers, on the other hand, usually get used for urgent, one-time payments. Because they cost so much more, you'll really only want to use them on big, important things that need to get paid immediately:
Business loan disbursement
Mortgage closing fees
Funds for a family member's emergency
Rent deposit
Again, think big, urgent things. After all, you won't want to pay $30 in bank wire fees for a $100 transfer that could have waited a few days.
So with all that said, which payment method should you actually use?
ACH transfers: Best for most payments
Low or no fees for sending or receiving funds
Ability to reverse payments if needed
Easy setup of recurring payments
Slower turnaround time of 2 to 3 days
Potential for ACH fraud
In most cases, we recommend business owners stick to ACH transfers whenever possible.
Sure, ACH transfers will take longer. But ACH transfers cost so much less than wire transfers do (both to send and receive). If you can deal with a brief wait to make or get a payment, it's probably worth the savings.
Plus, the ability to set up recurring ACH payments can make your life easier―whether you want to pay your utilities every month or get rent from your tenants.
So if time is on your side, choose the ACH transfer and save yourself some cash.
Wire transfers: Best for urgent payments
Same-day transfer of funds
Security for recipients
Fees for sending and receiving wires
Higher cost for international wires
Little protection for wire fraud
If you need to send or get money ASAP, then we recommend a wire transfer.
Yes, wire transfers will cost you extra. But if you really need the funds from your new small-business loan or you need to secure that new office space right away, the speed will be worth the higher fees.
Just double-check your routing numbers and account numbers before you send a wire (or give someone the info they need to send a wire to you). Otherwise, a small mistake could end up costing a lot.
Both a bank wire transfer and an ACH transfer give you a simple way to transfer money from one bank account to another―but that doesn't make them interchangeable.
Most business owners will prefer ACH payments, thanks to the lower costs and ability to create recurring payments. But if you need to make or take a payment as quickly as possible, the speed of a wire transfer may be worth the higher cost.
Either way, your money will get where it needs to go―without the hassle of using a check or a credit card.
Want to find a bank with lower wire fees? Our rankings of the best banks for small business has some great options.