Fundera by Nerdwallet Loans Review
Fundera by Nerdwallet provides an easy way to match with appropriate lenders and loans.
Since you're reading our Fundera by Nerdwallet ("Fundera") review, you've probably heard that Fundera is a lending marketplace, or a loan matchmaker. You may have read that it does a lot of the hard research work for you, and then it lets you compare multiple business loan offers.
And there's a good chance you're thinking that sounds too good to be true―and you're wondering what the catch is.
Well, in our review we'll explain how Fundera works. We'll tell you why it might or might not work well for your business. And while we don't think there's a "catch" you need to know, we'll point out potential issues you need to understand.
Access to many loans and lenders
Dedicated loan specialists
Credit card recommendations
Longer funding turnaround times
Lack of transparency
Fundera―and this is important―isn't a direct lender. It doesn't actually extend any business loans. Instead, it's a lending marketplace.
That means you submit an application to Fundera, and it will match you with the lenders and loans it thinks will work best for you. You'll get to compare loan offers and decide which (if any) you want to move forward with.
Its business funding partners include many well-known lending companies, including both traditional banks and online lenders:
Is Fundera legitimate?
Yes, Fundera is legitimate. It's real and safe. More than 85,000 businesses have gotten funding through Fundera.1 And as we'll discuss later, many of them have had very positive experiences.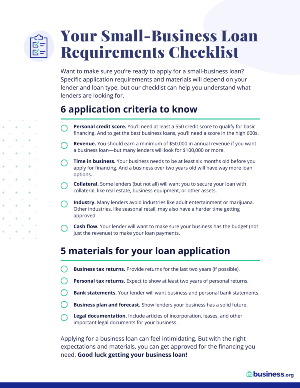 Applying for a small-business loan soon?
Our free checklist can help you understand what lenders are looking for.
Obviously, lending marketplaces have some big pros. They make shopping around for loans very easy for you, since they bring the offers to you. Plus, Fundera assigns a loan specialist to you, so you can get expert guidance as you're making your funding decisions.
Just remember that the matchmaking process takes time (and Fundera doesn't specify how much time), so lending marketplaces usually take longer than applying directly with lenders. If you need funding tomorrow, Fundera probably isn't right for you. (But one of our favorite fast and easy business loans might be.)
On the other hand, if you have the time and you want to make sure you're getting the best loan offer you can, a lending marketplace like Fundera might be just the thing.
How does Fundera make money?
Like we said, Fundera doesn't do any funding itself, so it doesn't make money off lending. Instead, it gets referral fees, or finder fees from the lenders it partners with.
Of course, Fundera isn't the only lending marketplace out there. So what sets Fundera apart from other lending marketplaces?
Well, Fundera wants to help you find more than just a business loan. It also has recommendations for everything from business credit cards to business bank accounts to legal services for businesses. Fundera wants to help you find all the products and services your business could possibly need.
We'll come back to those other recommendations in a little bit. But first, let's focus on the main attraction: Fundera's business loans.
| | | | | |
| --- | --- | --- | --- | --- |
| Product | Loan size | Lowest listed rate | Repayment terms | Get a loan |
| Business line of credit | $10,000–$1 million | 7% | 3-18 mos. | Apply Now |
| Equipment financing | "Up to 100% of equipment value" | 4% | 5-6 years | Apply Now |
| Invoice financing | "Up to 100% of invoice value" | 3% factor fee | N/A | Apply Now |
| Merchant cash advances | Up to $500,000 | 1.1% factor fee | Daily or weekly | Apply Now |
| Personal loans | Up to $50,000 | 5.99% | 3–5 yrs. | Apply Now |
| Short-term loans | Up to $250,000 | 10% | 3–18 mos. | Apply Now |
| Startup loans | Up to $150,000 | 7.9% | 6 mos.–4 yrs. | Apply Now |
| Term loans | Up to $600,000 | 7% | 1–5 yrs. | Apply Now |
| SBA loans | $5,000–$5 million | Prime rate + 2.25% | Up to 25 yrs. | Apply Now |
Data effective 9/14/22. At publishing time, loan specifications are current but subject to change. Offers may not be available in all areas.
Let's break them down quickly.
Business lines of credit (LOCs) give you revolving credit (financing you can use again and again as you repay it). That makes lines of credit great for working capital and cash flow needs. Fundera's LOCs range from very small to very large, so they're suitable for all kinds of businesses.
If you're buying equipment for your business (from office furniture to specialized machinery), then you might want equipment financing. Equipment financing loans often offer relatively low interest rates, because they use your equipment as collateral.
Does your business invoice customers? Then invoice financing or invoice factoring could work for you. This type of funding gives you money in exchange for unpaid invoices. You get a large percentage of the invoice up front, and then your lender gives you the rest of the percentage when the invoice gets paid. Just remember, they'll take out fees.
Fundera's lending marketplace
Remember, Fundera doesn't actually fund loans. When you apply for any of these types of financing, Fundera connects you with one of its various partner lenders who offer that kind of funding, and they'll be the ones lending you money.
We usually don't recommend merchant cash advances because they have very high rates. But they're relatively easy to qualify for even if you have bad credit―as long as your business has lots of credit card and debit card transactions. (Just make sure you understand how merchant cash advances work before you commit.)
Sometimes personal loans work well for businesses that can't qualify for business loans (like relatively new startups). They're not ideal, though, because they usually have low maximum loan sizes―and Fundera's personal loans are no exception.
Short-term loans are another option for businesses that have a hard time getting traditional term loans. As the name suggests, these installment loans have to be paid back much more quickly (often in a matter of months). They often have higher starting interest rates too. Even so, if you need working capital, short-term loans can work well.
As you can surely guess, startup loans are designed for young businesses that haven't been around for long. Because they're riskier for lenders, startup loans usually have higher interest rates, shorter repayment terms, and lower maximum amounts. But since most loans require you to have been in business for at least a couple years, startup loans provide a real service to younger businesses.
SBA loans are one of our favorite loan types. Thanks to backing from the U.S. Small Business Administration (SBA), SBA loans can get you nice, low interest rates and long loan terms. They often take longer to get than other loans, and you have to meet some specific conditions to get them. But if you can qualify, they're worth the wait.
Typical qualifications
On its website, Fundera lists the typical qualifications (credit score, revenue, and time in business) of past borrowers for each type of loan. While we'd like to see minimum requirements for comparison, it's a helpful way to know what kind of funding you're likely to get approved for.
But like we said, Fundera doesn't just recommend business loans.
Other business recommendations from Fundera
Fundera's website has tons of reviews for all kinds of business products:
Business bank accounts
Accounting solutions
HR services
Legal services
But keep in mind, Fundera doesn't do matchmaking for these products like it does for loans. Instead, it has researched the options and come up with some generic recommendations (much like we do here at Business.org).
To be honest, we're a little conflicted about all these recommendations.
On the one hand, Fundera's reviews and articles seem well researched and thought out. They can be a valuable resource for business owners who need those products anyway.
On the other hand, it seems a little scattershot for a company that's primarily a lending marketplace―especially since those other topics are given pretty equal billing on Fundera's website. It feels a little bit like going into a restaurant and having the maître d' start giving you recommendations for kitchen supply stores and grocery stores. We'd rather see Fundera focus on matching business owners with the best possible loans.
But that's just our take. Again, there's a good chance you'll find Fundera's reviews and guides helpful―even if they're not the main course.
How to get a business loan through Fundera
So now you know all about what Fundera can offer you. Think you're interested in applying for a loan through Fundera? Here's how it works.
Once your online loan application is complete, a Fundera loan specialist will get in touch. (In fact, you get assigned a specialist when you create an account, so you can talk to them earlier if you need to.) They'll ask for any more details or documents needed to finish your application.
Applying with Fundera
You'll start your loan application on Fundera's website. First, you'll answer a handful of questions about your personal credit score, your business's annual revenue, and the date you started your business.
Note that Fundera's FundyBot chatbot might helpfully tell you that you just need to answer four questions to get started. That's true, but kind of misleading. Because after you answer that handful of questions, you have to create an account and answer a lot more questions.
These questions will include personal details (like your date of birth, address, and mortgage details) as well as business details (whether or not you invoice customers, are profitable, etc.). You'll also have the chance to upload supporting documents, like business bank statements.
Before you match
After you've created a Fundera account, you can visit your dashboard to look at potential financing options. While you won't have any matches until after you've finished the application, Fundera will show you some types of loans you may qualify for with a general estimate of your odds of qualifying.
Then, when you've completed your application, Fundera will get to work matching you with potential lenders.
Keep in mind, Fundera doesn't offer any promises on how long the matching will take. Its website really skirts over the application details―a lack of transparency we find frustrating. We found some customer reviews that said they were promised offers in 24 to 48 hours. But some of those same reviews also said they didn't get offers for much, much longer.
Whenever your matches do end up coming through, your lending specialist will contact you. They can explain your offers and help you compare important details.
Once you've decided which offer you like best, you'll work directly with that lender to finish up your application and finalize your funding.
Depending on what kind of financing product you chose, the actual time to funding could be anywhere from one day to several weeks.
Your Fundera journey doesn't necessarily end there, though. Fundera says that its lending specialists will work with you to create a plan to improve your creditworthiness. Ideally, it wants to help you qualify for better loan products down the line.
But how helpful is this advice actually? Well, we found some customers reviews who argued that Fundera gave them bad advice that got them stuck with bad loans and no way out. Other reviews, however, seemed much more appreciative.
And speaking of reviews . . .
We've already mentioned some customer experiences throughout this review, but let's take a second to explore those in more detail.
Fundera has a 4.6 (out of 5) TrustScore, with hundreds of positive reviews on Trustpilot.2 That's a very positive score.
Many of the positive reviews praise specific lending specialists. Lots of borrowers say Fundera made the funding process much easier than it otherwise would have been. Some customers also praise the speediness of Fundera's process.
The small percentage of negative reviews reveal a few different complaints. Some borrowers are annoyed that they didn't get matched with Fundera business loans (or at least matched with loans they liked), and others complain about high rates. Some customers complain about a drawn-out application process. And some reviewers say they had pushy funding specialists who couldn't answer many questions or gave bad advice.
While many of the negative reviews seem legitimate, there are many, many more positive reviews. So it's not unheard of to have a bad experience with Fundera, but odds are―at least according to previous customers―you'll have a good one.
Want more options? Fund your business with a personal loan
Enter your loan needs and qualifications to get matched with a list of lenders best suited to you. Then, sort by the financing factor that you find most important. (Note: not all lenders allow personal loans for business use.)
Fundera by Nerdwallet's business lending marketplace can let you get and compare loan offers with just one application. Its dedicated loan specialists can make the process even easier, giving you guidance as you apply for business financing.
While we don't love Fundera's lack of transparency around the time it takes to get loan offers or its shotgun approach to other business products, it's still a very good, very solid online marketplace.
So we expect that you'll still have a good experience with Fundera by Nerdwallet.
Don't have time to wait for Fundera by Nerdwallet's matchmaking? Check out some of our favorite direct online lenders on our rankings of the best small-business loans.
Disclaimer
At Business.org, our research is meant to offer general product and service recommendations. We don't guarantee that our suggestions will work best for each individual or business, so consider your unique needs when choosing products and services.
Sources
1. Fundera by Nerdwallet, "About." Accessed September 14, 2022.
2. Trustpilot, "Fundera by Nerdwallet." Accessed September 14, 2022.