PayPal LoanBuilder Review: Working Capital with Low Revenue Requirements
An unusual mix of borrower requirements makes LoanBuilder a niche business lender.
If you're a business owner that needs working capital, it's easy to get frustrated by lenders with high revenue and time-in-business requirements. But with PayPal LoanBuilder, you might feel a little less frustrated.
LoanBuilder has low revenue requirements that set it apart from the financing competition. But before you rush out to start a loan application, you should also know about the potential downsides―like its high flat fees and not-so-low credit requirement.
In this LoanBuilder review, we'll walk you through all that and more to help you decide if a LoanBuilder working capital loan is right for your business.
LoanBuilder, a.k.a. . . .
It's easy to get confused about LoanBuilder's name. It's owned by PayPal, so it's often called PayPal LoanBuilder―but don't confuse it with PayPal Working Capital, which is a completely different thing. You may also see LoanBuilder called Swift Financial—its name before PayPal purchased the company.
LoanBuilder is best for businesses with low revenue but good credit
Excellent customer reviews
Low revenue and time-in-business requirements
Ability to customize your loan structure
Lack of available info about loans
Higher credit requirement
Weekly payments
LoanBuilder has kind of unusual borrower requirements for an online lender.
On the one hand, it has some of the lowest revenue requirements we've seen. It asks for just $42,000 per year in revenue. For reference, your average alternative lender will look for $100,000 or more, while a traditional lender (a bank or credit union) will usually require $200,000 or more.
In other words, LoanBuilder's revenue requirement is seriously low―even lower than a lender like Lendio (which asks for only $50,000 a year). And keep in mind, that your revenue doesn't need to come from PayPal sales at all. You don't even need a PayPal account to qualify.
It's also got pretty low requirements for how long your business has been around. LoanBuilder will accept a mere nine months in business. Other lenders, like Lendio, will accept younger businesses with 6 months or less. But since most online lenders look for one year or more (and traditional lenders look for two years or more), LoanBuilder still comes in on the low side.
Qualifying for PayPal LoanBuilder financing
| | | |
| --- | --- | --- |
| Min. credit score | Min. revenue | Min. time in business |
| 620 | $42,000/yr. | 9 mos |
Data effective 5/17/22. At publishing time, requirements are current but subject to change. Offers may not be available in all areas.
It's a little odd, then, to see that LoanBuilder has a relatively high credit requirement. It asks for a 580 personal credit score.
That's considered a "poor" FICO score, which is around the range of what most online lenders require. It's just slightly lower than most of the lenders on our list of the best small-business loans―and many of those lenders offer better loan rates and terms than LoanBuilder does.
Put simply, PayPal LoanBuilder has on average, pretty low borrower requirements overall.
In fact, LoanBuilder really only works best for businesses with low revenue. If you have higher revenue or stronger credit, you'll probably want to go with another lender―because LoanBuilder loans are nothing to write home about.
Restricted industries
LoanBuilder also has the longest list of restricted industries we've seen. Plenty of lenders won't finance companies in adult, marijuana, or gambling industries. But LoanBuilder also doesn't lend to attorneys, financial services, nonprofits, and freelancers―among other things.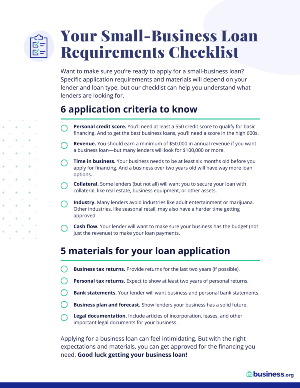 Applying for a small-business loan soon?
Our free checklist can help you understand what lenders are looking for.
LoanBuilder keeps things simple with just one type of financing. As far as we can tell, it's a simple short-term loan.
But we'll tell you now, LoanBuilder doesn't publish many details on its loans (one of our biggest pet peeves). So a lot of what we're about to tell you comes from reports from LoanBuilder borrowers.
| | | | | |
| --- | --- | --- | --- | --- |
| Product | Loan size | Lowest listed rate | Repayment terms | Get a loan |
| Short-term loan | Unlisted, but reports of $5,000-$500,000 | Unlisted, but reports of 2.9% to 18.7% | Unlisted, but reports of up to 1 yr. | Apply Now |
Data effective 5/17/22. At publishing time, pricing is current but subject to change. Offers may not be available in all areas.
We saw borrowers state they'd been approved for some moderately sized loans, with the largest size we saw being $500,000. That said, we saw more reports of smaller loans―think $40,000 or less. So LoanBuilder financing can probably help with many working capital needs, but it probably won't be big enough for larger projects.
Also, instead of charging interest on your loan amount, LoanBuilder charges a flat loan fee. That means you don't get a discount for repaying your loan early, because your fee never changes. Borrowers commonly reported fees ranging from 12% to 14%, making LoanBuilder a somewhat expensive financing option. LoanBuilder's website, though, showed example loans with fees ranging from 2.8% to 187%. 
Whatever your loan size and fee rate, you'll repay it with automated weekly payments from your business bank account. As far as we can tell, you can get a loan term of up to one year―though terms as short as 15 weeks may be possible.
Those aren't the worst rates and terms for financing, but they're far from the best we've seen. That's why, as we said above, we recommend going with another lender if you have the revenue to do so.
But if you do decide to stick with LoanBuilder, you'll at least have the option to tweak your loan a little.
Customizing your LoanBuilder business loan
While many lenders simply give you a loan offer with the option to take it or leave it, LoanBuilder lets you do a little bit of customizing.
While your loan amount will be set, you'll have the opportunity to choose between different loan term lengths using the LoanBuilder Configurator (basically just little sliders that show you how costs change over time).
If you decide to go with a shorter repayment term, you'll have a lower fee rate but higher weekly payments. Or you can choose a longer repayment term, in which case you'll get a higher fee but lower weekly payments.
So if you want the cheapest financing you can get, you should choose the shorter term with its lower loan fee. But if you're more concerned about keeping money free to help your cash flow, you might prefer the longer term with the lowest payments.
LoanBuilder isn't the only lender we've seen doing this sort of thing, but it's still a nice feature for an otherwise lackluster loan.
LoanBuilder customer reviews
Now you know our take on LoanBuilder. But what do LoanBuilder customers think?
Well, they like it a lot. LoanBuilder has an excellent Trustpilot rating, earning a 4.6 out of 5.1
The positive reviews focus on how fast and easy it was to get a loan. Lots of borrowers really like their LoanBuilder customer service rep and have glowing things to say about the application and funding process.
The number of negative reviews is much smaller, but we did see some interesting patterns. Some people complained about high fees and poor communication from the loan reps. We also saw several borrowers complain that the amount they were initially approved for and the amount they actually got were very, very different.
And finally, we saw several reports that LoanBuilder wired funds to the wrong bank account or tried to withdraw payments from the wrong bank account―an unusual problem from a lender.
So overall, customers like LoanBuilder. But you'll probably want to double-check that LoanBuilder has the right routing number and account number for you.
Want more options? Fund your business with a personal loan.
LoanBuilder's flat fee and uneven borrower requirements (not to mention the lack of information it divulges) keep it from being a top-tier business loan, but it may still work well for some businesses.
With ultra-low revenue requirements and fair time-in-business requirements, a LoanBuilder business loan may meet your working capital needs when other lenders won't.
Want to compare LoanBuilder to some other lenders with low revenue and time-in-business requirements? Check out our rankings of the best small-business loans for startups.
Disclaimer
At Business.org, our research is meant to offer general product and service recommendations. We don't guarantee that our suggestions will work best for each individual or business, so consider your unique needs when choosing products and services.