Best POS Systems that Integrate with QuickBooks
Point-of-sale software and accounting go hand in hand. There's no better time to track your sales than when you're making them. Luckily, QuickBooks integrates with many of our favorite POS providers.
QuickBooks has made a point of creating a software that can easily integrate with point-of-sale (POS) systems. Because of this, there are a lot of POS options available should you want to integrate your QuickBooks account.
We've leveraged our accounting and POS expertise to put together our picks for the best POS systems that also integrate with QuickBooks.
Best POS systems with Quickbooks integration
:

Best overall

:

Best for restaurant accounting

:

Best for online store accounting

:

Best for international accounting

:

Most seamless accounting integration
Data effective 12/29/21. At publishing time, pricing, and features are current but are subject to change. Offers may not be available in all areas.
The only other cost to consider besides those mentioned in the above table is the cost of a QuickBooks account. Its plans range from $12.50 per month to $75.00 per month. There's also a self-employed plan for $7.50 per month, but that plan doesn't integrate with some POS systems.
First, let's talk about why Square is a great POS system. Square is free to start because its cost is baked into its processing price. That means you can get all your POS setup done without paying a cent.
Not only is the account free, your first magstripe reader is also free. You'll probably want to expand your Square hardware to something more substantial over time, but it's nice to have a simple reader to test your new POS system with.
Once you've got your hardware sorted, Square makes it easy to expand your POS with the features you want: inventory management, restaurant tools, employee management tools, and—of course—accounting integrations.
There are a lot of great features that come from integrating QuickBooks with Square:
Automatic daily sync
Shared sales, fees, taxes, tips, and discounts
Itemized and categorized product reporting
Multi-location transactions
Historical transaction report
Refunds and chargebacks
With so much data able to be shared between your point-of-sale system and your accounting software, choosing Square is a no-brainer.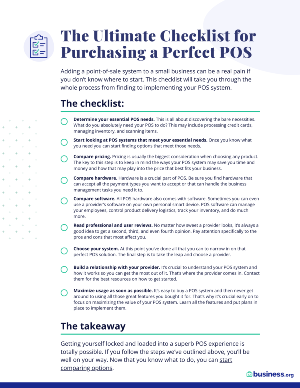 Follow these steps to purchase the perfect POS system
Read our free ultimate checklist for finding the right POS for your business. Don't get saddled with the wrong system. Enter your email and the checklist will arrive promptly.
Shopify: Best for online store accounting
The first thing you should know is that Shopify's QuickBooks integration is a little unusual. In fact, Shopify isn't actually the company offering the integration. The way to integrate Shopify with QuickBooks is through an app offered on QuickBooks' app database called Shopify by OneSaas.
This app allows data sharing between QuickBooks and Shopify. With this feature, you can sync orders, products, and inventory data, eliminating manual entry costs and inefficiencies. So why would you want to go to the trouble of using a third-party app to connect Shopify with QuickBooks? Because Shopify is a great POS system.
Shopify offers a ton of POS functionality for a very reasonable price:
Track inventory
Order online and pick up in store
Order in store and deliver to home
Check inventory of multiple locations and warehouses from one place
Reach customers with its marketing tools
Manage employees
The ability to give your customers access to the stock of your entire business from any location is a great way to ensure better inventory turnover and to make more sales. It's one of the features that sets Shopify apart from the rest.
But, even if you're running your whole business online, Shopify is still a great option.
Revel: Best for restaurant accounting
Revel is an iPad-based POS system. It comes bundled with great tools for managing your restaurant:
Tableside ordering. Increase the accuracy and speed of your front-of-house and back-of-house workflow by allowing servers to send orders directly from the table to a display screen in the kitchen.
Floor plan and table management. Easily set up your table layout, move customers to different tables, and manage sections.
Portable ordering case. Use Revel's enclosures to protect your expensive iPads and offer mobile swiping functionality.
Employee management tools. Monitor the sales and performance of your employees in addition to managing their payroll and schedules.
Now that you know some of the ways that Revel can help streamline your restaurant operations, let's talk about its QuickBooks integration. Revel syncs with QuickBooks daily to help you track inventory costs, manage employee payroll, and track daily sales. You can also sync all your vendor expenses through Revel, making it easy to keep track of ingredient costs.
Here's the bottom line: Revel is a fantastic option for businesses looking for a great restaurant management system that can automate your accounting with QuickBooks.
Lightspeed: Best for international accounting
Lightspeed is a unique POS system designed for multiple business types and international businesses. If you own a restaurant chain, retail store, or golf course that you need managed, Lightspeed is up to the challenge.
Lightspeed is compliant in over 100 countries and is able to accept payments from a diverse range of currencies. When you're doing international business, it's key to keep your books in order. Thanks to Lightspeed's simple but effective QuickBooks integration, this is quite easy.
You can choose from a lot of different plans on Lightspeed's website based on the business you are running. If you are running multiple business types, however, you can work with Lightspeed to put all your businesses together on one unified platform.
Being able to manage multiple businesses in the same place can reduce your stress significantly and help you more efficiently manage your operations. That's why Lightspeed is a smart choice for the worldwide business owner.
Intuit QuickBooks POS: Most seamless accounting integration
There's not a lot to say about how QuickBooks POS integrates with QuickBooks because it's automatic. That said, there's still a lot to say about what makes QuickBooks a good POS option.
One thing that sets QuickBooks apart from other POS systems is its pricing structure. It's one of the few POS systems that doesn't charge a monthly fee and instead lets you purchase access to its features in a lump sum. Though this is a greater out-of-pocket cost upfront, it's a money-saving decision in the long run.
QuickBooks POS also comes bundled with a lot of solid POS functionalities:
Inventory tracking and management
Reporting tools
Customer data management
Payroll management
Loyalty program
QuickBooks is not the most focused POS system. It's not built for a particular industry, but it's a good generic solution, and it sure makes accounting easy.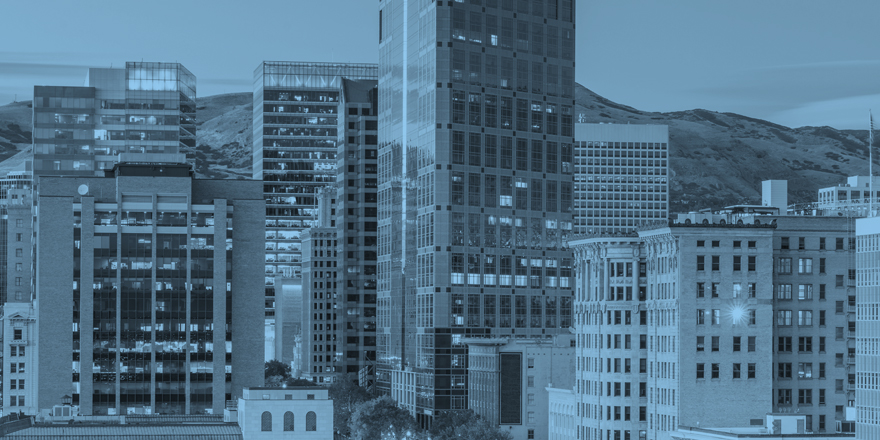 Ready for a better point-of-sale system?
Square is the best free point-of-sale system on the market. From invoicing to inventory tracking, Square gives you all the features you need to boost your POS experience.
POS systems that integrate with QuickBooks FAQ
It's likely that QuickBooks will integrate with your current POS system. If you're unsure, you should get in contact with your current POS system provider and ask if you can integrate QuickBooks with your account.
No. There are some businesses that have created their own integration, some for which QuickBooks has created the integration themselves, and others for which a third party has created the integration. None of our recommendations use third-party integrations.
Each of the POS systems we've looked at has something unique to offer. Square is a solid all-around system to start with. Revel is great for managing your restaurant. Shopify gives you ways to expand your online shop. Lightspeed boosts your inventory management capabilities. And QuickBooks POS gives you the most seamless accounting integration.
Now all you have to do is pick the right option for your business.
If you're less interested in the more complicated suites of features offered by POS systems and want to save some money on processing, you should check out our top credit processing solutions.
We chose POS brands that we had previously reviewed and examined in detail and looked at their QuickBooks integrations. Luckily, many of our favorite POS providers have built QuickBooks integration into their systems, so it was easy to find great candidates. Those candidates were then evaluated via the role their accounting integration might play in fulfilling the business needs of our readers.
Disclaimer
At Business.org, our research is meant to offer general product and service recommendations. We don't guarantee that our suggestions will work best for each individual or business, so consider your unique needs when choosing products and services.