Are you ready to start accepting credit cards, or are you just looking for a better processing provider? We'll help you find one with the features and rates that suit your business best.
A big factor in deciding on a point-of-sale (POS) provider is how good its mobile app is. If you take payments on the go or want to manage your restaurant on a tablet, it's crucial to pick a POS app that can get the job done. POS apps vary widely in what they offer, but essential features include:
Mobile processing
Business management tools
Sales reporting
In this article, we look at the best and most popular POS apps on the market to help you know which option will work best for your small business.
Best POS Apps
:

Best overall

:

Best online store integration

:

Best iPad app

:

Best simple processing app

:

Best app for global retail stores and restaurants
Data effective 3/25/21. At publishing time, pricing and features are current but are subject to change. Offers may not be available in all areas.
Square Point of Sale: Best overall
Data effective 3/25/21. At publishing time, pricing and features are current but are subject to change. Offers may not be available in all areas.
You can download the Square Point of Sale app, set up an account, and send your first invoice right now without paying a single cent to Square. That's what truly sets Square apart from the competition—it values your time and money.
But besides making you money right away, what else can Square's mobile app do? That depends on whether you're using a tablet or smartphone. Some features are only available on certain devices. Luckily, Square has a big, fat list of features and the devices they work on.
There's quite a lot you can do on Square's app:
Create your product catalog with item modifiers and categories
Connect to external readers and cash drawers
Issue invoices
Issue and redeem gift cards
Manage online orders (iPad only)
Create team member logins and track timecards and individual sales
Create item modifiers (iPhone excluded)
Generate and view sales reports
Many of these features you can do from the comfo`rt of your smartphone. You can essentially become a walking POS system, taking and processing orders wherever you go. This mobility is exceptionally useful for businesses that rely on mobile sales from pop-up stores or temporary markets.
Plus, Square will send you a free magstripe reader just for signing up. You can start building your perfect mobile POS without spending a single cent. Or, you can prepare and test a new POS system for your brick-and-mortar store using Square's free app. That's a value proposition that's hard to beat.
Shopify: Best online store integration
Data effective 3/25/21. At publishing time, pricing and features are current but are subject to change. Offers may not be available in all areas.
With Shopify (and the rest of our recommended brands), you'll need to pay for an account to get any real use out of the app. That said, once your account is set up, you'll have access to a solid mobile app.
The Shopify app makes it easy to process online orders and do the following tasks:
Fulfill orders and issue refunds when needed
Print shipping labels
Add tags and notes to orders
Contact customers to update them on the status of their item
The app also makes it easy to manage your products. You can add products manually or by scanning a barcode. Once your products are in the app, you can organize them with tags and categories, and then sync them with marketplaces like Etsy and Amazon.
Shopify's app has the rare ability to help you streamline your POS flow both online and in person. And we've only seen the tip of the iceberg of what the app can do. With Shopify's app, you can also do these types of tasks:
Run a Google Smart Shopping campaign
Create Facebook ads
Sync inventory and orders both online and in store
Create holiday discounts
Generate sales reports
Here's the bottom line: if you have a Shopify account, get the app. If you don't have a Shopify account, the app is solid and worthy of consideration.
Shopkeep Point of Sale: Best iPad app
Data effective 3/25/21. At publishing time, pricing and features are current but are subject to change. Offers may not be available in all areas.
Firstly, you should know that there are two Shopkeep apps worth having if you decide to sign up for an account. The first one is called Shopkeep Point of Sale. This app is the bread and butter of the Shopkeep experience. It's an app you download onto your iPad to run your store or restaurant.
The Shopkeep Point of Sale iPad app covers all your basics: you can ring up customers with connected readers or by manual input. There's no cap on the number of transactions per month. You can also customize the flow of your product library.
Where Shopkeep sets itself apart is with its expanded functionality on these key features:
Expanded inventory management tools
Online ordering and food delivery program
Text message-based payment options
Email marketing tools
In addition to these features, Shopkeep also offers a lot of restaurant management capabilities. You'll have to pay for a monthly plan to use the restaurant tools, but they make it possible to manage tables and send orders to your kitchen from an iPad.
Shopkeep's second app is its Shopkeep Pocket app. This additional app is optimized for smartphone usage and allows you to track sales as they happen, monitor your cash drawers, and view reports on top-selling items. It's a nice little companion to the iPad app.
Clover Go: Best simple processing app
Data effective 3/25/21. At publishing time, pricing and features are current but are subject to change. Offers may not be available in all areas.
Clover Go gets the simplicity award. It may be a bit too simple for those looking to run their whole point of sale from their smartphone, but for people who just want to be able to take payments on the go, Clover Go is a great option.
What does Clover Go do? Well, it's the app you need to download before you can use the Clover Go card reader. That means you'll want to get the reader before you download this app. The Clover Go reader costs $69 and will only work if you have a Clover account. The cheapest Clover account is $9.95 per month. If you go with the more expensive account at $39.95 per month, you'll actually have a smaller processing fee.
The Clover Go reader itself allows you to swipe, dip, and tap payments. These payments are managed by the Clover Go app. The app is simple and has great user reviews. It allows you to take payments, view reports, and send receipts. It's reliable, fast, and secure. It's one of the best mobile processing apps on the market.
But Clover Go isn't the only app that makes Clover special.
If you end up getting a Clover POS system, like a Clover Mini or a Clover Station, you'll gain access to a huge network of POS apps. These apps allow you to create the ultimate POS device customized exactly how you want it.
Lightspeed retail and restaurant POS: Best app for global retail stores and restaurants
Data effective 3/25/21. At publishing time, pricing and features are current but are subject to change. Offers may not be available in all areas.
Lightspeed is an older player in the POS game. It's had time to grow its operations to a global scale. That's why it's perfectly primed to handle your global sales needs.
If you have retail shops in multiple countries but want one app to rule them all, Lightspeed is here for you. That said, Lightspeed has two powerful mobile apps to choose from depending on your situation: a retail app and a restaurant app.
Both apps are specifically designed for iPads only, and boy, can they do a lot of things. Let's start with the features of the retail app:
Process sales on the go by giving employees individual iPads
Take pictures of new stock on sales screen
Sell item bundles
Manage multiple versions of the same product
Do returns from any iPad
Import up to 1,000 items at once
Track sales and inventory
Record customer information
Set up a loyalty program
24/7 personalized, one-on-one onboarding for new employees
Track employee performance
And more
Lightspeed is prepared to overhaul your entire point of sale with a fleet of feature-rich iPads all running on the same app. Lightspeed's restaurant app is also packed with these industry-specific features:
Create discounts for promotional events
Easily drag and drop tables on the app to accommodate layout changes
Add menu items with photos, descriptions, and prices for servers
Send orders directly to the kitchen from server iPads
Split or combine bills
Use offline mode in case of internet failure
Implement iPad kitchen display system
Utilize 250 integration partners for delivery and other restaurant extras
That's a lot of punch to pack into an iPad app, but Lightspeed manages to do it very well. Lightspeed is certainly not the cheapest option out there, but its capabilities are tailored to very specific needs. If you're running restaurants or retail shops in multiple countries, Lightspeed's mobile apps can't be beat.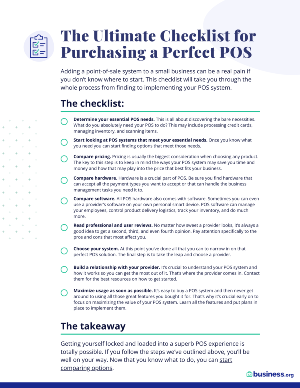 Follow these steps to purchase the perfect POS system
Read our free ultimate checklist for finding the right POS for your business. Don't get saddled with the wrong system. Enter your email and the checklist will arrive promptly.
With so many incredible apps in the POS sphere, it can be hard to know what to choose. The key is to think not only about what your business needs right now, but also what it will need in the coming years. Pick a point-of-sale app that you can grow with. That's what makes Square our number one pick: it's built to grow.
But what about our other recommendations? Our other top apps give you more specialized functions:
Manage online store operations with Shopify
Run your restaurant from an iPad with ShopKeep
Process transactions on the go with Clover
Administrate a global business with Lightspeed
The app you choose should help you accomplish your most important business goals. If it can do that, you've found the perfect fit.
If you'd like to learn more about expanding your point of sale, check out our picks for the best point of sale systems on the market today.
What should I be looking for in a point-of-sale app if none of your recommendations fit my business?
First, check to see if your current point-of-sale system offers an app. You may find all the functionality you need there. If you don't have a current point-of-sale provider, make a list of what you hope to get out of a point-of-sale app.
Of course, it can't hurt to get started with Square. Downloading the Square app is free and you can get a free mobile reader just for signing up. There's no contract, no monthly fees, and no cancellation penalties, so there's nothing to lose with giving Square a shot.
What can I do if my phone or tablet is outdated?
Unfortunately, if you're looking for a top-of-the-line POS app, you'll probably need to get a newer smartphone or tablet. There are so many ways a smart device can benefit your business. Investing in a new smartphone or tablet can have benefits that go beyond being able to download the latest point-of-sale app.
Our one word of caution is to make sure the smart device you purchase can run the POS app you want to use. Be sure to check the app developer's website for hardware requirements.
Should I only accept payments through ACH processing to save on fees?
Put simply: no. Generally you want to be able to accept whatever payment methods your customers prefer to use. That said, there's nothing wrong with encouraging the use of ACH processing to customers that are already loyal to your brand.
Disclaimer
At Business.org, our research is meant to offer general product and service recommendations. We don't guarantee that our suggestions will work best for each individual or business, so consider your unique needs when choosing products and services.