The Pros and Cons of Using Self-Checkouts
Self-checkouts are becoming more widely used by consumers every year.
In fact, 48.7% of consumers say they use self-checkouts all the time with 30.6% of consumers saying they use self-checkouts at least some of the time. That's over 75% of consumers using self-checkout kiosks regularly. Additionally, almost 60% of consumers report using self-checkouts more frequently in the past 12 months, according to a survey by Raydiant.
These findings demonstrate that any business where a self-checkout could reasonably be implemented should seriously consider the opportunity. That said, we want to help you make an informed decision on whether a self-checkout solution is right for your business.
First, let's look at some of the benefits a self-checkout kiosk can bring to your business.
One of the things that self-checkouts intend to address is the speed of checking out. That said, the overall checkout speed should not only be measured in the time it takes to scan and pay for items, but also in the time waiting in line to pay for goods.
Where self-checkouts typically save the most time is in line wait times because customers are usually waiting to use multiple checkout stations instead of waiting to be assisted at one checkout station.
When a customer actually gets to scanning their own items, however, checkout can be a little slower. An employee is generally faster at managing and using a POS system, so they can scan products quite quickly. Whereas a customer who doesn't know where to look for products without barcodes may spend a little more time trying to find the appropriate product.
Over time, however, customers tend to get better at scanning items. So where they may have been quite slow the first time, they could end up being faster than your sales associates.
One of the best ways to help customers have a quicker scanning experience is by making sure your self-checkout attendant is keeping an eye on each customer's items and offering to help scan more difficult items.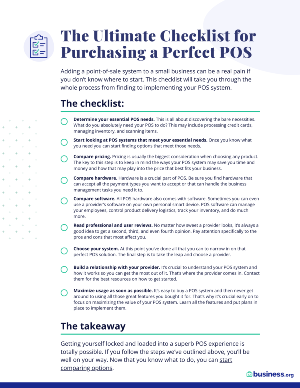 Follow these steps to purchase the perfect POS system
Read our free ultimate checklist for finding the right POS for your business. Don't get saddled with the wrong system. Enter your email and the checklist will arrive promptly.
It's easier to fit eight self-checkout stations into a space where you could put one or two employee-assisted checkouts. Because of this, if you are tight on space and notice that you have long lines, it may be best to utilize your checkout space better by having lots of self-checkouts instead of one or two manned checkouts.
By utilizing space better, you can cut down on waiting time for customers and make sales happen more efficiently.
Multiple self-checkouts can be managed by one employee. If you have eight or more self-checkout stations, you may need that employee's full attention on your self-checkout stations. But, if you only have a couple stations, the employee could split attention between the checkout and another task. 
Fewer employees mean less daily costs, but the cost of self-checkouts should not be ignored. Depending on your POS provider, a self-checkout station may have monthly costs on top of the base equipment costs to keep the technology running.
But, generally speaking, fewer employees will always cost less than adding more self-checkouts.
Sometimes customers can be frustrated by a self-checkout machine that doesn't work intuitively. This is why it's crucial to have an employee in the self-checkout area. Employees should be trained to be vigilant of customers who may be having difficulties and should offer to assist those customers as often as possible.
Many self-checkout machines will indicate when there's an error. While the more obvious errors are important for employees to address, employees should also be on the lookout for customers who are purchasing lots of items without barcodes that may need to be looked up and weighed.
An active self-checkout attendant can make a huge difference in the customer's experience, especially when they run into errors and small issues. This is crucial because the customer's feelings of frustration when a self-checkout is not working for them can greatly affect their shopping experience.
Customers are increasingly concerned about the cleanliness of self-checkout stations. Signs posted about how often a station is cleaned do little to abate their fears, so it's good to let your customers see attendants cleaning the self-checkout machines as often as possible. 
You can also try implementing self-cleaning by offering disinfecting wipes to customers, but this may not be utilized by all customers and some may see the practice as the business trying to shift responsibility to the consumer.
Lack of personal interaction
This can be both a positive and a negative. Some people like that self-checkouts help them avoid social interactions while others may find the self-checkout experience isolating. It's impossible to know what a person feels about interactions, but the more competent and composed your checkout attendant is, the better your customer's experience will be.
Attendants should look for clear opportunities to help, like assisting with errors, scanning difficult products, and offering coupons or discounts on products when they're available. These small, helpful interactions can be perfect for both customers who do and don't want personal interaction.
Compare the best POS systems plans and pricing 2023
Data as of 12/2/22. Offers and availability may vary by location and are subject to change.
There are a lot of reasons to implement a self-checkout system at your business. There are also some important drawbacks to consider. Luckily, most drawbacks can be addressed with a properly trained self-checkout attendant. 
If you think a traditional POS system will work better for you than a self-checkout, be sure to take a look at our top POS systems for small businesses.
No. Self-checkout kiosks can be implemented at counter service restaurants, retail locations, and other businesses. The key to deciding whether you should use them has everything to do with cost and consumer experience. 
Many consumers may like ordering and paying at a kiosk while others may like employee interaction. Additionally, you can improve consumer experience by shortening line times with the addition of a few kiosks to your business.
Self-checkouts can be prone to both accidental and intentional stealing. That's why it's crucial to have a vigilant and helpful self-kiosk attendant.
There are ways to avoid the stealing of higher-ticket items with alarm tags that must be removed by the attendant. Businesses can also do receipt checks, but that can add to the line-waiting factor. 
Always implement anti-theft measures that work for your business type and setup. With self-checkout kiosks, you may have to beef up security a little bit.
Disclaimer
At Business.org, our research is meant to offer general product and service recommendations. We don't guarantee that our suggestions will work best for each individual or business, so consider your unique needs when choosing products and services.