The Ultimate Guide to POS Systems
The point of sale (POS) is a crucial moment in the success of your business. A good point-of-sale system makes for a smooth and easy sales process. But above and beyond that, a good system can add tons of value to the point of sale.
This guide will help you understand how to get more value out of the point of sale so you can boost productivity, improve business operations, and make more sales.
The ultimate guide to payroll table of contents
What is the point of sale? It's the moment when the customer makes a purchase.
In the past, the point of sale was pretty simple because most sales were made in cash. All business owners needed was a simple cash register to tally up the day's sales.
Today, POS systems are designed to do so much more. A truly modern POS system can do a few key tasks:
Accept all modern payment methods from credit cards to digital wallets
Manage and track the inflow and outflow of inventory
Automate all processes that rely on the moment of sale, like accounting and customer loyalty
Bring the sale to the customer through mobile payment options
These essential functions are what set apart the POS systems of today from the cash registers of days past. In the following sections of this guide, we'll bring you up to speed with what exactly a modern POS system can do for your business.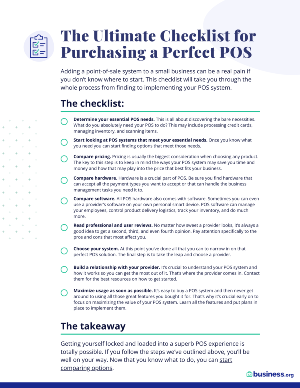 Follow these steps to purchase the perfect POS system
Read our free ultimate checklist for finding the right POS for your business. Don't get saddled with the wrong system. Enter your email and the checklist will arrive promptly.
Important payment-processing factors to consider
There are so many ways to pay these days. Here's a list of all the methods we can think of:
Cash
Check
Credit card (including swipe, dip, and tap)
Debit card (including swipe, dip, and tap)
Digital wallets like Apple Pay, Android Pay, and Venmo
Direct bank transfer (ACH payments)
Cryptocurrency exchange
Each of these payment methods represents a way customers may want to pay for goods and services from you. Some methods are more common than others, but the kind of payments you usually take depend on specific business factors like location, industry, and services offered.
If you know what payment methods your customers want to use, you'll want to find a POS system that makes accepting those kinds of payments easy.
The next thing to consider is how expensive the fees for payment acceptance are. Keep in mind that different payment methods (like the following) have different fees assessed:
Cash payments don't have any fees assessed by the processor.
Debit and credit card payments have fees assessed by the processor with debit card fees usually being a bit lower.
Digital wallets, direct bank transfers, and cryptocurrency exchange usually have fees assessed as well.
It's important to note that these fees are not pointless—processing a credit card is too complicated for small businesses to handle on their own. That's why almost all businesses use the services of a processing company.
Transaction fees usually come in two types:
Flat rate fees are when you get charged the same amount for every transaction.
Interchange-plus fees have a variable amount that changes based on what the credit card company charges.
Generally speaking, interchange-plus fees are cheaper than flat-rate fees because interchange-plus fees are more responsive to the actual cost of processing. That said, some processors that use interchange-plus pricing will charge a high monthly fee. So, the key to saving money with interchange-plus is processing enough transactions to make up for the monthly fee.
If you don't process a lot of transactions or have trouble with consistent processing, a flat-rate fee may be more cost-effective. See the tables below for an example where flat-rate processing is more cost-effective and an example where interchange-plus processing is more cost-effective.
100 transactions per month at $10 per transaction
| | | | |
| --- | --- | --- | --- |
| Features | Price | Monthly fee | Total monthly processing cost |
| Flat-rate fee | 2.6% + $0.10 | $0 | $36 |
| Interchange-plus fee | 1.6% + $0.10 | $100 | $126 |
1,000 transactions per month at $20 per transaction
| | | | |
| --- | --- | --- | --- |
| Features | Price | Monthly fee | Total monthly processing cost |
| Flat-rate fee | 2.6% + $0.10 | $0 | $620 |
| Interchange-plus fee | 1.6% + $0.10 | $100 | $520 |
Some processing companies don't list their processing fees and instead work out a fee with you over the phone. It's important to use your negotiation skills to get a decent price when working with processing companies like this.
POS hardware can range from a simple card reader to a kitted-out iPad stand. The kind of hardware you'll need depends on how you plan to use it. Here's a list of the hardware you may want to consider:
Mobile card reader. These card readers often attach to your smartphone or tablet. Some are battery powered. But all of them have one simple function: the ability to process credit cards anywhere.
Standard terminal. The classic credit card terminal has no bells and whistles. It's usually just a card reader with a number pad that needs stationary power and an internet connection.
Smart terminal. There's a lot of variety in smart terminals. Most POS providers have their own versions of these types of terminals. The function of a smart terminal is to handle more complicated business tasks, like inventory management and item lookup.
Cash drawer. A standalone cash drawer allows you to connect to your smart terminal to make change for cash payments.
Receipt printer. Many businesses are going paperless with receipts using smart terminal receipt options like email. But, if your customers need or expect paper receipts, you may want to pick up a receipt printer.
Barcode scanner. This one is pretty self-explanatory—it scans product barcodes. It also helps with inventory management on smart terminals.
iPad stand. Some POS providers have built their software for iPad and will only sell you an iPad stand. One nice thing about using an iPad for POS is that you can remove the tablet from the stand and assist customers around the shop with a mobile POS device.
Classic cash register. We wouldn't really recommend using the old-school cash register systems. They tend to be clunky, more expensive, and have fewer smart features.
Using the above-listed features as a guide, you can decide what your business needs. Many modern brick-and-mortar businesses opt for something simple like a smart terminal and a cash drawer.
Best POS Systems for Small Businesses
Software features are the heart and soul of modern POS systems. It's in the software that all the magic happens—magic that allows you to automate your business operations from one central place.
Tracking and managing inventory can be a pain if your POS system isn't helping you do it. Luckily, today's POS systems offer comprehensive inventory tracking and management tools. The best POS inventory management integrations will help automate many tasks:
Keeping track of in-store stock
Keeping track of stock in multiple locations
Notifying when inventory of a certain item is low
Making it easy to order new inventory
Analyzing the flow of inventory to generate reports on top-selling items
Each of these functions can be a game changer. For example, POS systems that have inventory-management programs that can track inventory at multiple locations can make it possible to automate your shipping process.
If for example, a person wants an item that's in a different store, you can either send them to that store, or you can offer to ship them the product from that location. Thus, this functionality not only consolidates your inventory more efficiently, but it also gives you more opportunities to make a sale.
There's no underestimating the power of good inventory management software. It's a feature you'll definitely want to consider when choosing a POS system.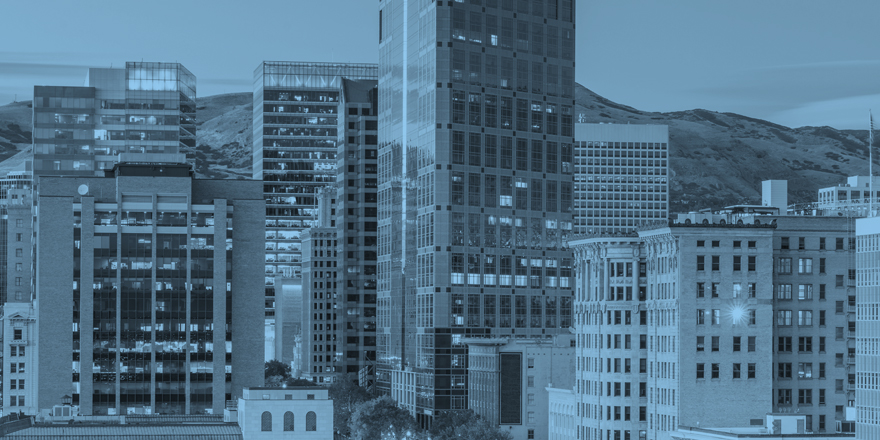 Ready for a better point-of-sale system?
Square is the best free point-of-sale system on the market. From invoicing to inventory tracking, Square gives you all the features you need to boost your POS experience.
Employee management makes it easy to track employees and manage their permissions to your POS software.
A good employee management program will allow employees to clock in using a login you've created and permissions you've designed. The program will also track employee sales and will generate performance reports to help you determine if an employee needs further training.
Many POS systems integrate with third-party accounting software like QuickBooks. Automating your accounting process will help simplify your already-complicated business taxes. And the point of sale is a great place to have your accounting software working for you by tracking your sales and returns.
Many modern POS systems offer customer loyalty integrations. You can set up rewards programs, offer gift cards, and keep better track of your return customers. Not only do rewards programs keep people coming to your place of business, they also help you gain insight as to what keeps your customers coming back.
Some POS systems have specific tools for a given industry. Upserve, for example, offers a ton of restaurant-focused tools that automate the ordering process. There are many POS systems that are built around a specific industry, but the most common industry tools you'll find in a POS system include restaurant and retail programs.
No matter your industry, it may be worth doing a quick search to see if there is a POS system designed for your kind of business.
This is a list of terms commonly used in talking about point-of-sale systems.
POS. Abbreviation for point of sale.
Terminal or credit card terminal. A piece of hardware used to process transactions.
Interchange-plus pricing. A common pricing model used by credit card processors. The word "interchange" refers to a fee that major credit card companies charge. This fee changes from transaction to transaction, so interchange-plus pricing is whatever the major credit card company charges plus the fees of the credit card processing company.
Digital wallet. A kind of payment method made via smartphone. Customers will have apps like Apple Pay or Android Pay on their phones that they'll want to use to purchase items at your store. There are also online-only digital wallets and checkouts, like PayPal and ChasePay. These payment methods make for faster online checkouts.
Swipe. Swipe payments use the magstripe on the back of the card.
Dip. Dip payments use the EMV chip on the front of the card.
Tap. Tap payments use an embedded chip that emits radio waves and connects to the card reader.
ACH. This acronym stands for automatic clearing house. It's an online network for processing transactions between financial institutions.
Cryptocurrency. A type of digital currency made popular by the rise of Bitcoin. These currencies are decentralized in that no official governing body distributes them. Coins or tokens held in these types of currencies are not physical entities; they are digital only.
POS systems can be a total game changer for your business. The level of automation and data reporting they can bring to your workflow is a catalyst for greater efficiency and faster growth. Now that you know what to look for in a modern POS system, the next step is to find the right one for your business.
We recommend checking out our detailed reviews of the top POS systems on the market today.
Disclaimer
At Business.org, our research is meant to offer general product and service recommendations. We don't guarantee that our suggestions will work best for each individual or business, so consider your unique needs when choosing products and services.