Best Free POS Systems of 2023
If you're looking for a fully functional point-of-sale system that includes the latest hardware, software, and features that modern businesses need, you're in the right place. Getting all those things for free, however, is a little tricky.
Data as of 2/16/2023. Offers and availability may vary by location and are subject to change.
Each of our picks offers a unique take on the free POS system. But the fact that there even are free POS systems begs the question: Why wouldn't everyone just want to go the free route?
The main reason to take the free route is to get as much functionality as you can without paying a dime. Unfortunately, there's only so far a free service can take you. If you have consistent and reasonably high-volume processing needs, you'll probably want to avoid free options.
But, if you're just getting started in point-of-sale and don't have a lot of leftover budget each month, you may want to look at free options. You can actually get quite a lot of features without paying a dime.
Data as of 3/29/23. Offers and availability may vary by location and are subject to change.
Data as of 2/16/2023. Offers and availability may vary by location and are subject to change.
Square is a great place for any business to start because of how easy it is to scale your POS operations as your business grows. You can start with their free offerings and gradually add more as needed.
So what exactly can you get from Square POS for free? Quite a lot actually:
Free mobile credit card reader
Access to Square's entire mobile POS app
Inventory management tools
Virtual terminal for computers
Mobile invoicing
You can access all of this great hardware and software without ever paying Square a dollar. The only thing Square makes you pay for is credit card processing. So once you start making payments, you will be paying Square in processing fees.
Luckily their fees are bundled into a simple flat rate of 2.6% + 10¢ per transaction.
Best of all, if you ever want to expand your POS operations, Square makes it easy to add additional hardware and users to your existing POS setup. It's simply one of the best free POS systems on the market.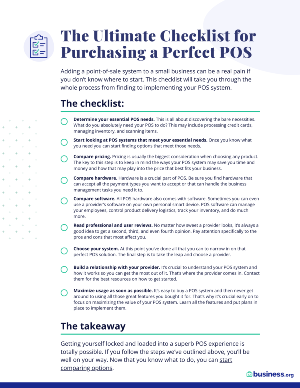 Follow these steps to purchase the perfect POS system
Read our free ultimate checklist for finding the right POS for your business. Don't get saddled with the wrong system. Enter your email and the checklist will arrive promptly.
eHopper: Best free POS hardware
Data as of 2/16/2023. Offers and availability may vary by location and are subject to change.
eHopper has devised a way to give small business owners a full POS suite with both hardware and software products. And you don't even have to pay processing fees.
eHopper is the t-shirt cannon of POS systems—it just wants to hurl a bunch of free stuff in your general direction. In all seriousness, here's what eHopper is giving away for free:
Credit card processing
Point-of-sale software
Pax S300 payment terminal
POS dashboard
In addition to all that free stuff, eHopper plans have no hidden fees, long-term commitments, or setup fees. This leaves us with one simple question: How does eHopper do all of this for free? The answer is pretty simple actually.
eHopper makes money by helping you set up your processing in a credit surcharge program (also known as a cash discount program). A surcharge program passes along credit card processing fees to your customers. This can be a good and bad thing.
A surcharge encourages customers to use cash in your store but may deter them from giving you business if they feel you're unnecessarily charging them. This is an important consideration if you choose to go with eHopper. You get lots of free stuff, but charging your customers fees could hurt your branding.
Still, it's hard to beat a free pos system with as much functionality as eHopper.
Imonggo: Best free POS software
Data as of 2/16/2023. Offers and availability may vary by location and are subject to change.
Imonggo is a free POS software that brings tons of essential features like a detailed product database and tax management into your business ecosystem.
Imonggo is a product with two basic plans: a free plan and a $30 per month per branch plan. We'll focus on what you can get in the free plan.
The free plan allows one user from one branch of a business to add a total of 1,000 products to the POS database. Once you need to add more products beyond the base 1,000, you'll have to upgrade. You can also only process 1,000 transactions per month on the free plan.
Limitations aside, the free plan gets you access to a bunch of great features:
Selling tools
Tax management
Payment splitting
Email receipts
Sales tracking
Purchase order tracking
Inventory management
Customer management
Each of these features helps you build and maintain a more vibrant POS experience, making Imonggo a great free POS system for your business.
Loyverse: Best for restaurants
Data as of 2/16/2023. Offers and availability may vary by location and are subject to change.
Loyverse has a sleek and modern design meant to ramp up the speed of your daily restaurant operations. It also has a lot of really cool products that it's giving away for free. Each one has a lot of different functionalities, but we'll start with the main packages:
Loyverse Point of Sale. This POS software lets you manage your locations, run sales analytics reports, offer your customers loyalty programs, and track your inventory.
Loyverse Dashboard. This package lets you access your analytics reports and inventory data anywhere and anytime.
Loyverse Kitchen Display. This tool allows you to send orders directly to your kitchen staff on a screen, eliminating paper waste and common order errors.
Loyverse Customer Display. Customer-facing screens display price information and make it easy for you to collect emails.
Each of these toolsets is great for restaurants—especially the kitchen display. In addition to the kitchen display, Loyverse also offers table management tools that make it easy to assign open orders to tables and split tickets if needed.
Loyverse also makes it easy to organize your menu in the dashboard, simplifying order entry. You can easily add additional toppings or add-ons to items and those add-ons will be cleanly displayed to your cooks in the kitchen.
With its collection of helpful features, you can see why we think Loyverse makes such a great free option for restaurants.
UniCenta: Most customizable
Data as of 2/16/2023. Offers and availability may vary by location and are subject to change.
We recommend UniCenta with one big caveat: don't go near this one if you aren't a computer programmer or if you don't have access to a good programmer. UniCenta is an open-source POS system that allows programmers to edit the source code and tailor the product to the specific needs of their business.
UniCenta is one of the more complicated but interesting free options out there. It's an open-source POS system. That means a programmer can go into its code and make changes.
UniCenta is in its fourth iteration and has been growing for quite some time. It has a ton of feature modules, too many to name. And each of its modules are fully customizable. From basic sales tools like barcode scanning to advanced inventory tracking capabilities, UniCenta can really do it all—as long as you know how to program or have a great programmer on your staff.
That said, if you are able to use UniCenta, you can really get a lot out of it. Just check out all the things it can do. So if it's ultimate customizability you want, UniCenta is definitely your best option.
Turns out if you're looking for a free POS system, you can get one. In fact, you can get quite a few. Deciding on the right one for your business is the real trick here because free options can be missing some essential tools you might need. But, if you can find one that works, you'll save some serious cha-ching.
If none of the above options quite fit your POS needs, be sure to check out our picks for the best POS systems of the year.
Best Free POS Systems FAQ
The short answer? Not always. The most important thing in deciding which POS solution you should go with is whether or not the features on offer are a good fit for your business. If you can get the features and functionalities you want on the cheap, you definitely should.
That said, if you're looking for something a little above the free price range, you can check out our other POS recommendations.
No, not every POS system has credit card processing built in. Some POS systems offer their own dedicated processing providers. Square POS, for example, processes its own payments. Loyverse, on the other hand, has developed integrations with processing providers like CardConnect and Worldpay.
Though uncommon, certain POS providers may not integrate with any sort of processing system, requiring manual entry of all sales. So double-check before you commit to one service.
We examined 20 of the top free POS systems on the market. We determined which of them offered a POS service that was both up to modern standards and that fit a specific business use cases. We also examined user reviews and other professional reviews to determine the validity of our own findings and to discover possible pain points in the services. We then narrowed the field down to five top products.
Disclaimer
At Business.org, our research is meant to offer general product and service recommendations. We don't guarantee that our suggestions will work best for each individual or business, so consider your unique needs when choosing products and services.