Best ePOS for Small Business in 2023
Electronic POS is now the norm. If you're still using an old mechanical cash register that isn't simultaneously running every aspect of your business, you need to upgrade to an ePOS system.
Electronic point-of-sale is here to stay. The days of the old, mechanical cash register are winding down as companies like Square are continuously pushing the boundaries of how an electronic POS can help your businesses.
These days your POS system can be your inventory manager, employee scheduler, loyalty program administrator, and payment processor. It's an all-in-one deal that takes some of the hardest tasks you face as an entrepreneur and streamlines them into one place.
Square is our top choice because it provides a simple, expandable, and reliable POS experience for businesses of all shapes and sizes. But, Square has some pretty solid competition on the market today.
So, to help you decide which of all the options available on the market is best for your business, we've put together this list of the top five best ePOS systems of 2022.
Best ePOS for small business
:

Best overall

:

Best inventory management

:

Best for retail

:

Best for restaurants

:

Best for processing integrations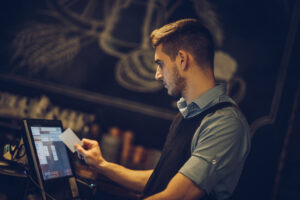 | | | | | |
| --- | --- | --- | --- | --- |
| Brand | Processing fee per card-present transaction | Processing fee per card-not-present transaction | Basic monthly fee | Learn more |
| | 2.6% + 10¢ | 3.5% + 15¢ | None | See Plans |
| | 2.7% + 0¢ to 2.4% + 0¢ | Same as card-present | $29–$299 | See Plans |
| | 2.6%+ 10¢ | 2.6% + 30¢ | $69-$199 | See Plans |
| | 1.8% + $0.15 processing fee* | Not listed | $0-$272 | See Plans |
| | 2.7% + 10¢ | 3.5% + 10¢ | $9.95–$69.95 | See Plans |
Data effective 2/20/23. At publishing time, pricing and features are current but are subject to change. Offers may not be available in all areas.
Square has a low barrier to entry with a lot of ways to expand your POS system. It's both a great place to start and a system that's easy to grow into as your business matures.
Square is hands down the easiest way to get started in point-of-sale. You can get a mobile credit card reader, a Square account, and access to a top-notch POS app all for free. This is thanks to Square's flat-rate processing fee. It's set at a price point that allows Square to give you a lot of free functionality up front because you only start paying Square when you start making transactions.
Square's free POS system offers inventory management, team management, reporting and analytics, and customer relationship management. Additionally, you can add services like loyalty programs for a small monthly fee.
In addition to great POS software features, Square offers a lot of hardware variety. The hardware starts with the free mobile reader and scales all the way up to the Square Register, giving you the hardware flexibility you need to take payments however and wherever you need.
Shopify: Best inventory management
Data effective 2/20/23. At publishing time, pricing and features are current but are subject to change. Offers may not be available in all areas.
Shopify has everything you need to run an efficient brick-and-mortar and online operation simultaneously. And its inventory management tools are incredibly functional for complex inventory needs.
Shopify is known for its online shop creation services, but it also offers a top-of-the-line POS system. With Shopify, it's easy to run a brick-and-mortar business and a website simultaneously. Customers can order items in your shop online and then pick them up in your store. Customers can also buy an item in your store and have it shipped directly to their homes.
In addition to its omnichannel selling features, Shopify also offers a great inventory management system for users who pay for Shopify POS Pro. The software makes it easy to transfer stock between locations, track current inventory, make purchase orders for additional inventory, and forecast future demand for products.
Powerful inventory management is key for getting your customers the products they expect to find in your store. With Shopify, you get not only a great inventory management system but also staff management and reporting and analytics tools—everything you need in a solid POS system.
Lightspeed: Best ePOS for retail
Data effective 2/20/23. At publishing time, pricing and features are current but are subject to change. Offers may not be available in all areas.
Lightspeed is a top player in the POS game and has acquired and absorbed quite a few POS providers in the last few years. These acquisitions have helped Lightspeed expand and hone its POS services.
One industry where Lightspeed shines is in retail. It offers a wide variety of features built specifically for certain kinds of retail businesses. These business types are listed on Lightspeed's site:
Apparel
Bike
CBD
Electronics
Gift store
Health
Home decor
Jewelry
Liquor
Pet
Sporting goods
Toy
Vape
And more
If your business fits into any of these retail categories, Lightspeed should absolutely be on your radar. Even if your retail business type isn't spelled out, Lightspeed is worth a look.
Lightspeed brings retail businesses features like accounting automation, ecommerce tools, loyalty programs, analytics, inventory management, appointment scheduling, and more. These features all work together in one integrated system.
Lightspeed has also built connections with other countries and currencies. You can sell in 14 languages to hundreds of regions across the globe. You can even automate your global shipping process with built-in tools for configuring shipping methods and delivery zones.
So if you want a top-tier retail POS system that can be leveraged to expand your business into international markets, there's no better POS system than Lightspeed.
Toast: Best ePOS for restaurants
Data effective 2/20/23. At publishing time, pricing and features are current but are subject to change. Offers may not be available in all areas.
Toast is the ultimate POS for managing restaurants. It's a whole system built around the specific needs of the modern restaurateur. It's designed to increase waitstaff efficiency, improve order accuracy, boost table turnover times, facilitate online ordering and curbside pickup, and keep track of business operations at multiple locations.
Toast lists some of the restaurant types its services can help:
Fine Dining
Bar & Nightclub
Casual Dining
Cafe Bakery
Fast Casual
Enterprise
Food Truck
Pizza
Most food hustles fall under the Toast umbrella. If your business is one of them, Toast may be a fantastic ePOS system for you.
Toast has a number of key features that set it apart from other POS systems. Each feature helps make restaurants run smoothly:
Toast Go handheld POS. This handheld device is a mobile POS system that allows waiters to send orders directly from the table to the kitchen and take payments with the customer at the table.
Order and pay on the phone. Using QR codes, customers can both order and pay on their phones, giving your waiters time to serve more tables and customers the convenience to order and pay when they want.
Kitchen display system (KDS). A KDS allows your cooks to see orders as they come in and facilitates both efficiency in the kitchen and order accuracy. No more lost tickets or lack of clarity around which orders go out first.
Self-ordering kiosk. Perfect for counter-service restaurants who want to keep employees focused on delivering quality food while giving customers time to browse the menu and decide what they want.
Inventory management. Learn when stock is low on an ingredient level so you never have to turn away customers who want a specific item.
These are just a few of the best features Toast has to offer. Each one is great for improving your restaurant workflow.
So if you're ready to boost your restaurant empire or you just need a great starter POS system, give Toast a try.
Clover: Best for processing integrations
Data effective 2/20/23. At publishing time, pricing and features are current but are subject to change. Offers may not be available in all areas.
Clover is a POS system that's been designed to integrate with other payment processors. What this means is with Clover, you can shop for the payment processor that best fits your needs.
Clover integrates with a ton of payment processing providers that cover a wide range of applications:
Payline Data: Best processor for higher risk merchants.
Payment Depot: Processor with some of the cheapest transaction rates around.
First Data: A great all-around processor that actually owns Clover as a subsidiary.
There are plenty of other processors that offer Clover POS products, but those are some of our favorites. The prices listed in the table only reflect what you pay if you process directly with Clover. If you use a different processor with Clover, your costs may change significantly.
For example, Payment Depot offers transaction fees as low as the interchange rate + 5¢ per transaction. Payline Data, on the other hand, may not have transaction fees as low as Payment Depot, but Payline Data specializes in helping businesses who have been rejected by other processing companies for being too high risk.
So you can see how processing integrations would be useful. But what about Clover as a POS system? It's actually pretty darn good. Clover offers loyalty programs, customer relationship management, employee management, and integrations with popular products like QuickBooks and Mailchimp.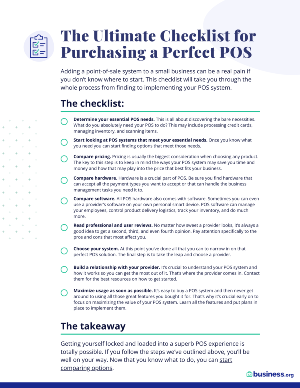 Follow these steps to purchase the perfect POS system
Read our free ultimate checklist for finding the right POS for your business. Don't get saddled with the wrong system. Enter your email and the checklist will arrive promptly.
There are a lot of great ePOS systems on the market today but only a few are real contenders for the top spots. Hopefully, our breakdown of the top contenders has helped you find a compelling option to dive deeper into. In the end, it all depends on what you can afford and on the kind of functionality you're looking for.
If all the options listed above seem too expensive, you may want to take a look at our breakdown of the best free POS systems.
What is the real cost of electronic point-of-sale?
There are a lot of elements that add to the price tag of a POS system:
Processing fees
Monthly fees
Equipment costs
Processing fees happen every time someone makes a transaction through your POS system. Monthly fees are generally just what you pay to keep your processing service active. Equipment costs are the most confusing.
With equipment, there can be four kinds of costs: the lump-sum purchase price, the monthly fee purchase price, the rental price, and the monthly service fee. Depending on your POS provider's options you'll buy your equipment outright with a lump sum payment, you'll make monthly payments on your equipment until you own it, or you'll rent the equipment for a monthly payment.
Some equipment requires a monthly service charge to keep the equipment active and connected to the processor. This charge may fall outside of the purchase price.
What is the real cost of electronic point-of-sale?
Not necessarily. That just depends on how you want to manage your point-of-sale. For example, you could set up your store with three terminals—one would be a credit card reader with a cash drawer, the other would be a mobile POS device that an employee brings around the store, and the last one would be a self-serve kiosk.
As a business owner, it's up to you to decide how to handle POS in your business. If you rarely get any patrons who want to pay with cash, you may not need a cash drawer.
For mobile businesses like a food truck or retail stand, a mobile credit card reader may be optimal so you don't have to lug around a fat cash register.
We Examined the top 20 ePOS brands on the market today. We considered factors like pricing, usability, ease of integration, customer service, small-business features, and user reviews. We also considered the specific use cases each POS system addresses and how each of our picks may be valuable to different kinds of businesses. Finally, we narrowed our list down to the five best ePOS systems.
Disclaimer
At Business.org, our research is meant to offer general product and service recommendations. We don't guarantee that our suggestions will work best for each individual or business, so consider your unique needs when choosing products and services.